We are hugely excited to announce that Shira Buchsbaum (former camper, LT, BC, AC, LT Staff and DH) is back to take on a very important role within the Head Staff team as the Super Senior Division Head for summer 2019.
Shira is a long time Schodack veteran, loved by her campers and the staff that work with her. She is well known for her incredible passion for Camp which is rivaled by none! We could not hope for a more suitable person to be leading our oldest campers in their final summer before becoming Leadership Trainees.
In her own words, here are Shira's Top 5 memories of this past summer…
I opened a Word Doc to write this blog post and saved it under a new folder: Camp 2019. The first file of a summer that feels thematically discordant with the red and gold-leafed New England autumn that hovers outside the window of the library where I currently sit. Who would've thought that as a senior in college, I would be able to return once again to Schodack? Who would have guessed that amidst graduate school applications and senior thesis writing, I would already be thinking about the Super Seniors of 2019? A silly question: probably every single one of my camp friends, and home friends, and college friends, my parents, my sister, my beloved bed in the Upstairs Farmhouse, and my cat. There was never a question that I would return to camp. Summer No. 15, I'm yours.
In 2011, my seventh summer at Schodack, I lived in the (not-yet-renovated) Icehouse with sixteen Super Senior 1 Girls. It was a summer of unbridled fun: among other things, we laughed our way through our very well-written but poorly-rehearsed BPN (sorry, Casey Singer), and we idolized our Division Head, Coby Greenberg (who was, then and now, one of the lightest hearts I have ever met). I loved Super Senior summer. It is, to this day, my favorite summer as a camper, and I could not pass up the opportunity to encourage the same zaniness, joy, and friendship in the outstanding group of now teenagers(!) with whom I have worked for the last two summers.
Camp whizzes inside my head all day long, thanks to group chats and photographs that pop up on my phone, and while I text back-and-forth with Carter and Doug about our wild ambitions for the fast-approaching seven weeks in the green-and-white, here are a few of my favorite memories from this past summer that keep me returning for more:
1. Every Buchsbaum Bonfire of the Summer
Drew Gumins (the ultimate SPOPS!) and I revived the original Cookout Pit by Archery just for the Senior Girls for s'mores, singing, joking, and star-gazing. Sitting around a crackling fire built just for us was the perfect way to bring our division together on clear, quiet camp nights.
2. The SPLURGE!!
Getting to surprise all of the Senior Campers with My Place to celebrate a great Senior SPLURGE Special Event Afternoon. All senior campers took place in a number of challenges and competitions over the afternoon and it was a great success.  
3. Every Triple Crown Event
They are all unforgettable, but watching all four of my bunks absolutely SMASH Lip Sync this summer was insane: the Senior 1 Girls inspired me to watch Mamma Mia! for the first time, the Senior 2 Girls had me in stitches with their name game, the Senior 3 Girls ran a full Broadway production with The Addams Family, and the Senior 4 Girls performed incredible choreography to their DJ Earworm mash-up. I was floored.
4. The Messiest Day EVER with Senior Girls!
Cracking eggs on heads, dumping syrup down backs, launching Caesar salad dressing in the air, and slipping up the hill in The Well on an oily tarp was a hilarious way to round out the summer. I loved watching the girls bond over how nicely egg yolk moisturized our hair after the day (and many showers) concluded.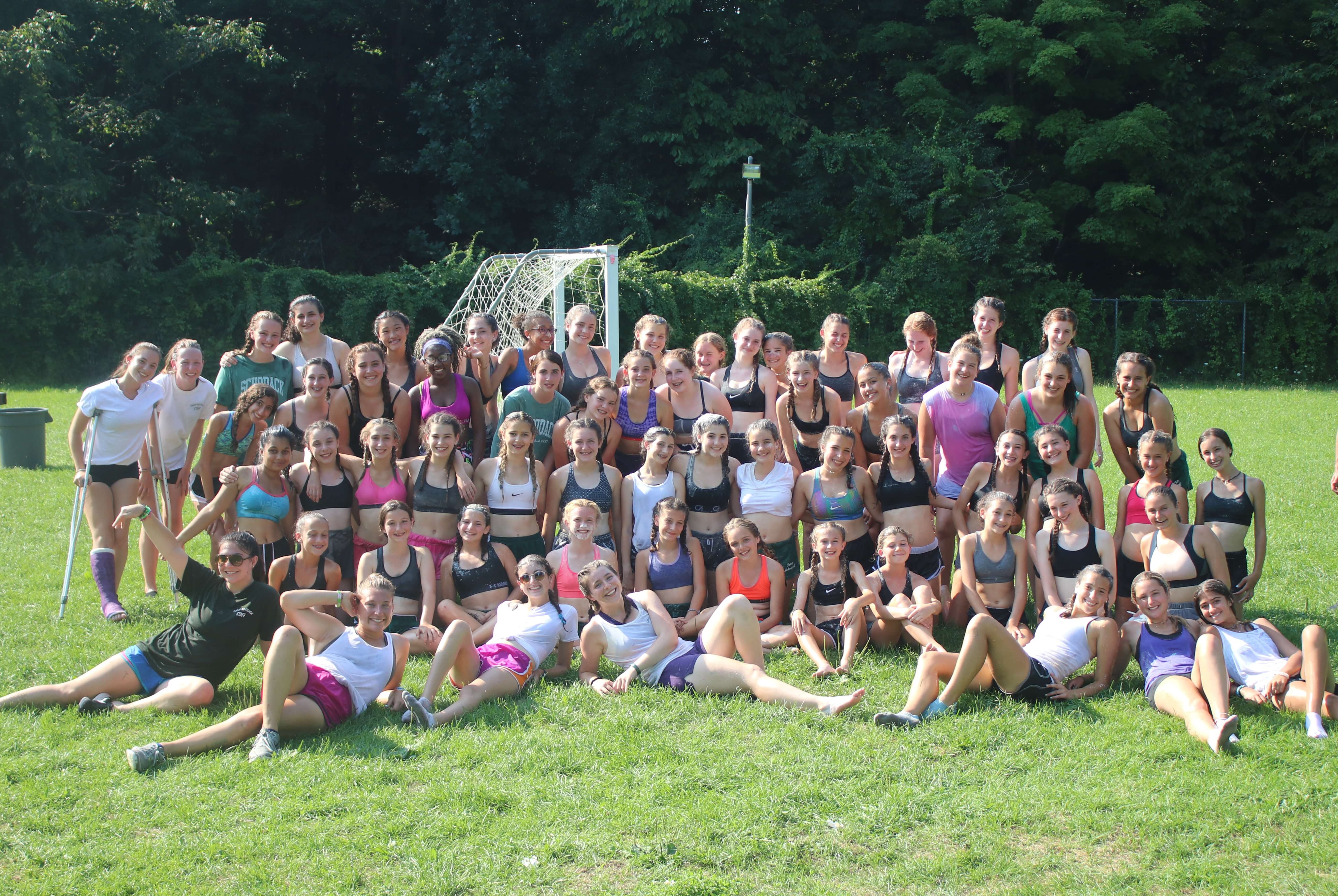 5. The Last Night of Camp
It is unavoidably emotional, but sitting in the darkened Rec Hall, listening to our division sing our special song brought me to tears and demonstrated to me how much our incredible girls have grown together over the past summers. I am so excited to see them move into the Super Senior and CIT programs – the beauty of camp is limitless!
We are all very excited that Shira will be working with our Super Senior Division next summer and also happy that she will be on hand to provide guidance and support to her fellow Head Staff.