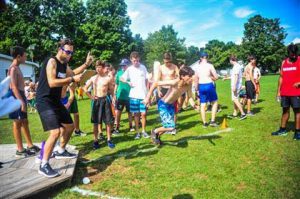 My Return to the 12123…
To Paraphrase Dwayne Johnson, aka 'The Rock'…"Finally, Carter has come back to Schodack!"
Seven long, cold, camper's choice-free years had passed before I finally set foot back on that hallowed turf that has been a 2nd home for so many of you and one that I considered a first home for a long time after spending years working year round with Paul, Matt, Owen, Karen & Peggy.
To say that I was excited would not do justice to the overwhelming joy that was building up inside me as I booked my flights. I contacted old staff and campers and harassed the year-round team to make sure that I could come to Schodack not just as a visitor, but as a member of the team – ready to put my energy, skills and experiences to use and once again be a part of the magic that happens every year in Nassau, NY.
When I last left Schodack (finally having a Tribals Plaque to call my own with the greatest Co-General ever in Julia Kaplan) I quoted a song lyric in my yearbook article saying that, "There has never been any place quite like this one, and for once in my lifetime, maybe I'd be foolish not to stay." To return to Schodack this summer reminded me of that feeling, but it also hit home that the joy of camp being 2 months and not 10 (as so many of us have wished for in the past) and the fact that eventually most of us have to leave to take on other challenges is that we get to grow up, find someone to share our life with, have a family and then share with those new family members the greatest place in the world…Camp.
Camp is and always will be the best education I have ever had. I remember reading Will Borowka's blog talking about how he knew he was ready for college because Camp had prepared him for it. I feel the same about every challenge I face and I will always try to share Schodack with everyone I know and meet.
I could write about my love of Camp for pages and pages, but I'll keep it short and just say, I want to thank the all of you who were at Schodack this summer for the amazing welcome that I received, in particular the Head Staff who let me wonder around like I owned the place and the Waiters that welcomed me on my very first night!
Finally, I'll leave you with my top 3 Schodack moments and a final thought:
Breaking Tribals as Willy Wonka – because we made something truly amazing happen that night for staff and campers alike.
Every time I drive around the corner toward Camp, pick a song to play and start the countdown…10, 9 ,8…
My very first night at Camp, sleeping in B3. I was anxious, excited, a little scared and having no idea what was about to happen for that summer. I'll forever be a little jealous of everyone that gets to relive that feeling.
My final thought is that I think I will always teach everyone I know the importance of learning the difference between a lump in your oatmeal, a lump in your throat and a lump in your breast. Life is lumpy. Life is unfair. Luckily for all of us, Camp Schodack will be there to help teach us to tell the difference.
Good night, Sig.