Surprise Bracelet Makes its Way to Mom…Minus a Stamp!
Last summer was Ben's first summer at Schodack, first summer away. I was missing him so much and the letters I was receiving didn't exactly include all the information I was hoping for. The long awaited first letter literally said, "Dear Parents – I love Camp. From Ben." The 2nd letter was more of the same, "Dear Mom – Camp is awesome. I can't find my stamps. Love Ben." I was thrilled that he loved camp but wanted more detail and emotion than I was getting from the letters.
About a week later I received an envelope that was a little thicker. When I opened it, the most beautiful bracelet fell into my hands. The note was written in Ben's distinct, minimalist style, "Dear Mom – I bought this bracelet for you. Love you." I found out later that Ben had gone to Howe Caverns on a camp trip. Instead of using the money his counselor had given him for a snack or souvenir, he bought me the bracelet. As I was enjoying his unselfish love, I realized how lucky I was to even have received the letter at all. Turns out, Ben never put a stamp on it! (see letter #3 below). He mailed the letter without postage, but somehow it still made its way to me!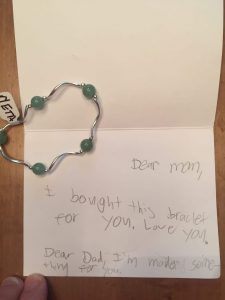 We were told this at the winter reunion and wanted to share this lovely camp story!