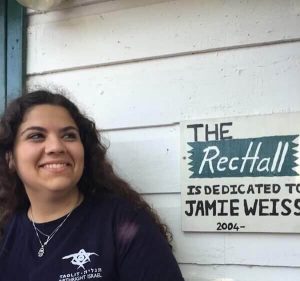 Since I was eight years old, almost every part of my life has been influenced by camp. Even as I'm writing this, my "Camp Schodack" playlist is playing softly in the background. It has over 150 songs – BPNs, alma maters, third camper's choice tracks – and it is the culmination of the past 14 years of my life. I know that I'll never be able to fully convey what camp means to me but I can tell you why I keep coming back.
I keep going back to camp because it is my home. Not only is it my home, but it was home to my father, my aunt, my cousins, and my sister. Schodack is where I learned to swim, ride a bike, take a five-minute shower, and stand on the Dining Hall roof in front of over 300 people and feel completely at ease. Schodack is where I learned to be a team player, a leader, and a friend.
I keep going back to camp because whether I've known them since 2004 or since just last year, my camp friends are the most important people in my life. The impact they have had on me in such a short amount of time is astounding. Truly, my words fail when I try and explain how grateful I am to Schodack for putting this group of people in my life. For lack of a better phrase, camp friends just "get it". Whether that is in the form of a 3 a.m text in the dead of winter about a talent show idea or just sitting in plastic chairs at the canteen area eating gummy bears realizing that life simply cannot get any better.
I keep coming back to camp because over the past six summers that I've been on staff I have watched my campers grow up. This has been the most rewarding experience – one that has had a fundamental impact on my life. I have seen them conquer the climbing tower and I have seen them get into college. These young men and women who entered my life when I was 16 years old are some of the most intelligent, kind-hearted and hilarious individuals that I have ever met.
Things have changed tremendously over the past 14 years. I've gone from being a CIT to being in charge of the CITS, having my senior campers have their own senior campers and I've seen the counselors who I had when I was in junior camp with their children who are now old enough to be junior campers themselves. I guess all that's left to say is that in 30 years I know that I'll look back on my experience at Schodack and be able to say that I (Seminole) Let The Good Times Roll!