Throughout the year we all love to look at photos from camp, speak to friends and generally reflect on great camp memories. Equally we find ourselves wishing that summer could come around quickly, taking us back to the place that makes us happiest. Around this time every year, it starts to dawn on me that camp is drawing closer and closer, along with the overwhelming feeling of excitement.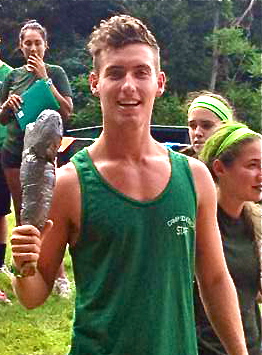 Now entering my sixth year at camp, I'll be embarking on a new challenge as Schodack's  "Team Sports Coordinator." It's a job I'm very focused on completing with due diligence and enthusiasm. I am delighted to be in a supervisory role, and aim to bring my experience as a personal trainer and collegiate soccer player to great use this summer. My position gives me the opportunity for a new level of mentoring for campers and staff; a platform which I find extremely rewarding.
On top of focusing on my activity areas, another main goal of mine is to have a positive impact on camp, for both staff and campers. I aim to achieve this by being full of positive energy and exuberance and by giving help and advice whenever needed.
There are so many aspects of the summer I look forward to. First, Tribals, one of the most exciting parts of camp. Talking from a very personal level, there is nothing more special than the spirit of the green and white teams competing and coming together to embody the true camp experience. I am also thrilled at the chance to meet new people from around the world, participate in all the activity periods with the kids and the staff, organize the sublime 'Ultra Leagues' and the inter-camp games. And of course there is the craziness of the dining hall, the songs and cheers, Triple Crown, the USA vs. International Soccer Game and much more.
Speaking of inter-camp games….I have already been hard at work getting us signed-up for some awesome tournaments and sports at other camps. We've got 15 planned so far in various sports and for all age groups with more to come!
For me, this year marks a significant milestone in my camp history. It is not just the activities that I look forward to, I am equally excited for things like the sunshine (I'm British), the smell of the grass, talking to friends both new and old, seeing the sun set from atop the corral hill and star gazing on the clearest of nights.  As they say, it is the simple things in life.
I'm really excited to be back and I can't wait to see you all there! Bring on Summer 2014!