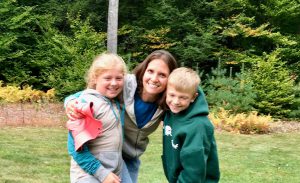 We are beyond excited to announce the return of a very special person to camp! Jessica Moriarty will be joining the Schodack team as our new Health Center Coordinator next summer, and we are so looking forward to having her back in the fold at camp.
Starting in the 1980's, Jessica spent 10 summers at Schodack, beginning as a Junior Camper and progressing through to Group Leader. (Some of her favorite camp memories include swim meets, showering in the rain and lunchtime horseback rides!) After camp she attended Union College and always maintained a passion for working with children. Jessica went on to earn her Master's Degree in Early Childhood and Elementary School Education from Bank Street College of Education.
As a nearly 20-year veteran elementary school teacher, Jessica has amazing skills and experience working with children and their families. She currently teaches Grade 4 at East Hills School in Roslyn and lives in Syosset, NY with her husband Brian (also a Schodack alum), her son Jake who will be in his second year at Schodack, and her daughter, Abby, who will be starting as a new camper!
Jessica is thrilled to be back at camp and looks forward to being the friendly face for campers and the reassuring voice for parents in our Health Center. She will bring a wonderful presence to camp and we are lucky to have her. Please join us in giving Jessica a huge, warm welcome back to Schodack!!!