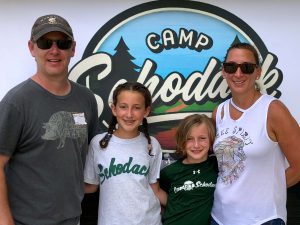 (Brett Cohen with his children Ilivia and Sawyer and his wife Randi)
Hi,
My name is Brett Cohen.  I was a camper, waiter, bunk counselor, group leader and SPEC over the course of 13 amazing summers at Camp Schodack (1985-1997).  Currently, I serve on the Camp Schodack Alumni Association (CSAA) as the Schodack Campership Initiative (SCI) representative. SCI is a non-profit that funds camperships for children from underrepresented backgrounds to attend Schodack each summer.  I'm also the parent of two current Schodack campers.
Right now, I'm excited to combine my role as an alumni parent with my CSAA and SCI roles to launch an amazing new initiative—something that I'm hoping will become a great annual tradition in your home.
Introducing The Schodack Holiday Mystery Box!
You may be asking yourself…"Self, what is The Schodack Holiday Mystery Box?"  My answer is simple…"I can't tell you because it's a mystery."
But, here's what I can tell you:  For $50, you'll receive EXCLUSIVE Camp Schodack gear delivered in time for this holiday season.  The box will include fun and unique Camp Schodack stuff appropriate for campers, staff, alumni and anyone who loves Camp Schodack.  The contents will remain a surprise until you or the recipient opens the box.  It will make a great Hanukkah gift or stocking stuffer.  And, you absolutely don't want to miss out on this.
As a parent, I know that the struggle is real when it comes to finding a perfect holiday gift.  As a Schodack parent, I know my kids will love getting Schodack stuff in the middle of winter.  Heck, as an alumni, I might get one for myself!
Anyway, you get the idea.  Great for them.  Easy for you.  And, while this promotion is brought to you by the Camp Schodack Alumni Association, all proceeds benefit the Schodack Campership Initiative helping to send underrepresented children to camp.  Everyone wins.
We're certain you'll love the surprises that await inside The Schodack Holiday Mystery Box.  And, we're hoping this becomes an annual tradition with new and exciting surprises each holiday season.
Order now to ensure that the box reaches you before the holidays by CLICKING HERE!!!
Ask any questions in the comments and I'll do my best to respond.
Thanks,
Brett