We are well into 2022 and this summer is shaping up to be one of our best ever.  There is a lot to be excited about and we can't wait to welcome you all back to the 12123 in just over 100 days!
But until we're back at our summer home you'll just have to enjoy our latest newsletter with updates on camp projects, news of what the year-round team has been doing, some exciting baby announcements, classic pics from our archives and more!
Year-Round Team Updates
We had our first catch-up with the Head Staff of 2022 back in January. It was so great to connect with this team of new and returning Head Staff members. They are going to do such an incredible job guiding and supporting our campers and staff this summer.
Alongside our fantastic Head Staff team, Crystal, in her reprised role as Staffing Coordinator has been busy hiring new and returning staff members for 2022 as well as planning mental health and wellbeing training for our staff this summer.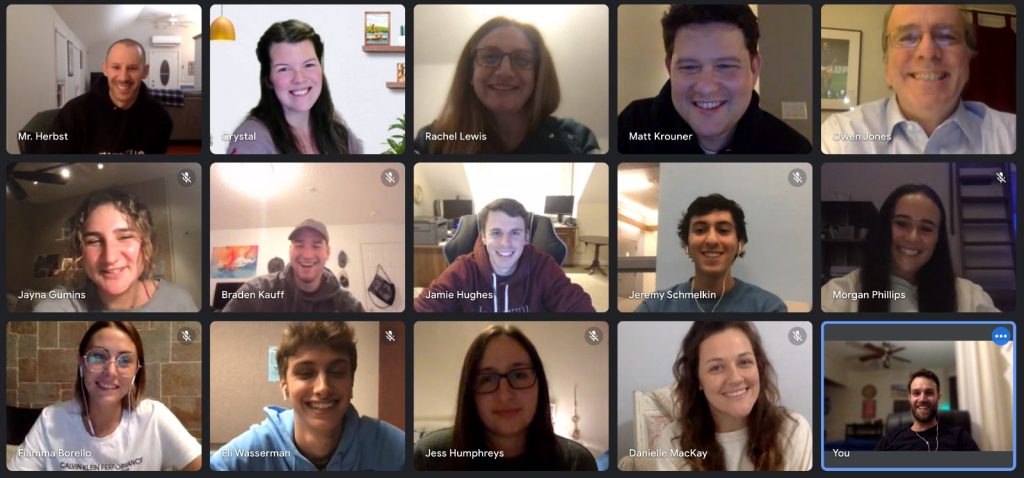 Anyone who was tuned in to CBS New York recently may have seen a familiar face. Our very own Matt Krouner was interviewed in a piece explaining that after years of concern around Covid, summer camps are now more popular than ever.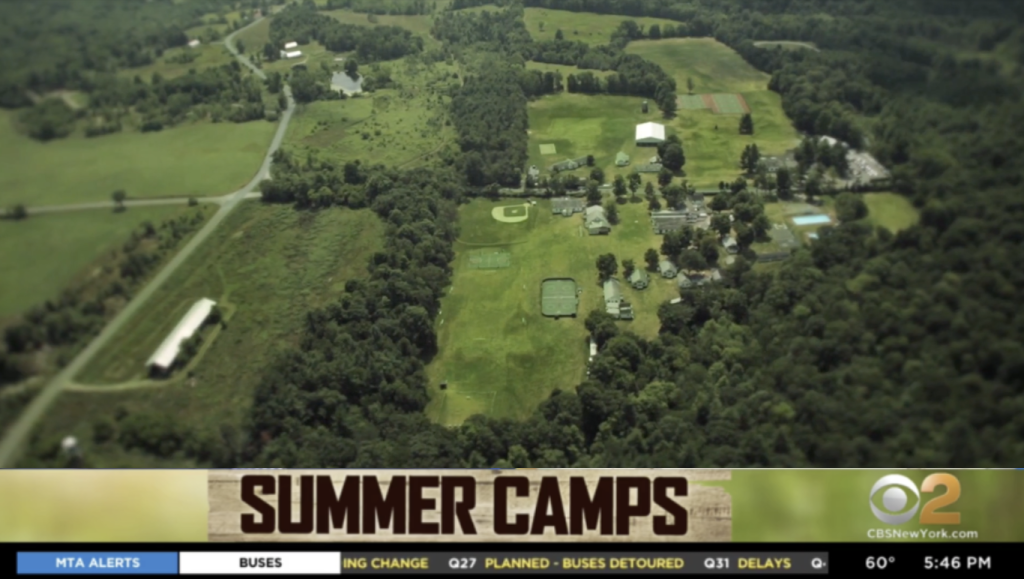 Carter headed over to London for the annual Camp America International Recruitment Fair. Schodack has always valued the impact of our international staff over the years and some true camp legends have been hired at this event in London.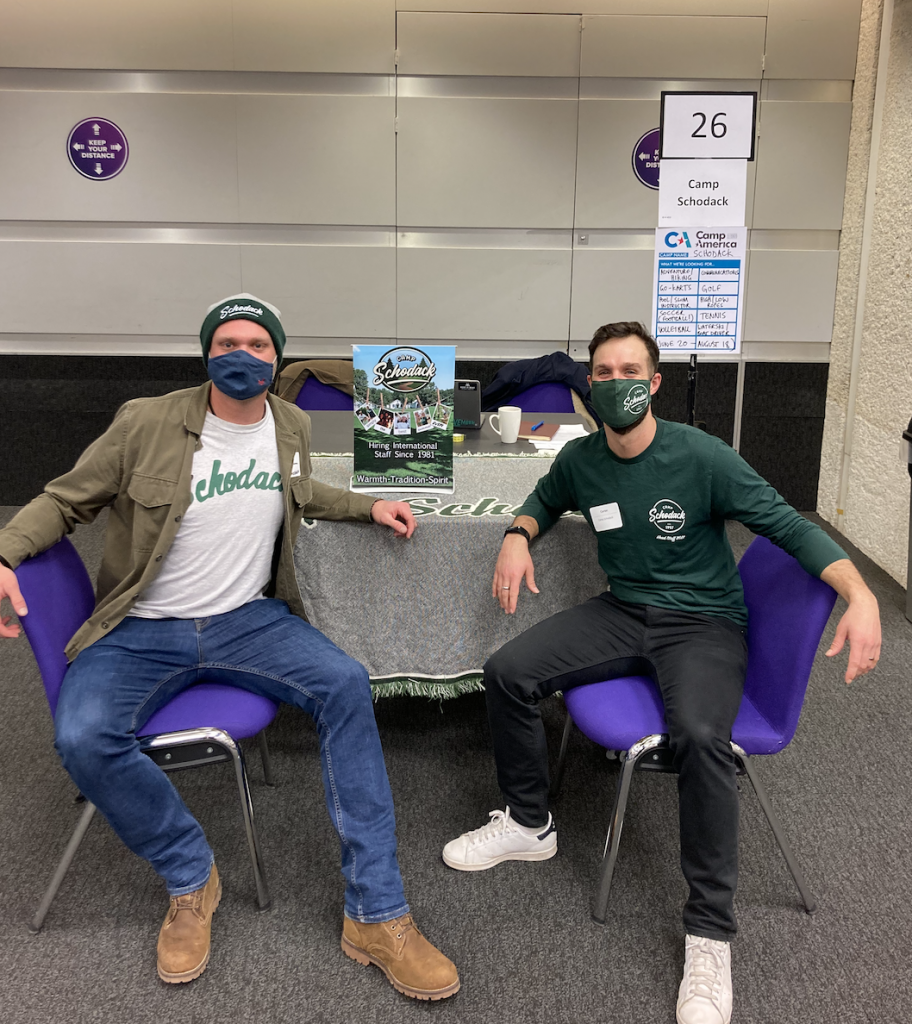 Owen has also been as busy as ever hiring excellent staff, planning for the summer, and of course, coaching his beloved Newton, MA soccer teams. His 8th-grade team even recently won a Futsal tournament!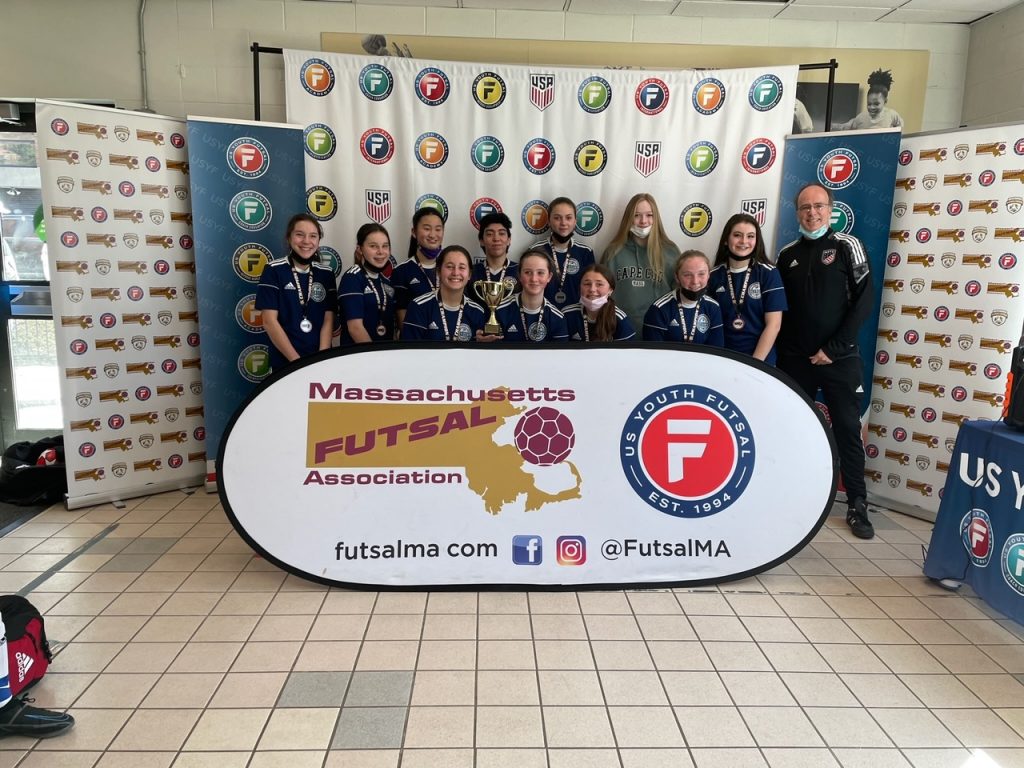 Many of you will have seen the recent news that our Assistant Director Rachel Lewis and her partner Randy recently had a baby. Please join us in welcoming Freddie Max Lewis!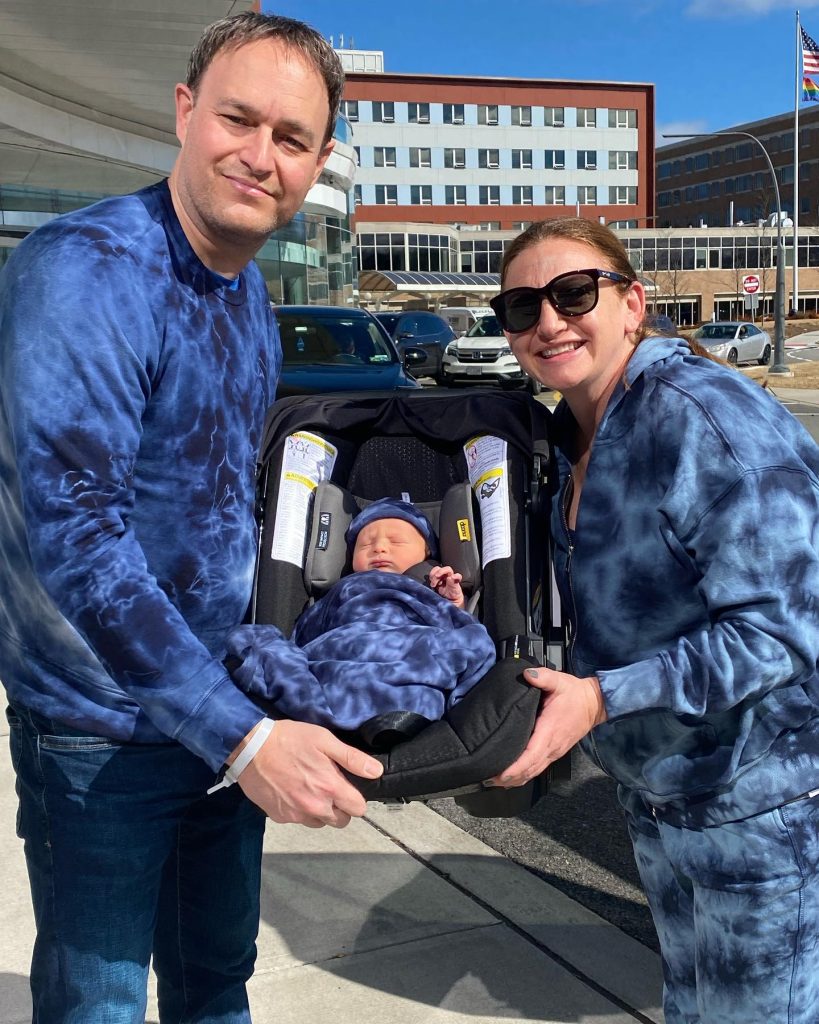 Exciting New Renovation Project Underway
At the very heart of camp is the Dining Hall. The place where we come together to shares meals, sing songs, and hear bunk cheers. It has seen Banquets, Tribals fakes, and more birthday cakes than we can count! The Dining Hall has grown and changed a lot over the years and now it is undergoing one of its biggest changes ever!
As you'll see from the pictures below, the Dining Hall is getting a makeover. All of the Bunk Plaques have been carefully removed so that our hard-working and dedicated maintenance team can install brand new windows and update all of the wood paneling around the entire room to match other buildings on camp.
This is all part of Phase 1 which will be completed ahead of this summer. In the Fall of 2022 we will begin Phase 2 which will include raising the ceiling up to 20′ and a brand new floor!
We cannot wait to share pictures of the finished product and once again have the Dining Hall full of campers and staff!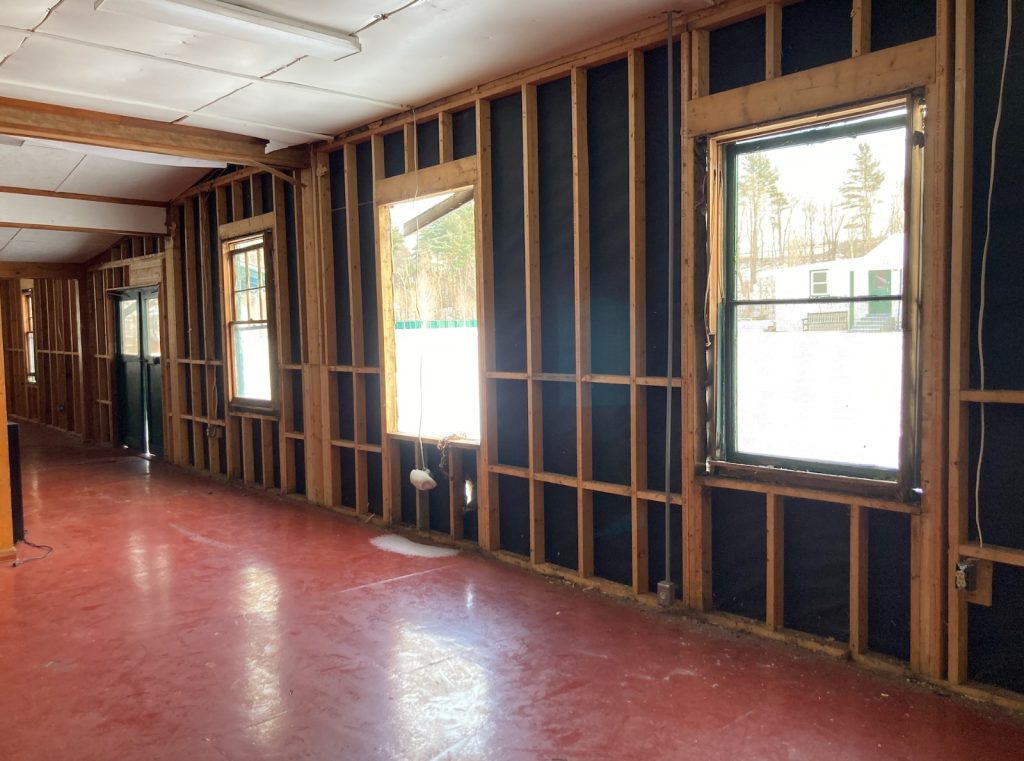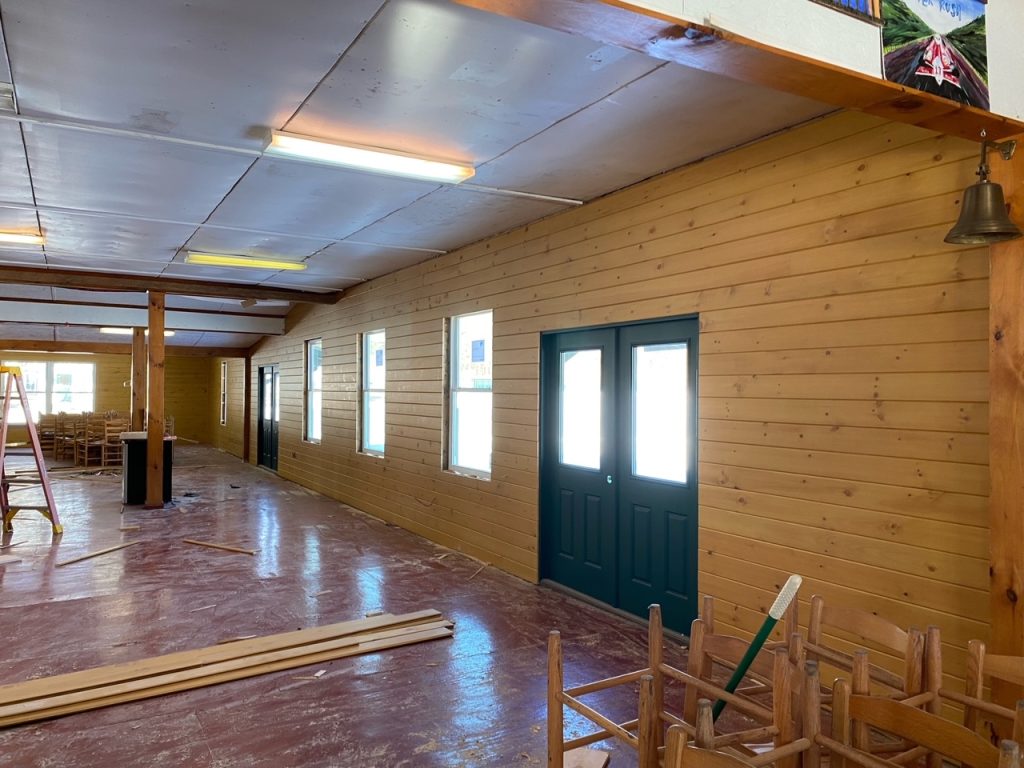 Wear Your Camp Shirt Day 2022
One of the best events of the off-season is definitely 'Wear Your Camp Shirt Day!' This annual event sees our community all over the world come together online in one amazing day of Schodack Pride.
Full details to follow soon but we hope that lots of you will join us again this year on April 22nd to help us turn the internet Green & White!
You can see some pics from our 2021 'Wear Your Camp Shirt Day' below!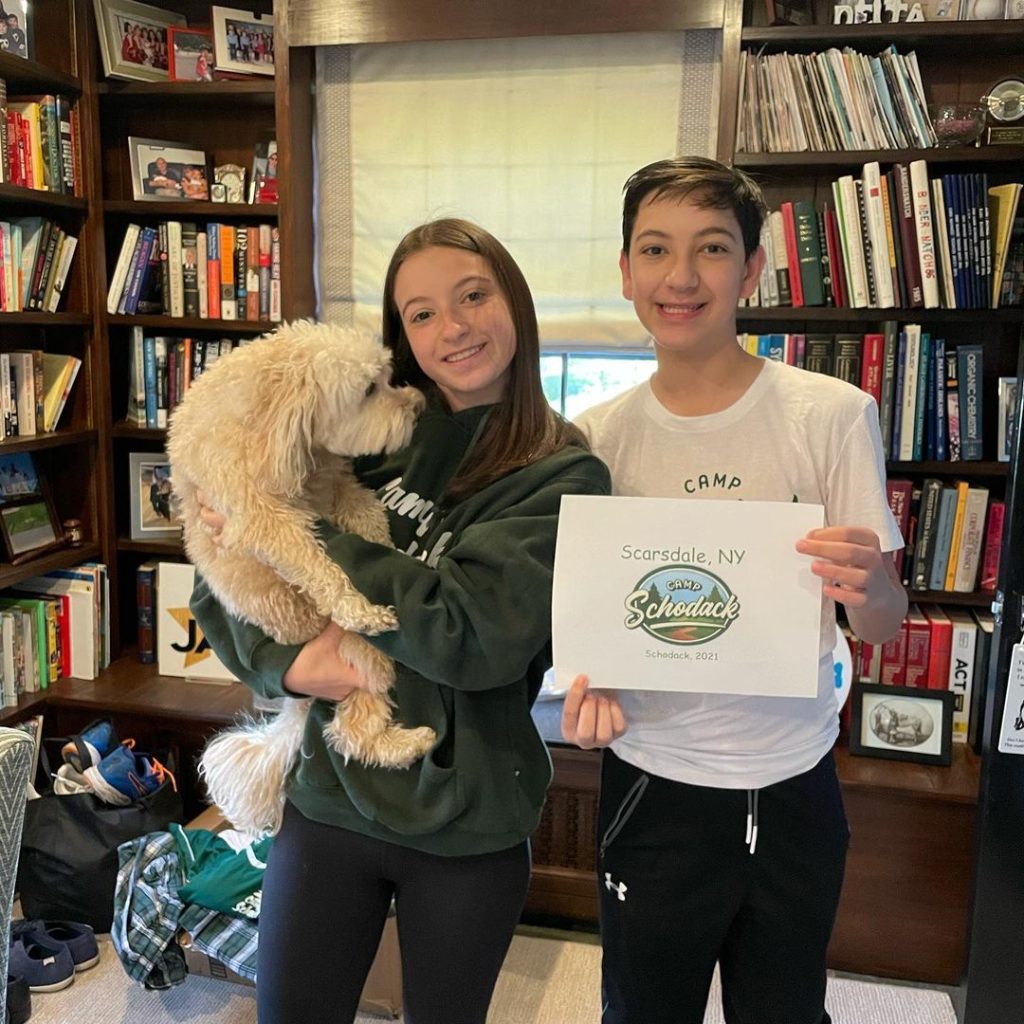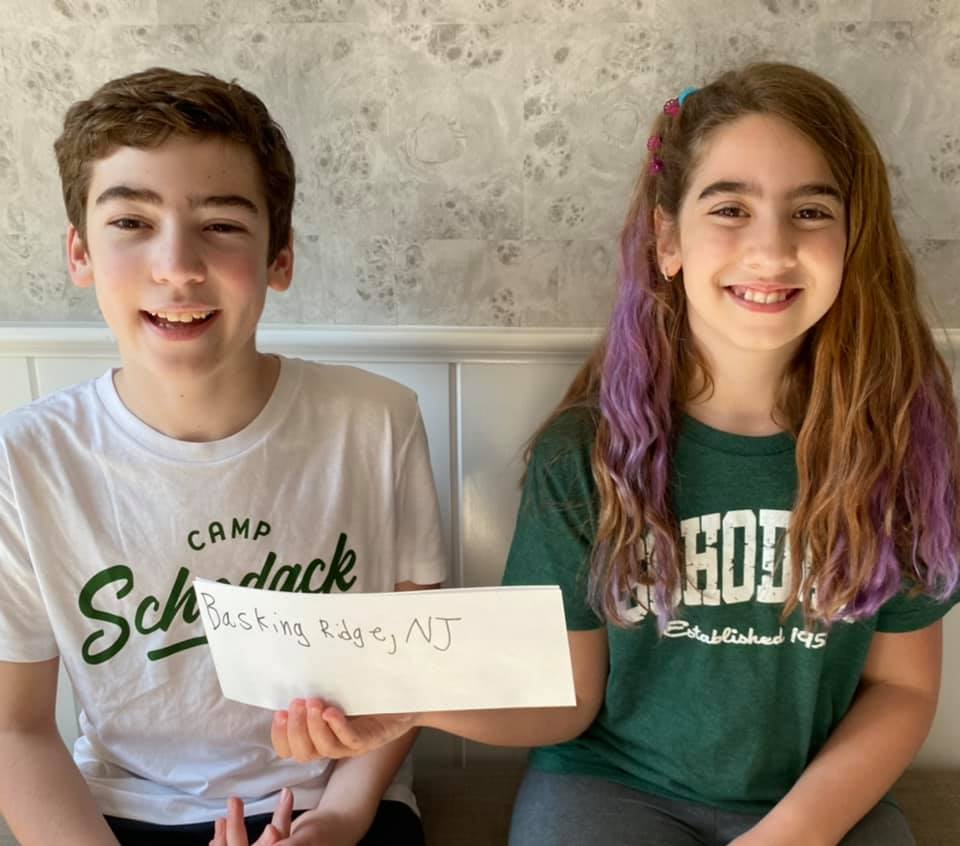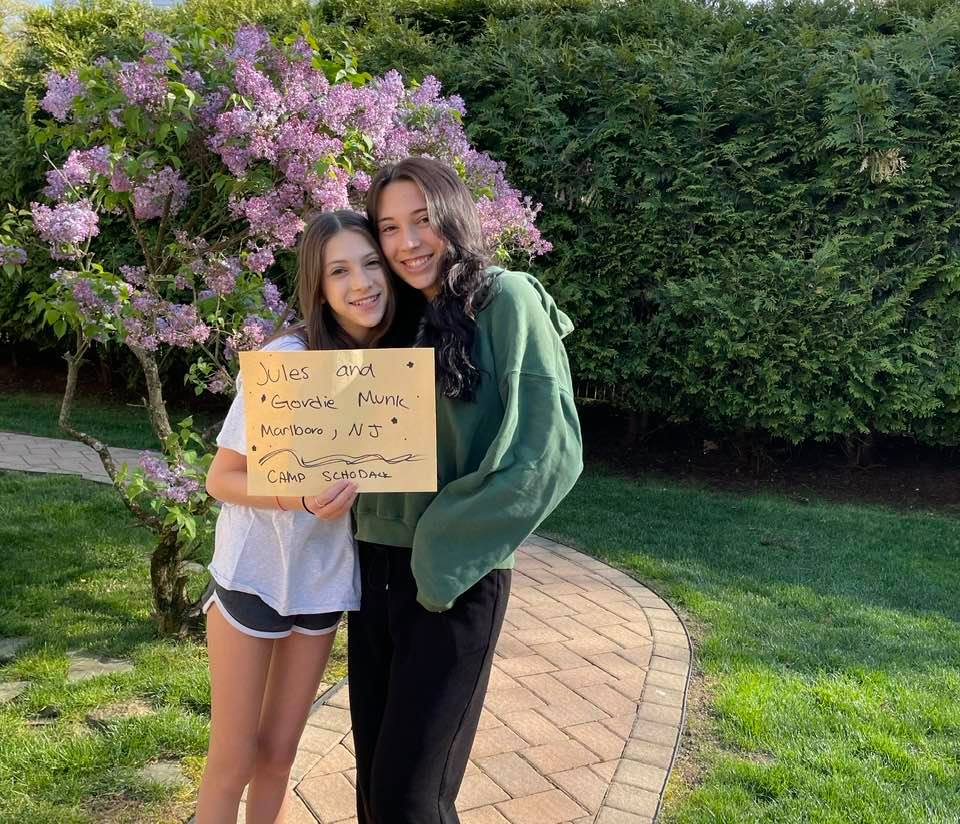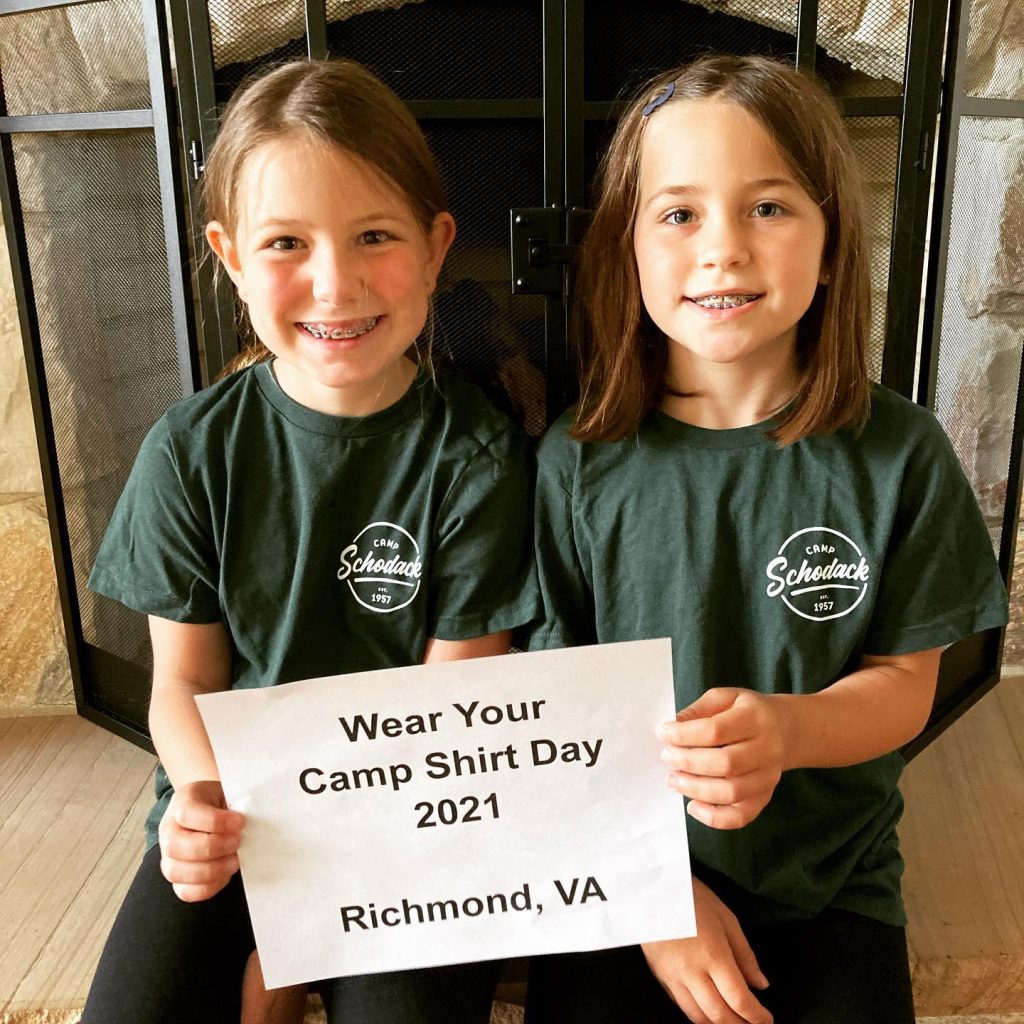 An announcement from Matt (and Olivia)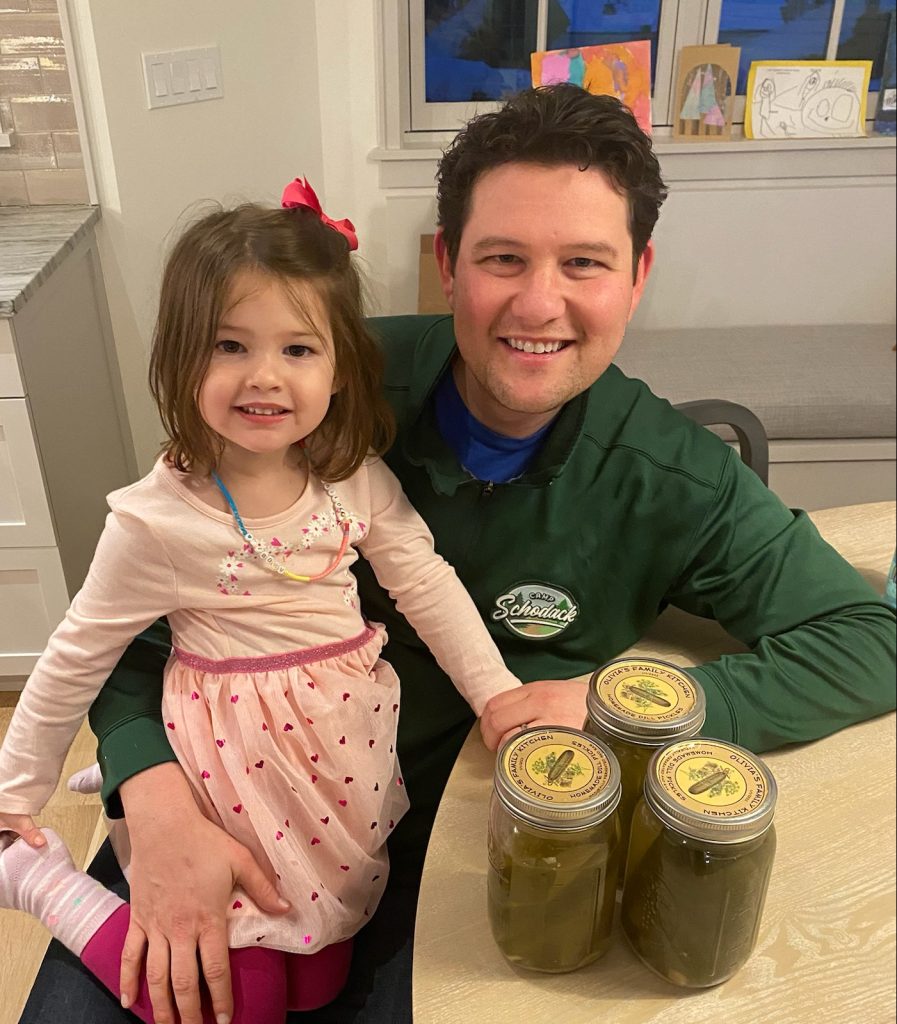 Who else loves pickles!?!?
Olivia and I love them with a passion. In fact, pickles are a Krouner-family tradition. Back before Camp Schodack even started, in the days of Krouner's Hotel, my family was famous for their pickle recipe and guests of the hotel would request them all the time.
Olivia and I wanted to keep this tradition going and started making our own pickles using this famous Krouner-family recipe which has been passed down through the generations!
Here's where it gets exciting…Olivia and I will teach this recipe and make pickles with interested campers this summer in the Camper Kitchen! We can't wait! Enjoy some pictures below from one of our first batches and get ready for some fermentation at Schodack this summer.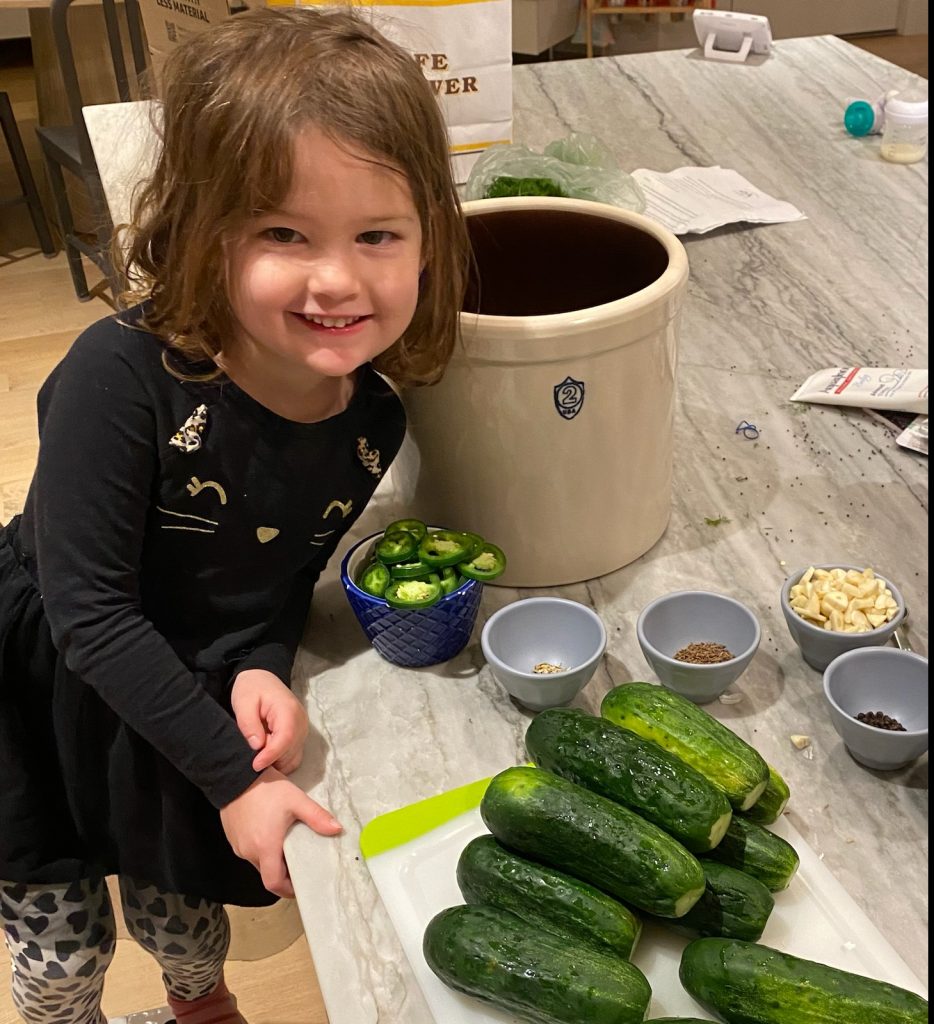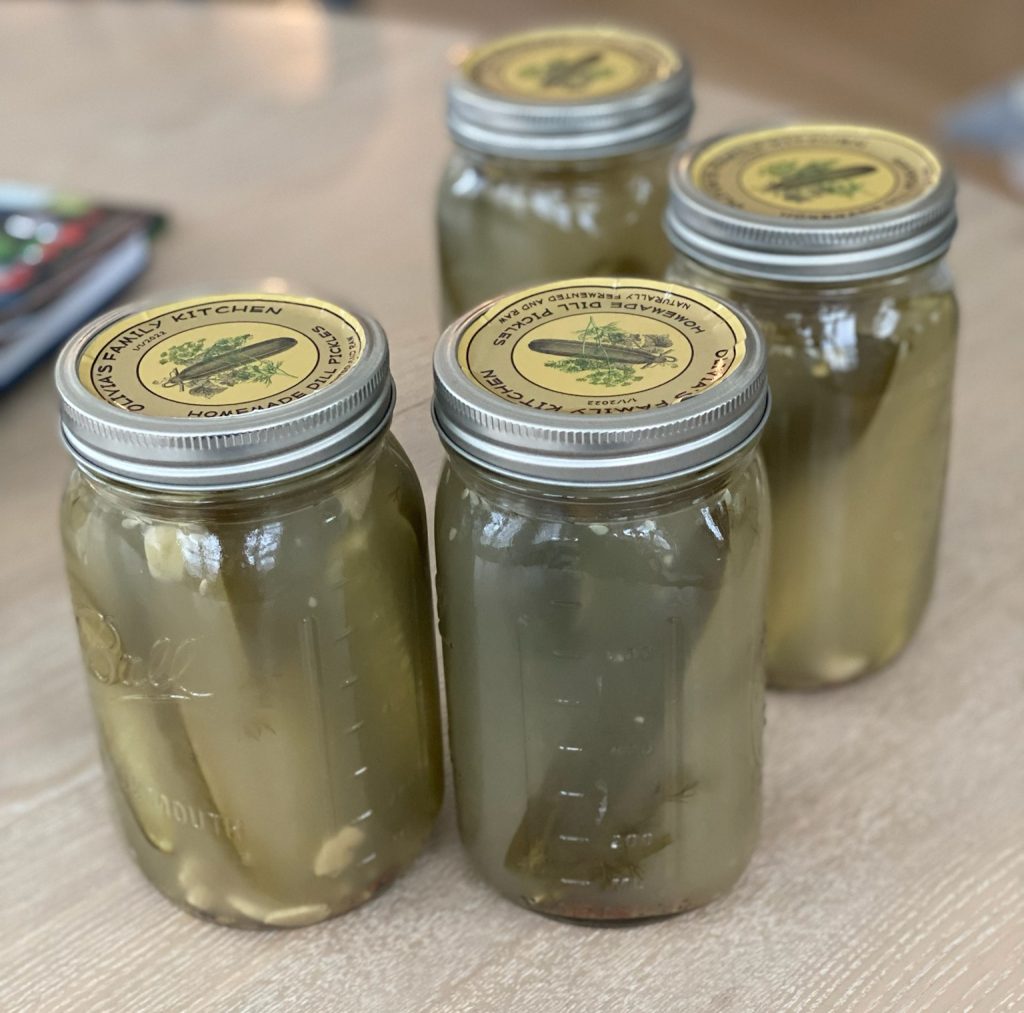 Staff Updates
We have some really amazing staff updates that we are excited to share with all of you.
We are thrilled to announce an exciting addition to our Health Center Team this summer – Tracey Kramar.
Tracey is a Physician Assistant (PA) and will be with us all summer, working closely with our medical team. Tracey's two children, Dylan & Emma, will be first-time campers and her husband, Andrew, will come for visits as well.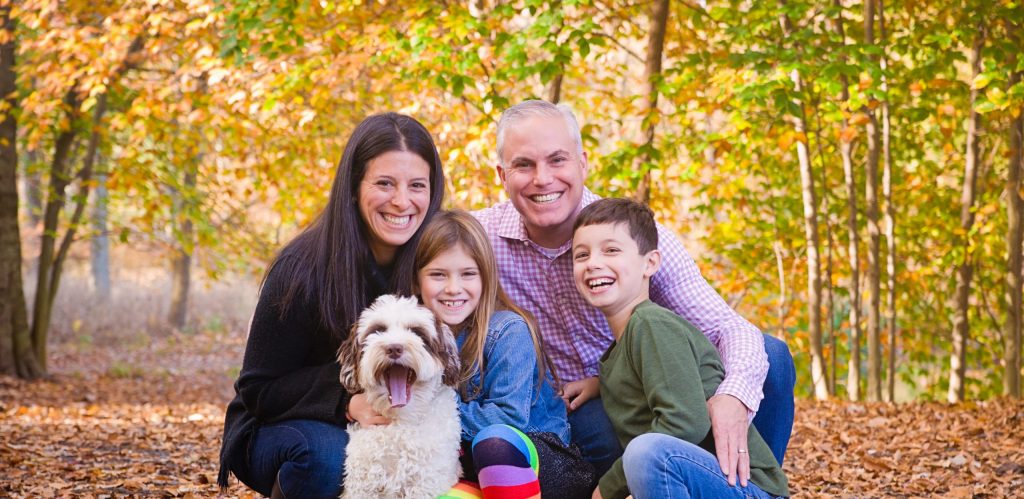 More amazing staff news…
In office news, Kim Ross is back for another summer at the 12123 and we are very excited to welcome her back since moving to Florida last year.
Our very own Dr. Ditursi (Dr. D!) is back as well as Health Center Coordinator Jess Moriarty. Alongside Dr. D and Jess we also have Nurses Sally and Kerri returning in addition to Night Nurses Kalotta and Amanda. We would also like to give a shout out to 2 new nurses for this summer, Irma Mendoza-Montoya, and Jeanni Daugherty
We have lots of staff returning for 2022 and an amazing group of LTs that graduated in 2021 – all are gearing up for their first summer on staff. New this year are our Camp Internships. This incredible opportunity is designed to complement our staff's education and offer real insights into varied areas of camp life. If you or anyone you know are studying Communications, Event Management, Psychology or Business, then we may be able to help gain valuable professional experience while spending time being an amazing role model at camp!
Refer a Friend to Schodack!
Do you know a child or family who would be interested in Schodack in the future?  Please let us know!
For details about our 'Refer a Friend' program or to recommend someone CLICK HERE OR reach out at 781-444-5520 or [email protected] to let us know about an interested family.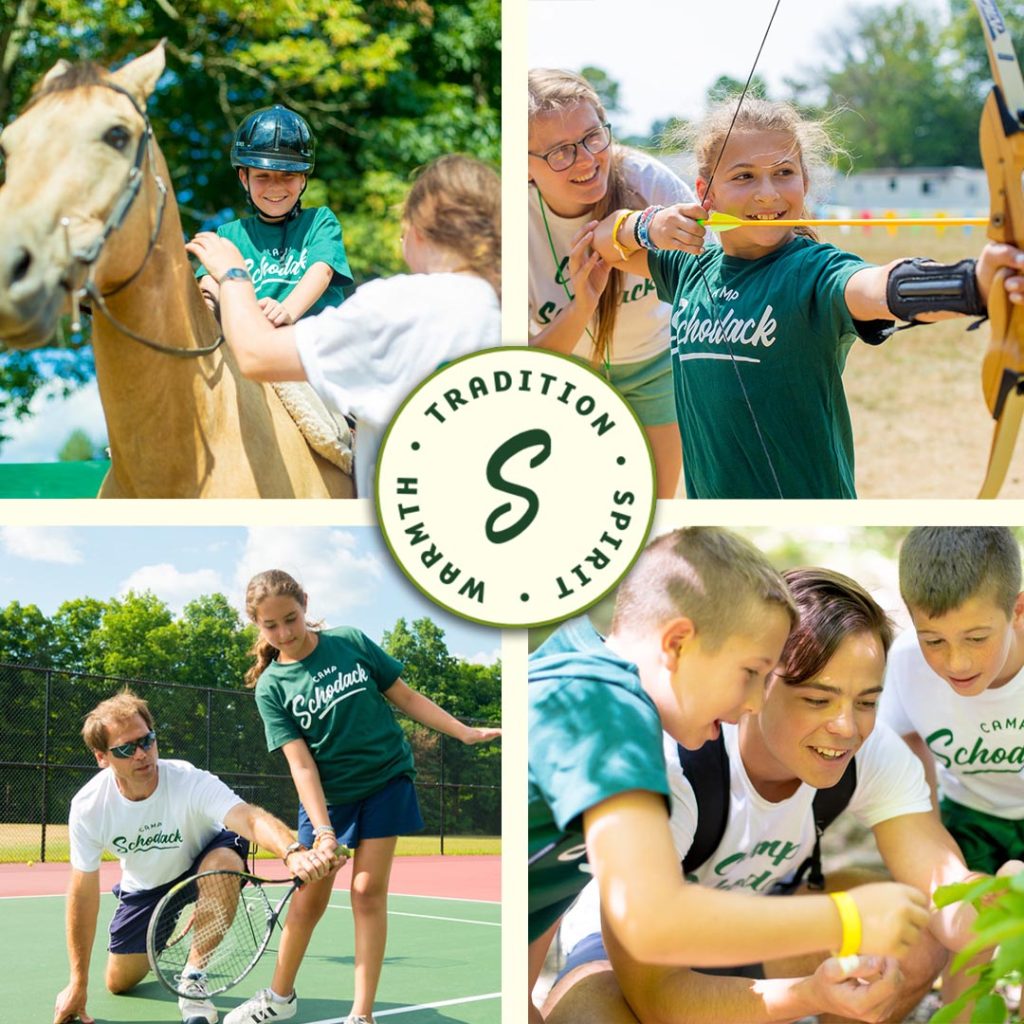 Alumni Corner
Baby News!!
There have been a lot of wonderful baby announcements recently that we want to share with you.
Long-time member of our maintenance team, Jan Pacner (2014-2021), and his wife Aneta (2014-2017/2019) who also worked at camp for many years, just had their first baby and sent this lovely photo through to the team.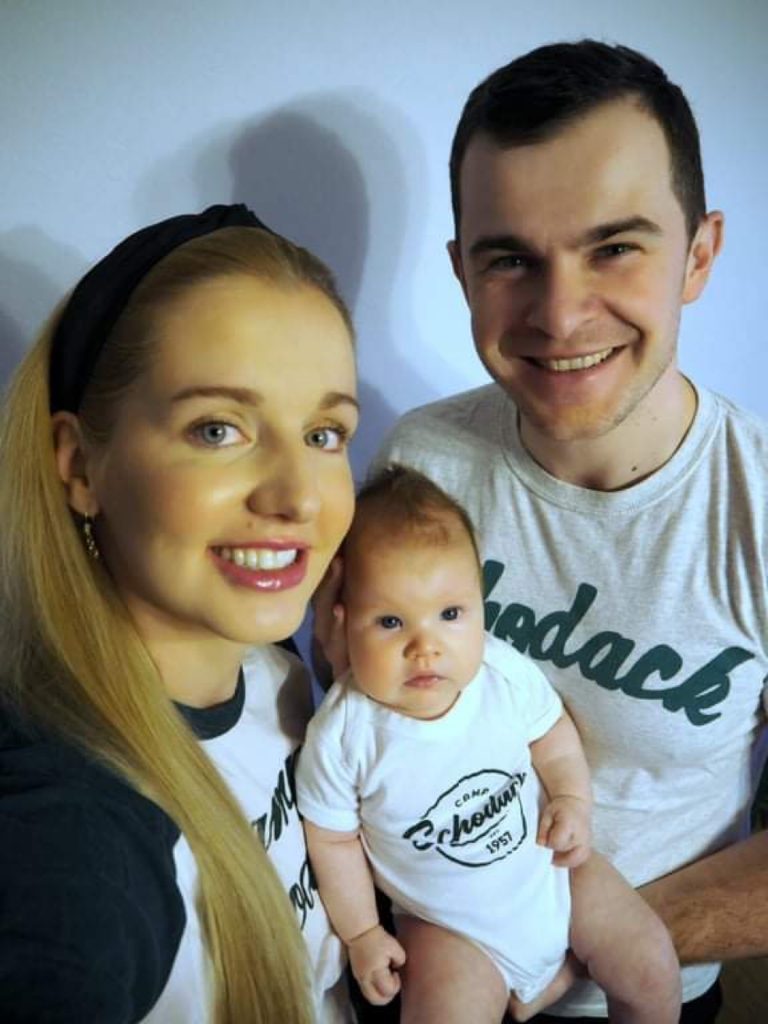 Amanda Metviner (97-06) and her partner Scott, recently welcomed their new baby into the world.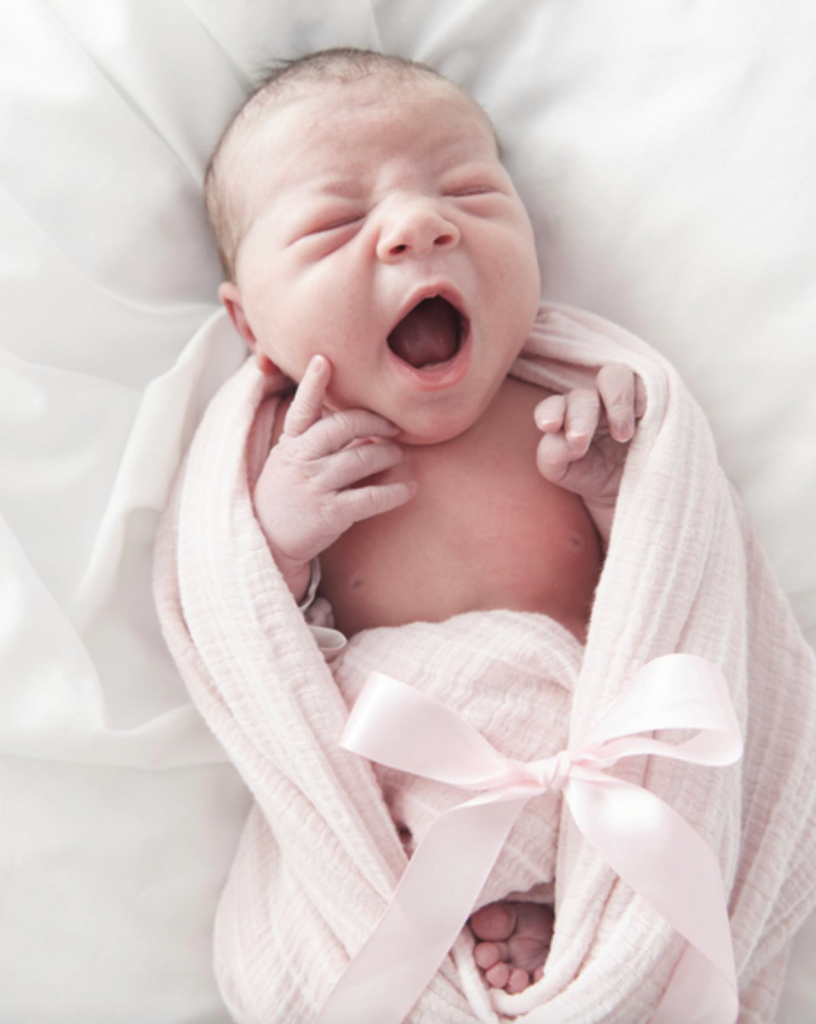 Michael Carter (2005) and his partner had their second child last year and recently shared this pic of their daughter Maya, rocking her Schodack swag!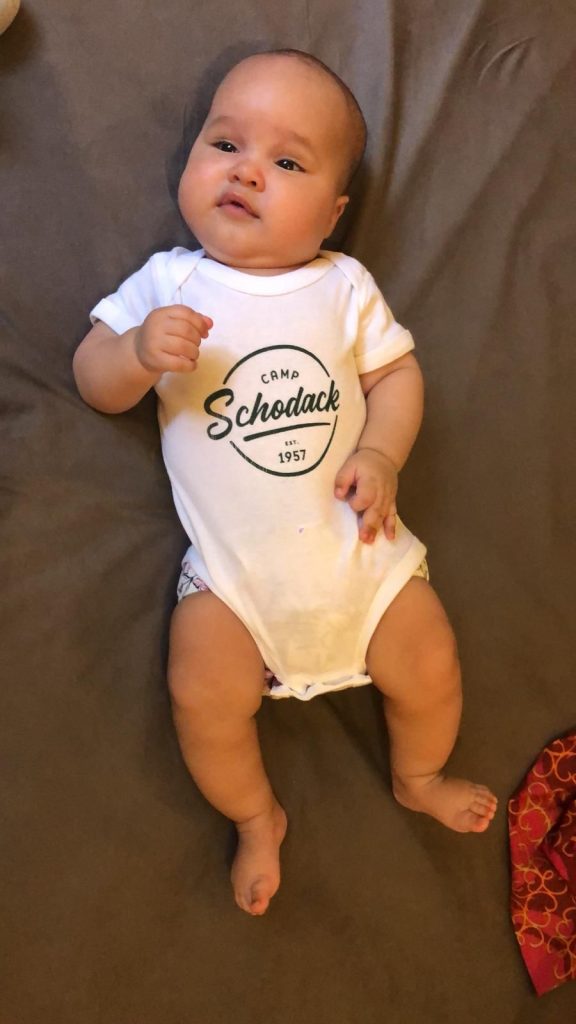 In other alumni news…Keith and Tracey Nussbaum stopped by camp on a cold winter's day in December and managed to catch up with Paul in the Welcome Center.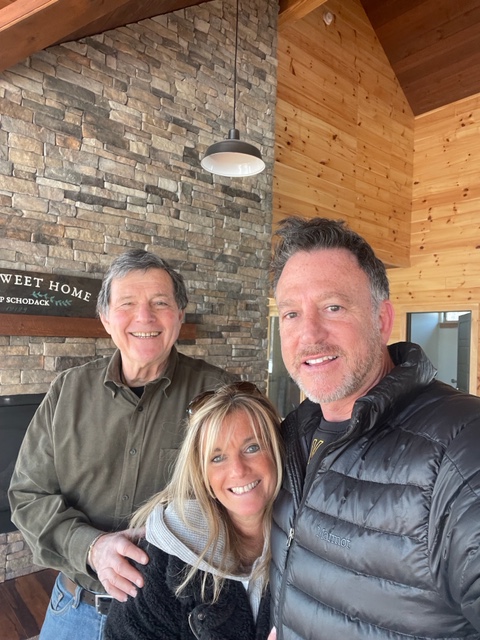 From the Archives
We all recently mourned the loss of singer Meatloaf, as many of his songs were highlighted on the Playhouse stage over the years. Our team  started to wonder…who has had the biggest influence on winning song choices for Bunk Plaque Night at camp?
Well, it should come as no surprise that Meatloaf himself boasts a highly impressive record according to Schodack's Keeper of the Stats, OPJ…
"Notwithstanding the early successes for Billy Joel, nor the current hat-trick by The Struts, it is Meatloaf with five wins that has been the most successful artist in Upper Camp Bunk Plaque Night with five wins. Remembering 1994 Waiter Destiny (Out of the frying pan), 2001 CIT Reality (I would do anything), 2004 CIT Aura's Triple Crown winner (It just won't quit), 2005 CIT Element (Couldn't have said it better) and 2009 CIT Presence (You took the words right out of my mouth). Throw in the 2019 Wichita Boys Middle Camp Triple Crown winner (Bat Out of Hell) and you have a veritable catalog of success at arguably Camp Schodack's most iconic event."
Below are a couple of photos of Bunk Plaque Night from our archives taken back in 1976 – Who still remembers all the words to their BPN?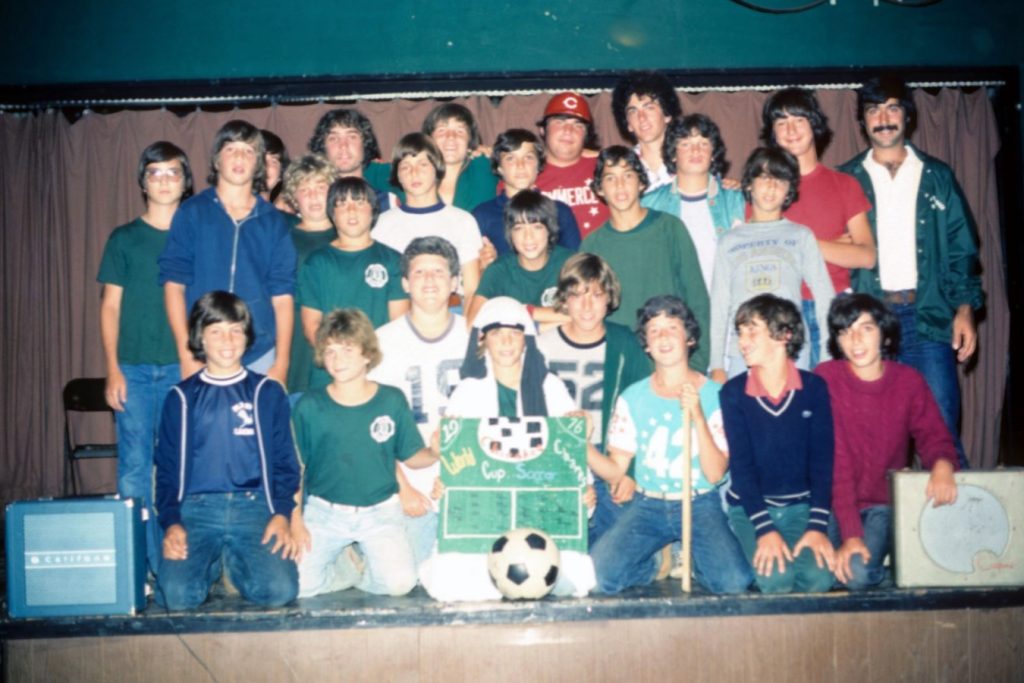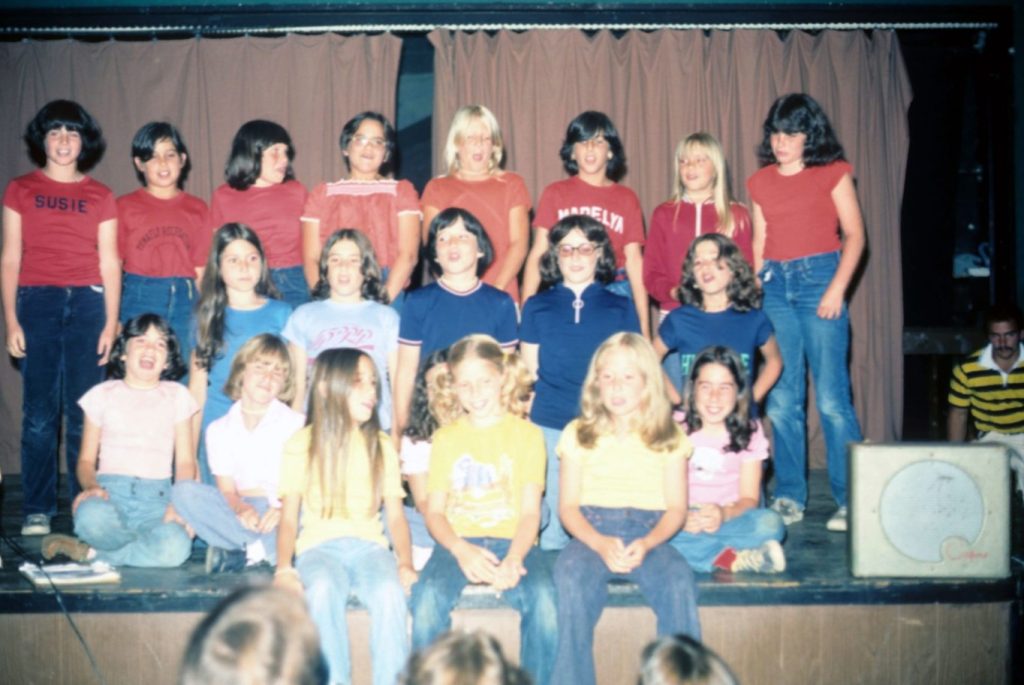 Appeal For Support Of Ukraine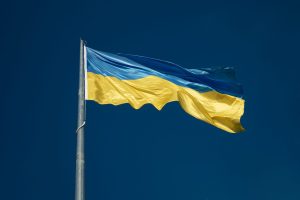 Many of us have been shocked and saddened by what is happening in Europe and some might be wondering how to help. One way that summer camps have been motivated to get involved is by offering their time and experience through virtual classes and activities for displaced Ukrainian children.
If you are an educator, activity leader, or just someone who wants to help and make a difference, click here to find out more about what you can do to get involved.
____________________
We hope you enjoyed reading up on everything going on here at Schodack HQ and with our community around the world. 
As always – WE WANT TO HEAR FROM YOU – if you have done something amazing that you want to share with the Schodack community, or if you know someone else that deserves a shout-out, just drop us an email at [email protected] – we will be sure to give them the recognition they deserve.