Our Latest Video
The energy has been buzzing as high as ever this week at camp. We began the week with a Blister Day! The days leading up to our afternoon in the pool were the perfect sunny lead-in to our favorite all-camp pool party. The mood was high in anticipation for what would come later that evening: SCHOCHELLA. Inspired by the real-world music festival, Coachella, Schochella featured a lineup of counselors and campers. We gathered in the Well, laid out on blankets and crazy creaks with our faces painted with glitter and excitement for what was ahead. From the return of the Krouner Band with 'You've Got a Friend In Me,' and the beloved Hundred Acre Woods band to acapella covers, world premiers of music videos, and a new original song, it was a great night. There were even surprise performances from our very own Linda Krouner, and the CITs. Chef Hess even successfully attempted to play an entire song while blindfolded!
We also held the Variety Show this week. Campers have been working hard on their acts over the past couple of weeks. With comedy skits, dances, goosebump-inducing ballads, and the return of a beloved frog skit for the third year in a row, campers were excited to cheer on their bunkmates on the stage. Each act ended with a bow and a crowd of arms waiting at the side of the stage to give big hugs to the camper who'd just performed. Still ahead is BPN, which will continue on our week full of music. On either side of Krouner Road, bunks are practicing choreography and memorizing lyrics.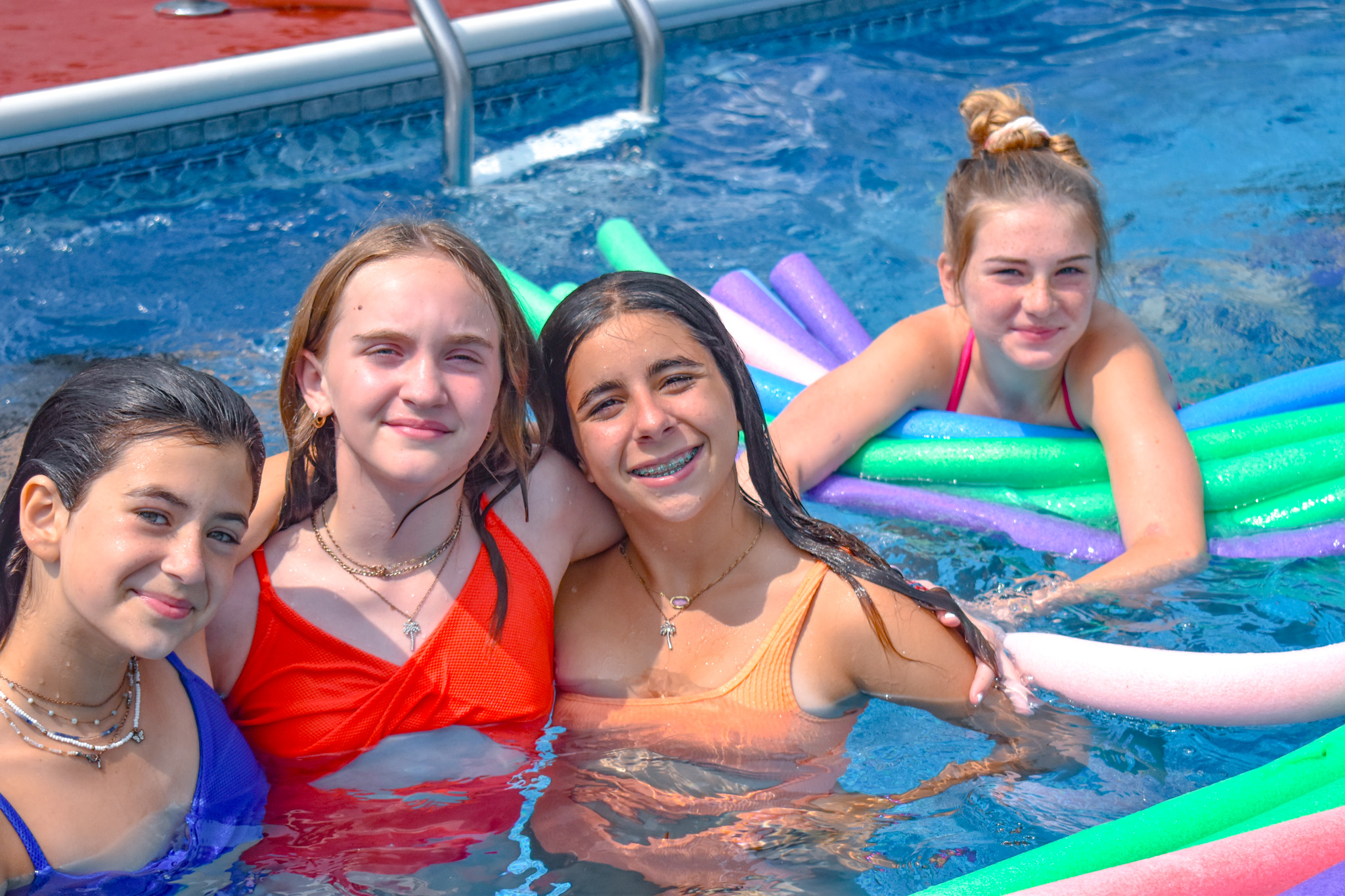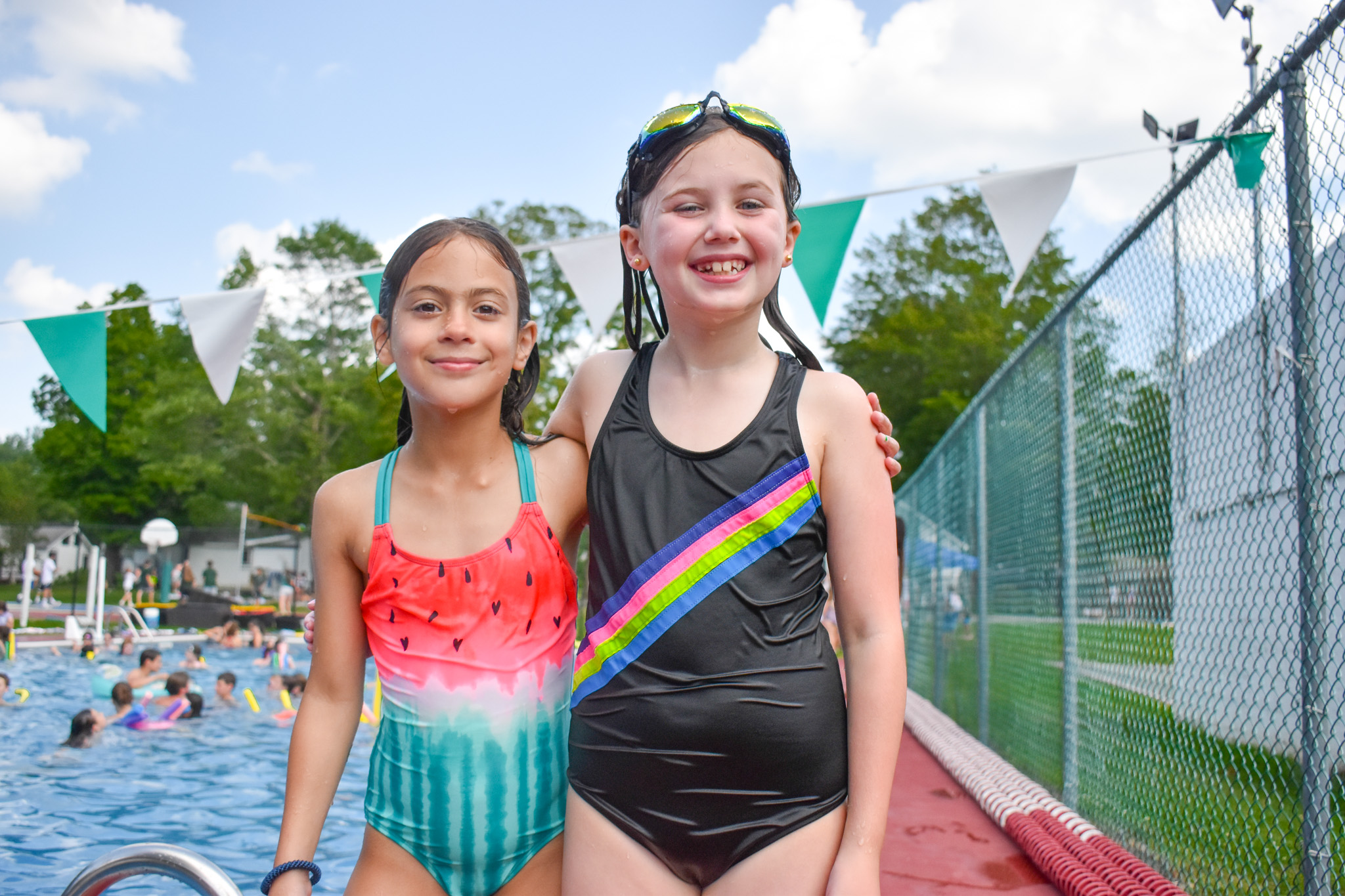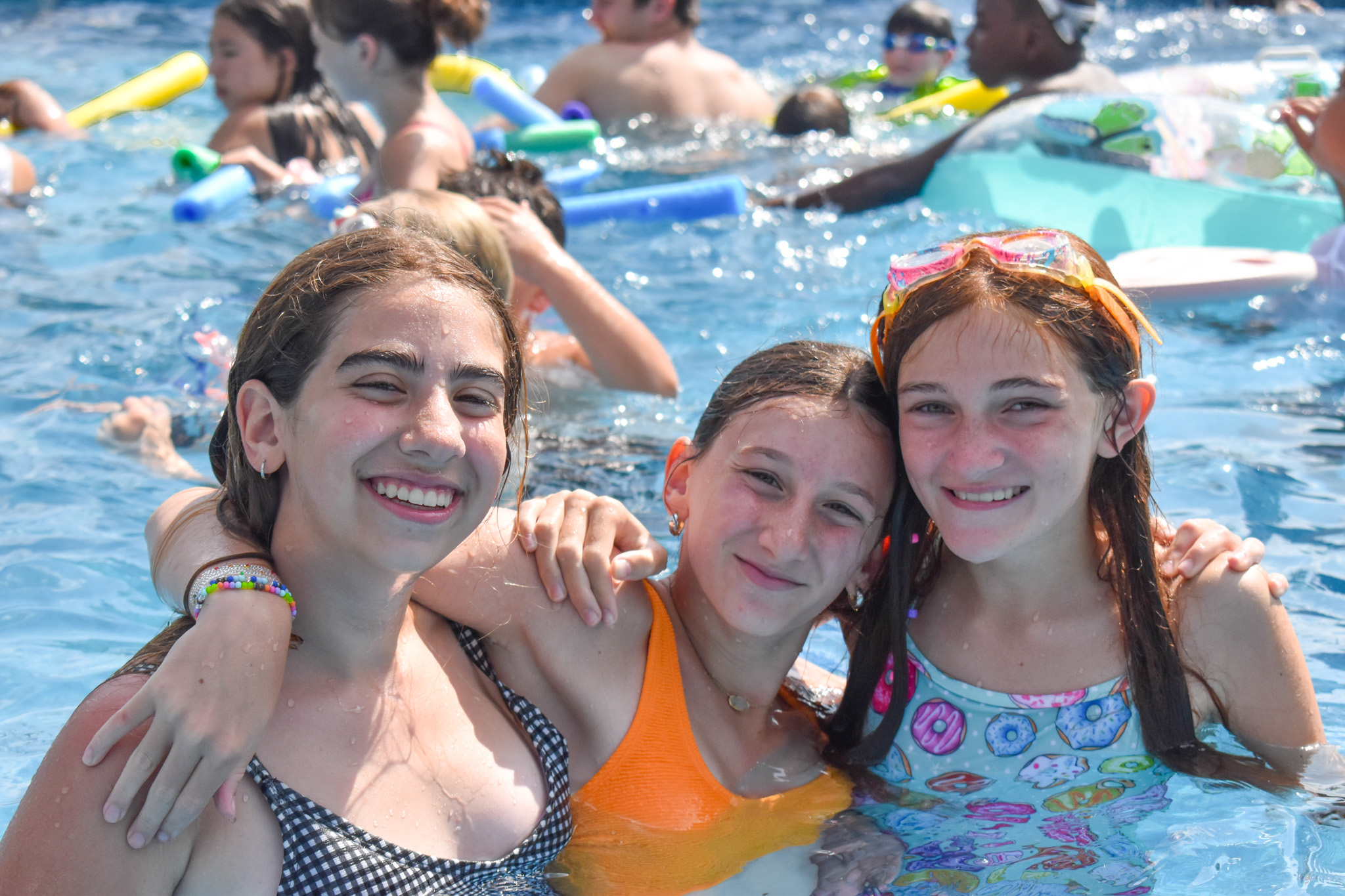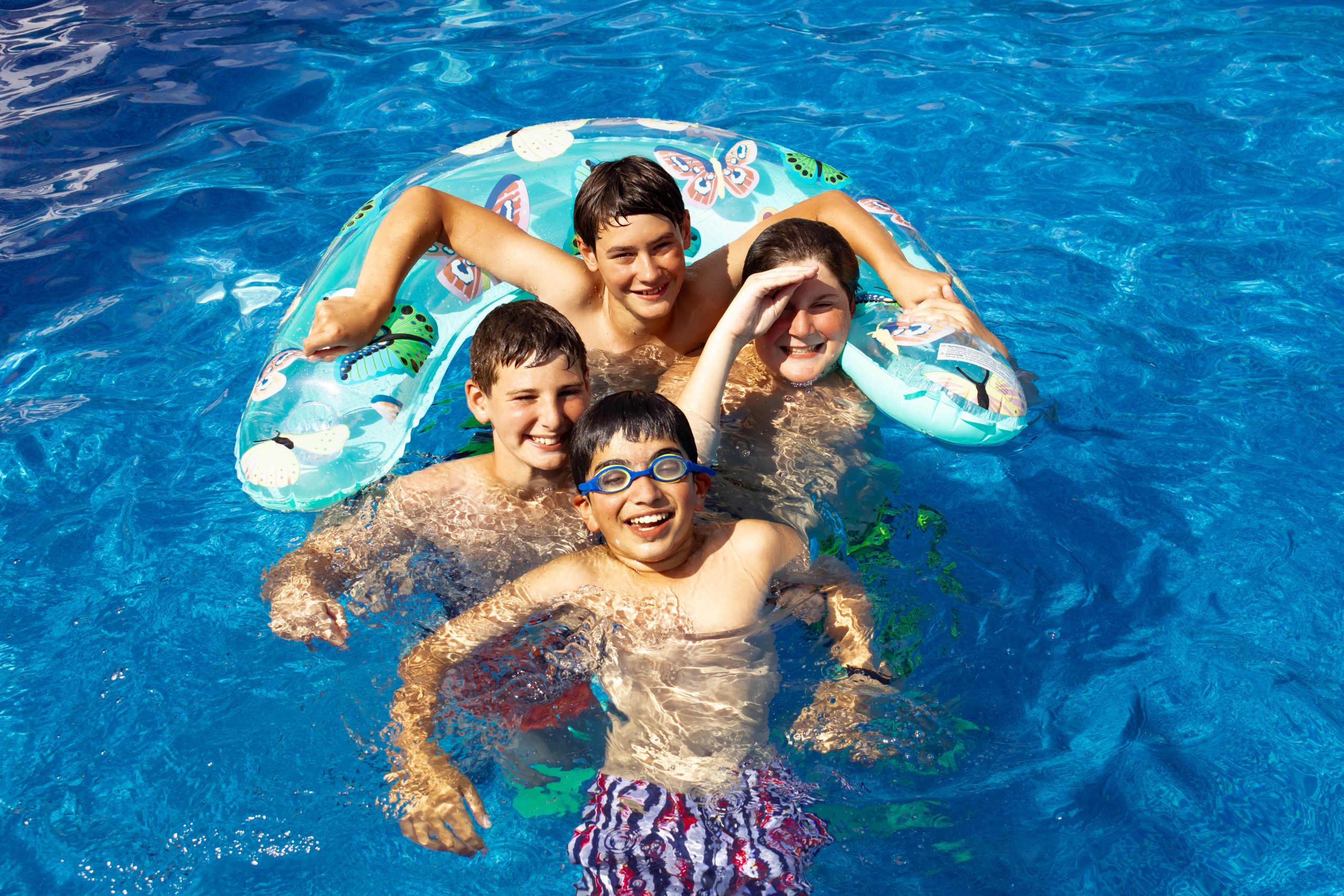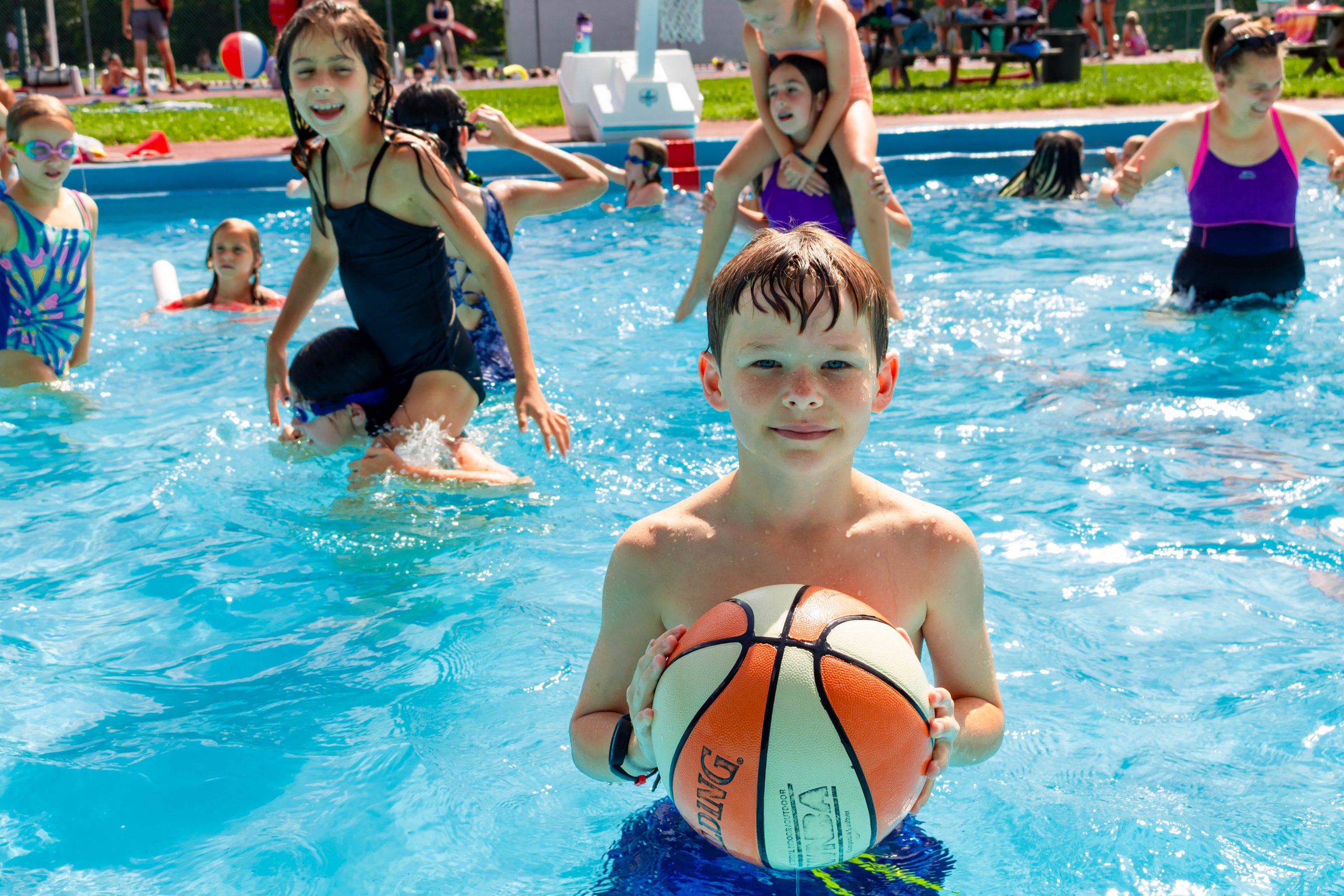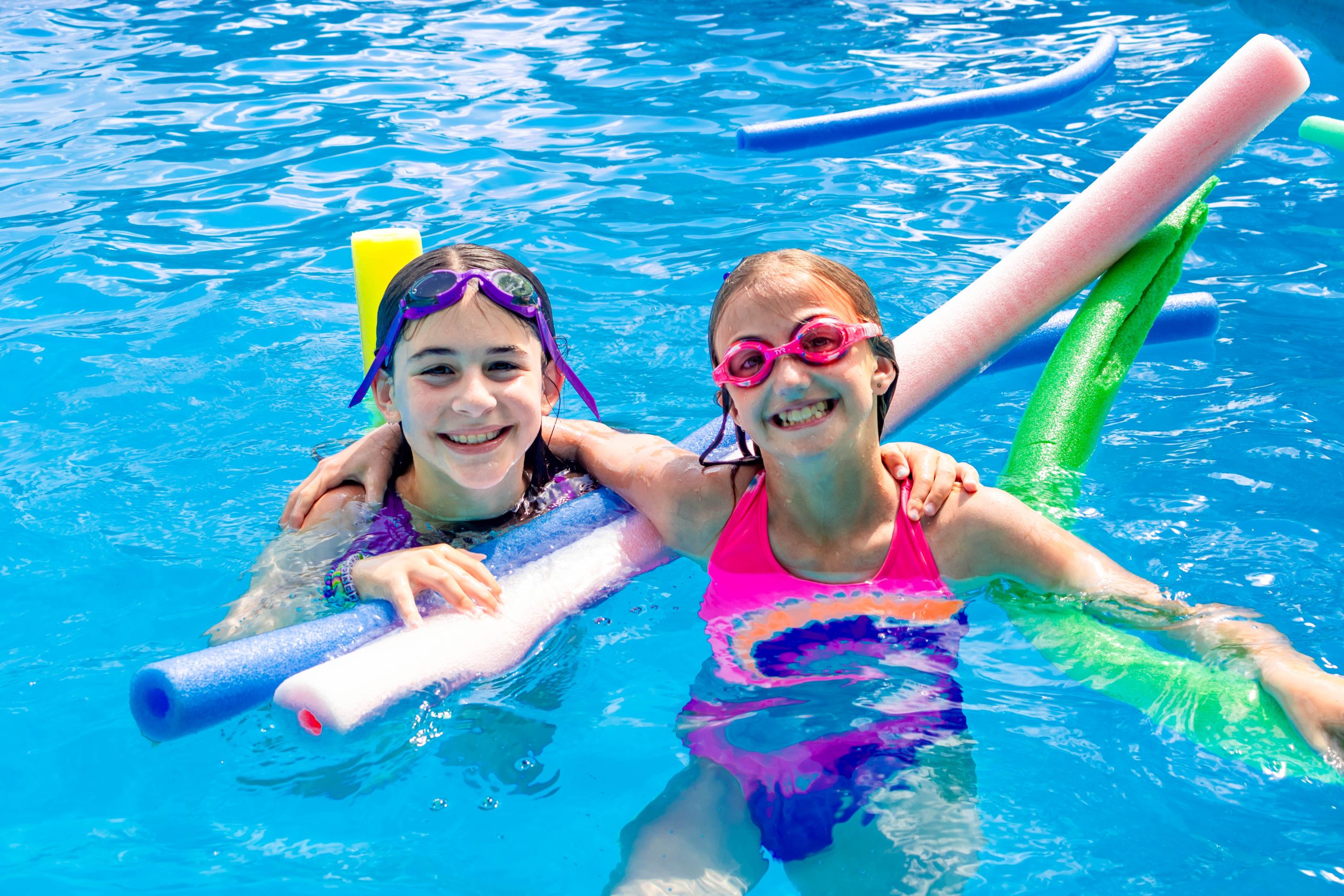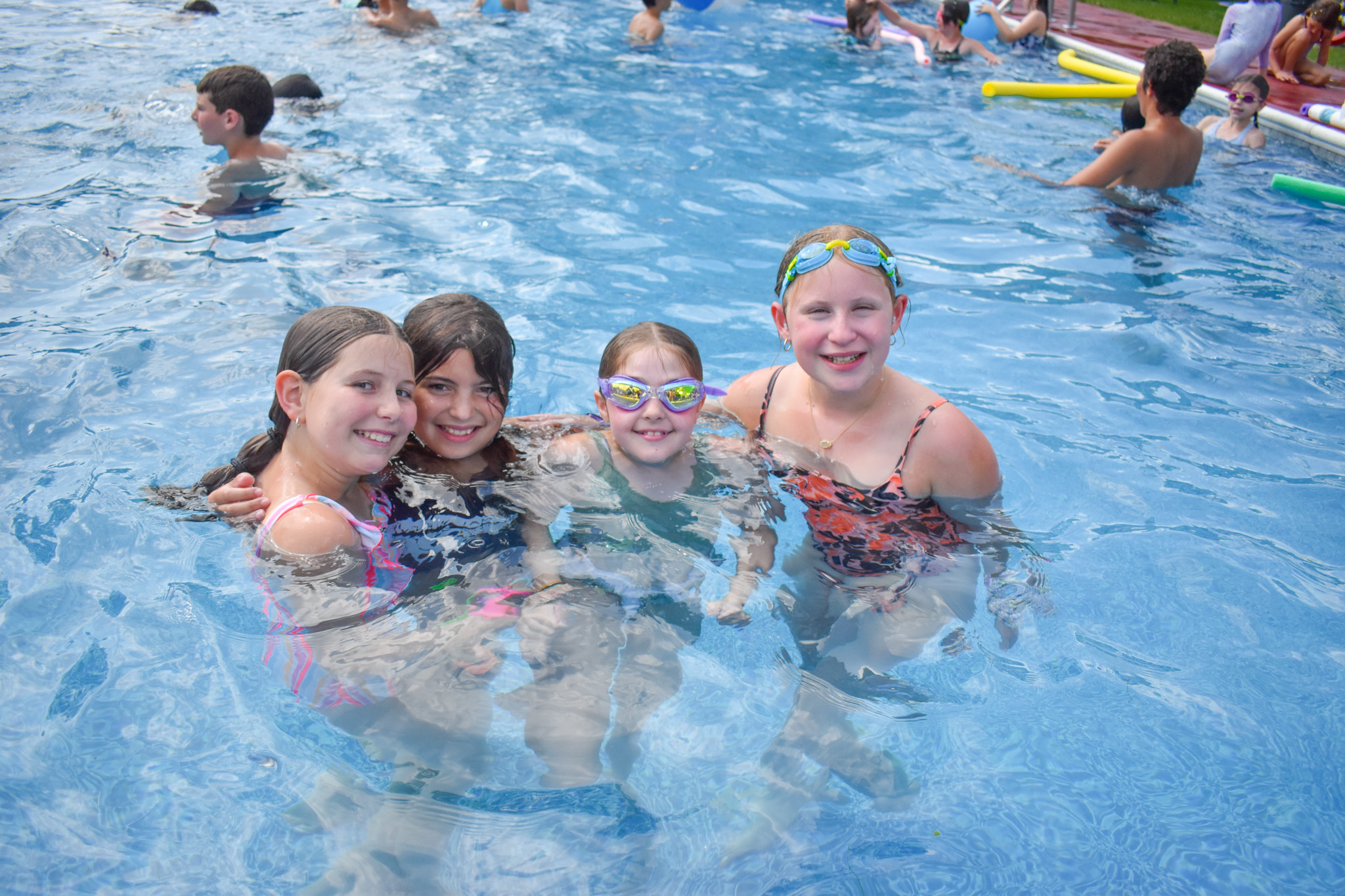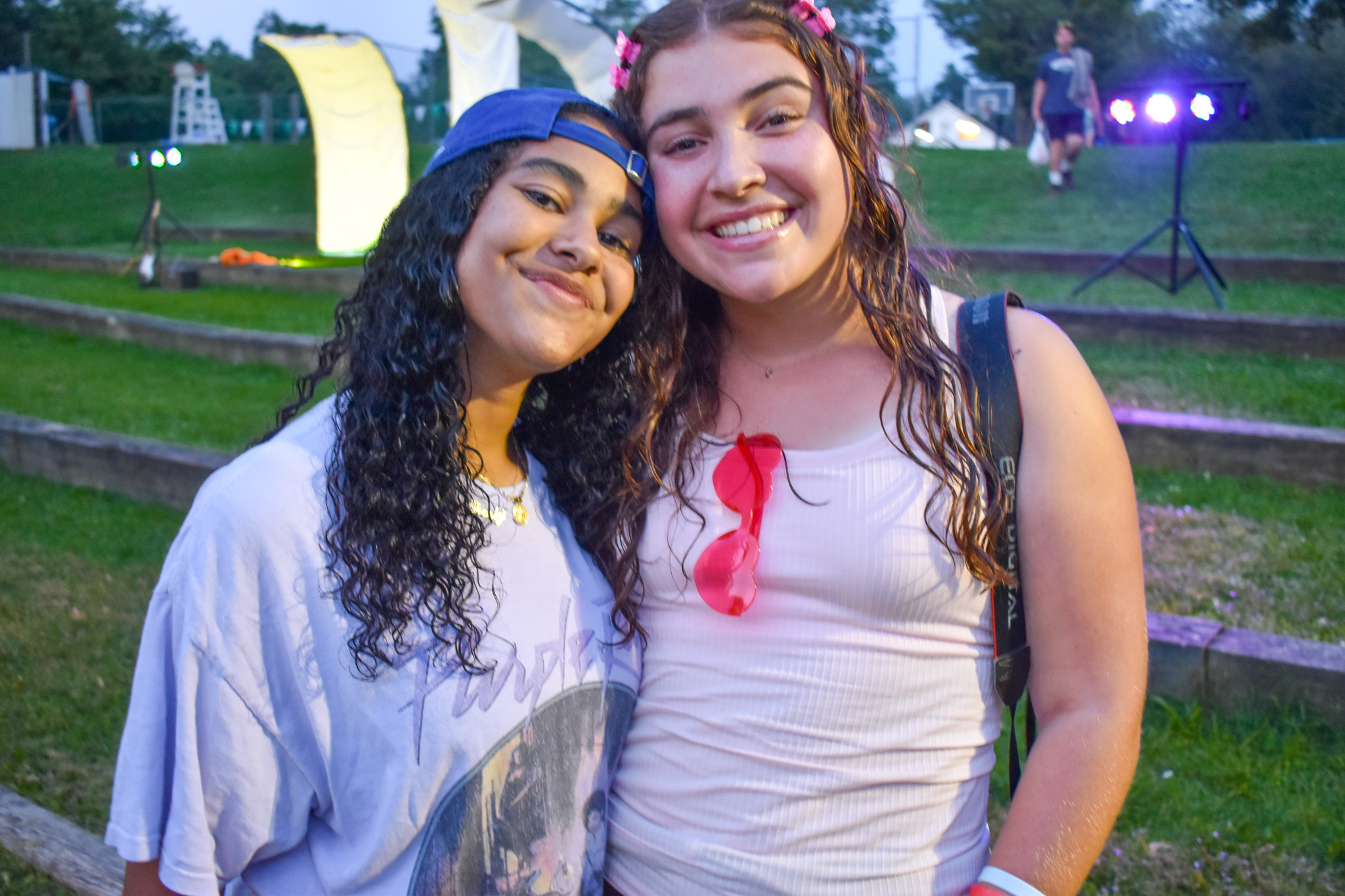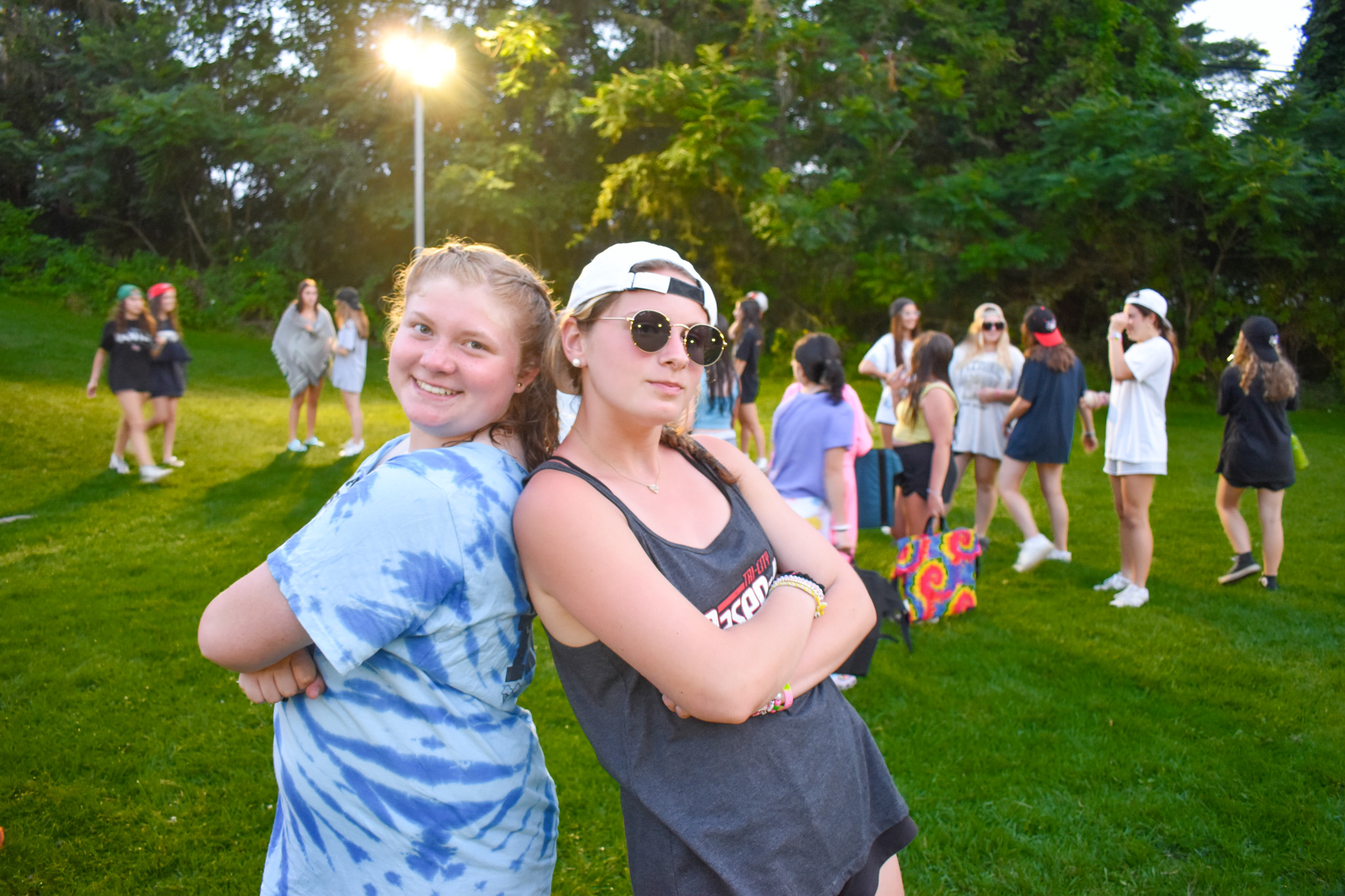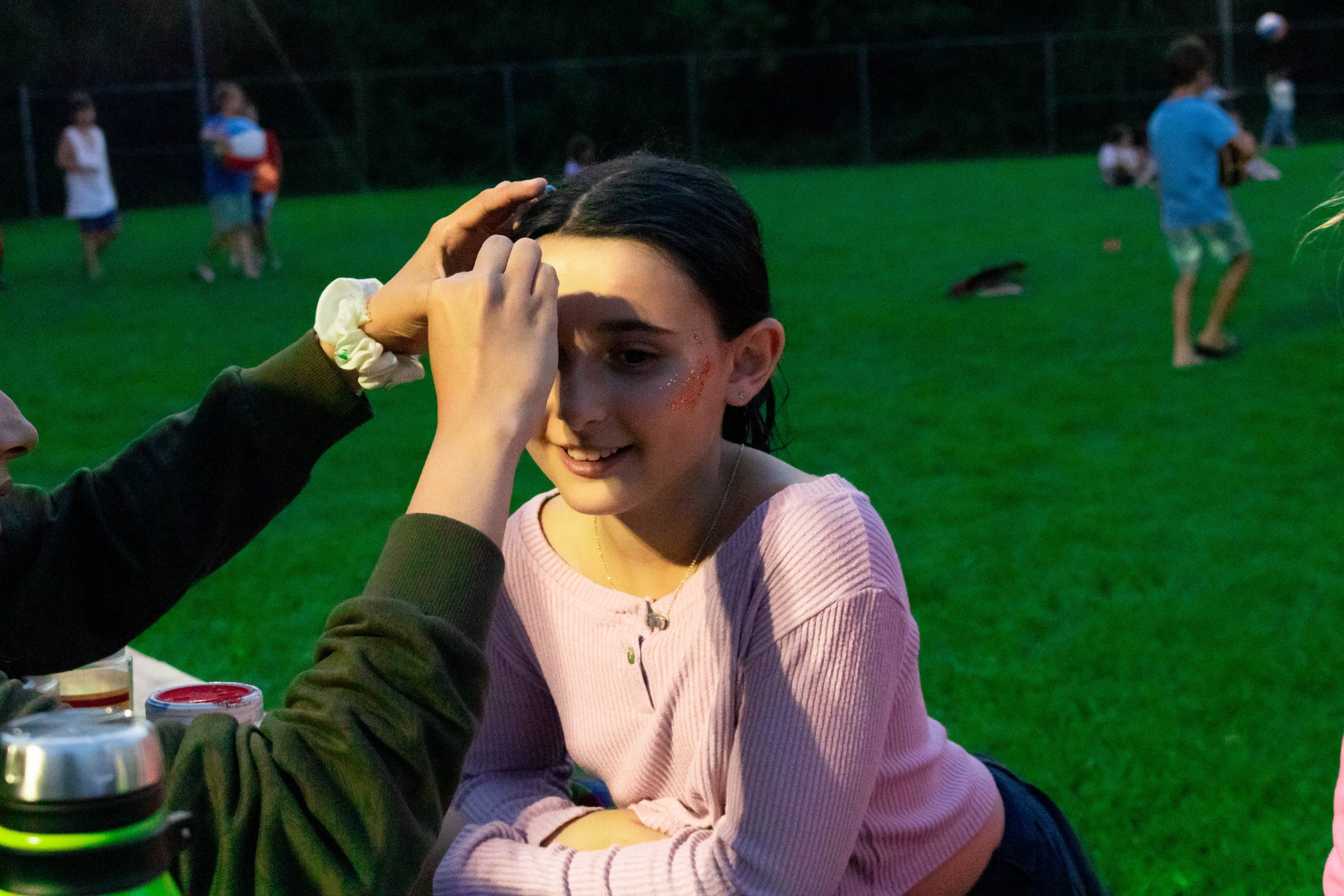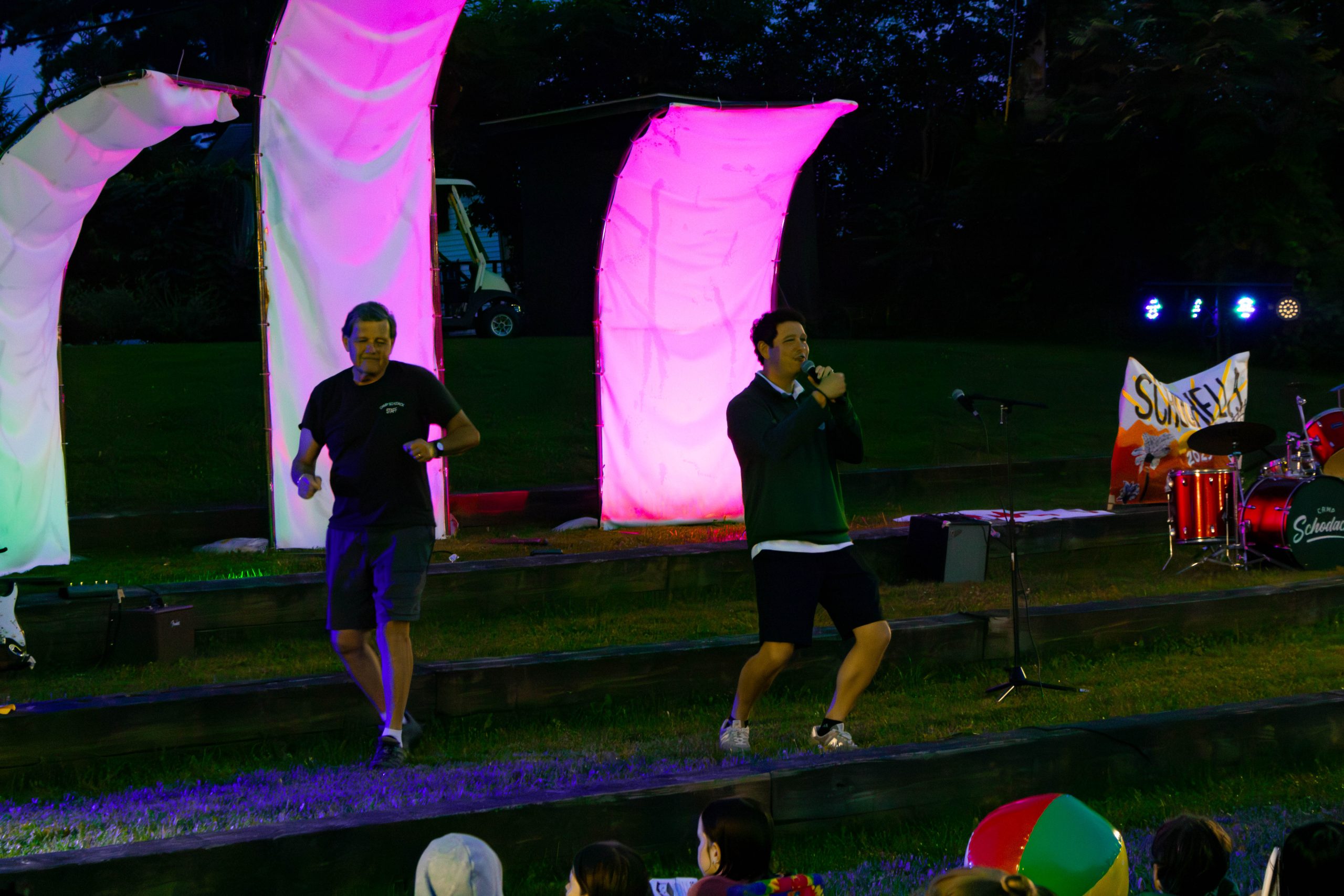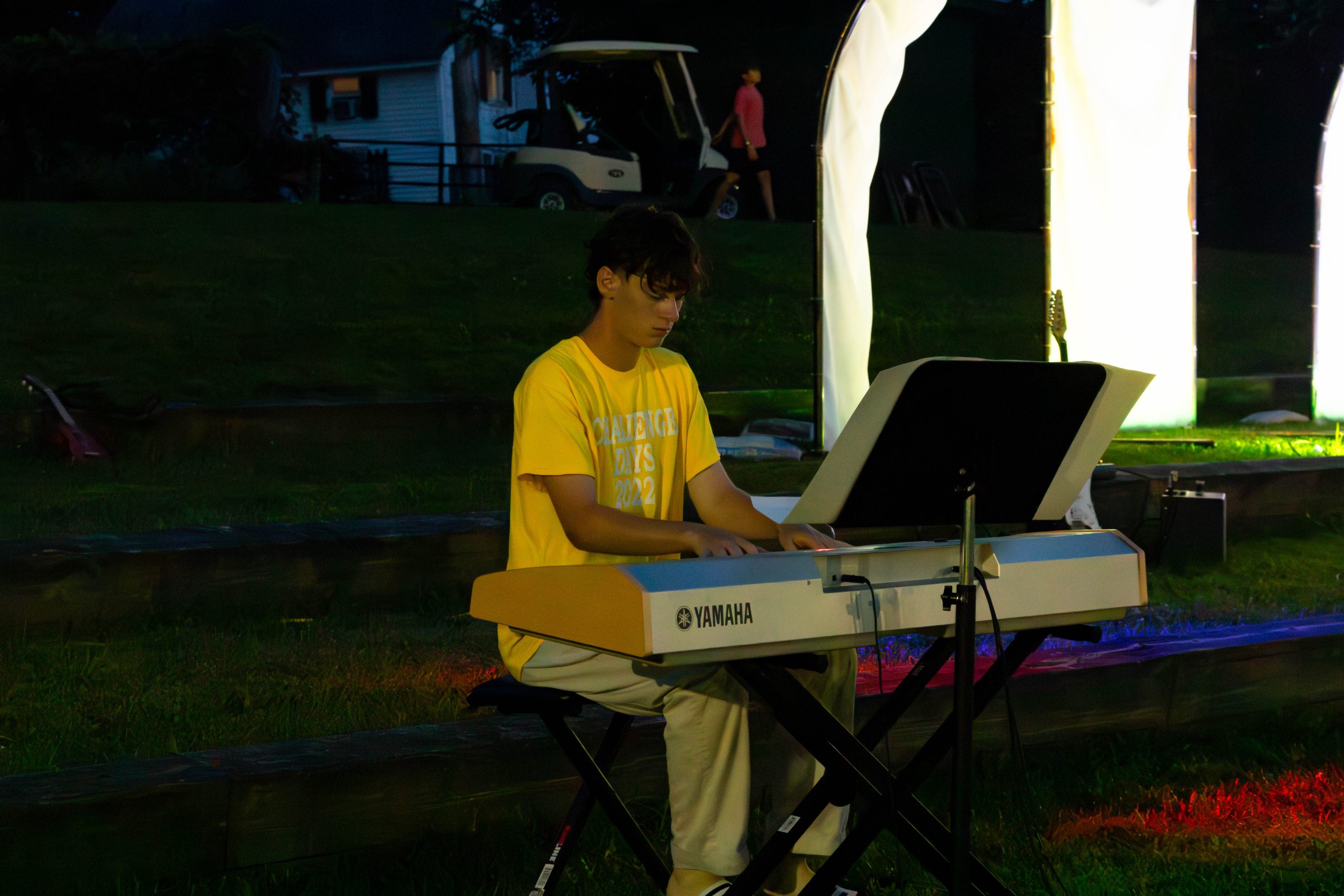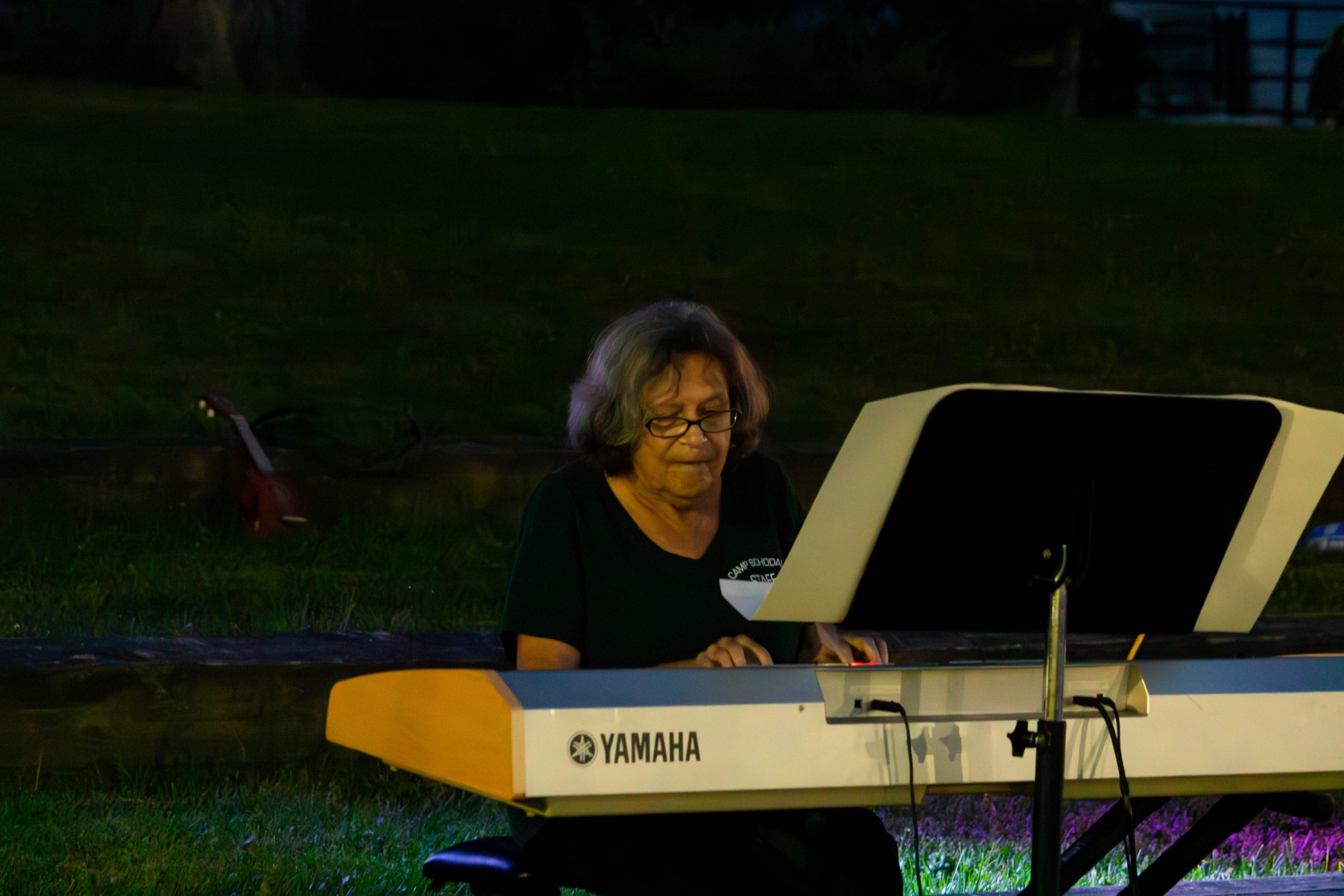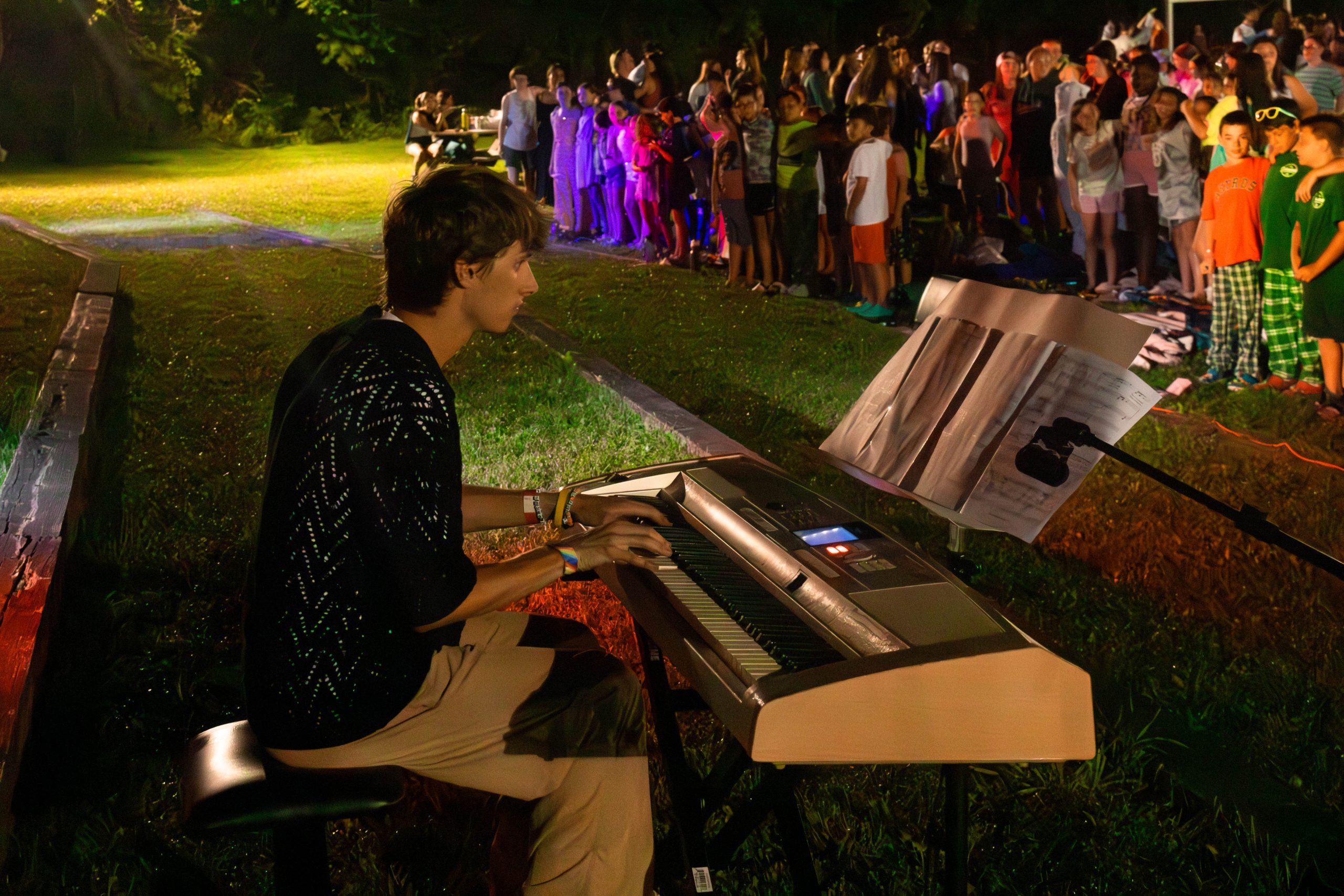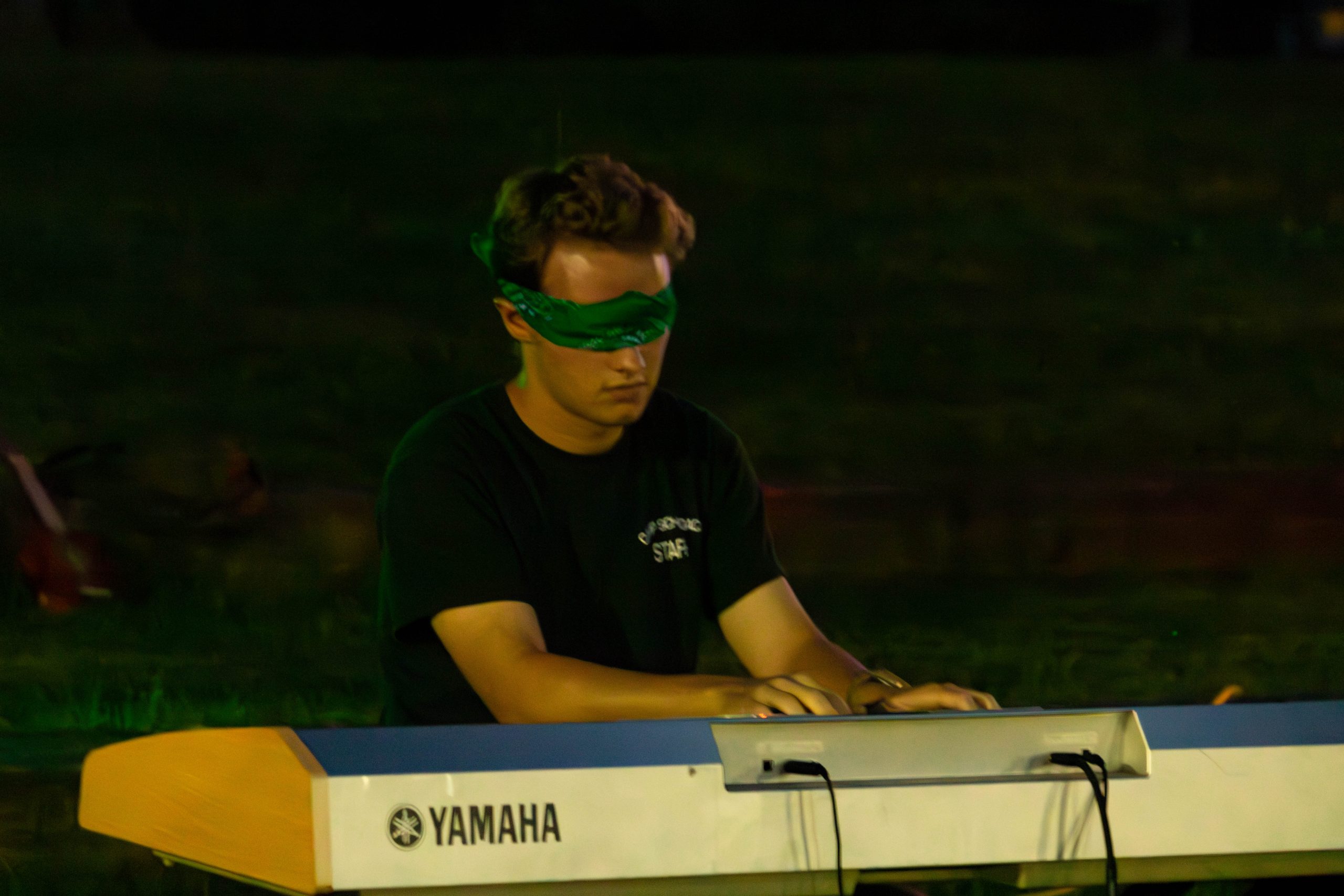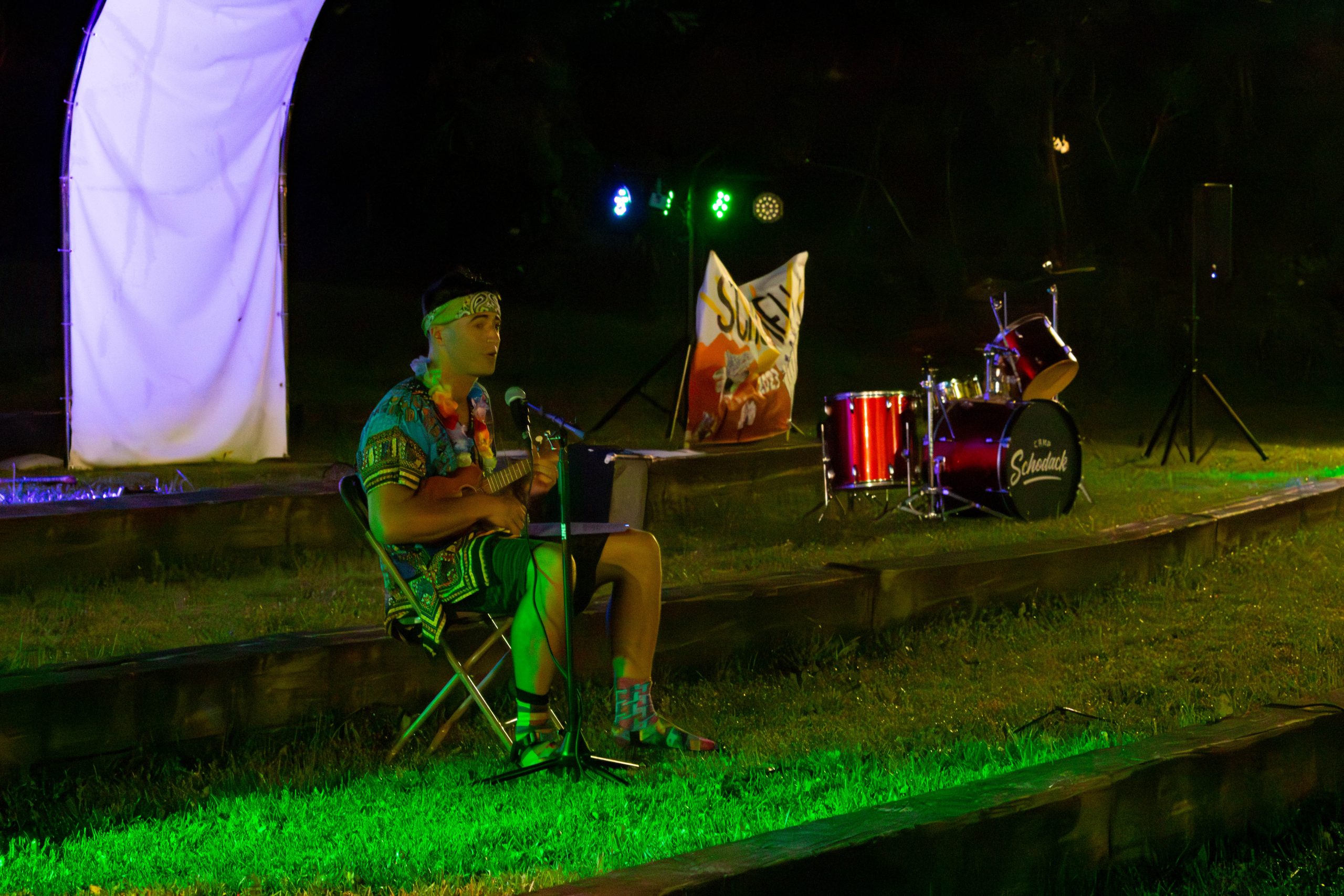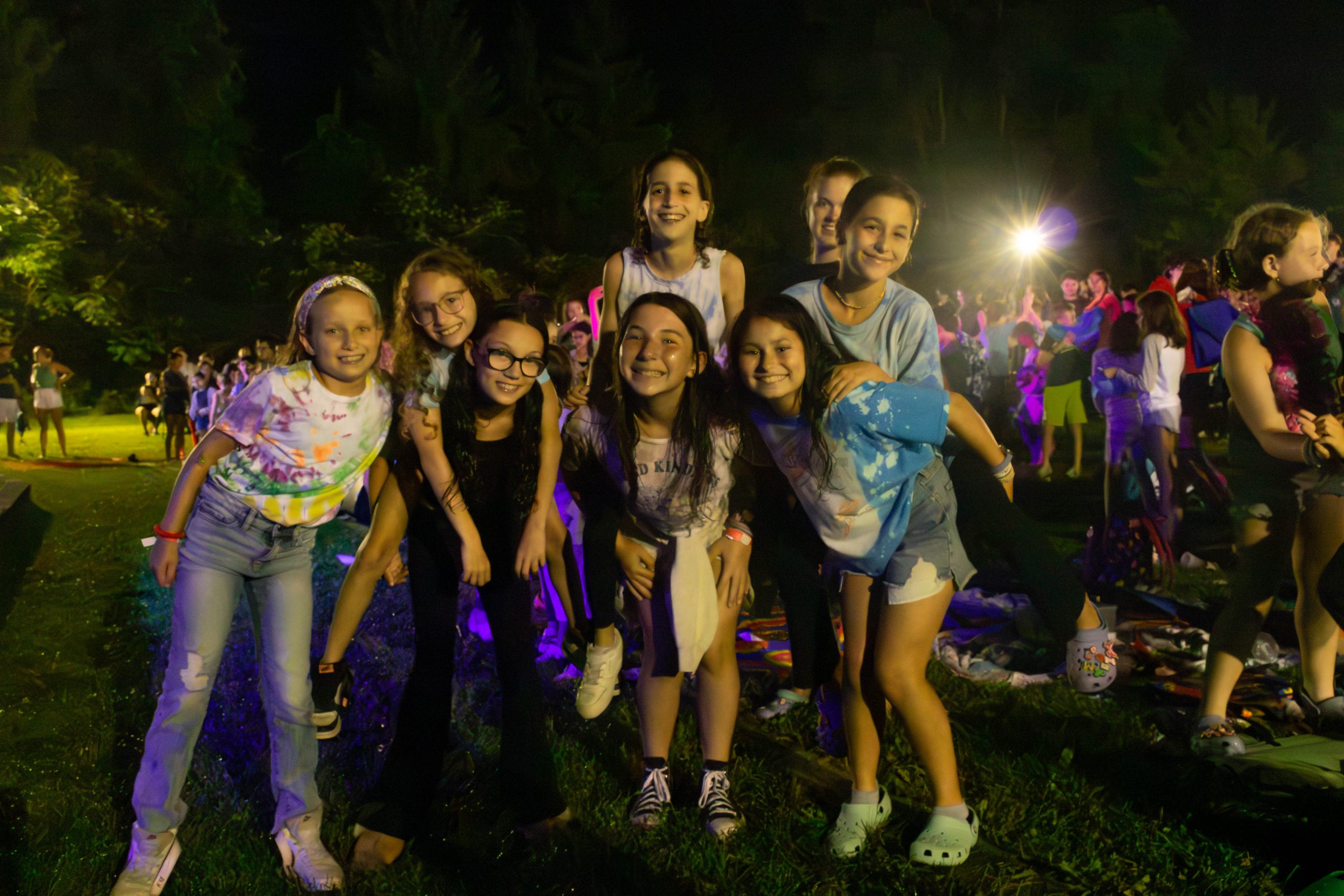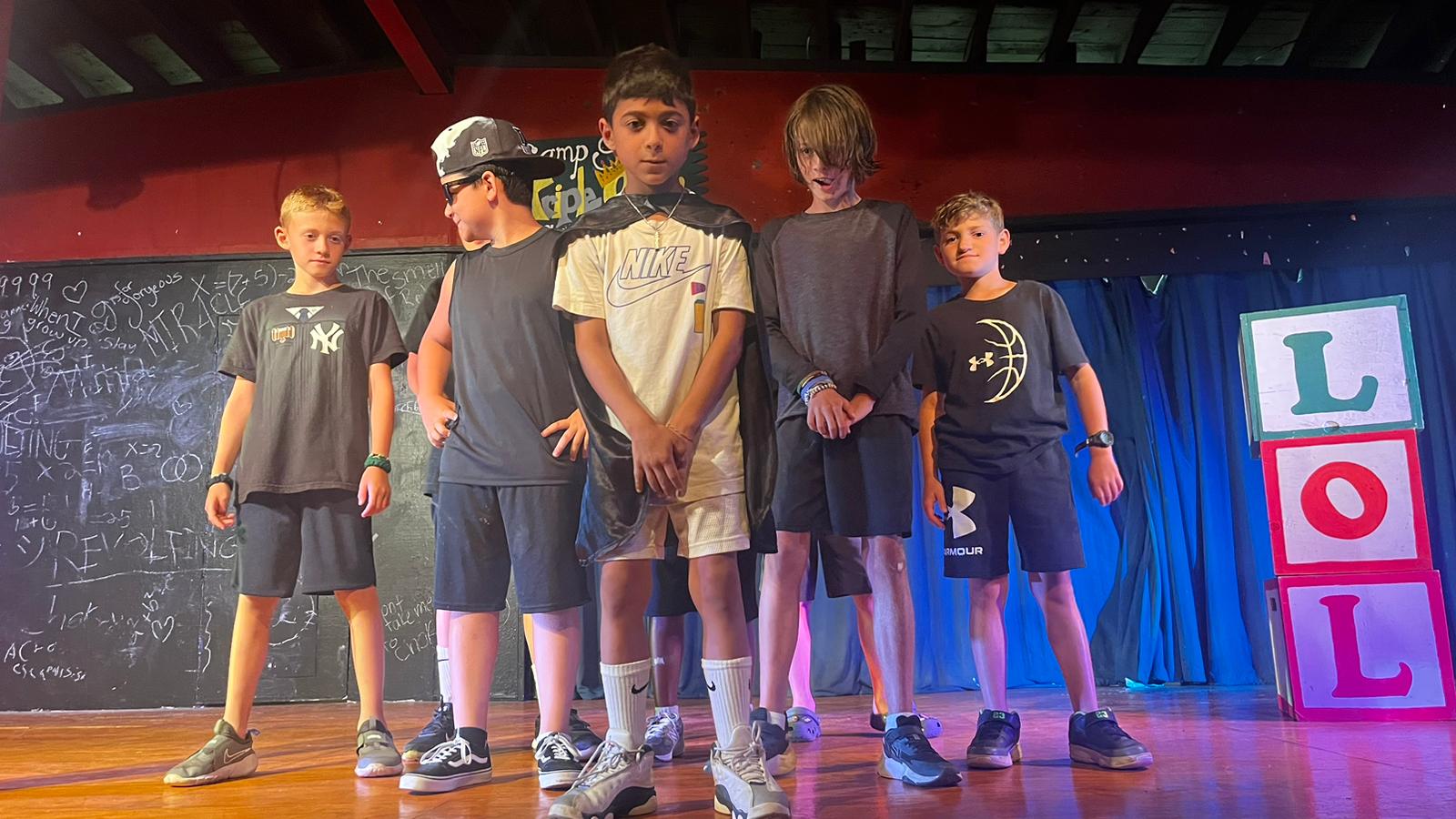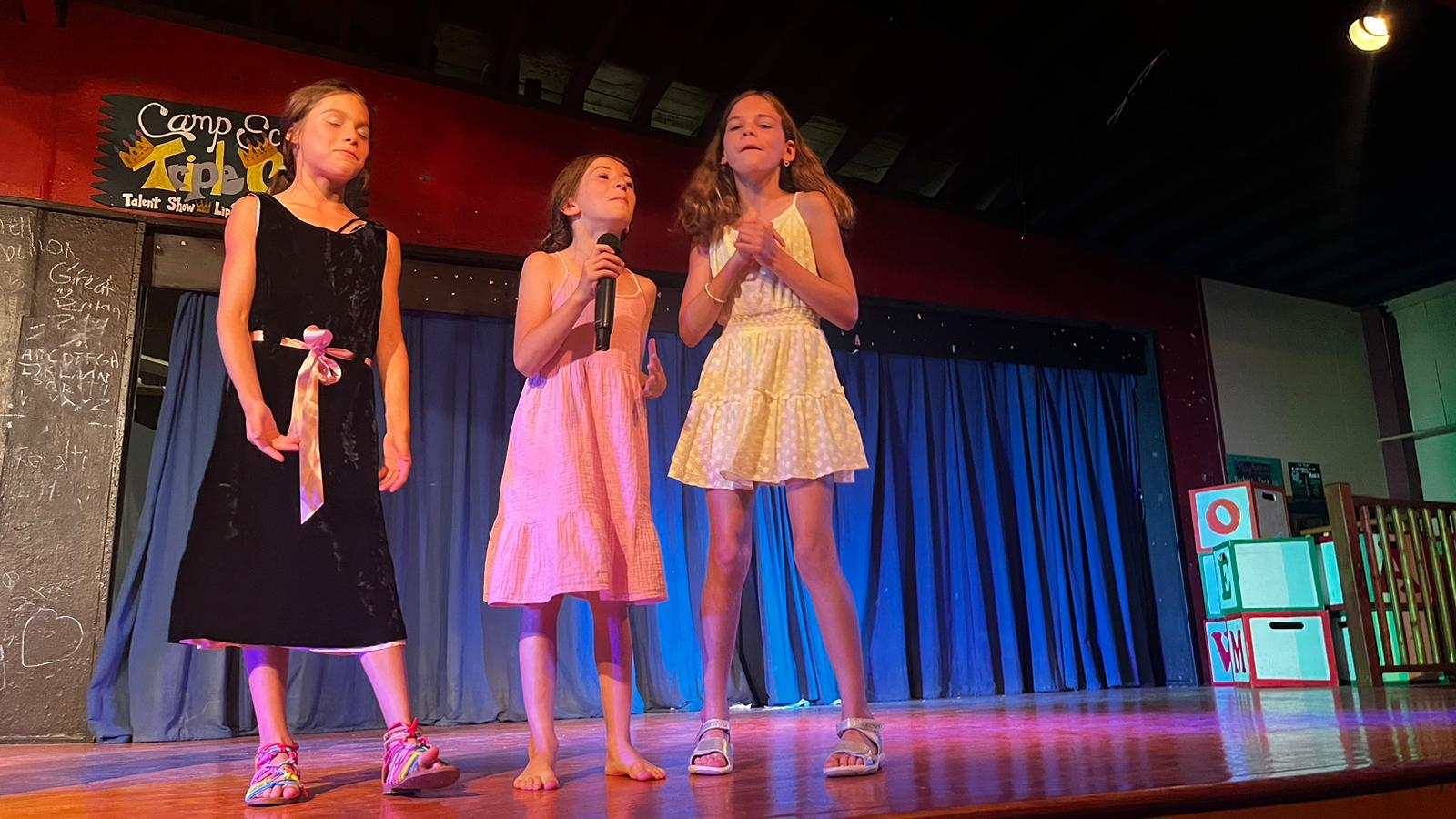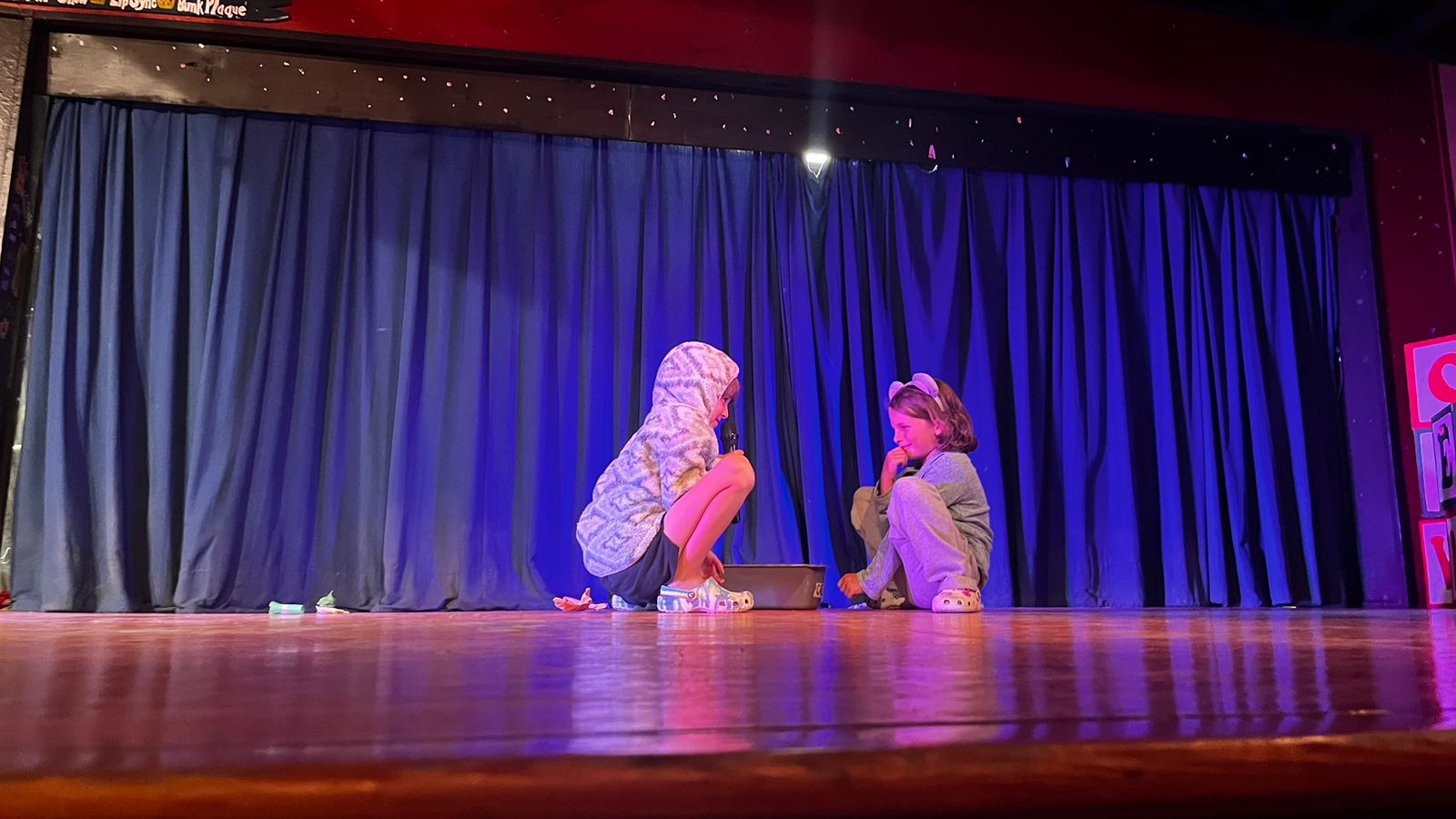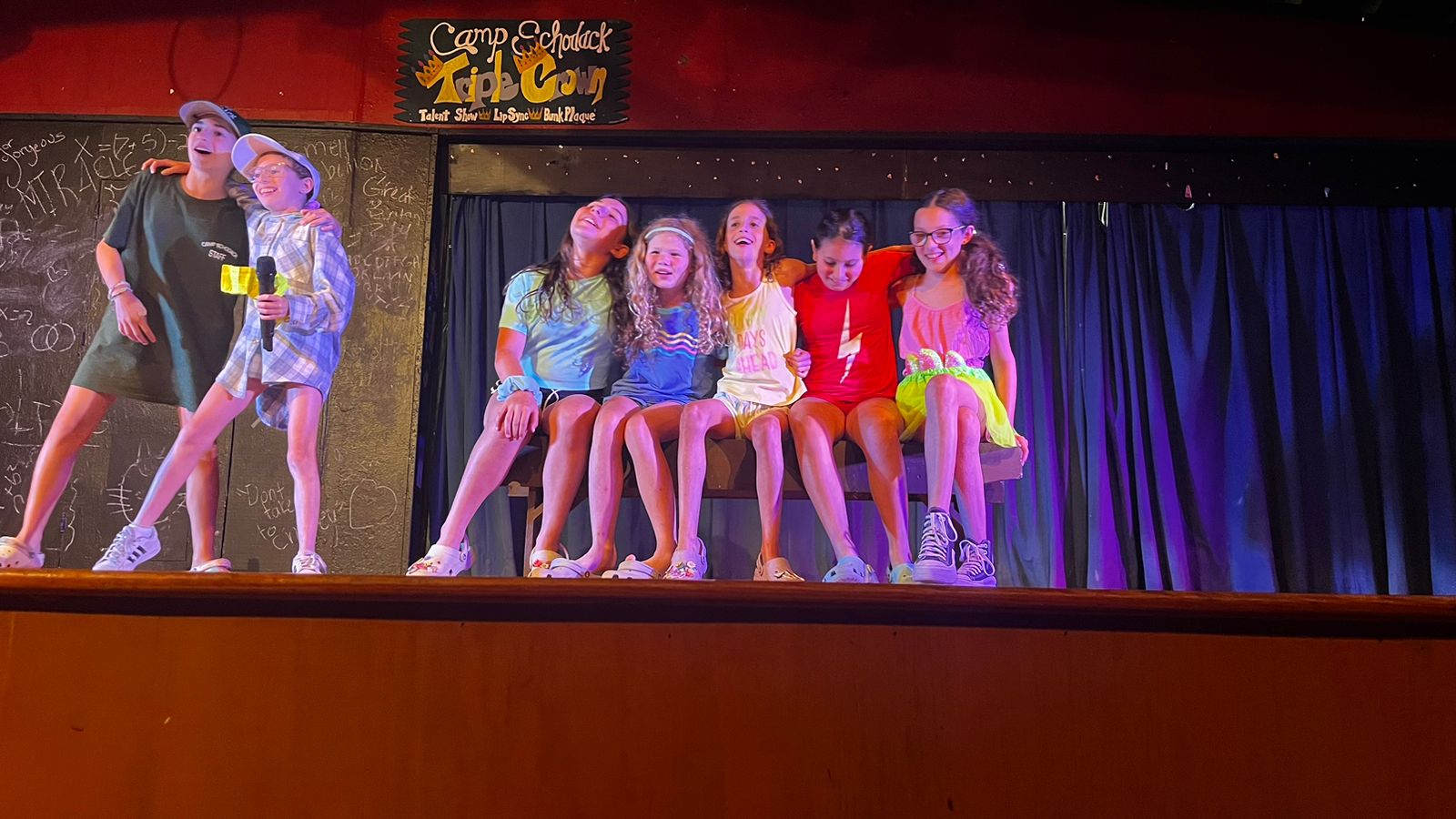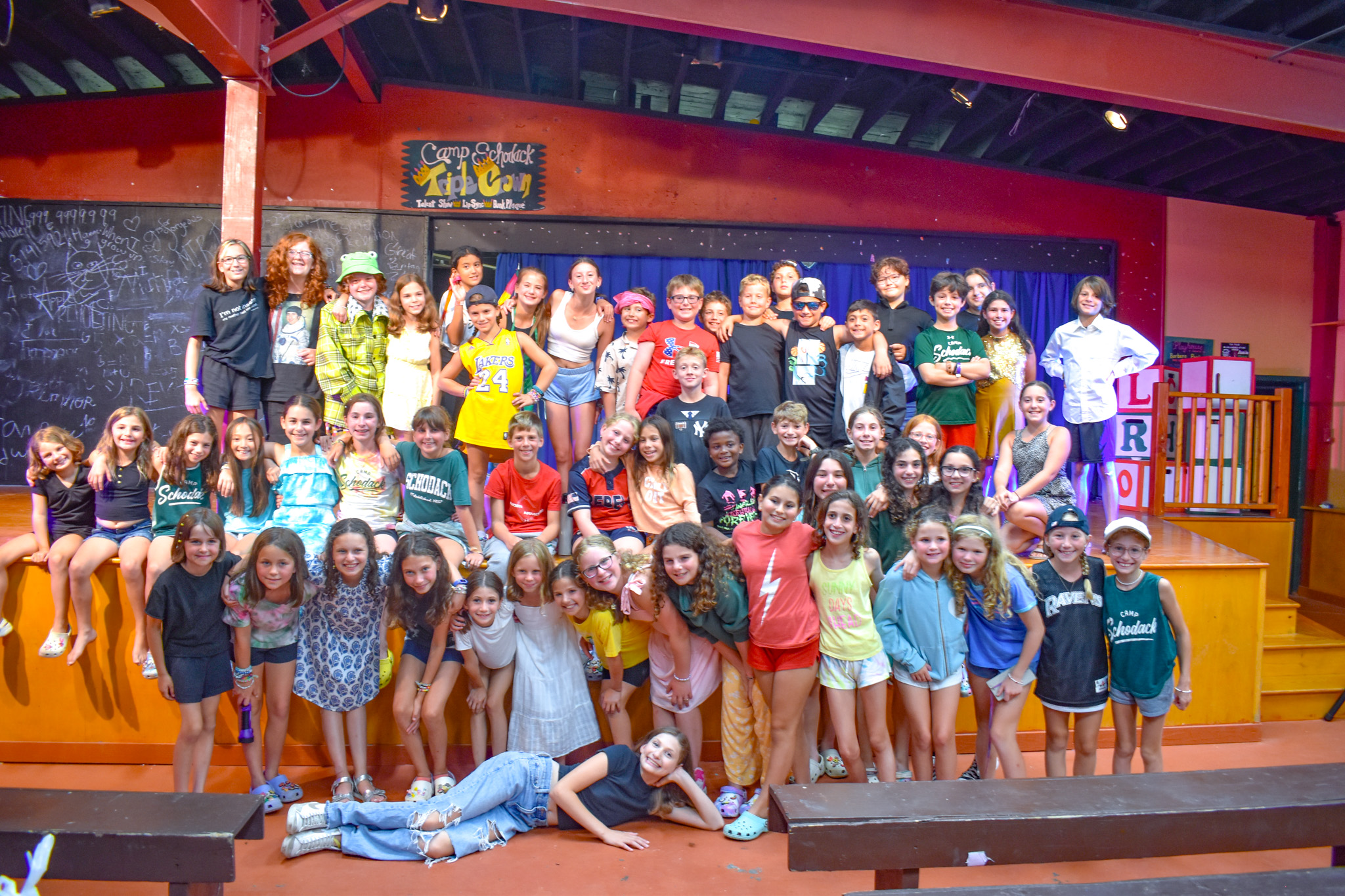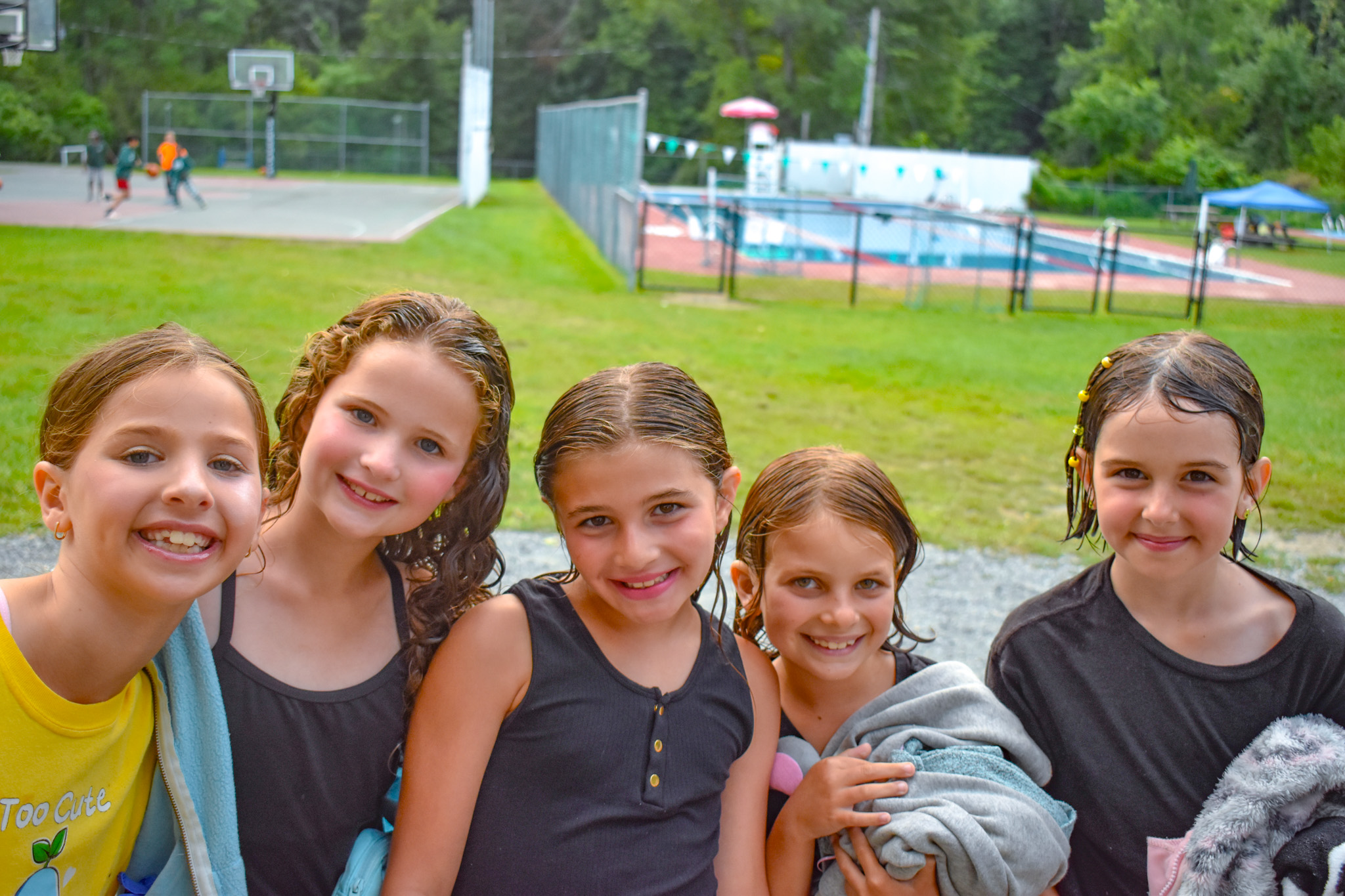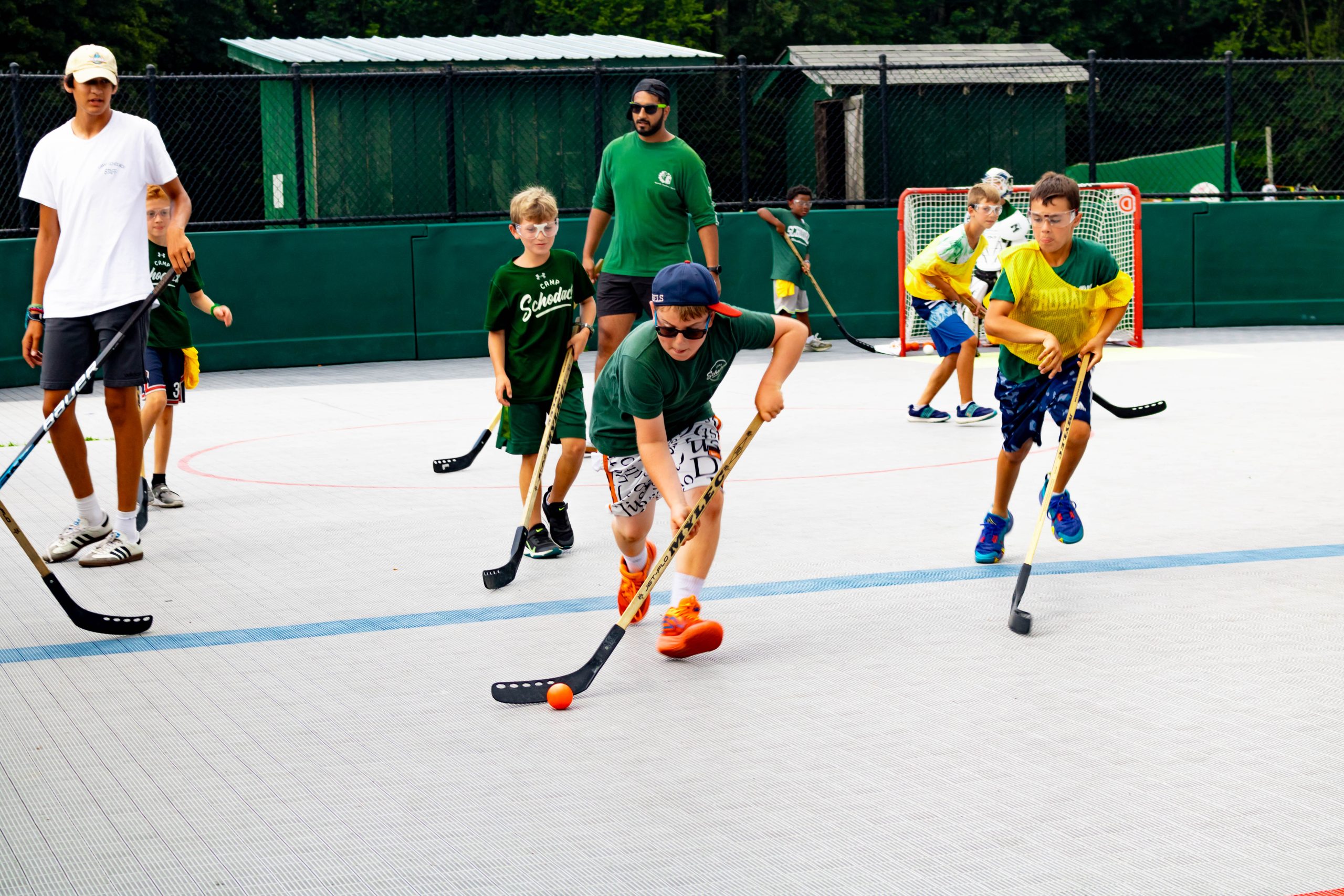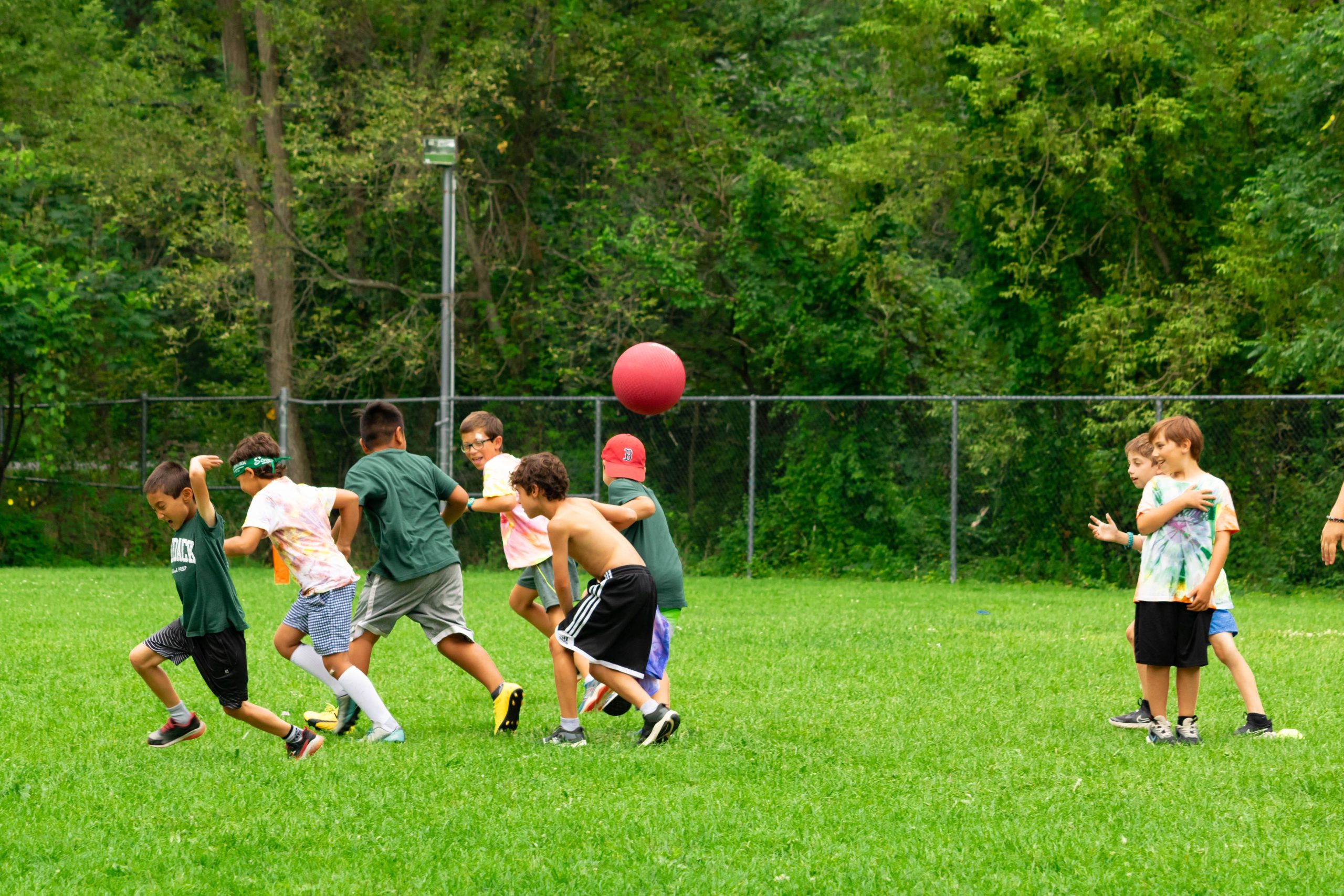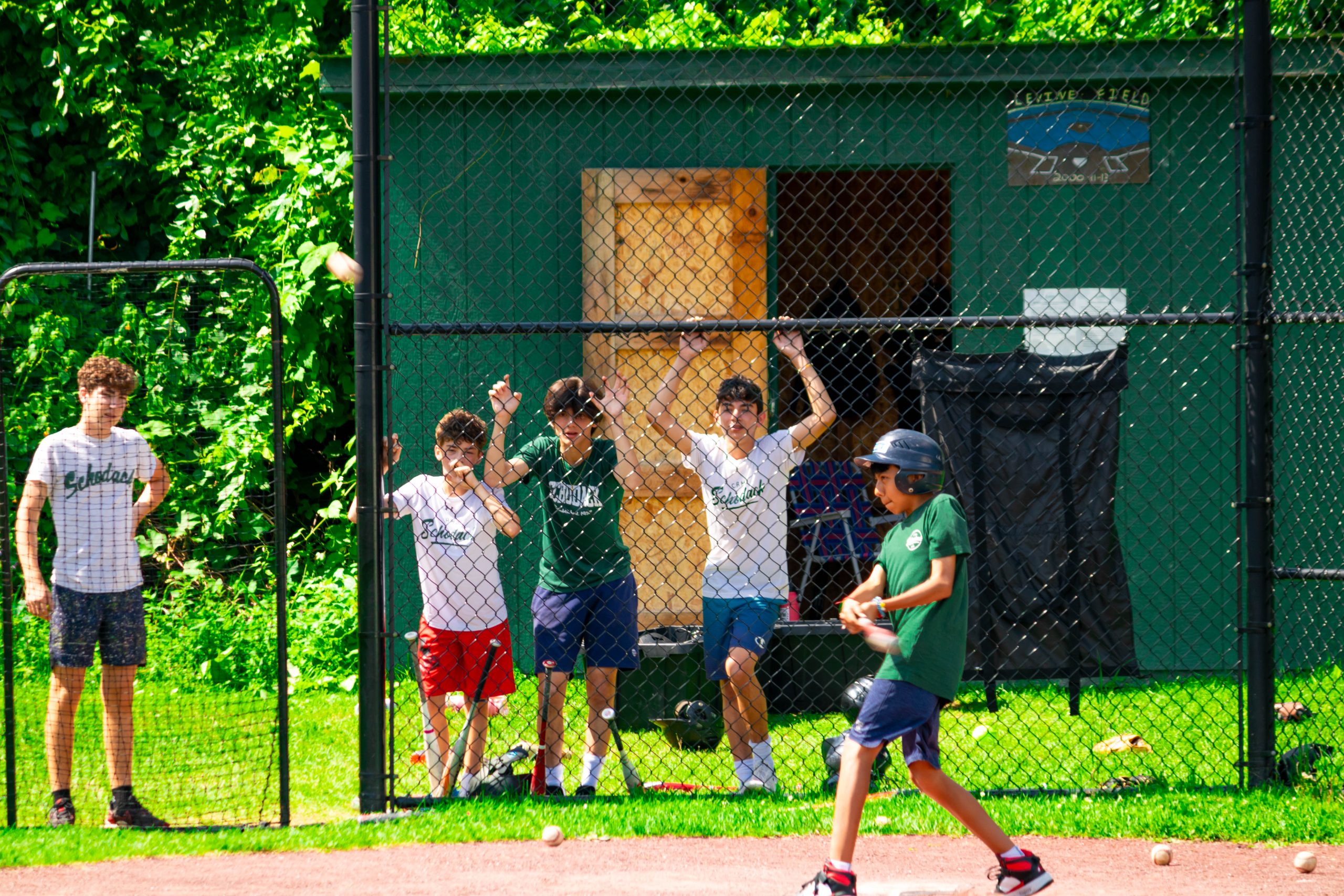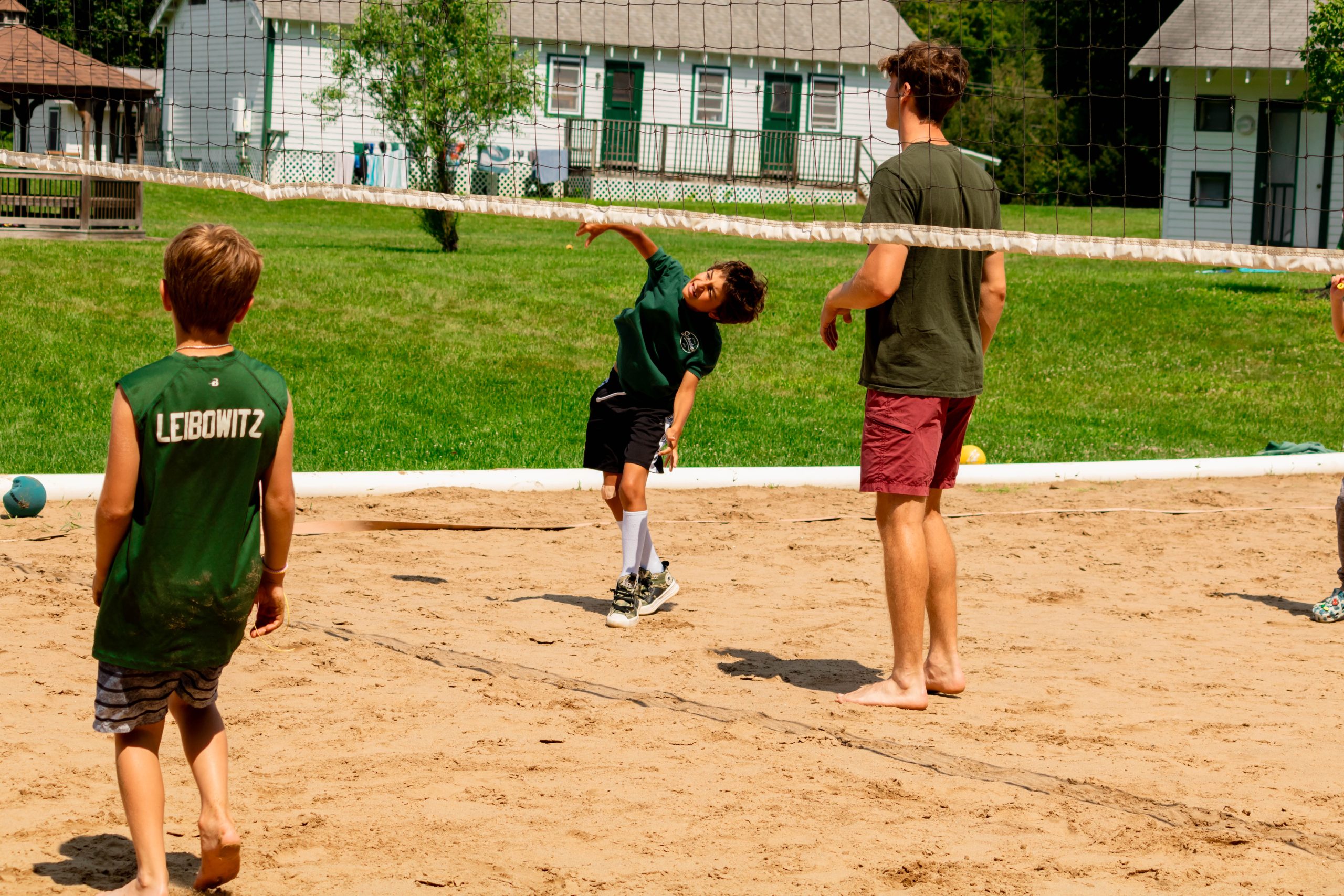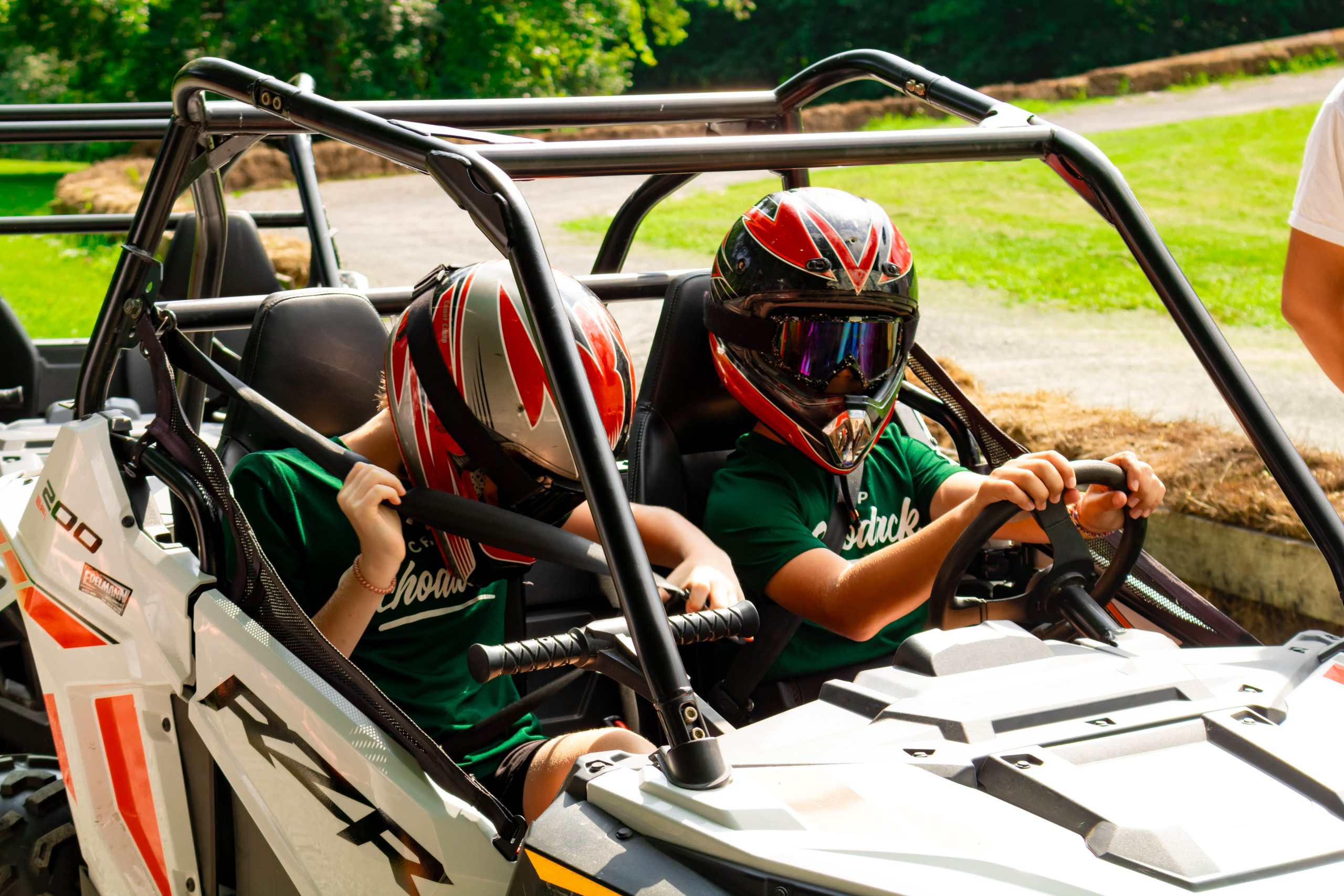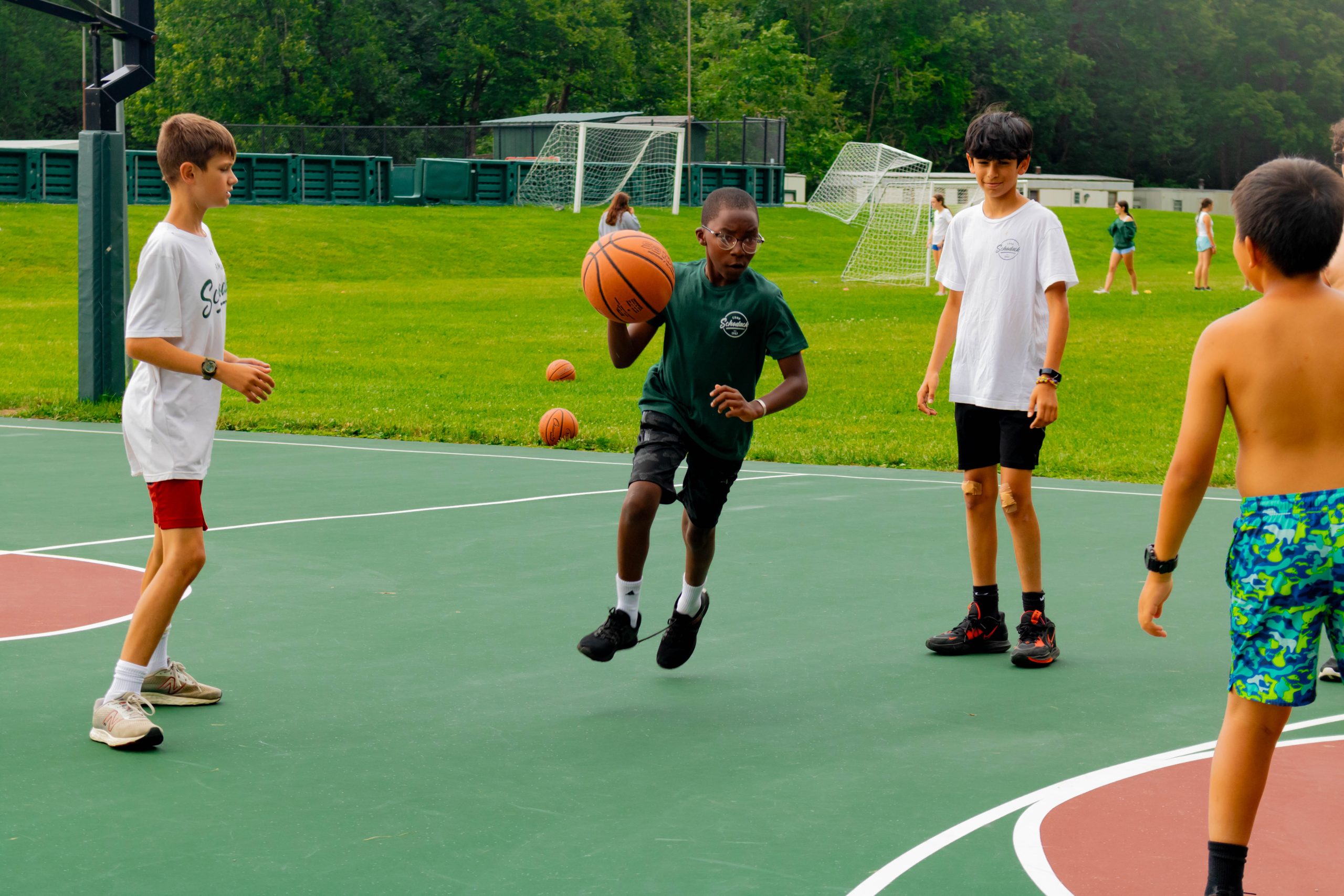 LT Carnival
Two LT Carnivals in one summer! We once again opened the grounds for prospective campers to enjoy a day at camp. A morning full of activities and a lunch of Chicken McSchodack lead up to the LT Carnival.  There were dunk tanks, cotton candy machines, cookie decorating booths, and a variety of games. There was a derby in the garden, where staff members raced on the backs of broom-horses. Bunks bet on different staff members, with a pizza party as their incentive to correctly predict the most winners. The pizza party ultimately went to The Mulberry Girls, who were thrilled to have aptly predicted each and every winner. There was also a reptile petting zoo that featured everything from tortoises to snakes, to a bearded dragon named Steve.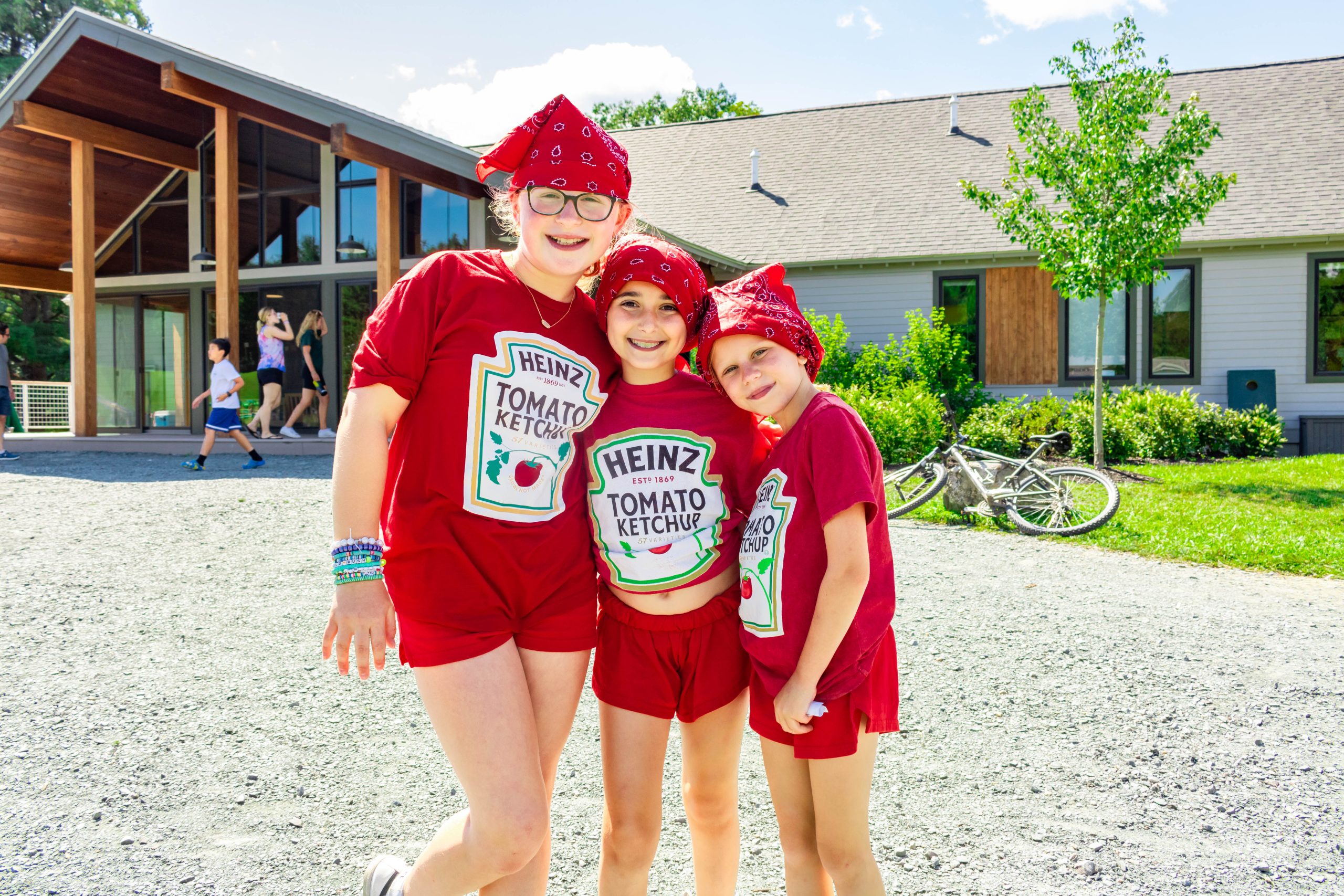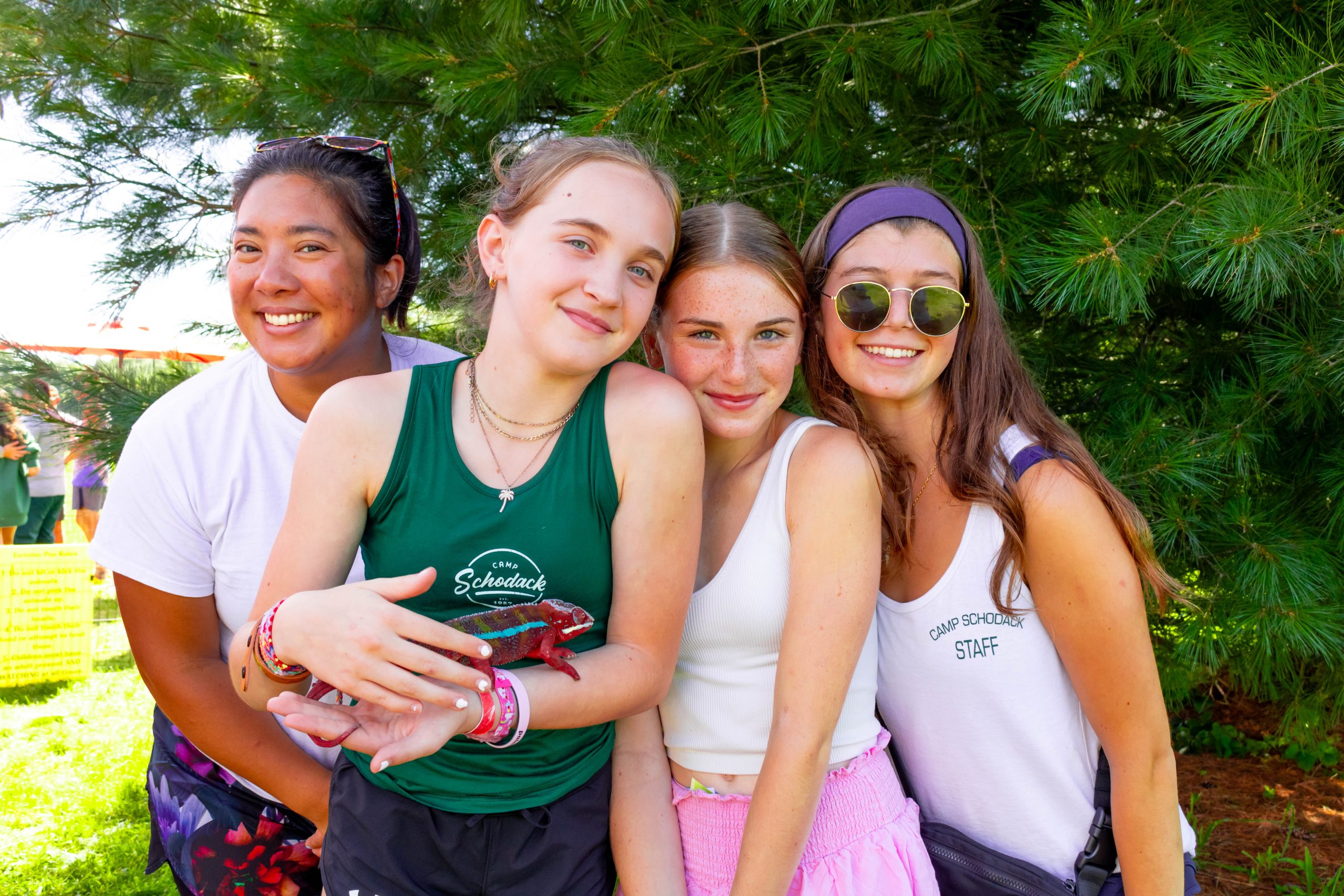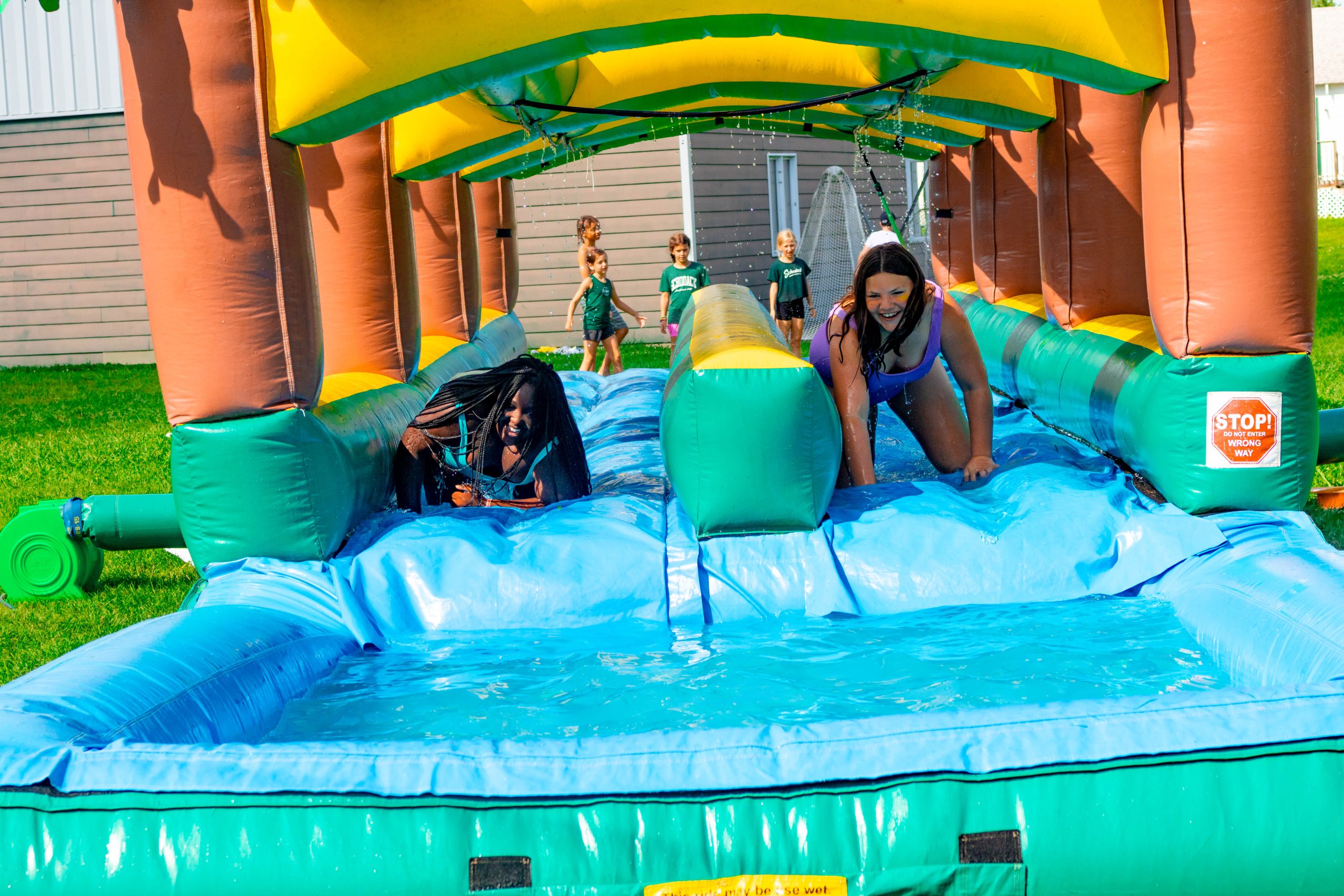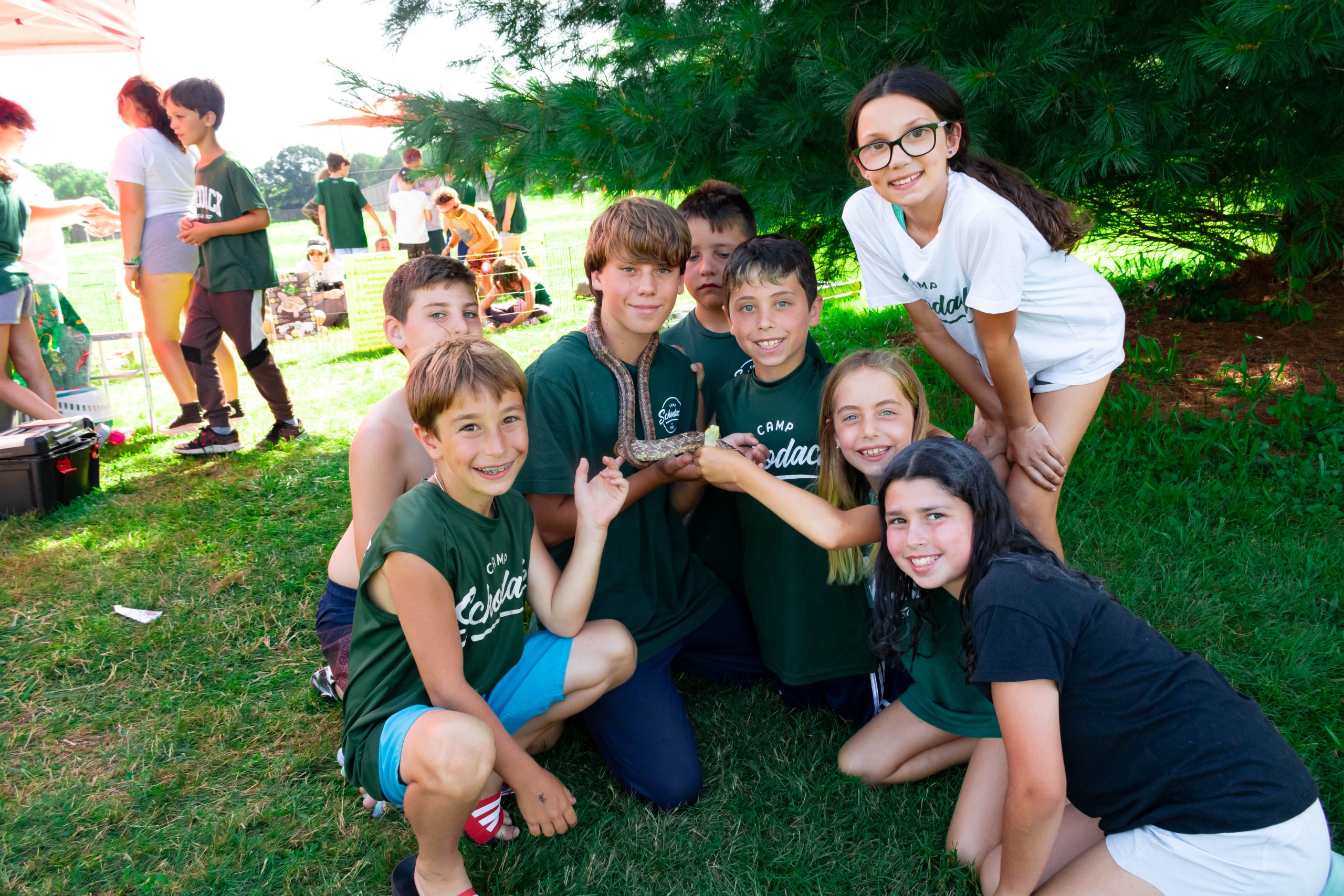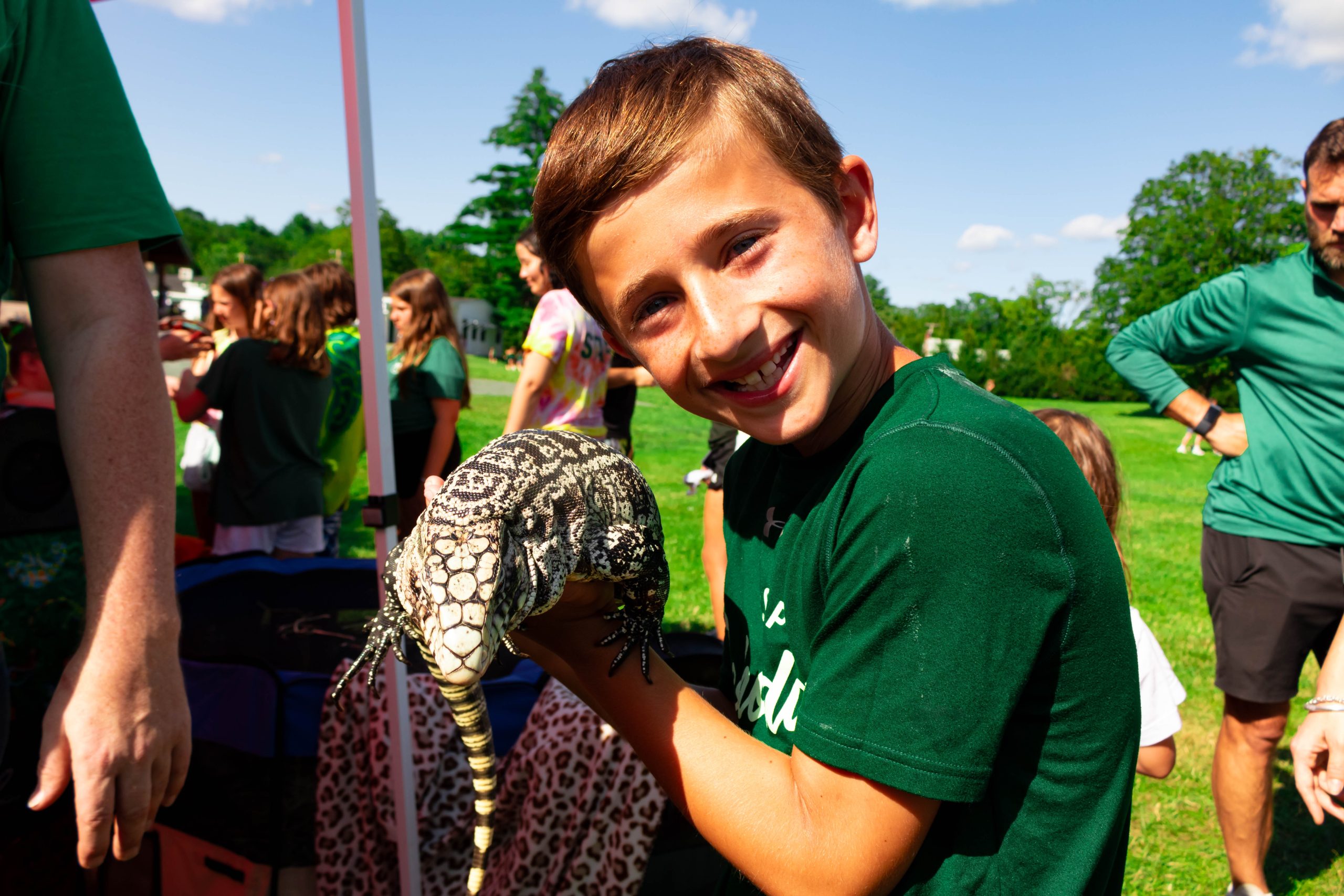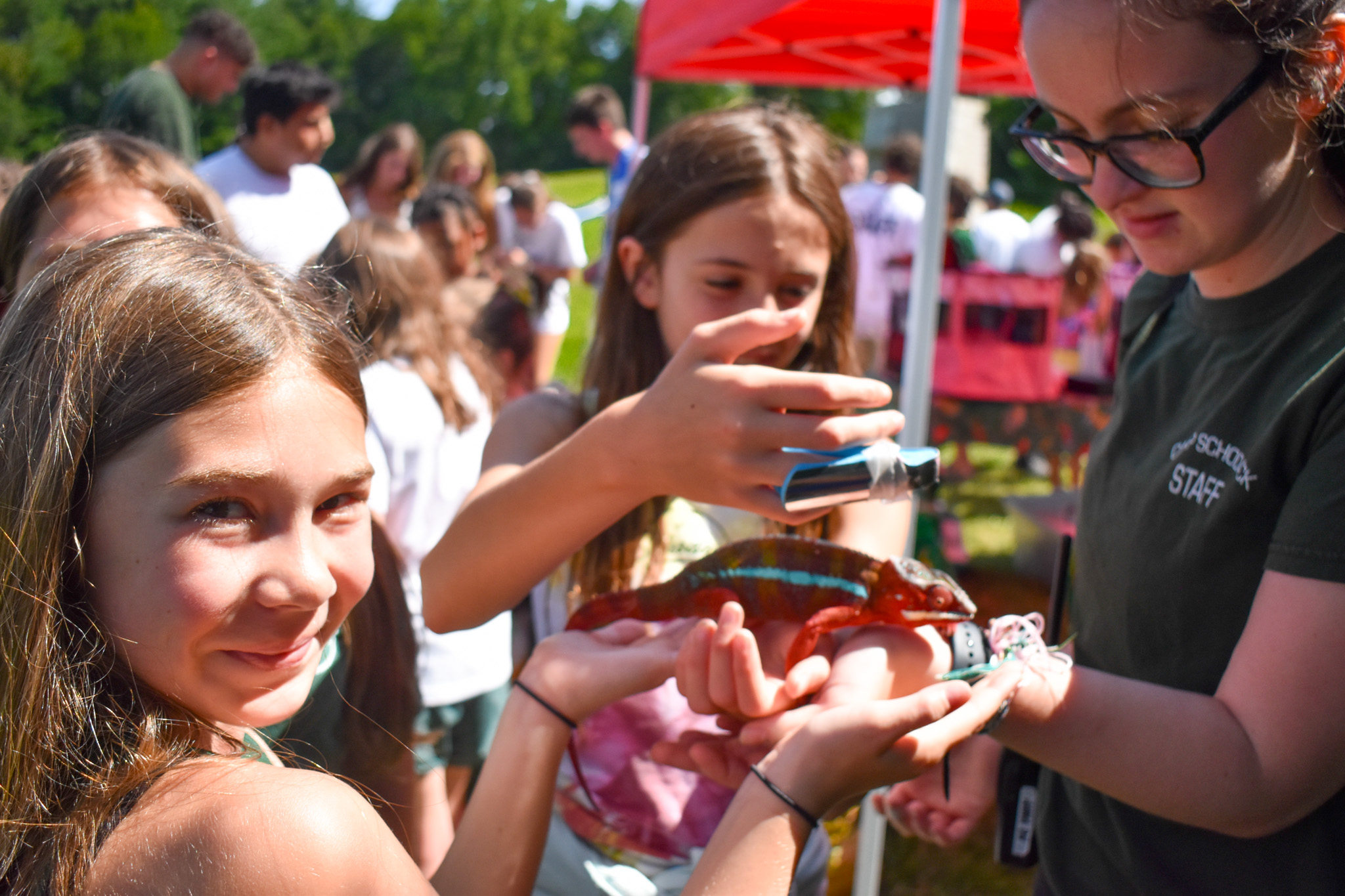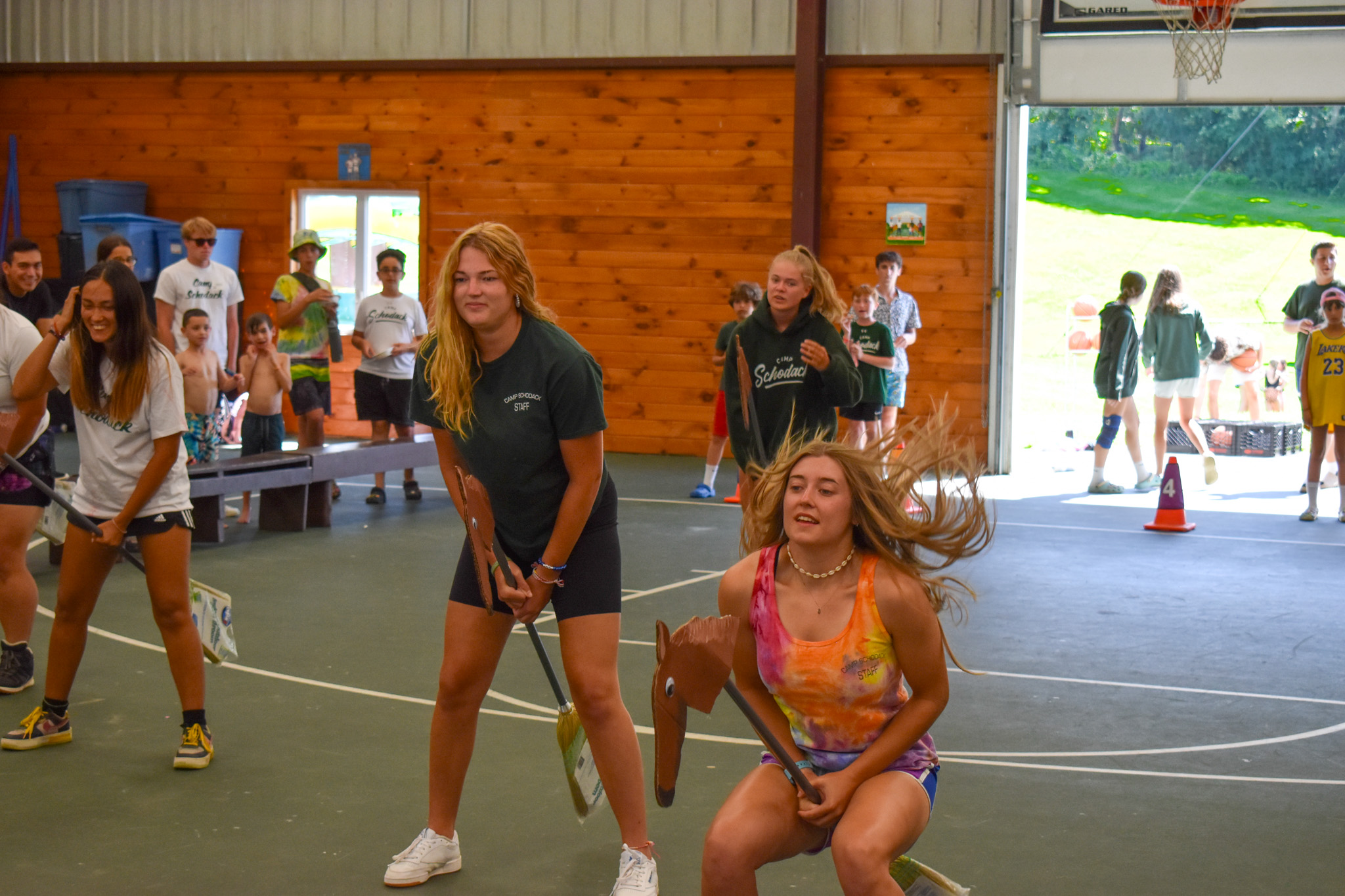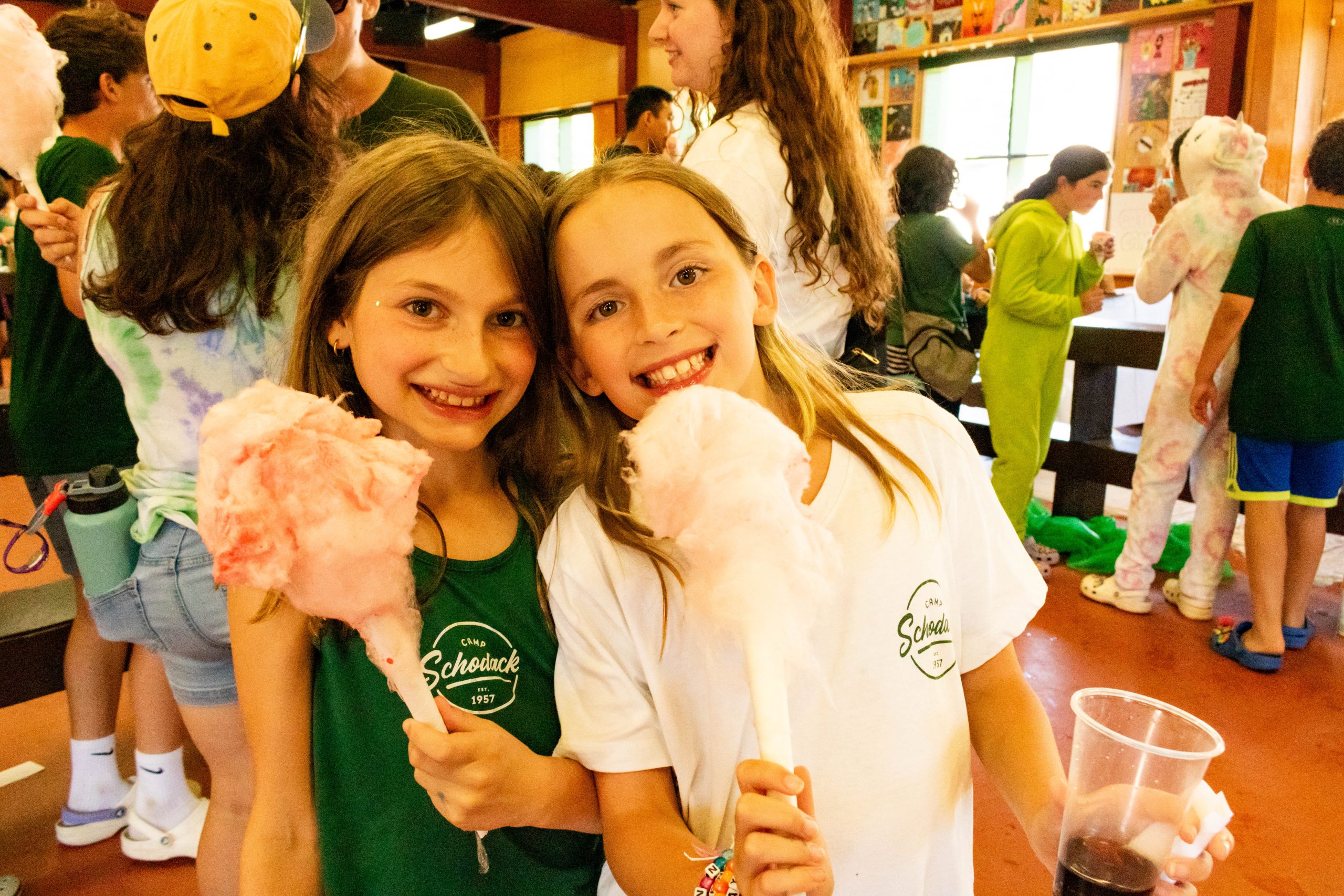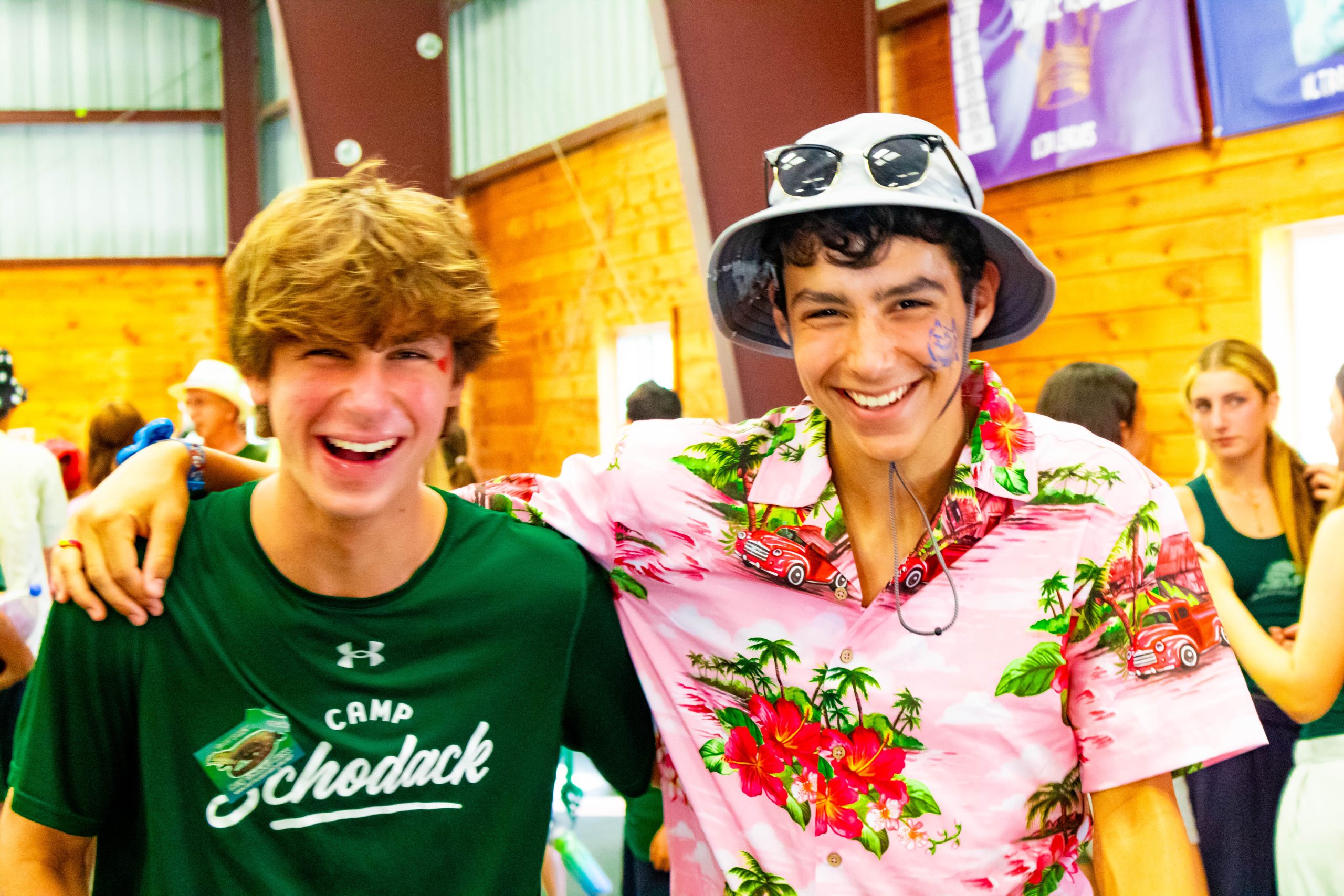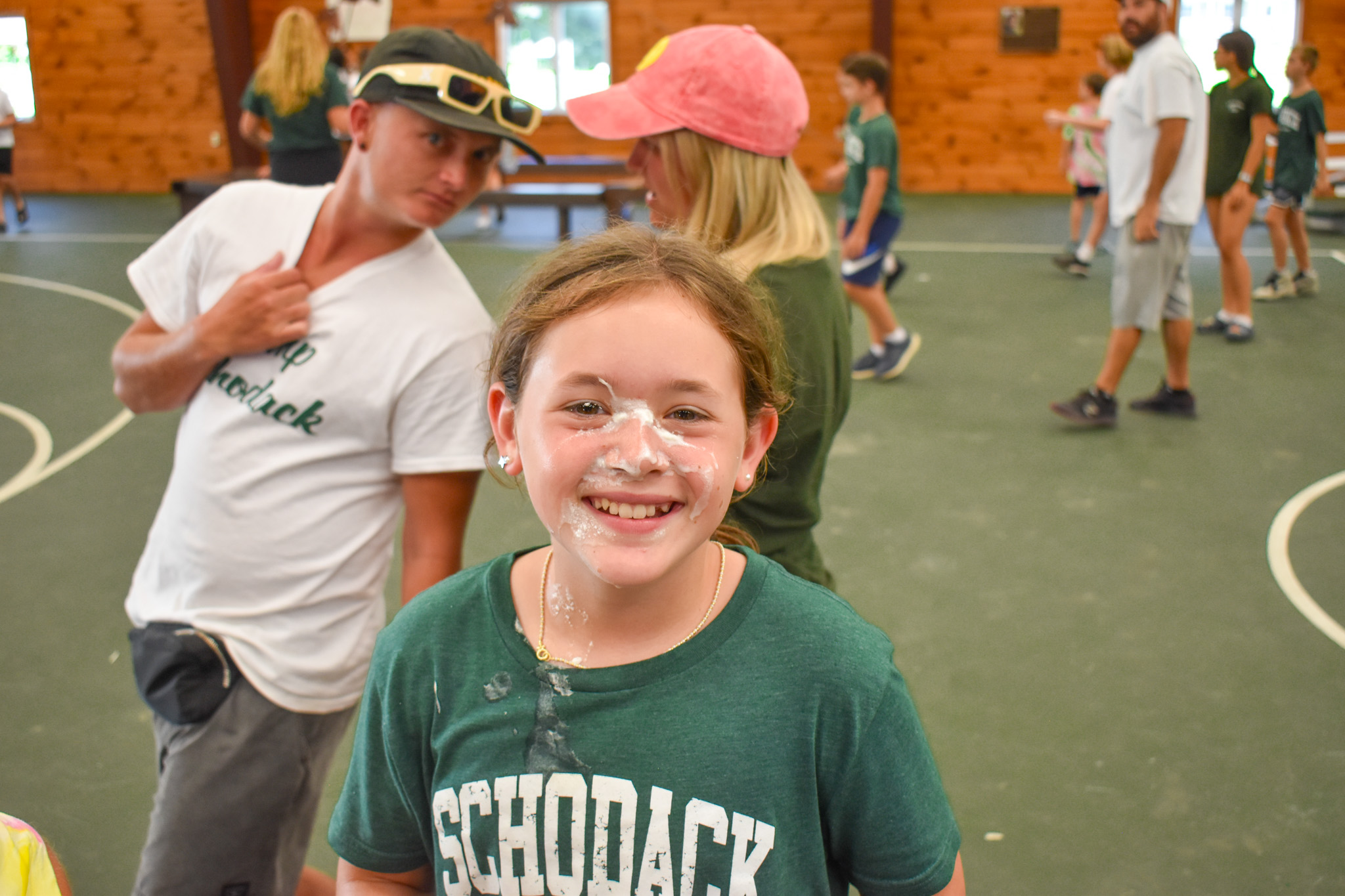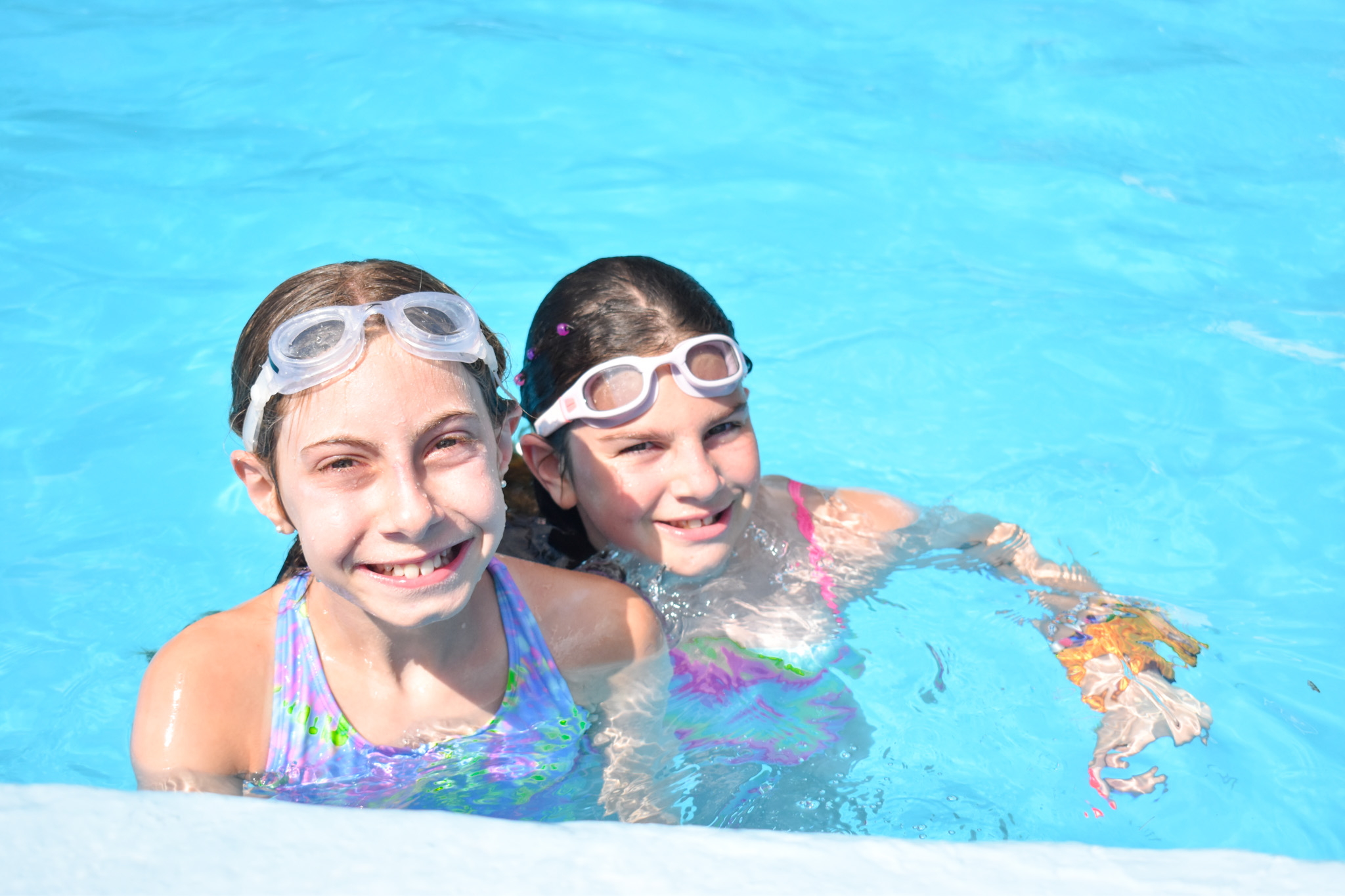 Division Write-Ups

Click below to jump to your camper's division:
Junior Camp

Super Junior Camp

Middle

Upper

LTs
Junior Girls
This week has been incredible for the junior girls which ended with a fantastic Tour of Britain afternoon. This consisted of the division being split into 4 teams, England, Ireland, Scotland and Wales. The teams went around camp to the 4 activity stations (each representing a country) and competed for points for their country! There were smiles, spirit, and spunk all around while everyone worked hard to earn points for their country!
Also this week…….
The Apple Girls thoroughly enjoyed making crepes in cooking as they added their own toppings! Their favorite topping was Hershey's chocolate sauce. All of the girls have been improving their swimming techniques at the pool. A popular bunk bonding game has been 9 Square and they all love playing this in their free time! Low ropes have been a big hit with their CAIL Paige. The balance log has been a good way to practice their coordination as well as having each other's backs when spotting!
The Birch Girls have had lots of spa time in the bunk which included painting each other's nails and wearing face masks. (Which included pampering their GL Sienna). The bunk always has some kind of music blasting with Kenzie being a DJ with her iPod. A bunk favorite is definitely any kind of Taylor Swift. The girls are definitely thrill seekers as they zoom around the Schokarts track. Arts and crafts have been fun and the bunk has done lots of painting.
The Ash Girls are very happy as another dance period has been added to their schedule as they bust their best moves and spend more time with their CAIL Issie. In archery, they have been shooting at the newly landed aliens on the targets! How many points can they get for a bullseye? The girls love the water slide and continue to run up and down the corral hill for another go.
Night activities have included dress your counselor, fairy tale skits, and a bonfire. Trip day was roller skating and a movie. Overall all 3 bunks had an exciting week and are looking forward to performing their BPN in a few days!
Junior Boys
This week for the Junior Boys was action-packed from start to finish, with lots of exciting events.
Night activities Fractured Fairytales and Dress Your Counselor provided great entertainment as Junior camp showed off their spontaneous creativity and wacky fashion ideas.
Birch Boys had the honor of leading Fire Circle, choosing Teamwork as their theme as the camp sang along to a High School Musical classic!
The Apple Boys scaled the challenge wall at Climbing Tower and cooked up a storm in the Camper Kitchen.
The Ash Boys whizzed around the track at SchoKarts and had a blast at Soccer.
For trip day this week, Junior camp went roller skating followed by a day at the movies to see Teenage Mutant Ninja Turtles- Mutant Mayhem!
Junior Camp also took a Tour of Britain this week, visiting 4 countries and participating in a variety of activities from Quidditch to Tug of War to earn points for their team. It was a great day with campers and counselors all having fun in the sun!
We can't wait for what lies in store next for Summer 23!
Grant
Super Junior Girls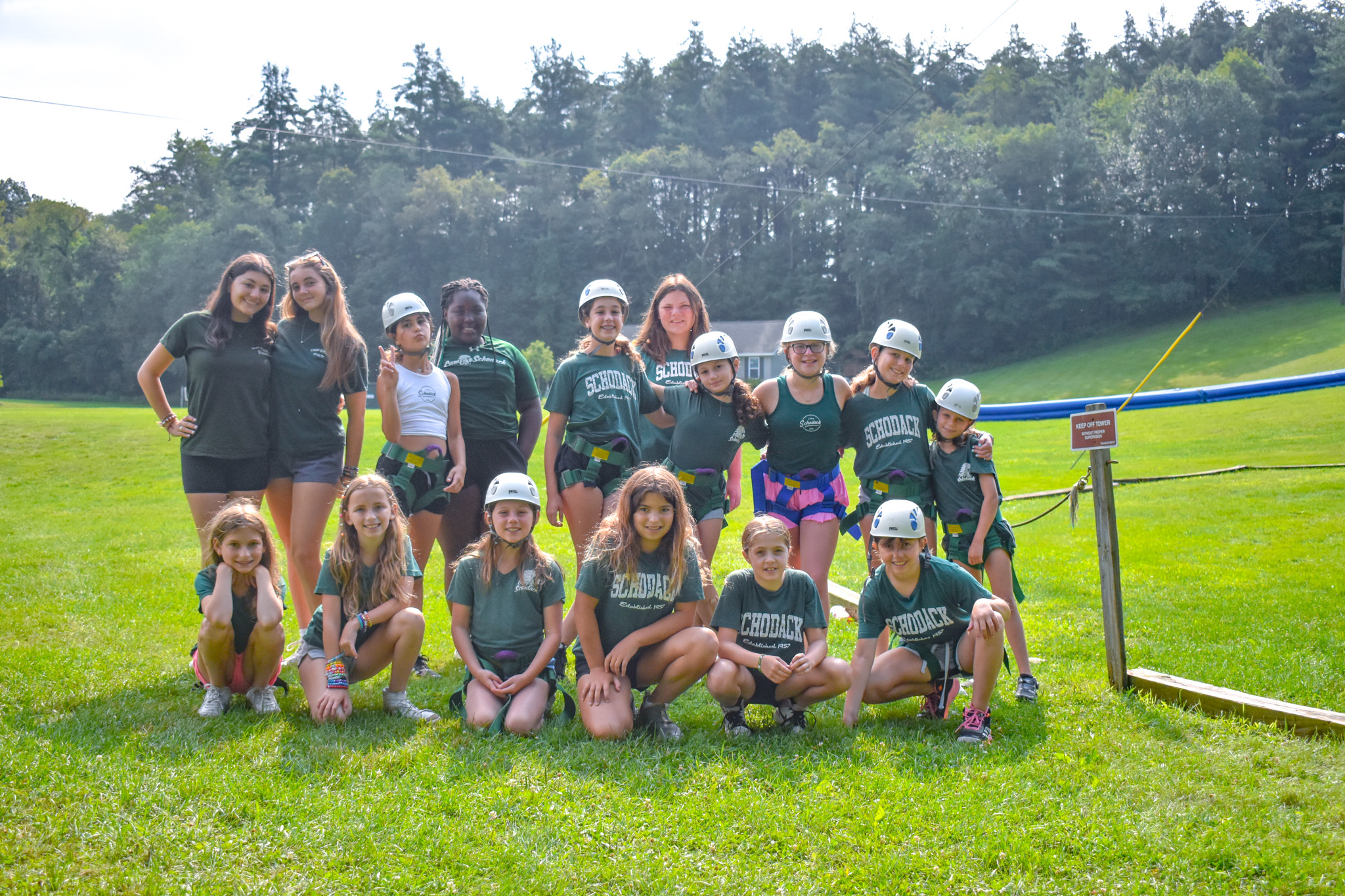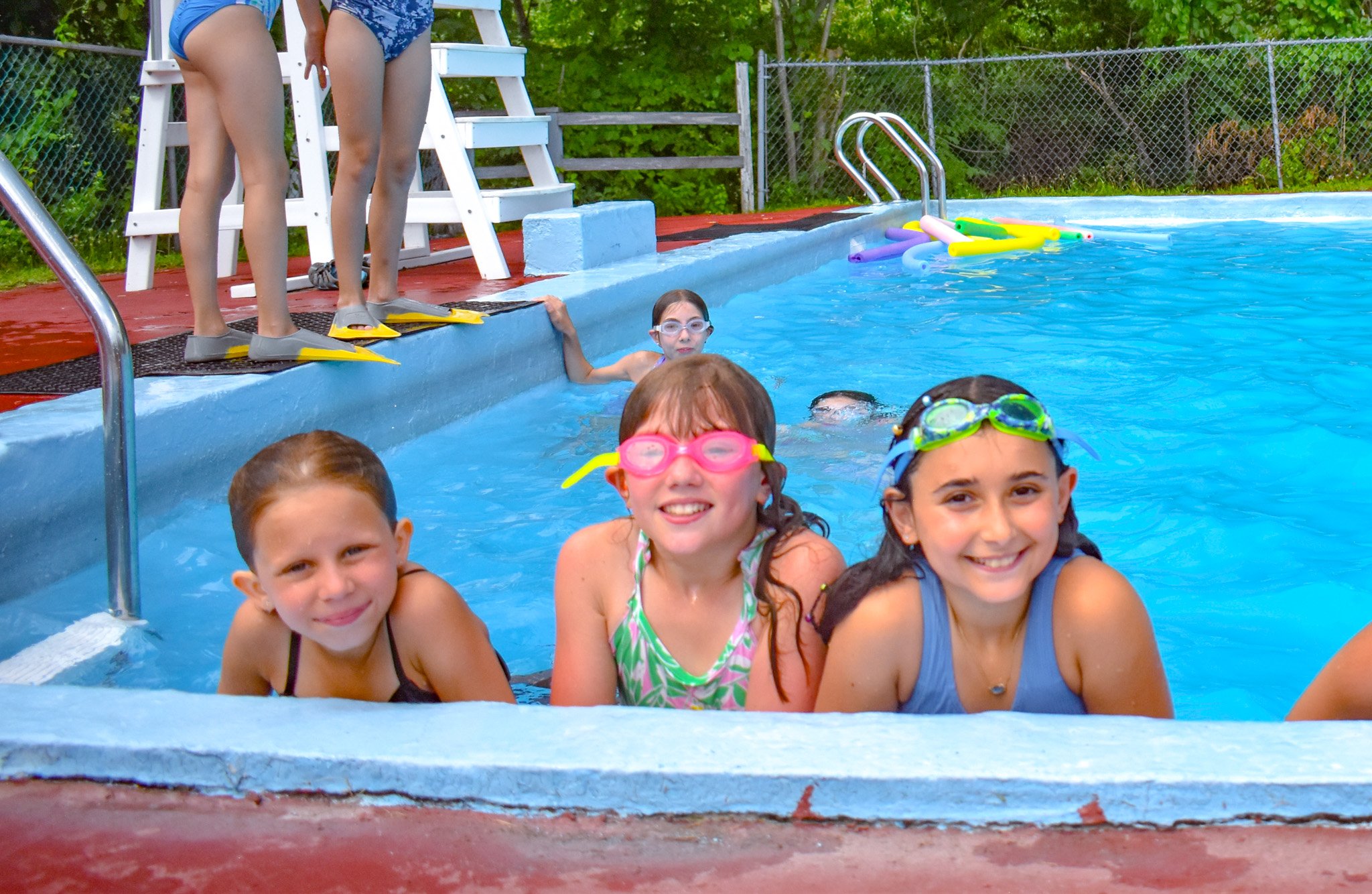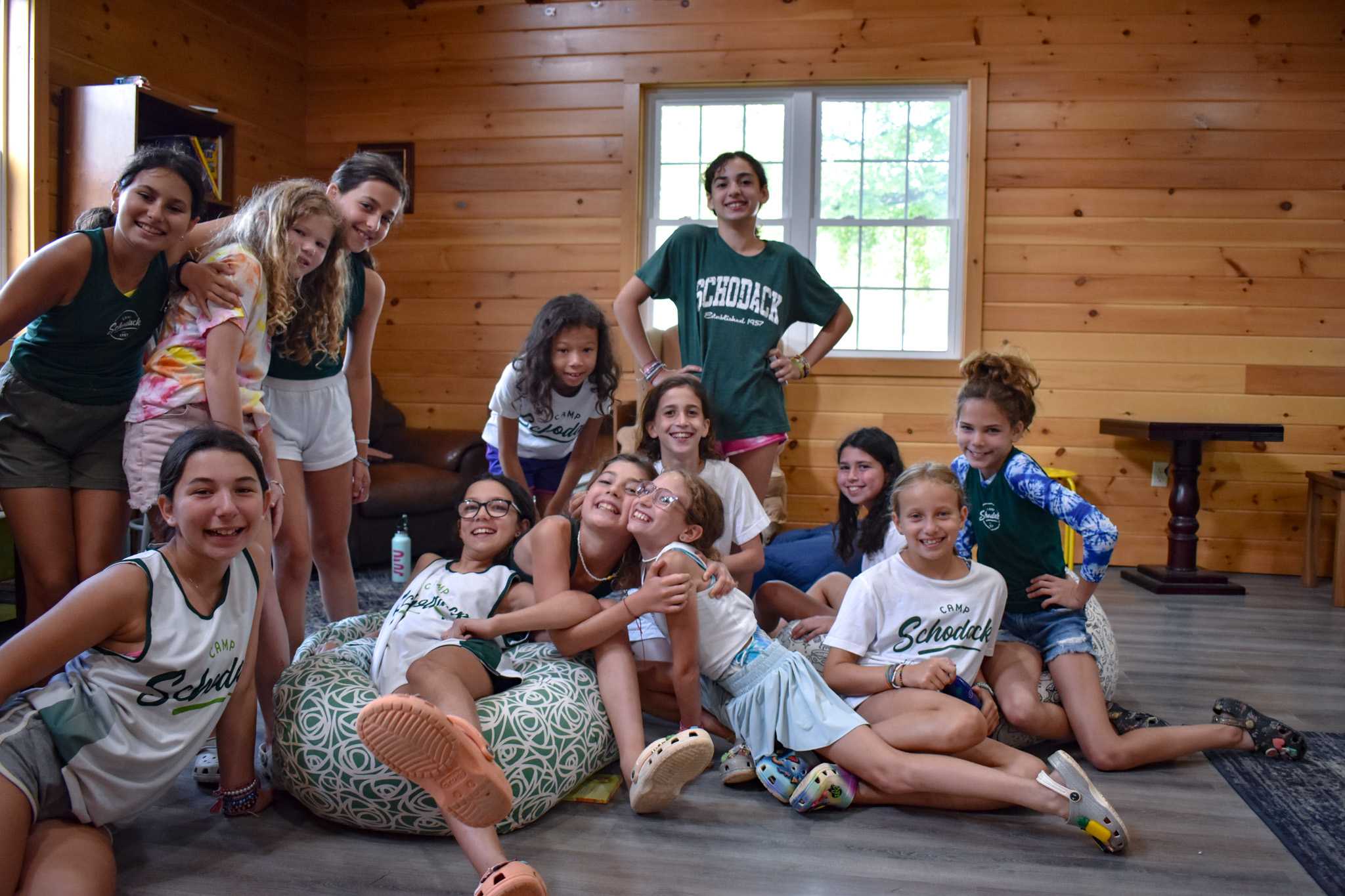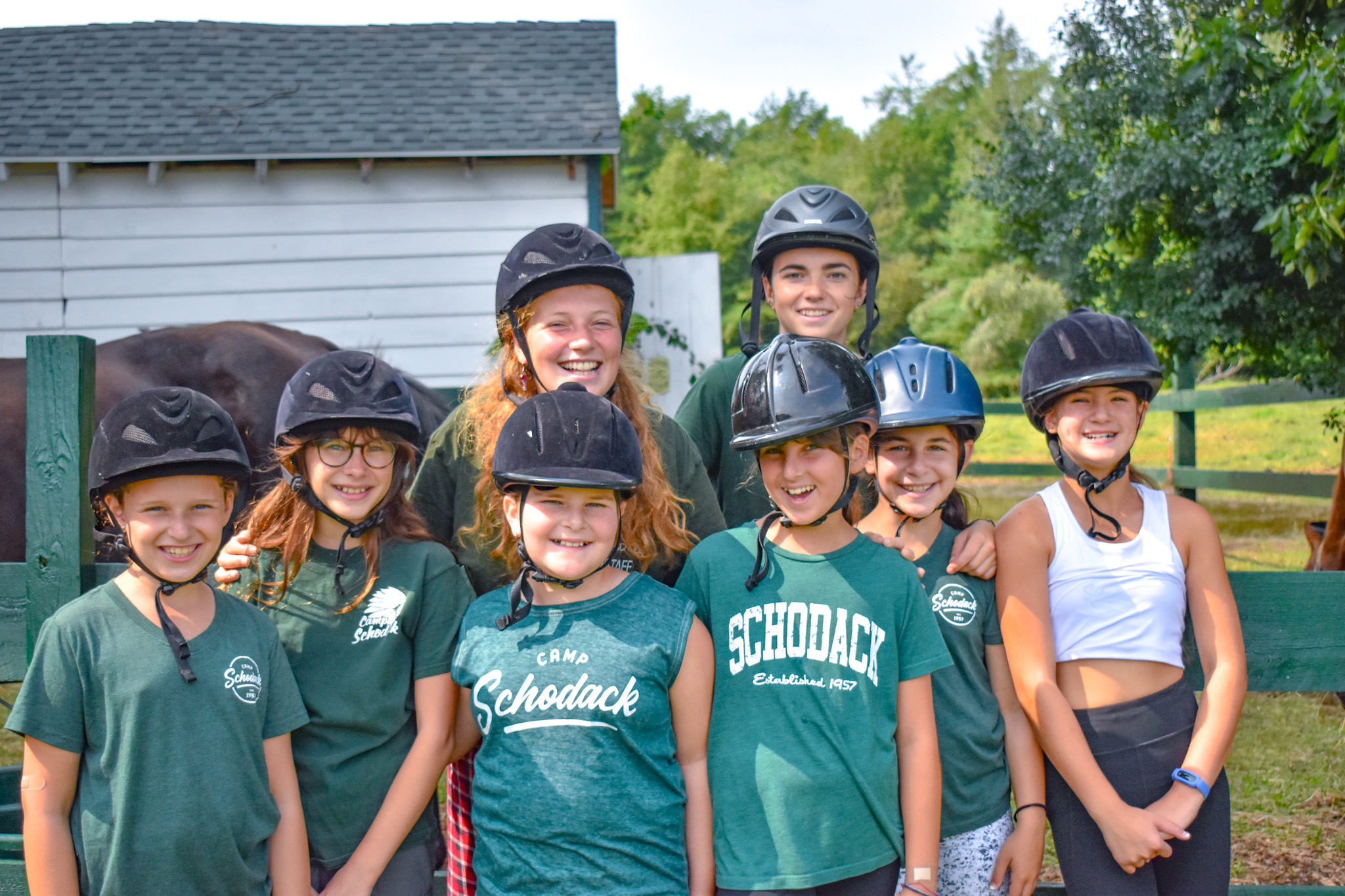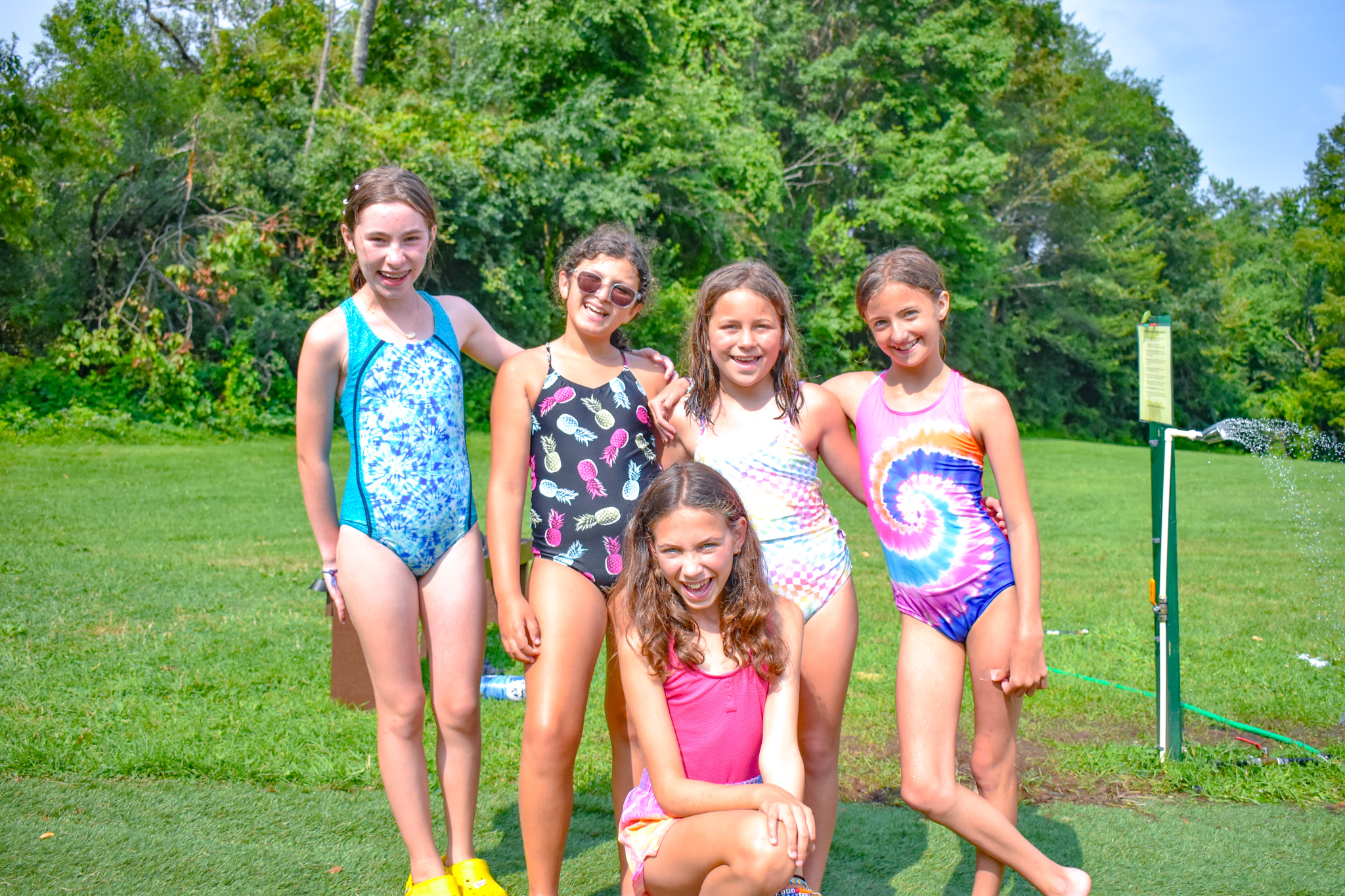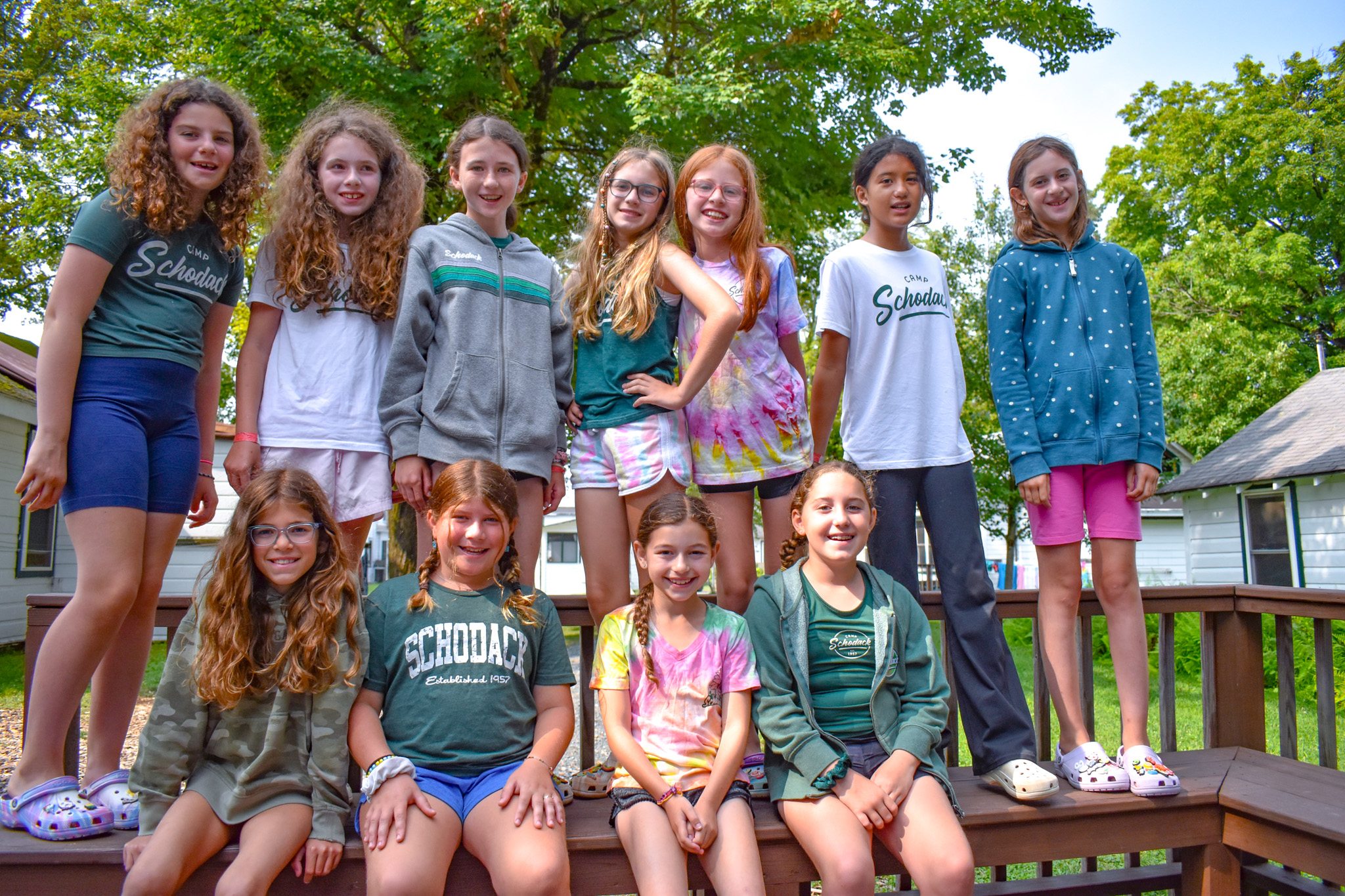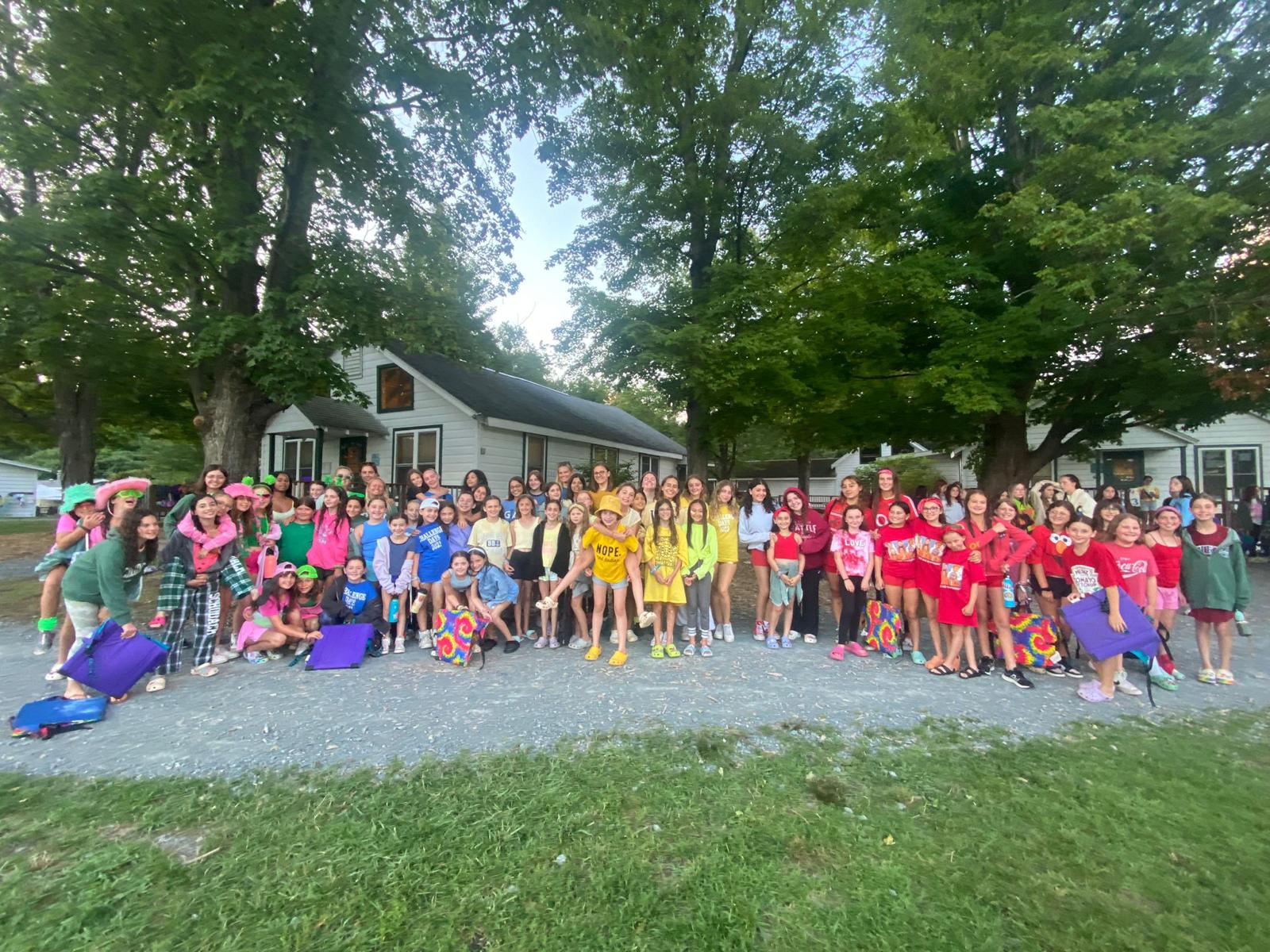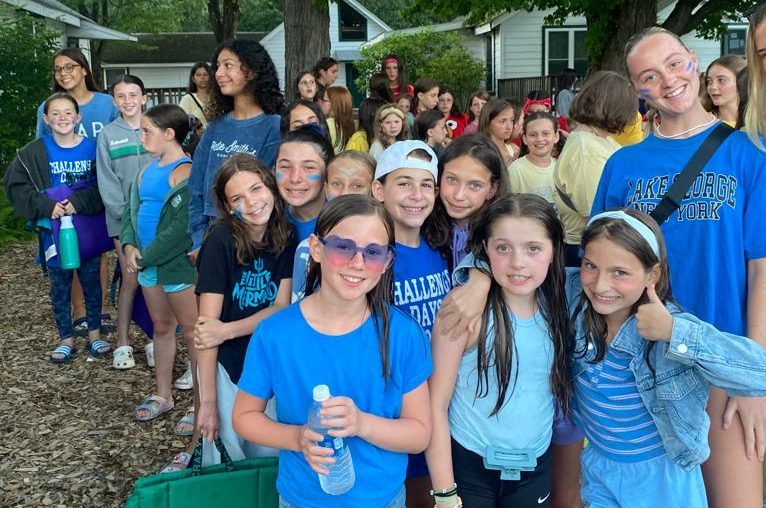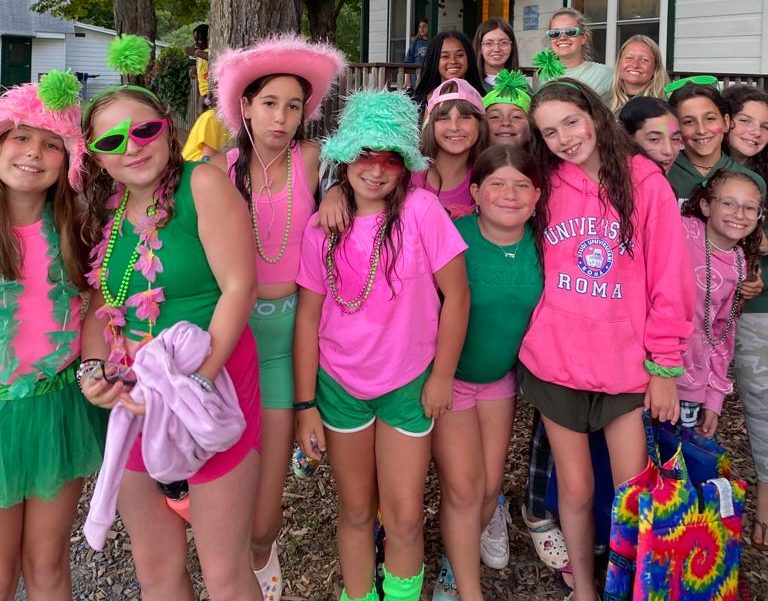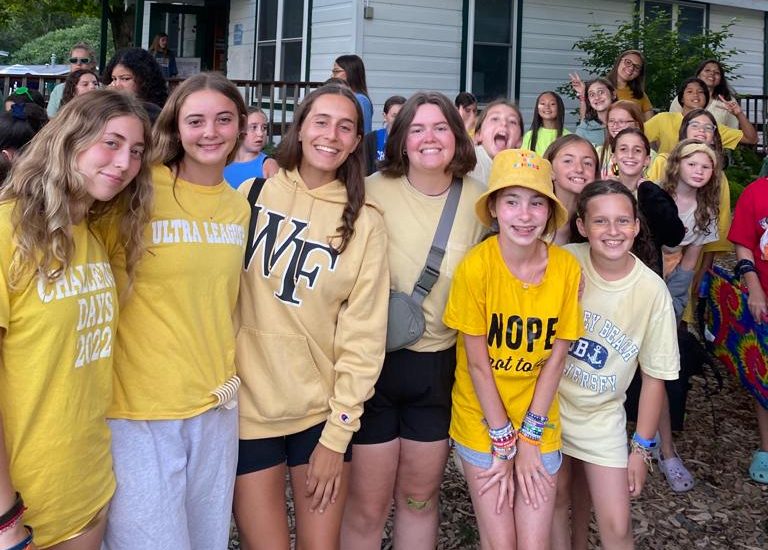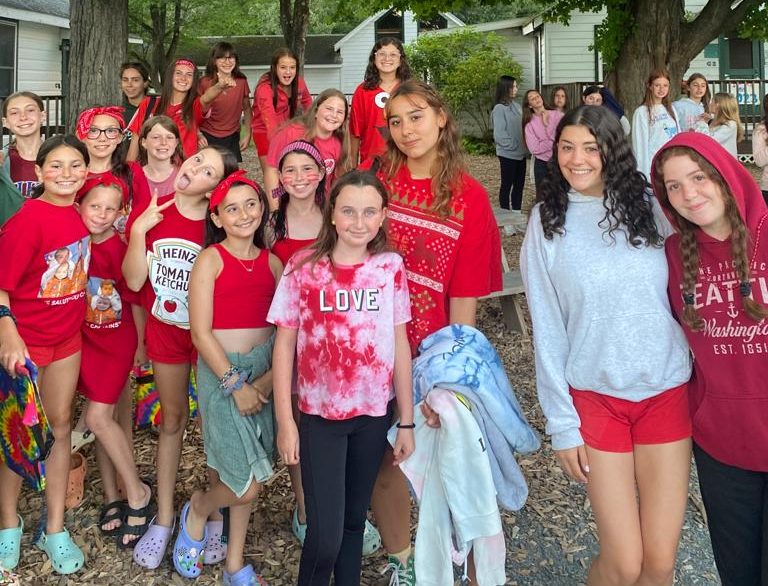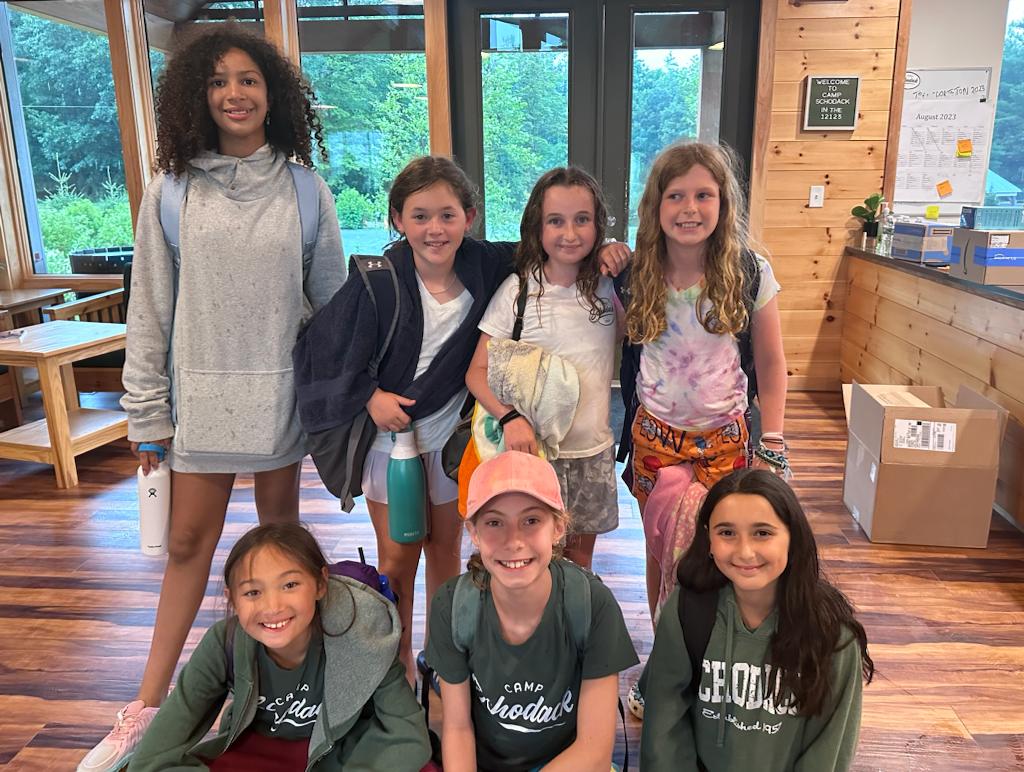 Another amazing week for the Super Junior Girls at Schodack!
The SJGs got a chance to make brioche french toast in cooking and even decorate their own cookies!
Some of the girls went horseback riding this week and got a chance to go out on the beautiful trails in the woods.
Camp hosted the first-ever Schochella on Friday night! The campers spread out their blankets and crazy creeks on the grass down in the well. They played cards and made bracelets while listening to staff and upper campers perform some amazing music and show off their talent.
The second session LT Carnival took place on Sunday. There were food stands, a waterslide, a water plunger, and even horse racing! The most popular stand at the carnival was the reptile zoo! There were all different types of snakes, legless lizards, Argentinian tegu, chameleons, and tortoises!
On Monday night we had a special visit from Kemp, The Storyteller, who told amazing musical stories including the Schodack favorite, "The Cat Came Back".
On Tuesday it was trip day again! The Super Junior Girls went to Guptill's Roller Skating Arena followed by the movie theater where they saw 'Teenage Mutant Ninja Turtles: Mutant Mayhem.'
It was a great day out for all and we are very excited for Six Flags next week!
Tuesday's night activity was 'Change Your Counselor.' The campers got the chance to choose silly costumes and accessories for their counselors to wear as they strutted down the catwalk! It was an absolutely fabulous show!
We can't wait to see what will happen this week, it's sure to have some surprises!!
Hannah 🙂
Super Junior Boys
As camp rolls on, the super junior boys are still cruising and having an amazing time at camp!
The first annual Schochella happened this week on Friday! We got to see campers AND counselors perform in the well and showcase their amazing talents.
Trip day was awesome this week! We first visited Guptill's ice cream and skating rink. First, we all got a generous scoop of soft-serve ice cream, choosing from multiple flavors. The boys then tied up their laces and skated around to classic 80s tunes. The boys loved rolling up to the skate-friendly concession stand, eating fresh fries and fried dough, and drinking slushies and root beer floats. The day didn't end there! Tired and worn out, we ended the day with Teenage Mutant Ninja Turtles and a snack pack from the theater. For the night activity, we got to see the famous Kemp the storyteller, and sing along to our favorite stories! Being a GL for the past two years, this was my first time seeing Kemp and he did not disappoint! The cat once again came back the very next day.
The boys continued to thrive on the junior camp playground (JCP), with intense games of gaga, basketball, and 4 square. The new pickleball courts have hosted many of our boys for a game.
We're going to make these last couple of weeks the best yet!
Max
Middle Girls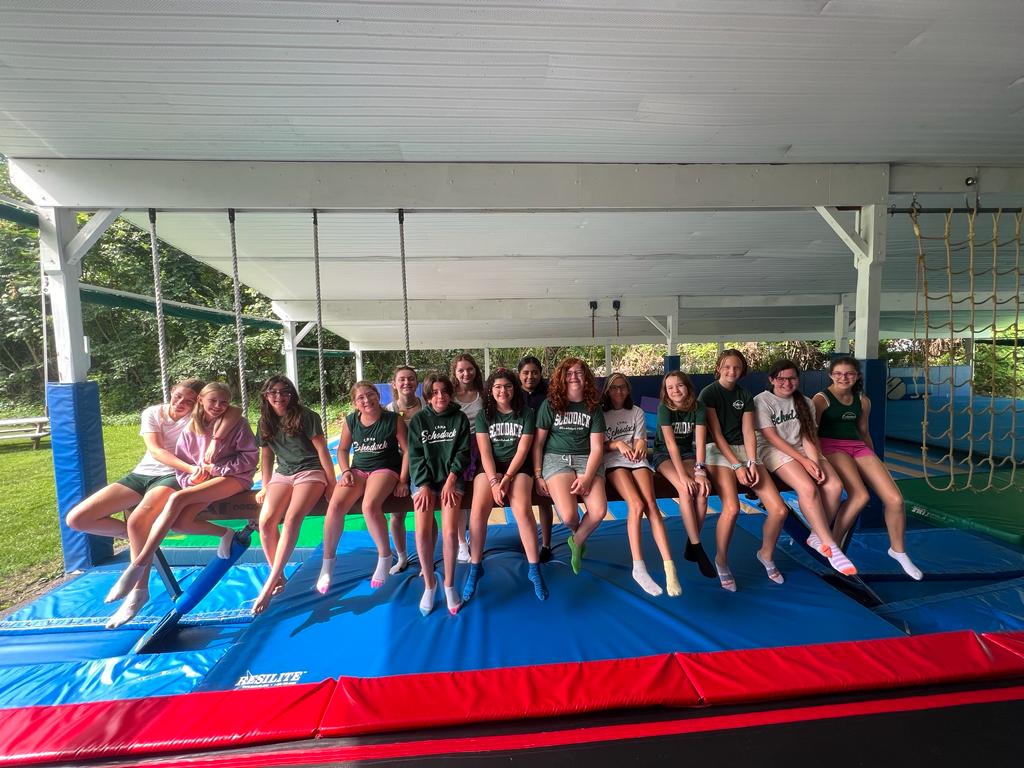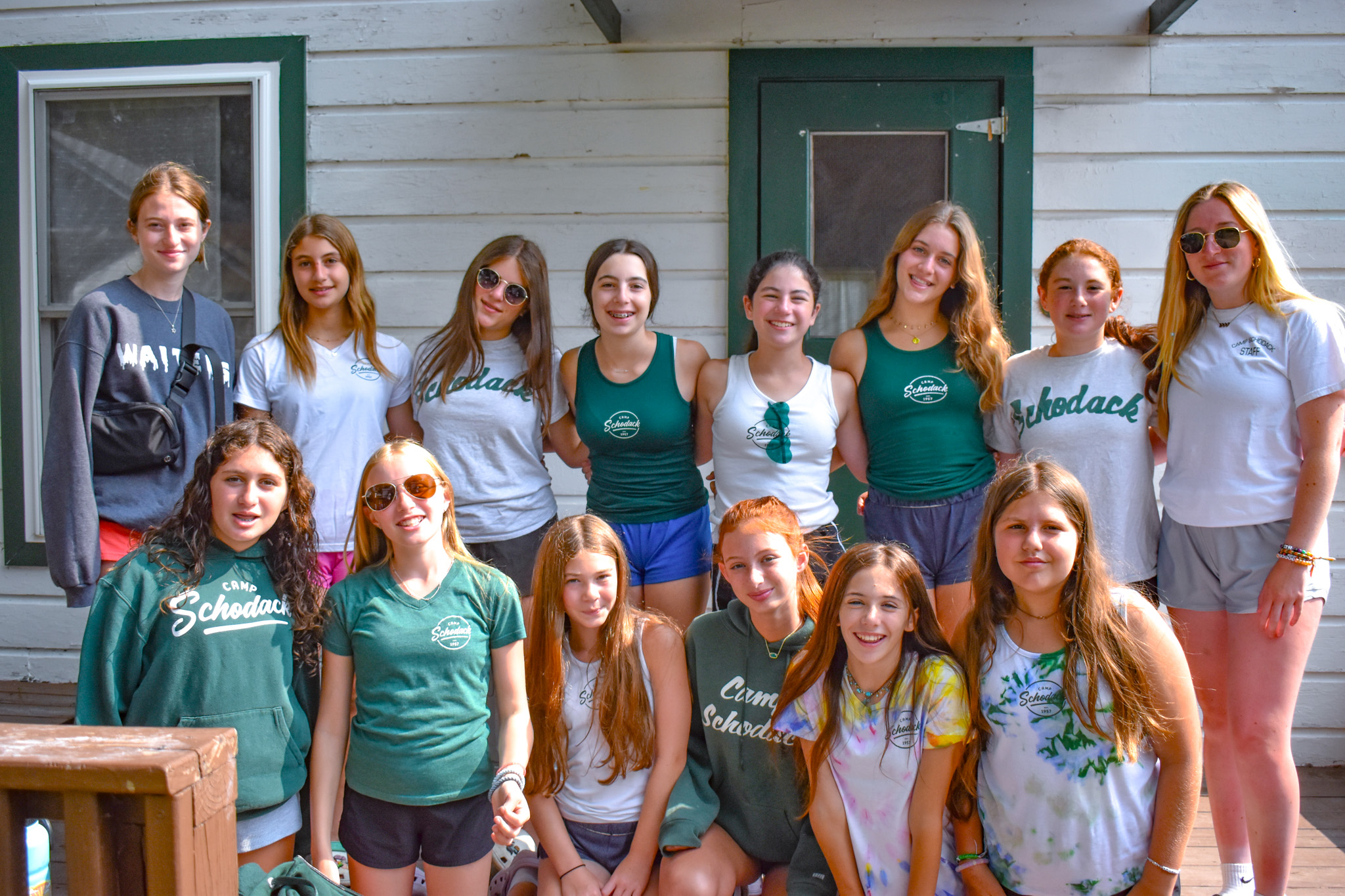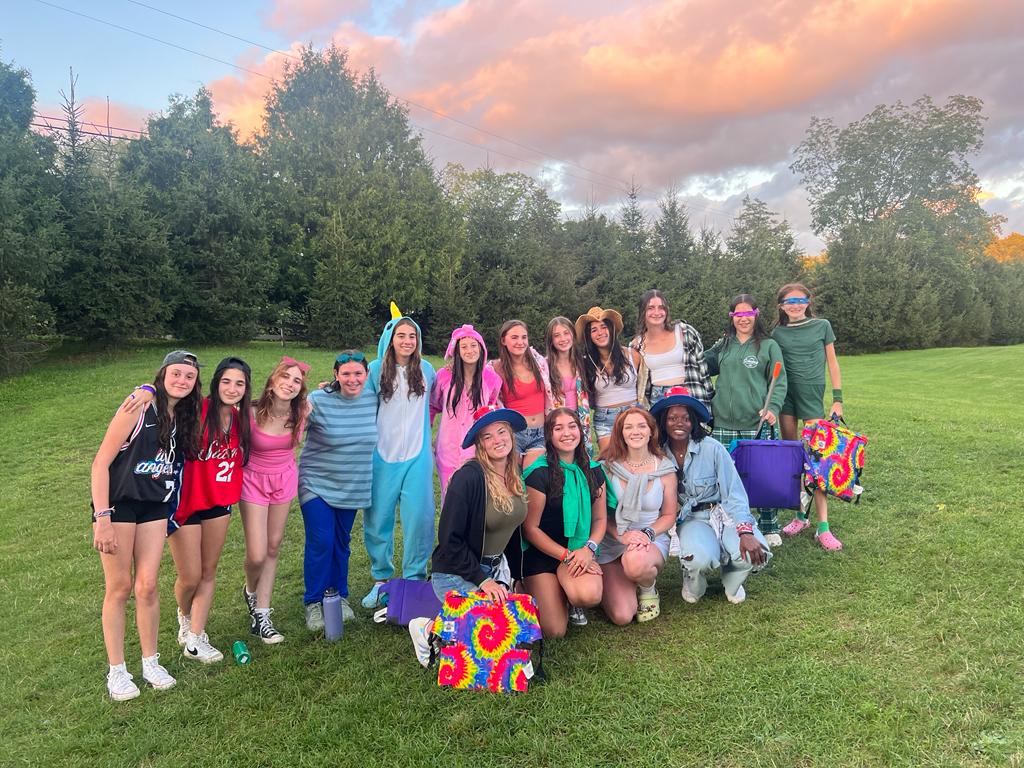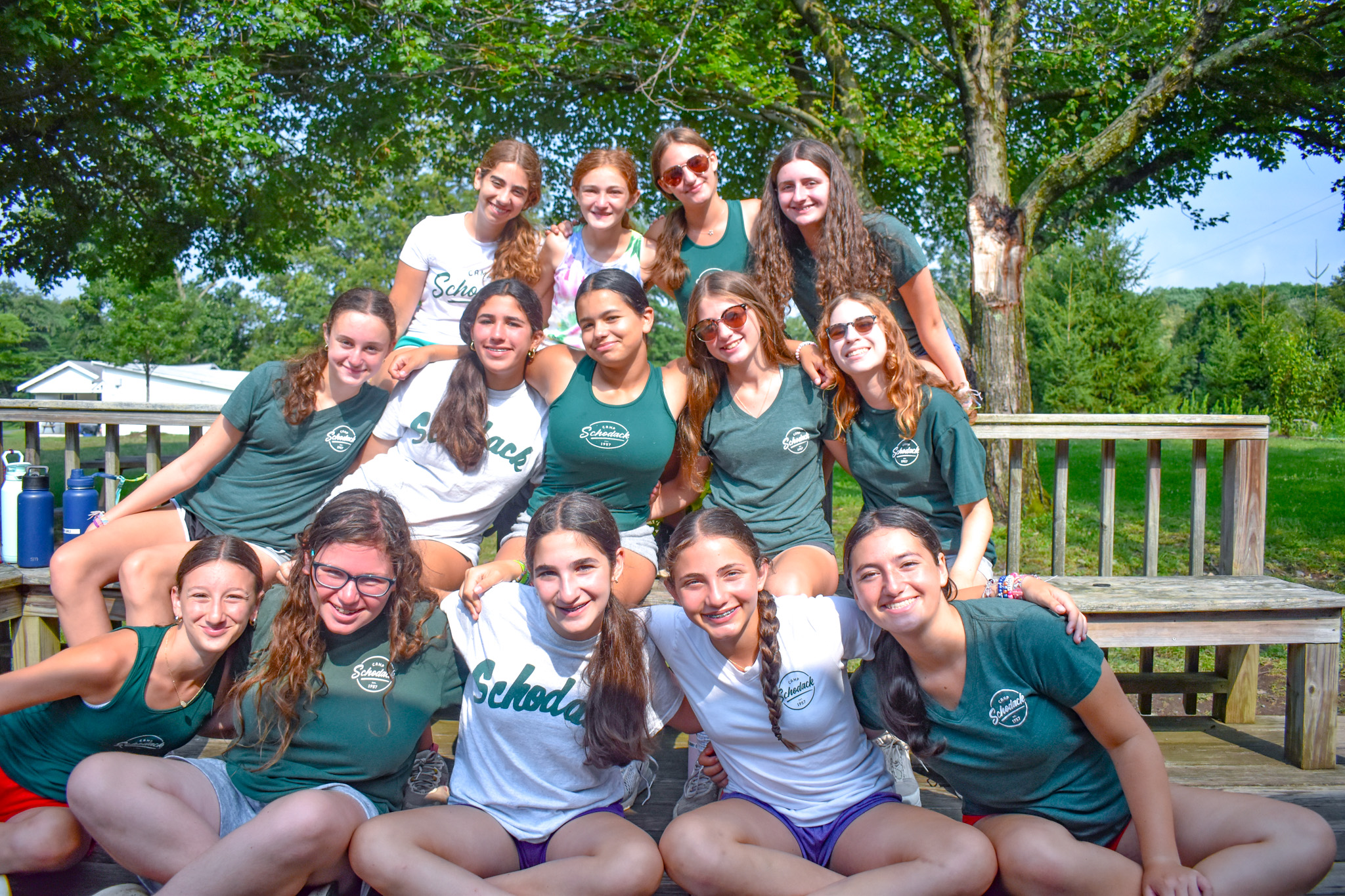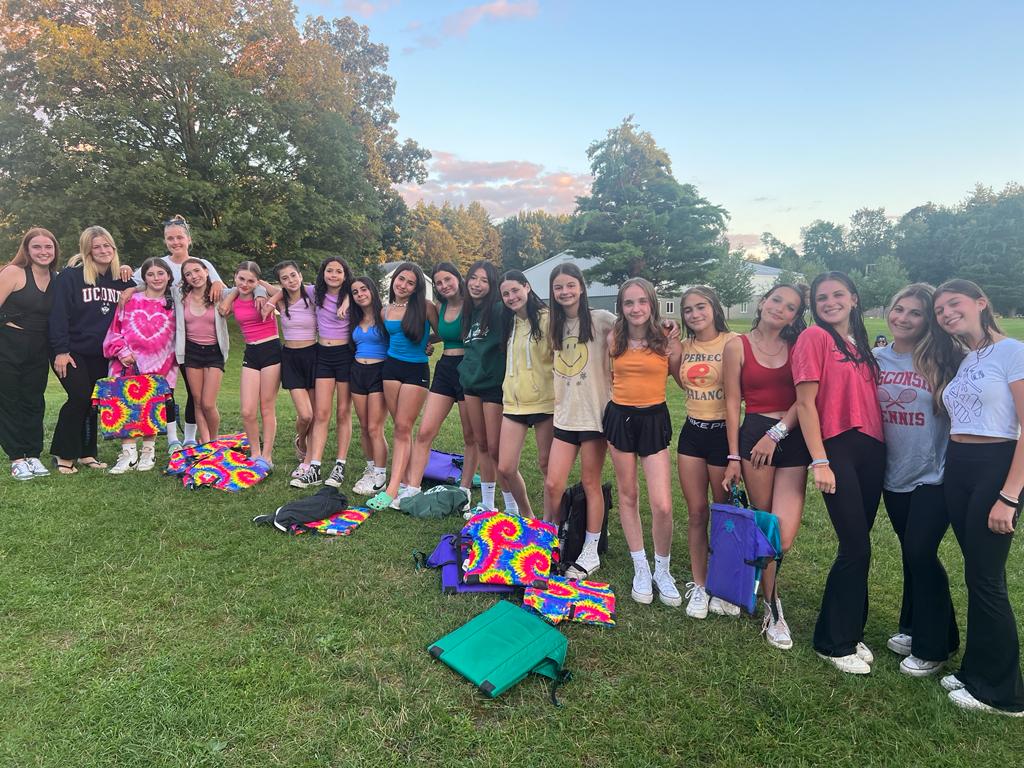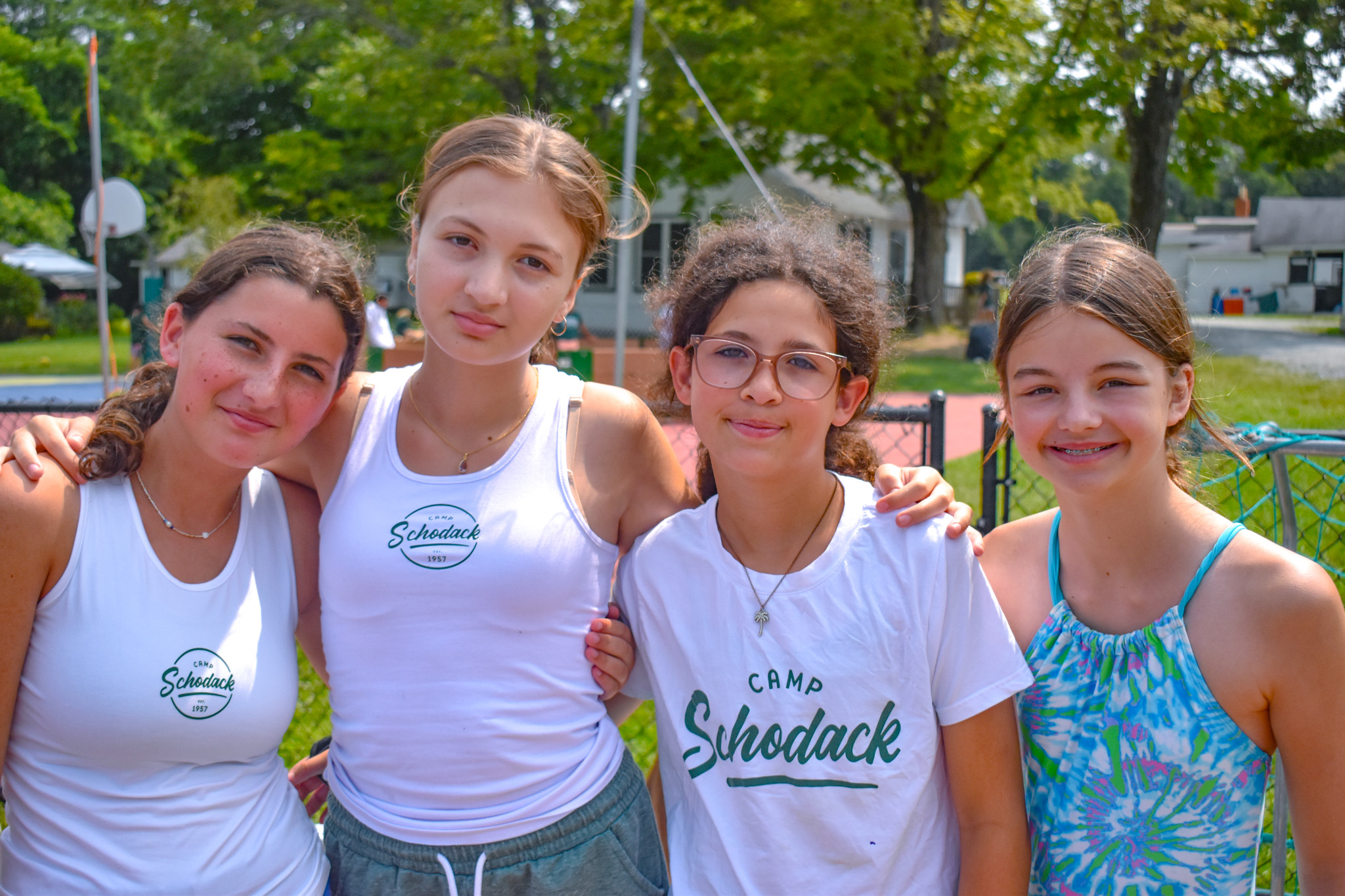 We had a great week at camp!! The middle girls had a jam-packed week full of wonderful activities and treats. The week kicked off with the highly anticipated 'LT Carnival' where an assortment of amusements awaited them. From the marriage booth, cookie decorating, and a reptile zoo featuring chameleons, snakes, and more, the fun had only just begun! All four bunks also enjoyed watching Kemp the Storyteller and loved jamming out at Schochella, an all-camp festival!
A few middle girls opted to see Dr. Dolittle and the majority of the middle girls saw the new Barbie movie. Both movies were a hit! After watching a movie, all of middle camp went to Guptills for roller skating!
The Juniper Girls had a great time at gymnastics, especially playing Simon Says on the balance beam! The Laurel Girls had a great Hockey period which included a few minutes of BPN practice! The Mulberry Girls went all out wearing pink for the Barbie movie! The Palm Girls had a relaxing time chilling by the pool, hanging out, and making friendship bracelets!
We had another action-packed week here at camp and can't wait to see what we get up to next week!
Xoxo, Anna
Middle Boys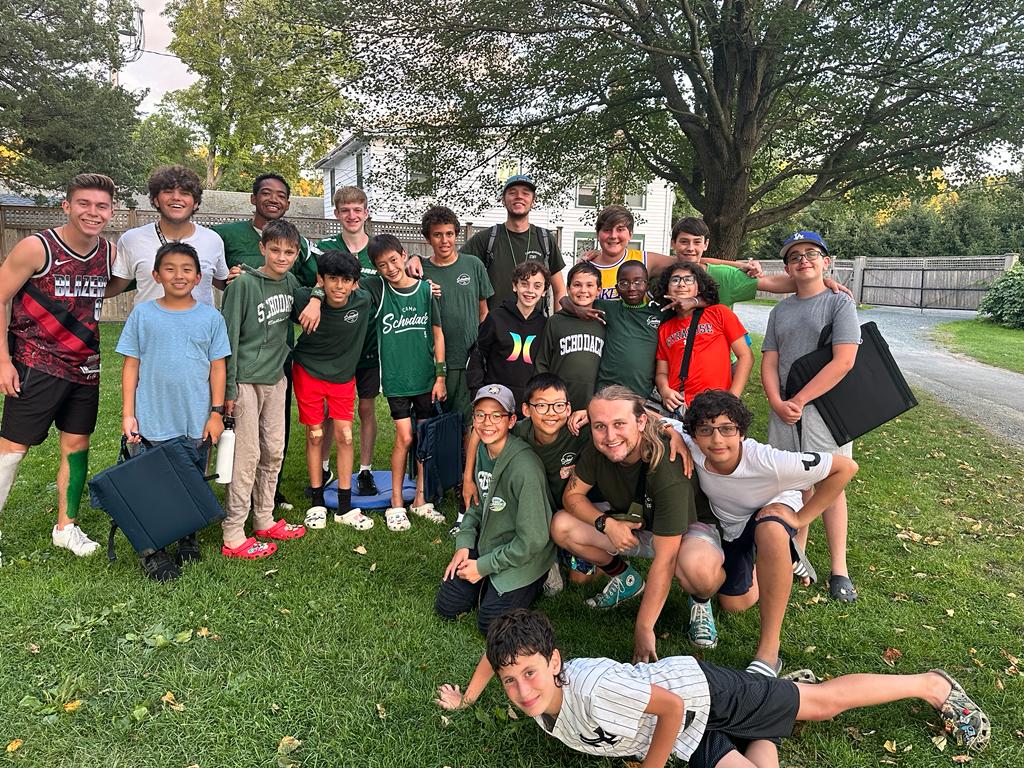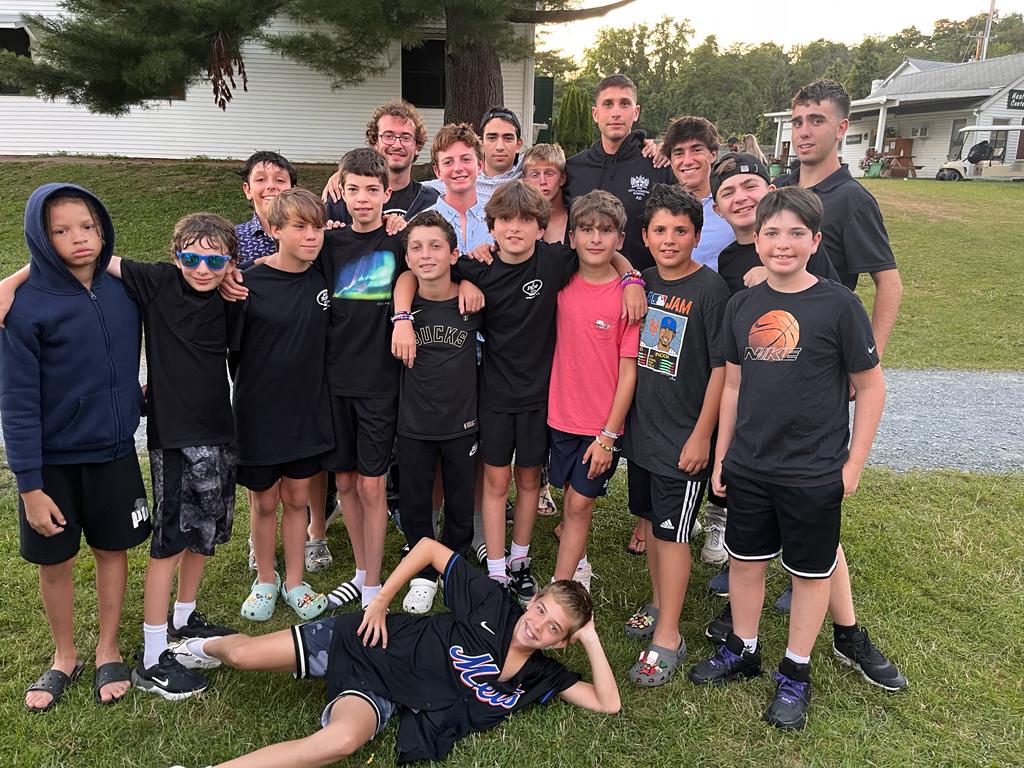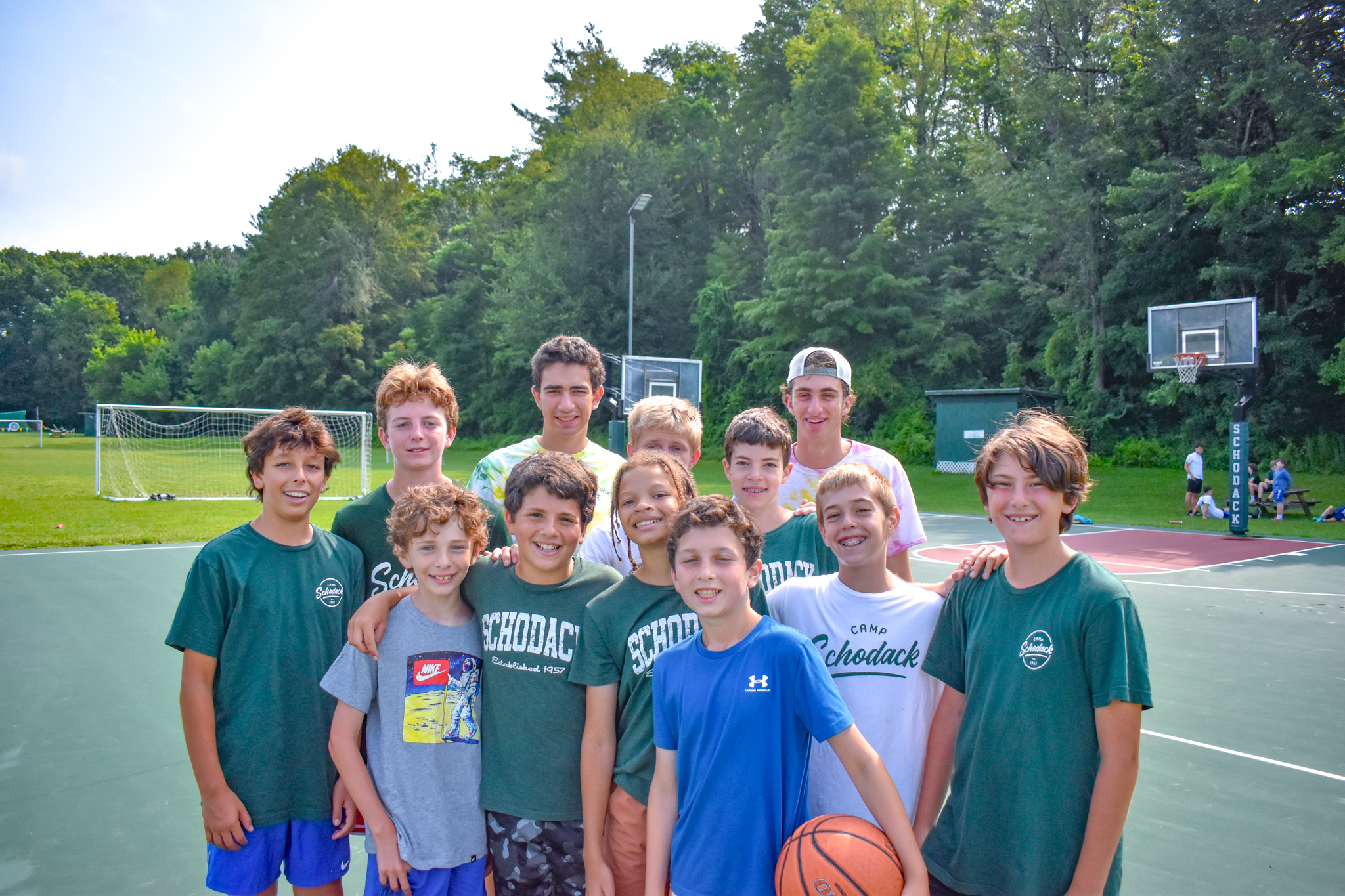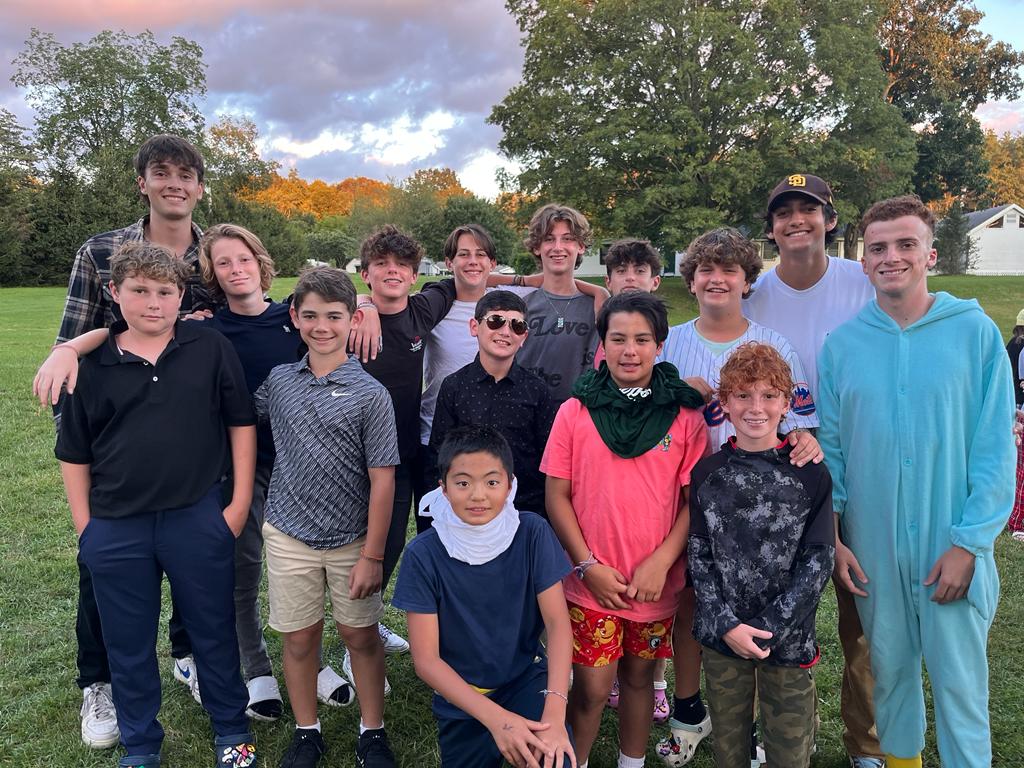 What a week it has been! The sun has been shining and the campers are having fun at the 12123!
Tribals are imminent, we've seen a couple of fakes so far and are all curious about what the theme of the break will be!
The Juniper Boys had a fantastic time at the LT Carnival, they enjoyed watching the horse races and meeting the animals, especially the snakes!
The Laurel boys took to the courts, in the camper tennis tournament, where they had many intense matches throughout the day! They've also been spending lots of time preparing for Bunk Plaque Night.
The Mulberry Boys enjoyed their time on the trip day! We started the morning off at the movie theatre to watch Barbie. Then we headed over to the roller rink where we first had some ice cream and then spent some time skating. We ended the trip day with a Middle Camp Bonfire! Such a fun day!
We are all looking forward to watching the Variety Show put on by our talented campers and Bunk Plaque Night!
Super Seniors
The Super Seniors had another great week here at Schodack. We started the weekend off strong with the return of the LT Carnival! They all had a fabulous time eating snow cones, sock wrestling, visiting the reptile petting zoo, and so much more!
The start of the week saw a day all the Super Seniors have asked for throughout the summer. Counsellor Switch Day! Attending every activity and making the most of it, both campers and staff had such a fun day. For night activity the storyteller returned, and we all went to listen down in the amphitheater. This is one of our favorite night activities on camp and all the girls loved listening and singing along.
Tuesday saw the rest of camp head off for trip day, and the Super Seniors chose to have a fun day on camp. We started the day with a lazy wake-up, followed by breakfast. Then we began our Pillow Fight Tournament! Each pair was picked at random to fill in the bracket, and the competition was fierce. Every camper gave it their all, with Austin Klein taking victory over the rest of the division.
After a treat of My Place lunch, we all took a stroll down to the old lake. We walked through the horseback trails and had such fun doing it. Once we arrived back at camp, we all headed to the dining hall side of camp for a big game of Assassin. The fun didn't stop there, we then headed to baseball for a fun water game and water fight. Having the camp to ourselves throughout the day was the perfect way for everyone to spend time together and enjoy how great camp is.
That evening, we all loaded onto the bus and headed to bowling, we ate pizza, played some very competitive games, enjoyed the arcade and it was a great end to a really great day.
We had another action-packed week here at camp and can't to see what we get up to next week!
LTs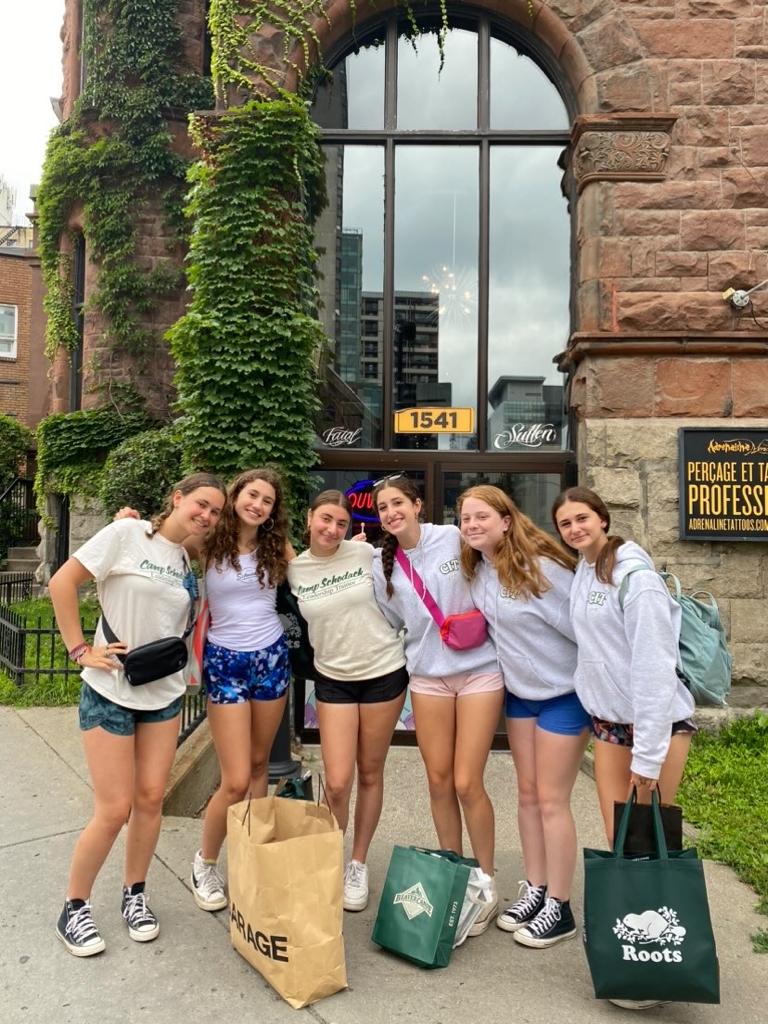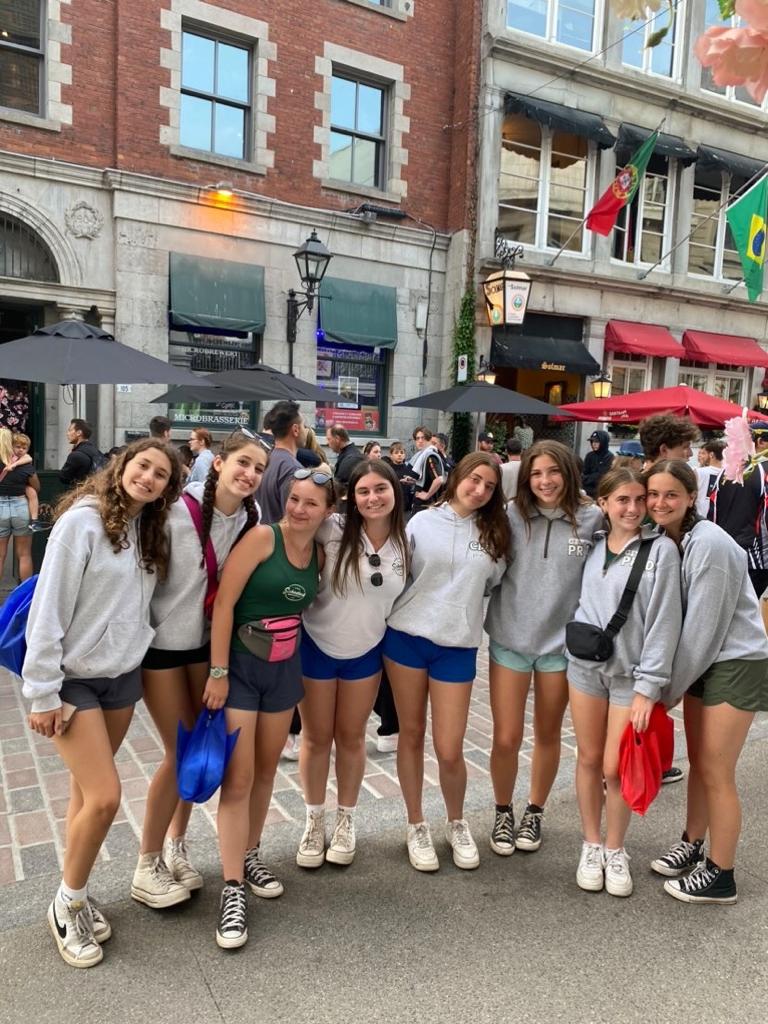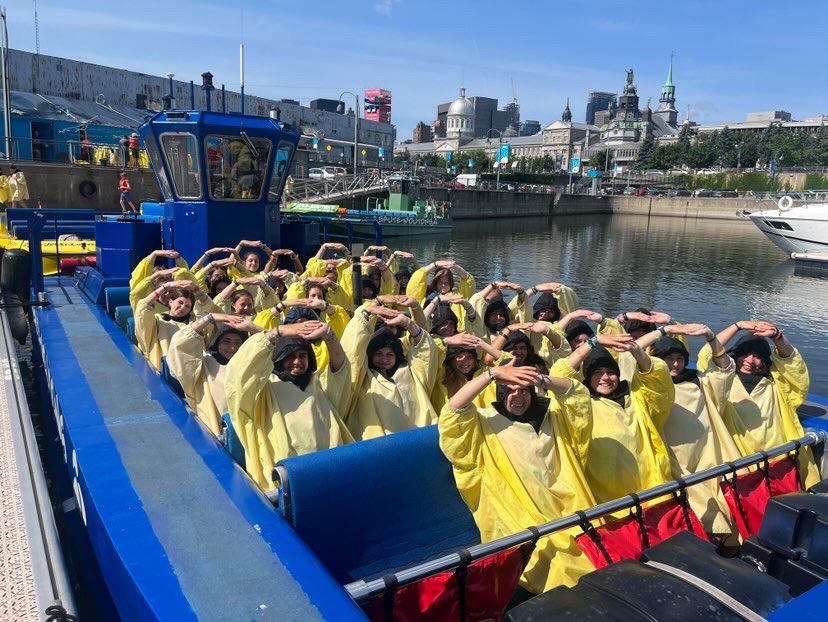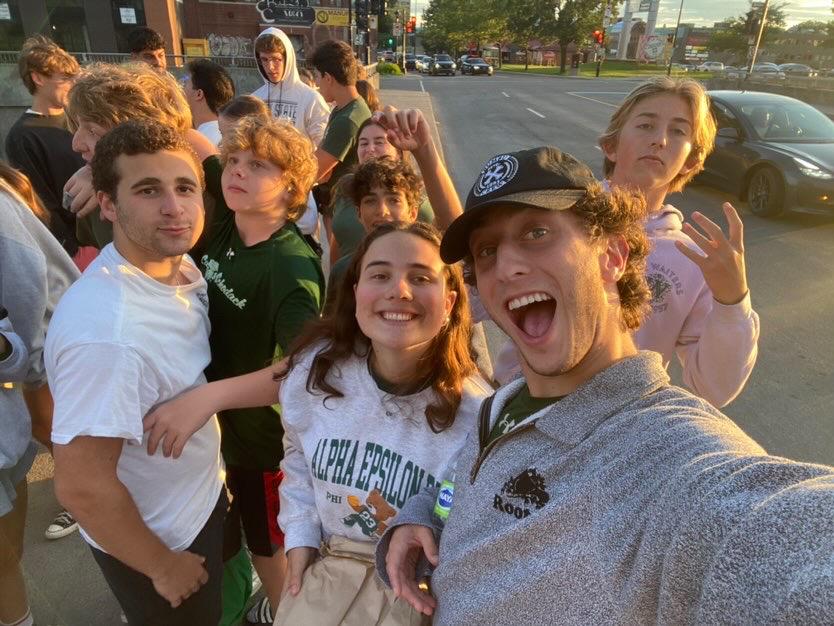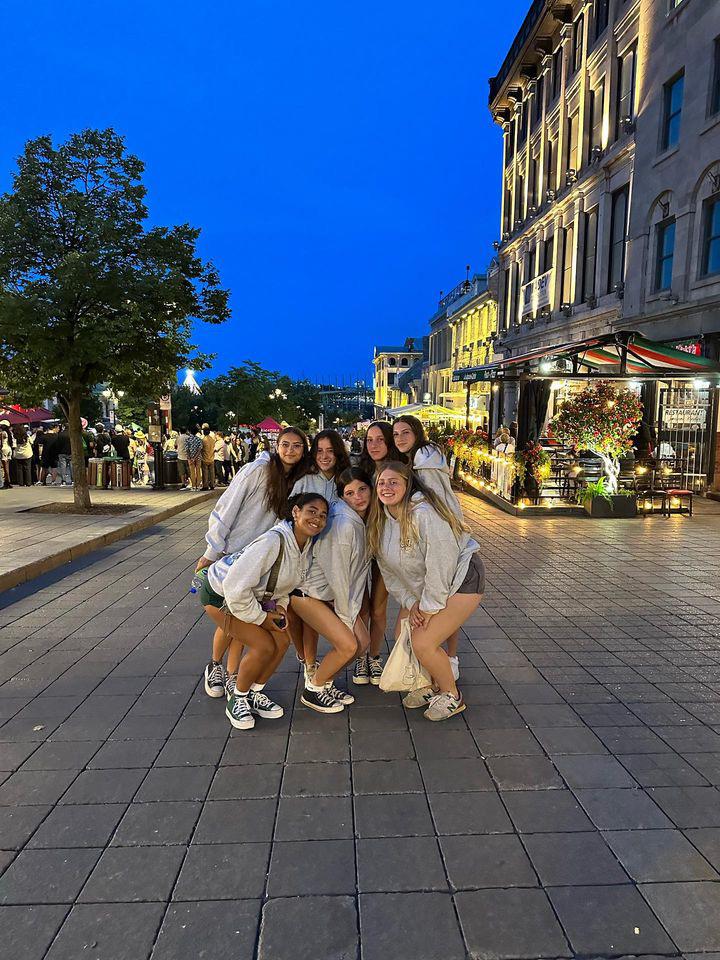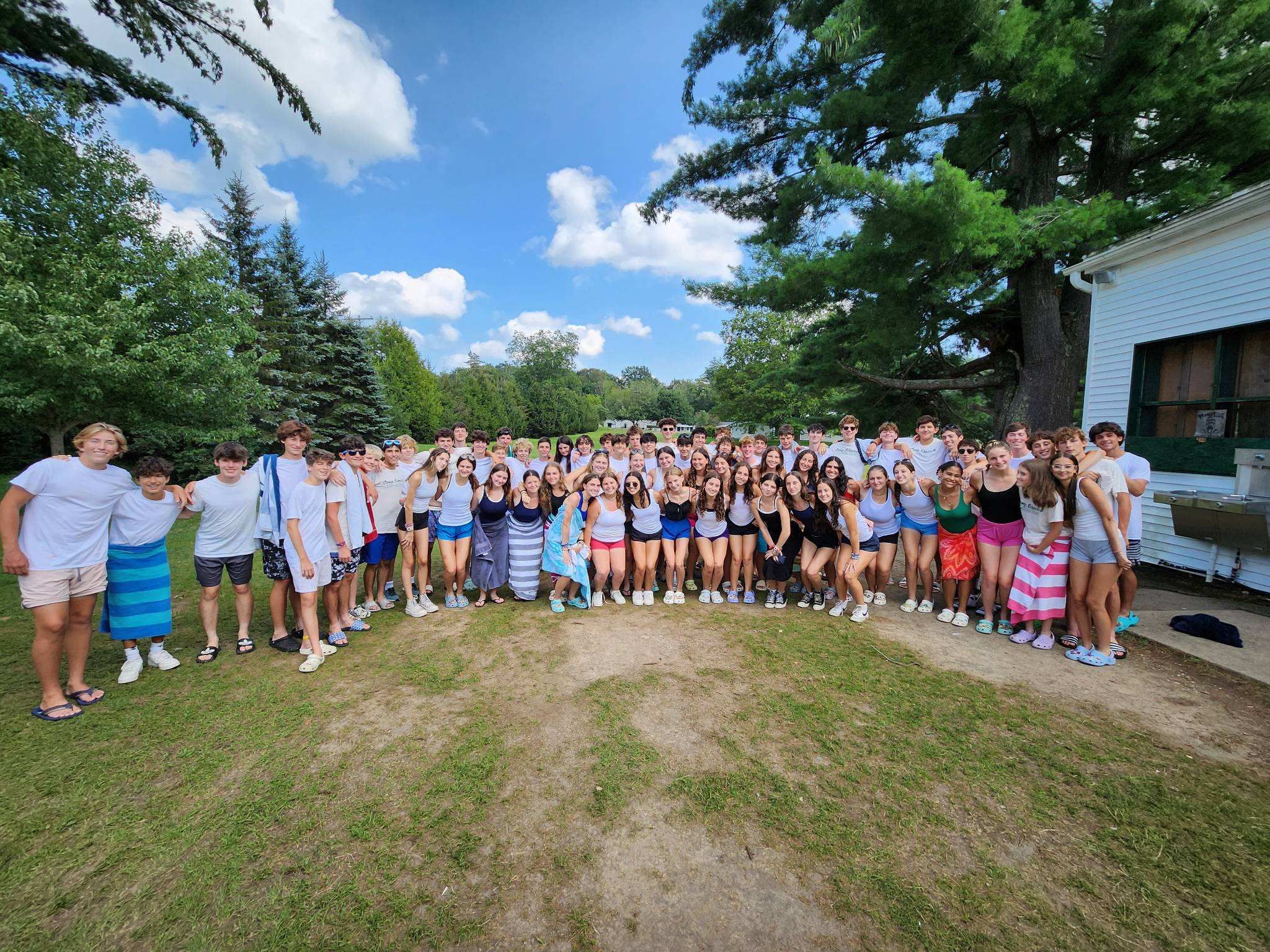 The LTs send this note from Montreal after another action-packed week. On Friday we welcomed the Albany Day Camp Hope 7 to a 5-hour visit, with water sliding, climbing tower, pool time, and tennis. It was a memorable day for hosts and visitors alike and one we look forward to every year.
The second-year LTs also took a trip on Saturday to Union College to see what touring around a college campus will be like.
Saturday Night was the annual Rock, Paper Scissors tournament (and a win for the program!) before we put on a stunning Carnival for the whole camp on Sunday afternoon. Up bright-eyed and bushy-tailed on Monday for the final challenge day – Gamblers' Day where the result of the whole series stands in doubt and then a theme dinner for the camp and boarding the buses to head North on Tuesday.
Really the highlight must be the Carnival though – putting on an event for the whole camp and then cleaning it up as if it had never happened right afterward. The week ahead looks fun as well, with Bunk Plaque Night and the much-anticipated LT show front and center in everyone's mind.
These are also the days when the second years focus on their permanent bunks and the first years are already beginning to think about next year and where their area of specialization is likely to lie.
More From The Week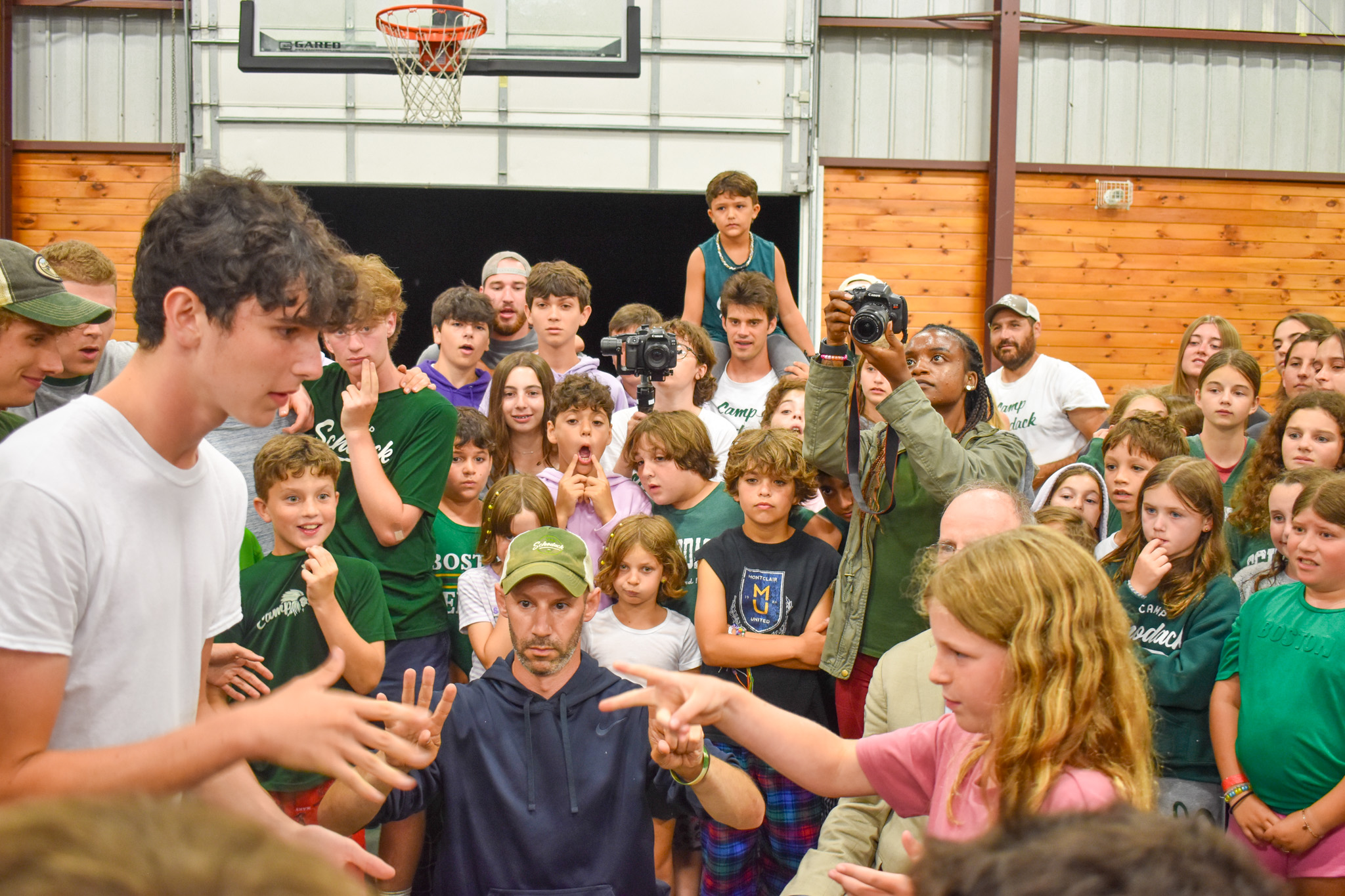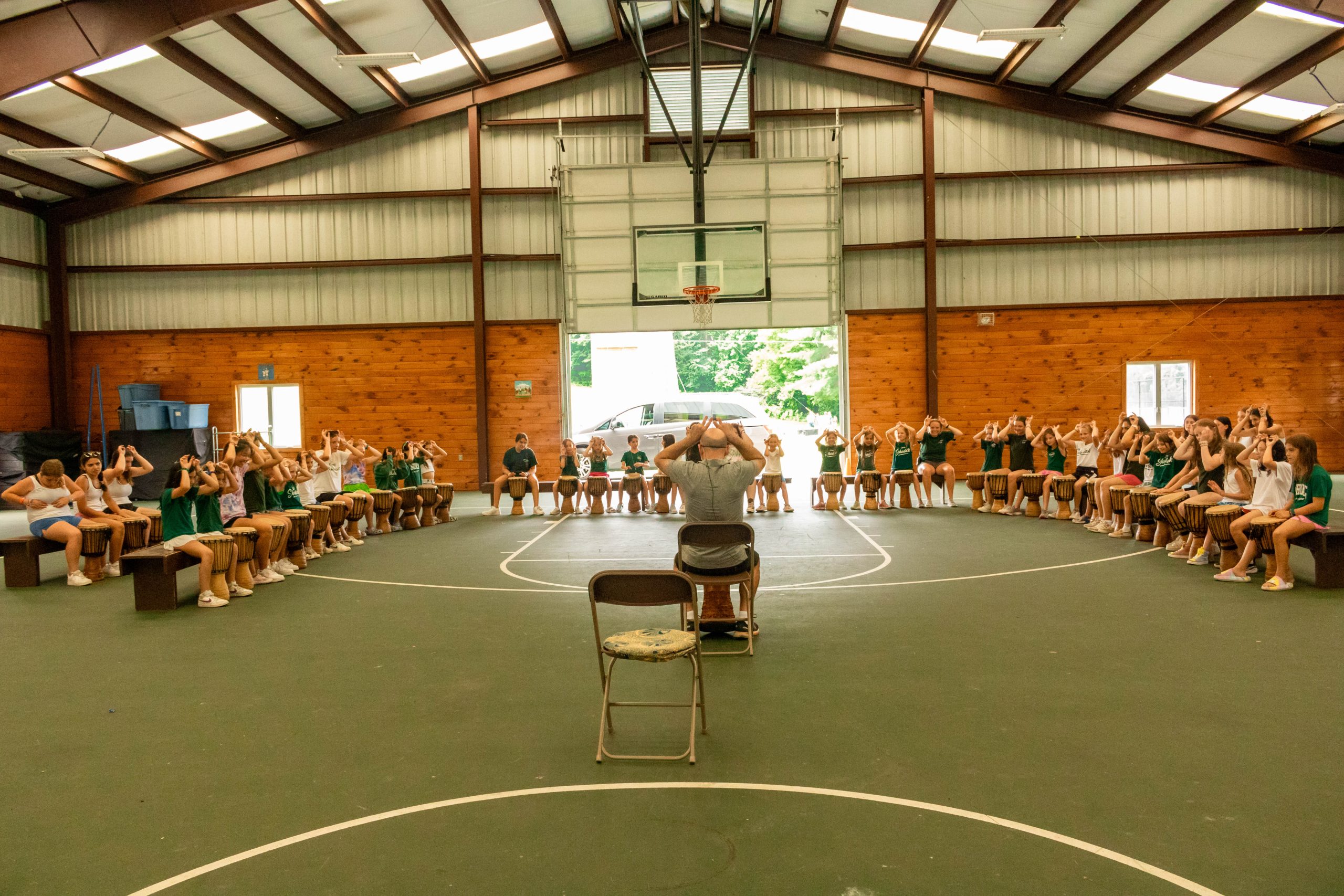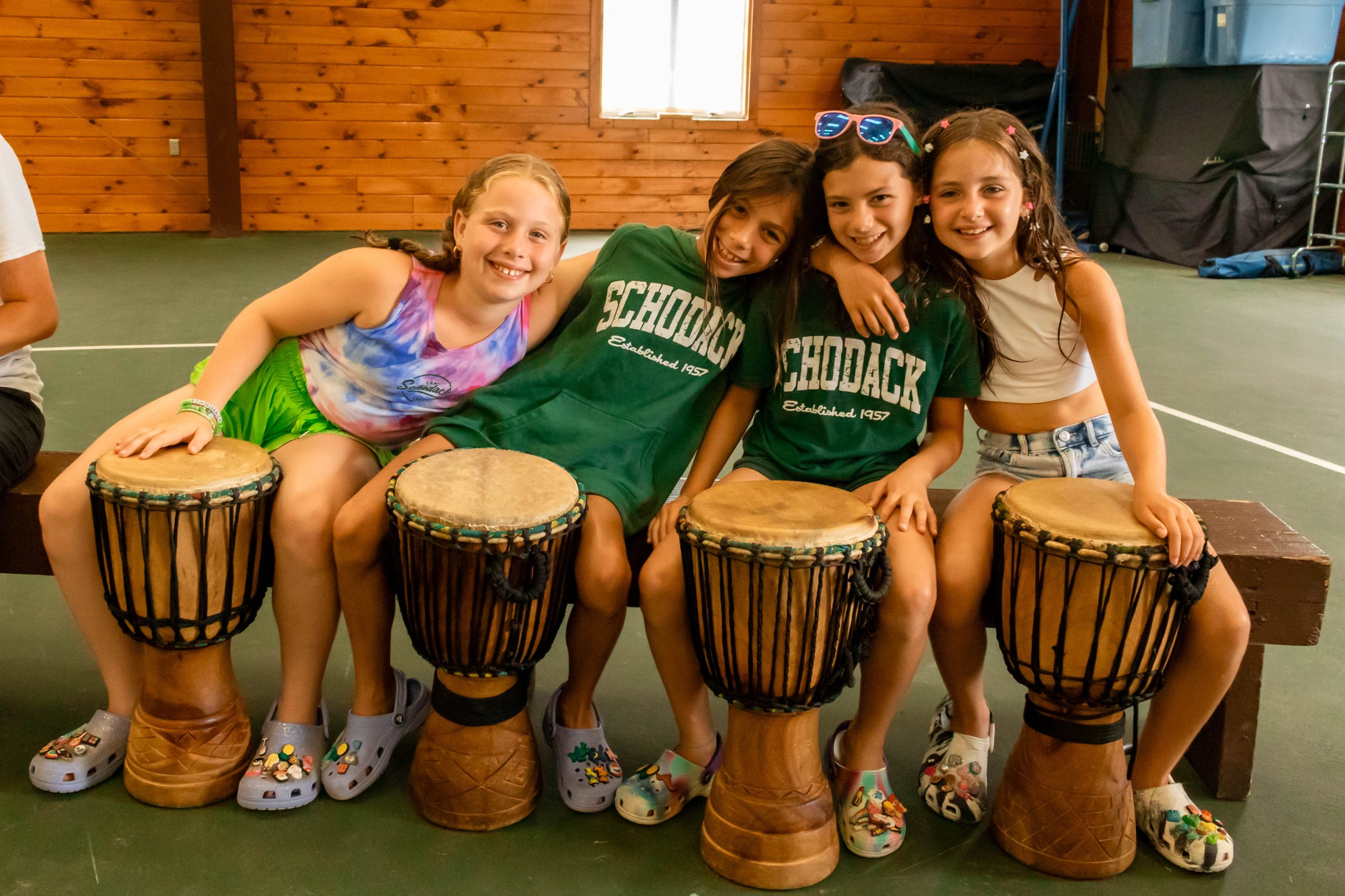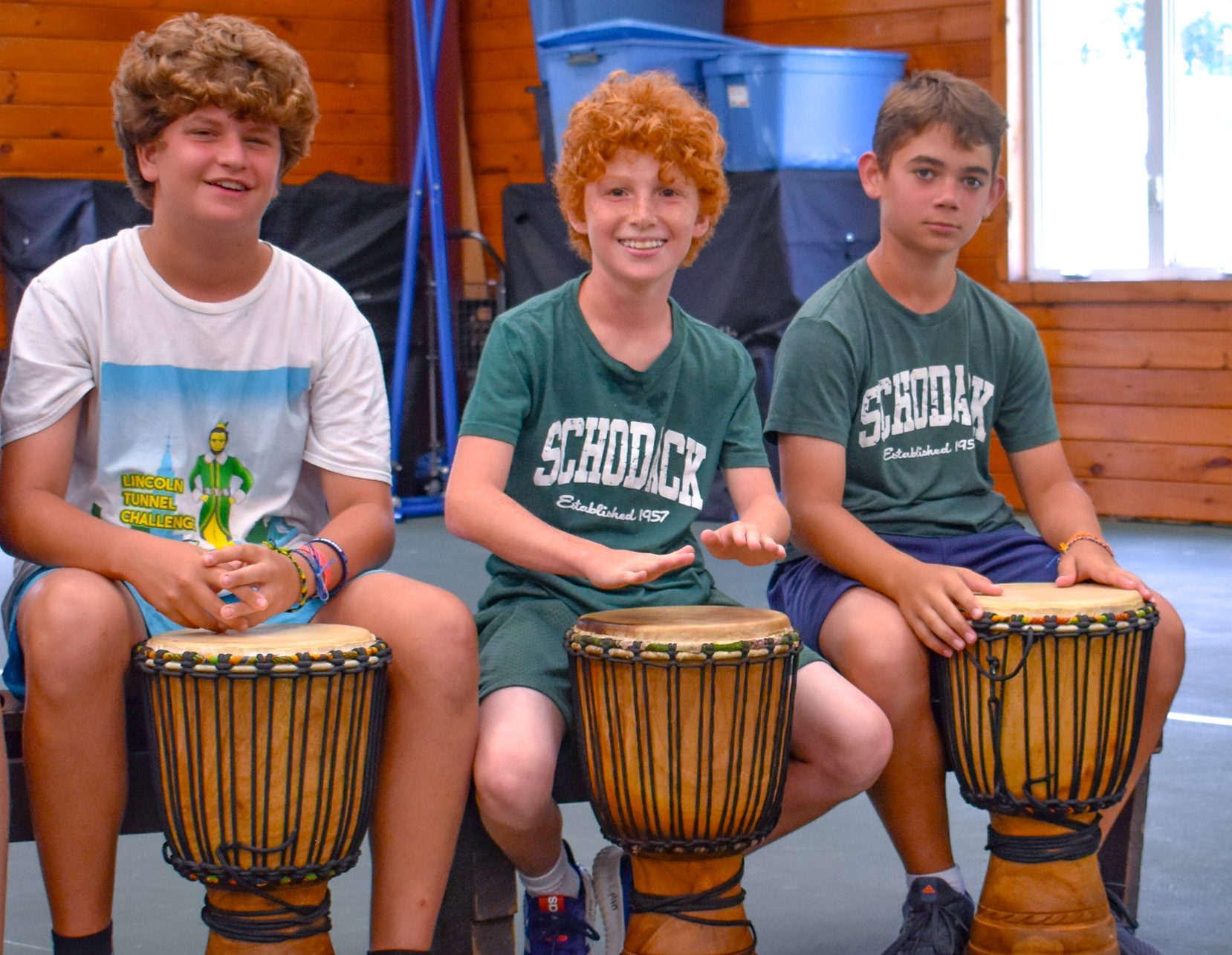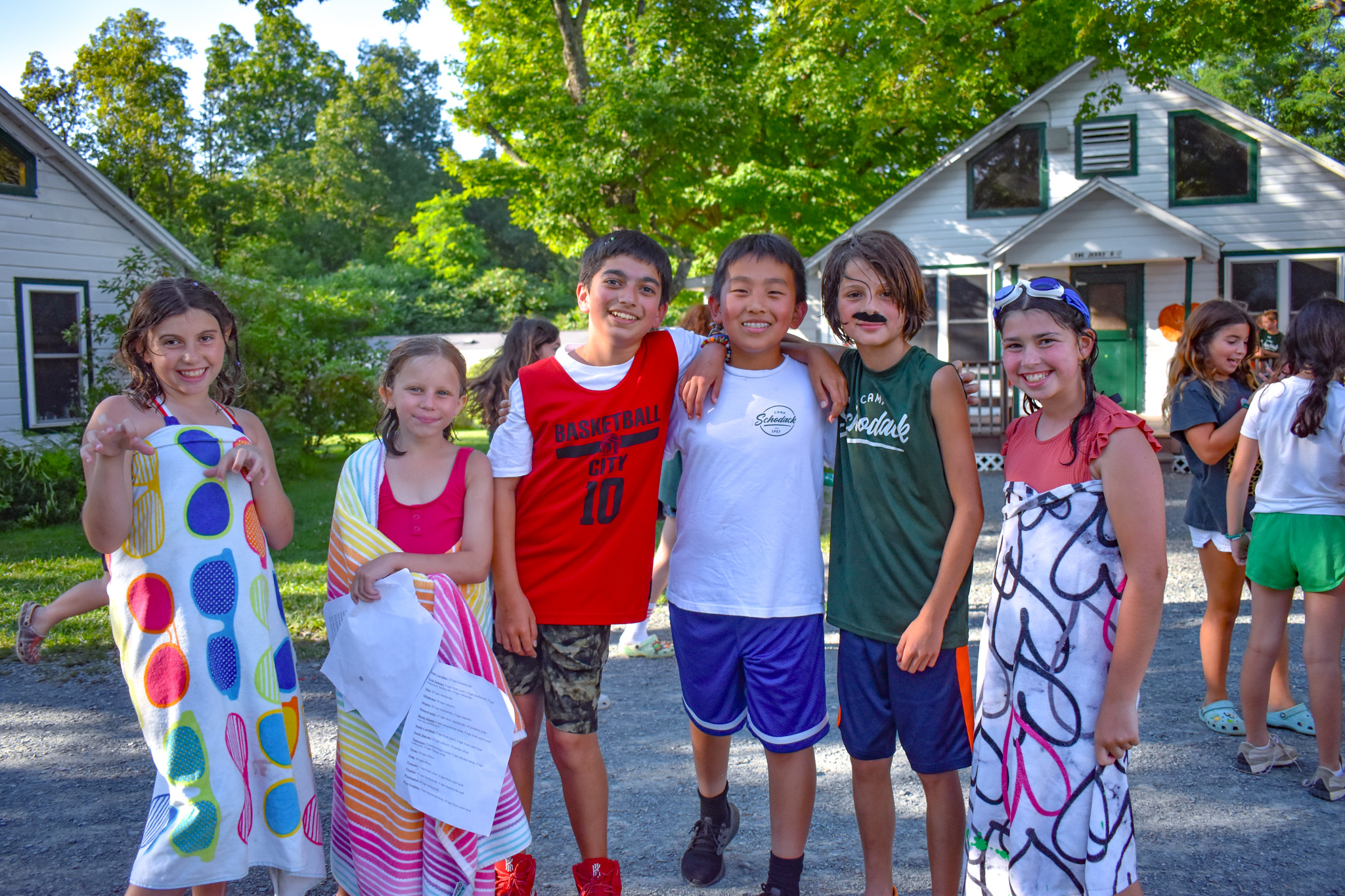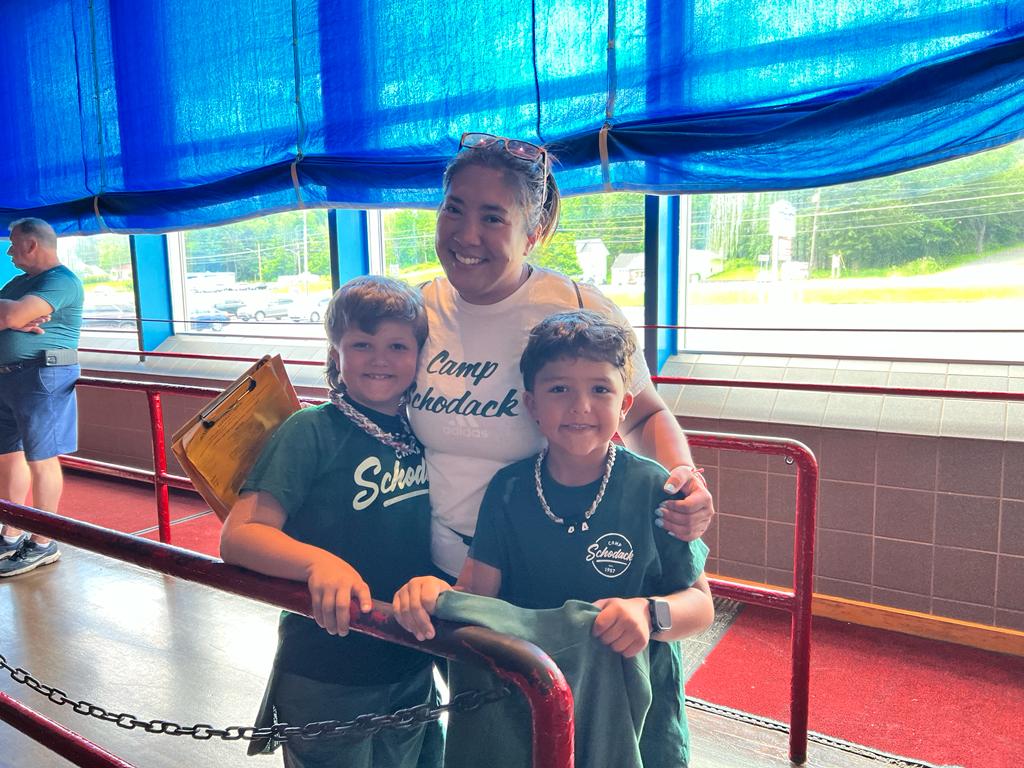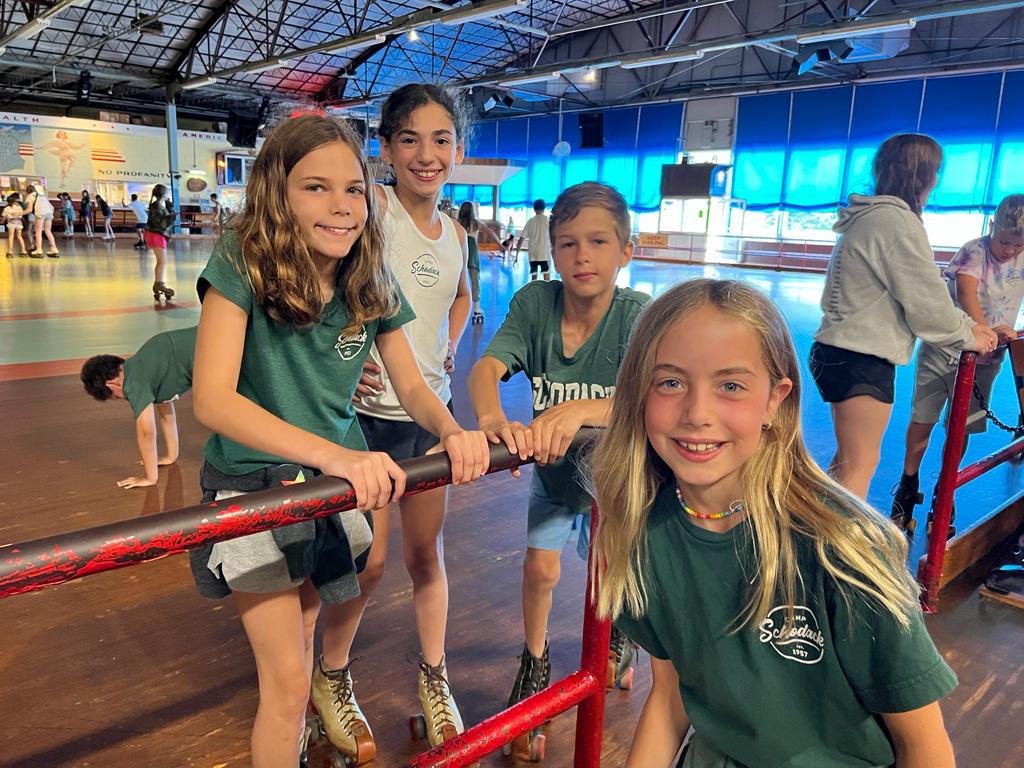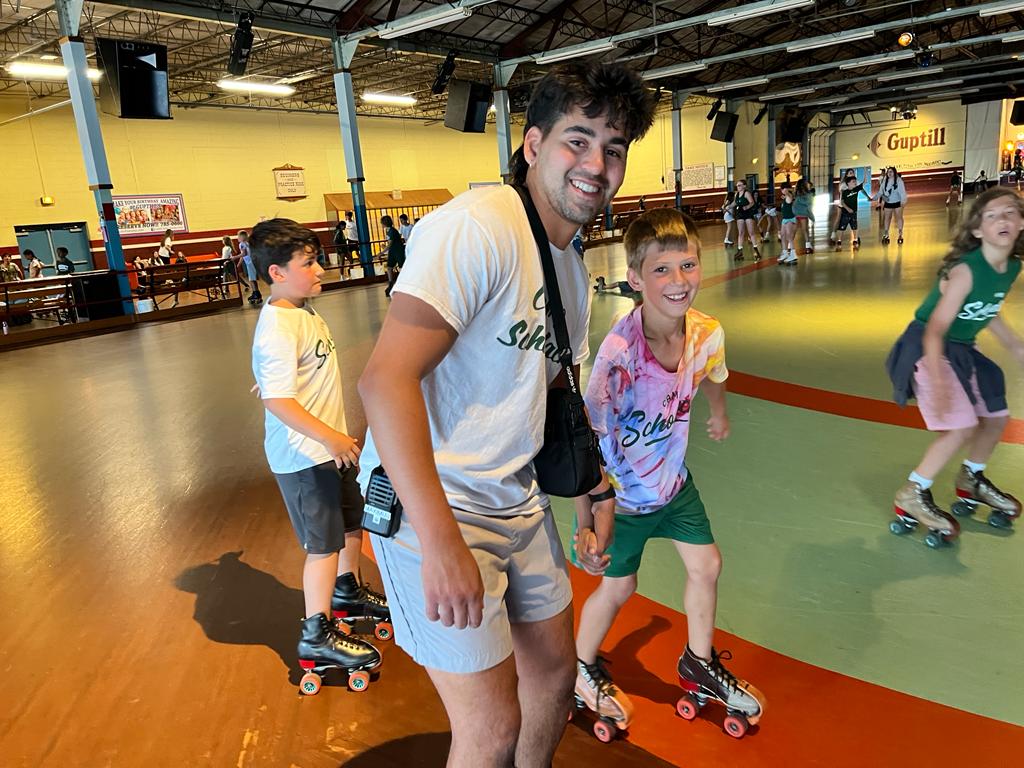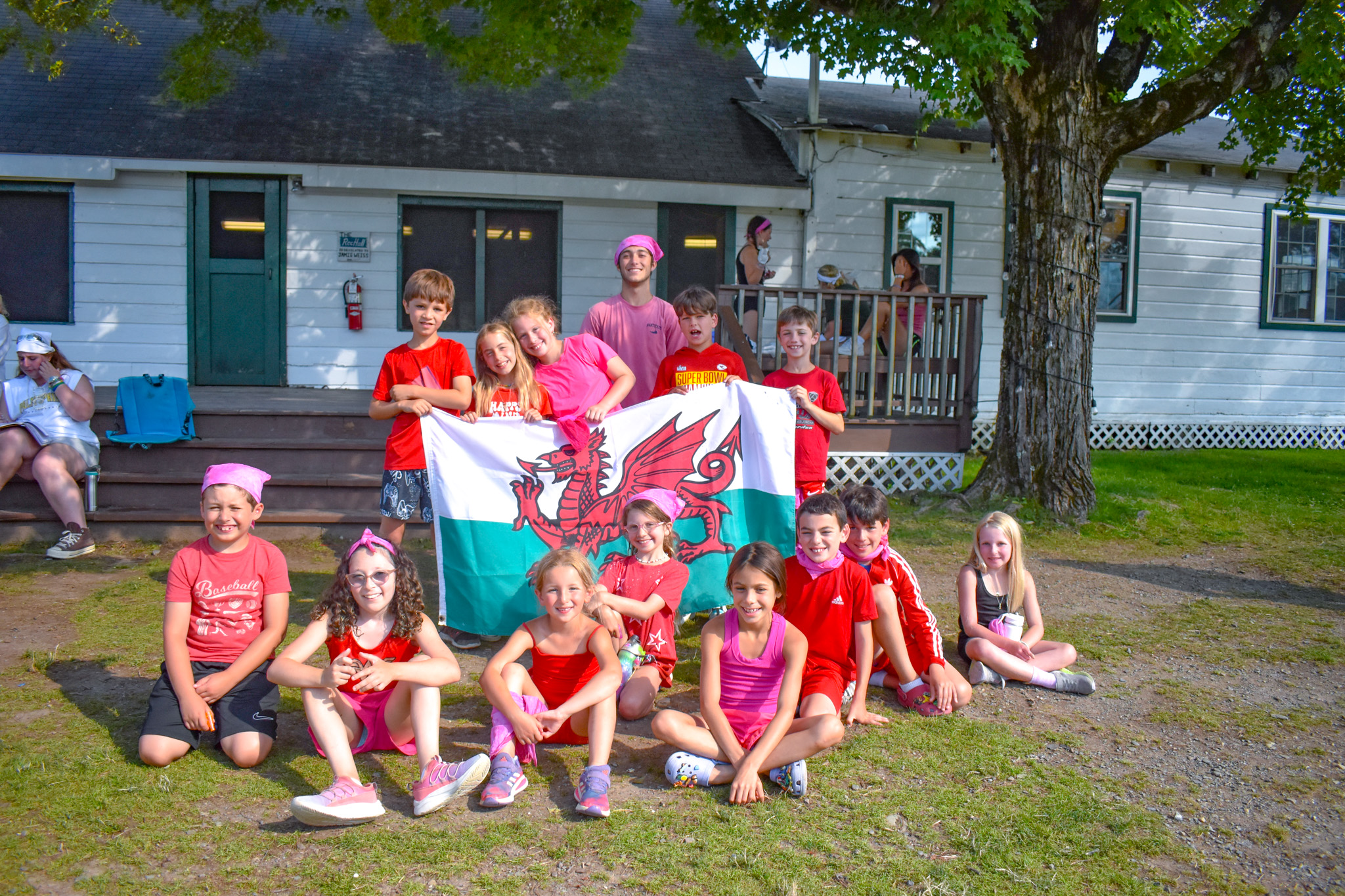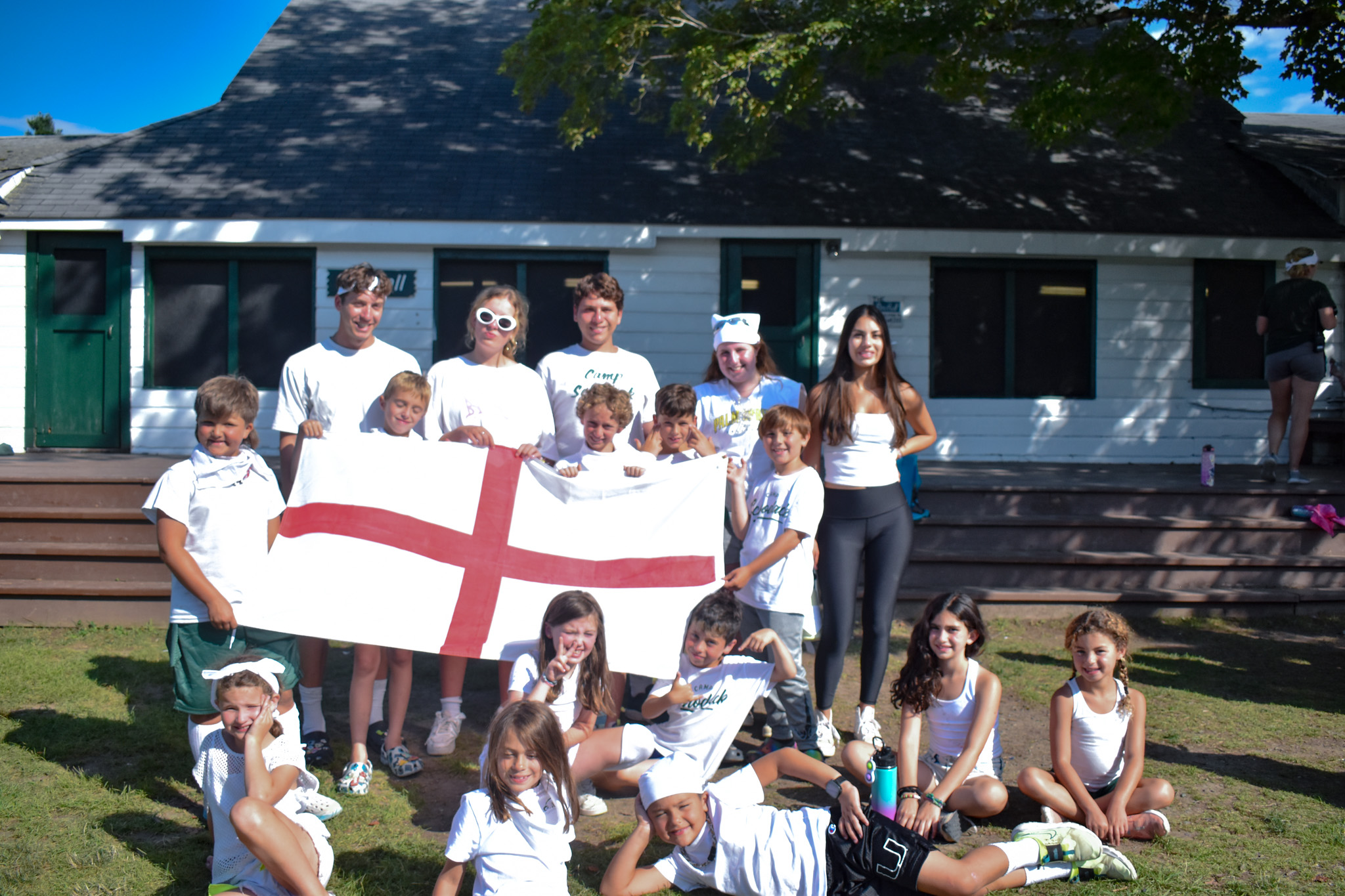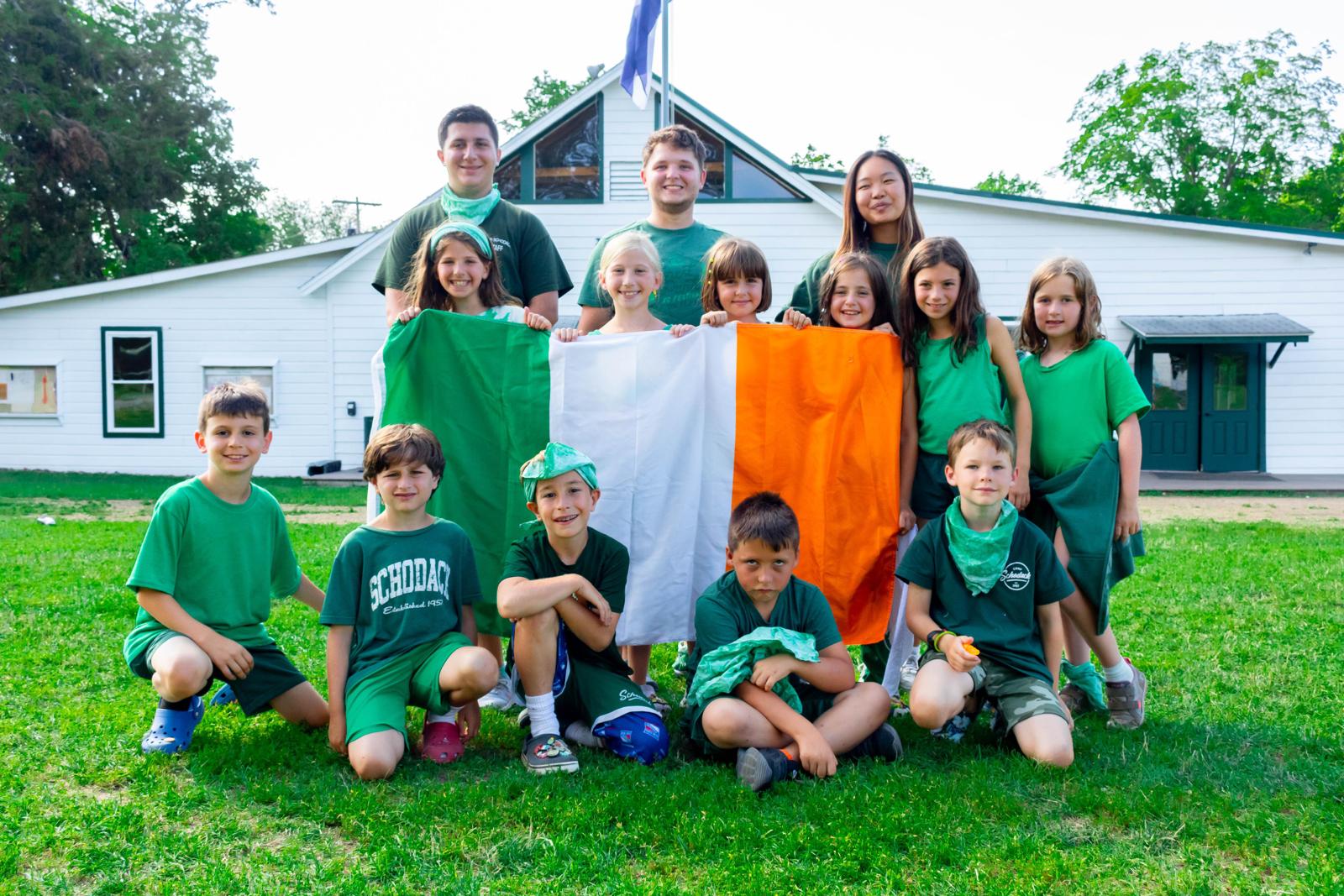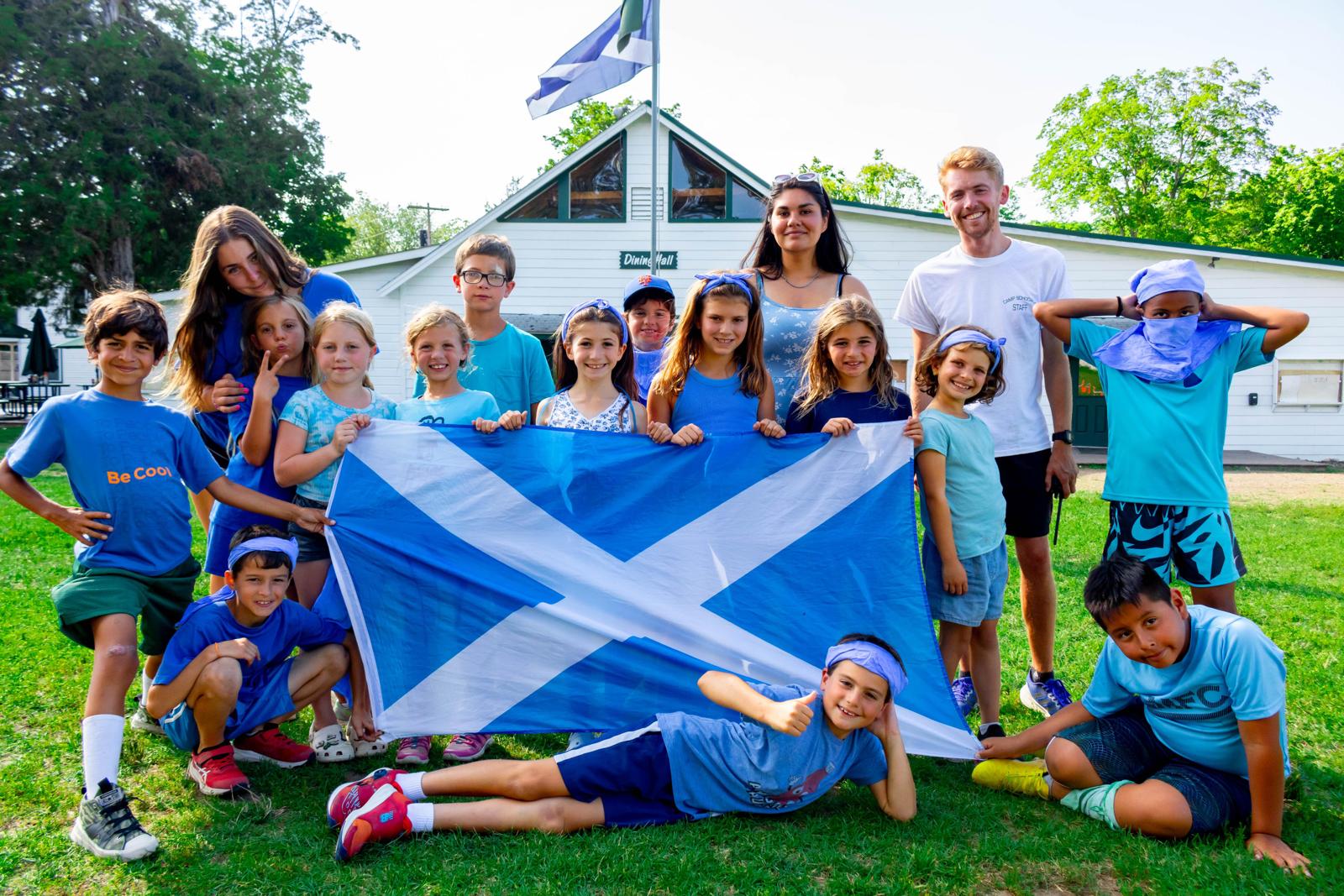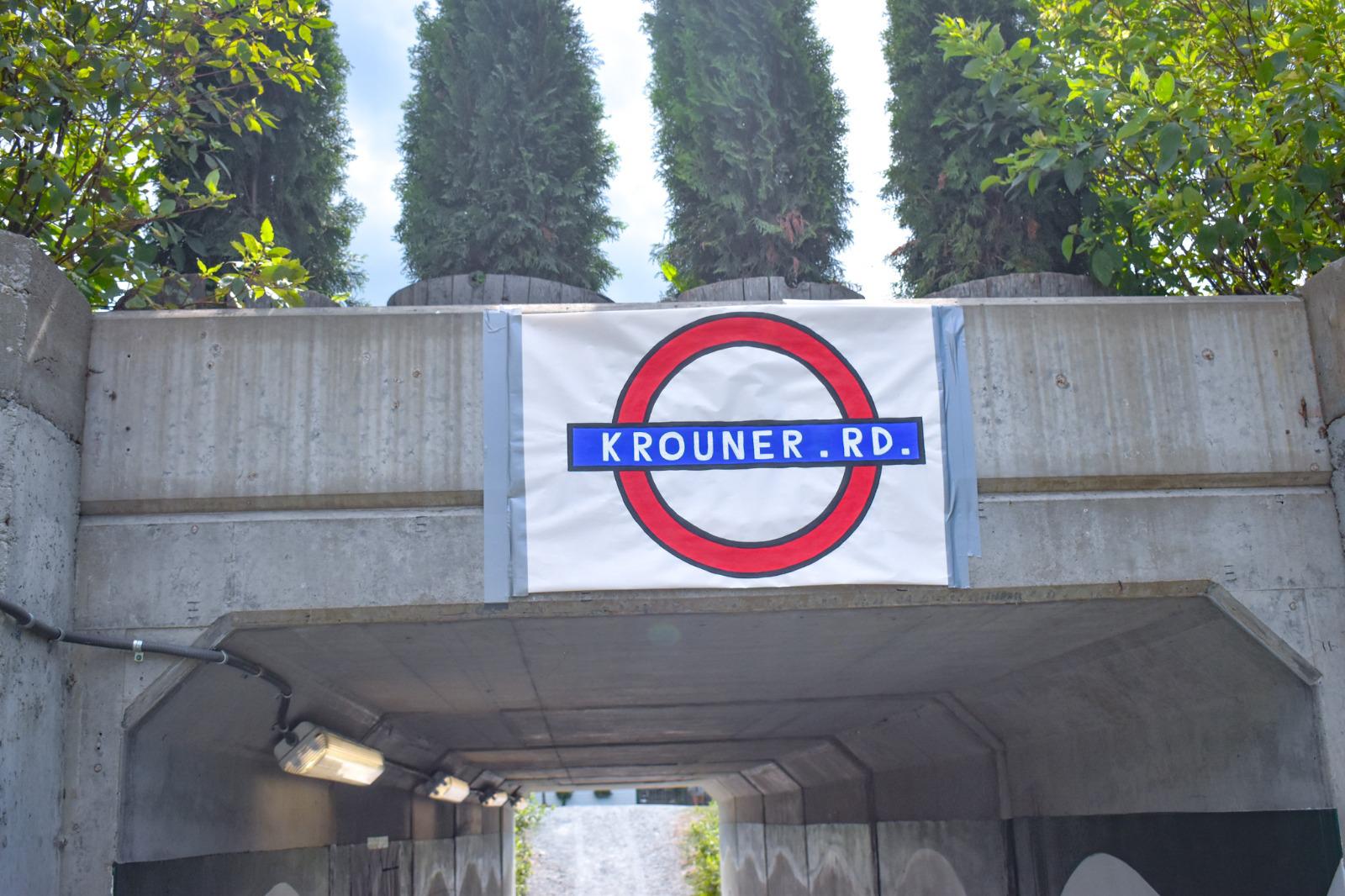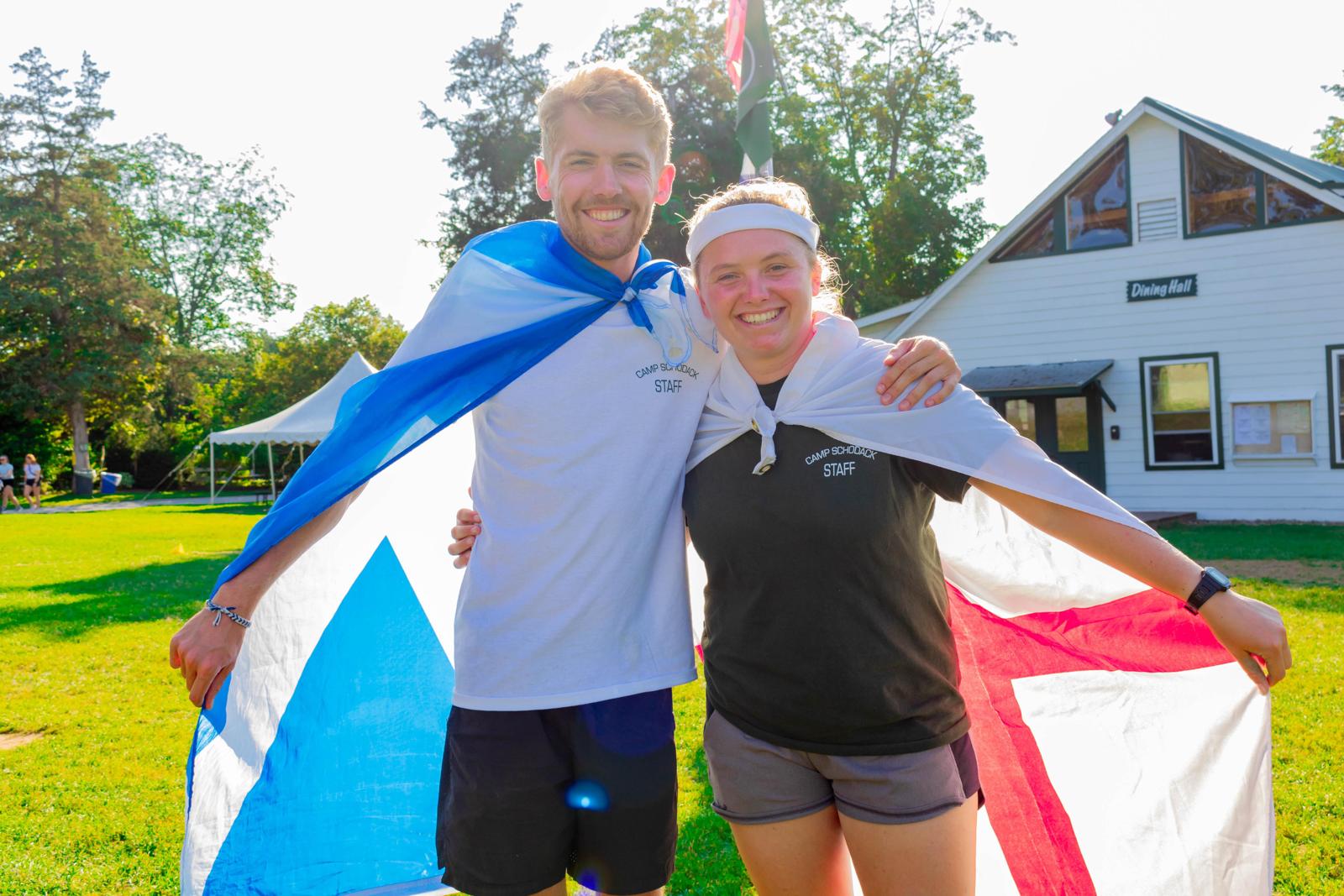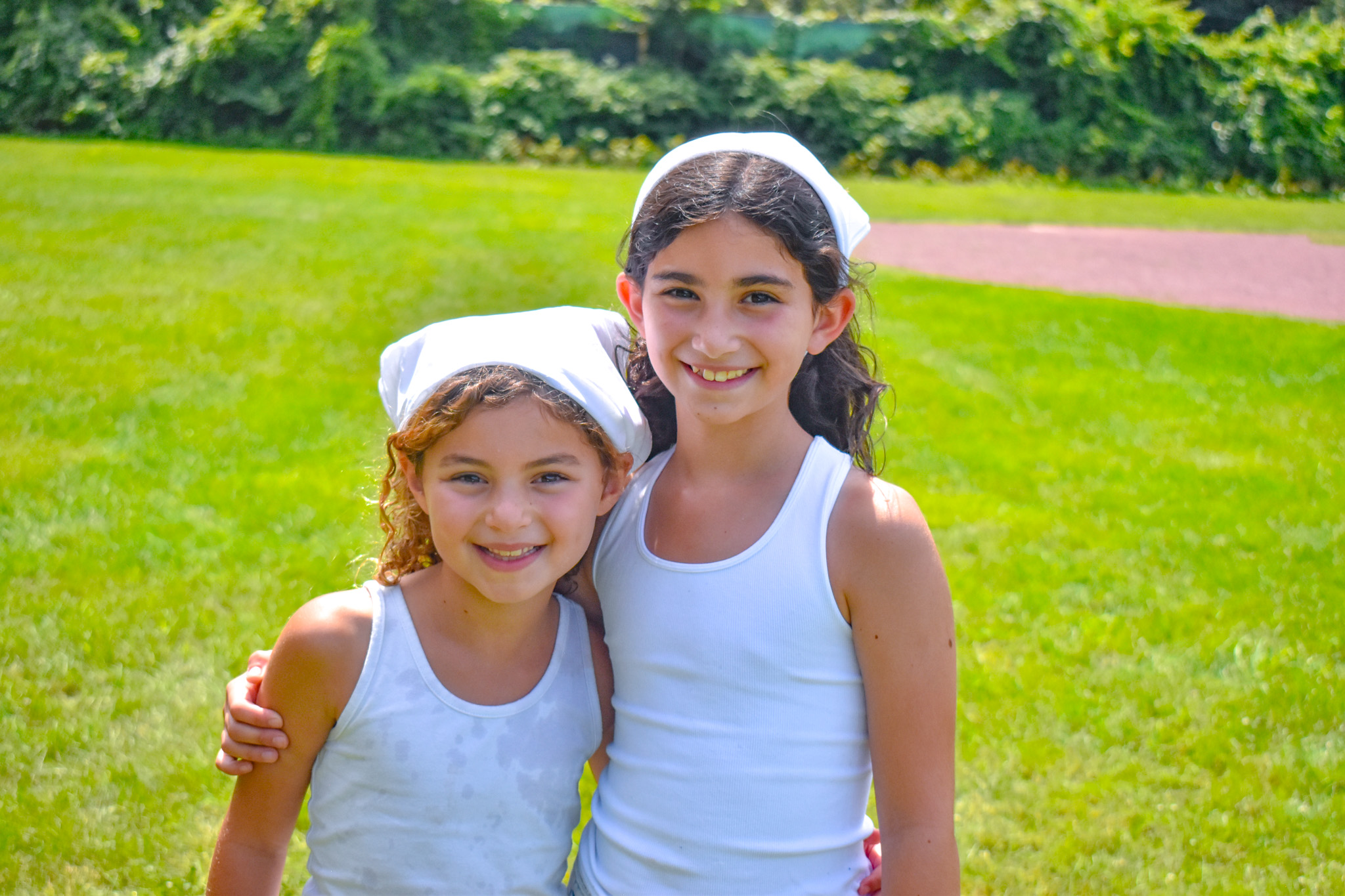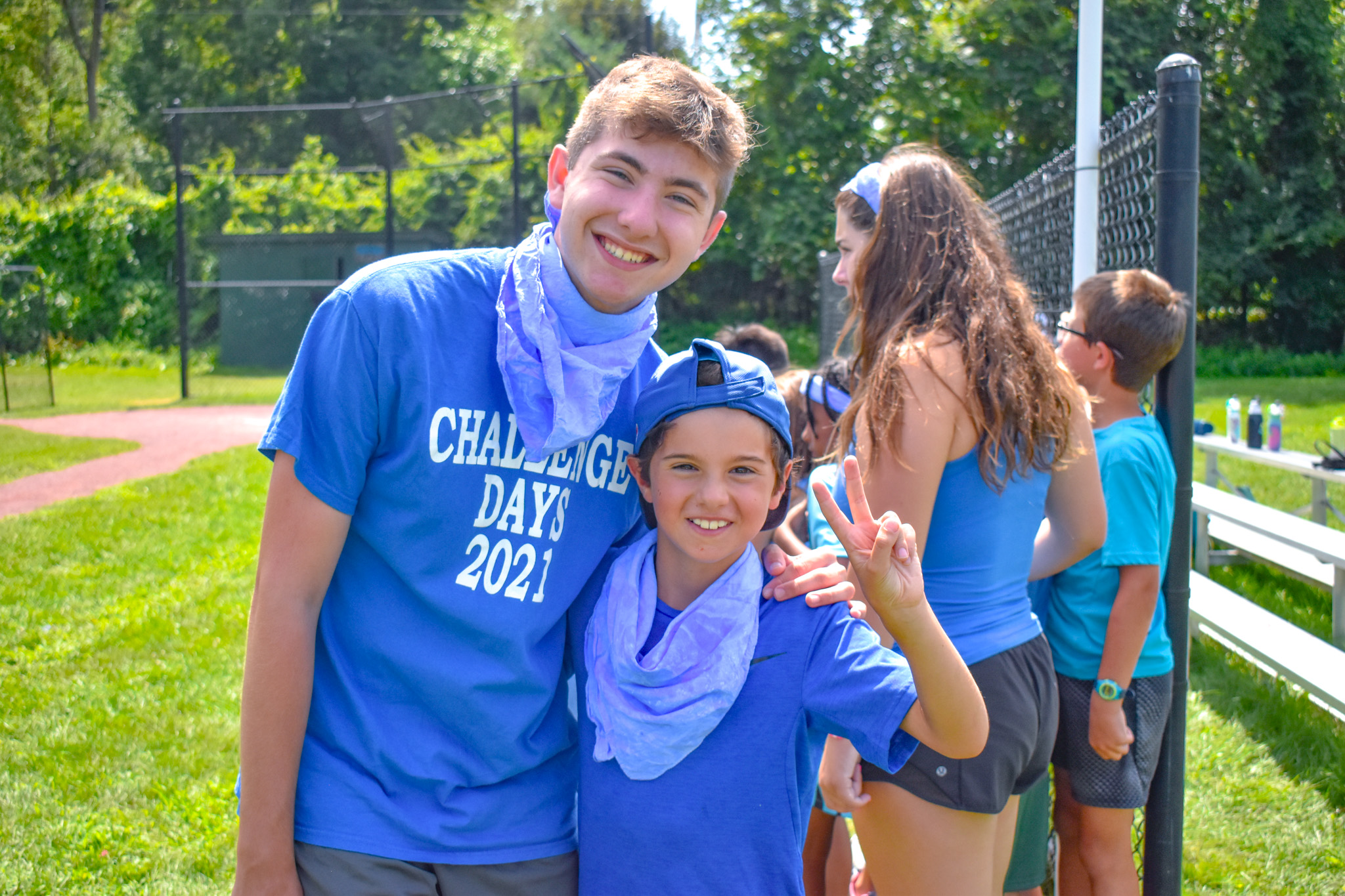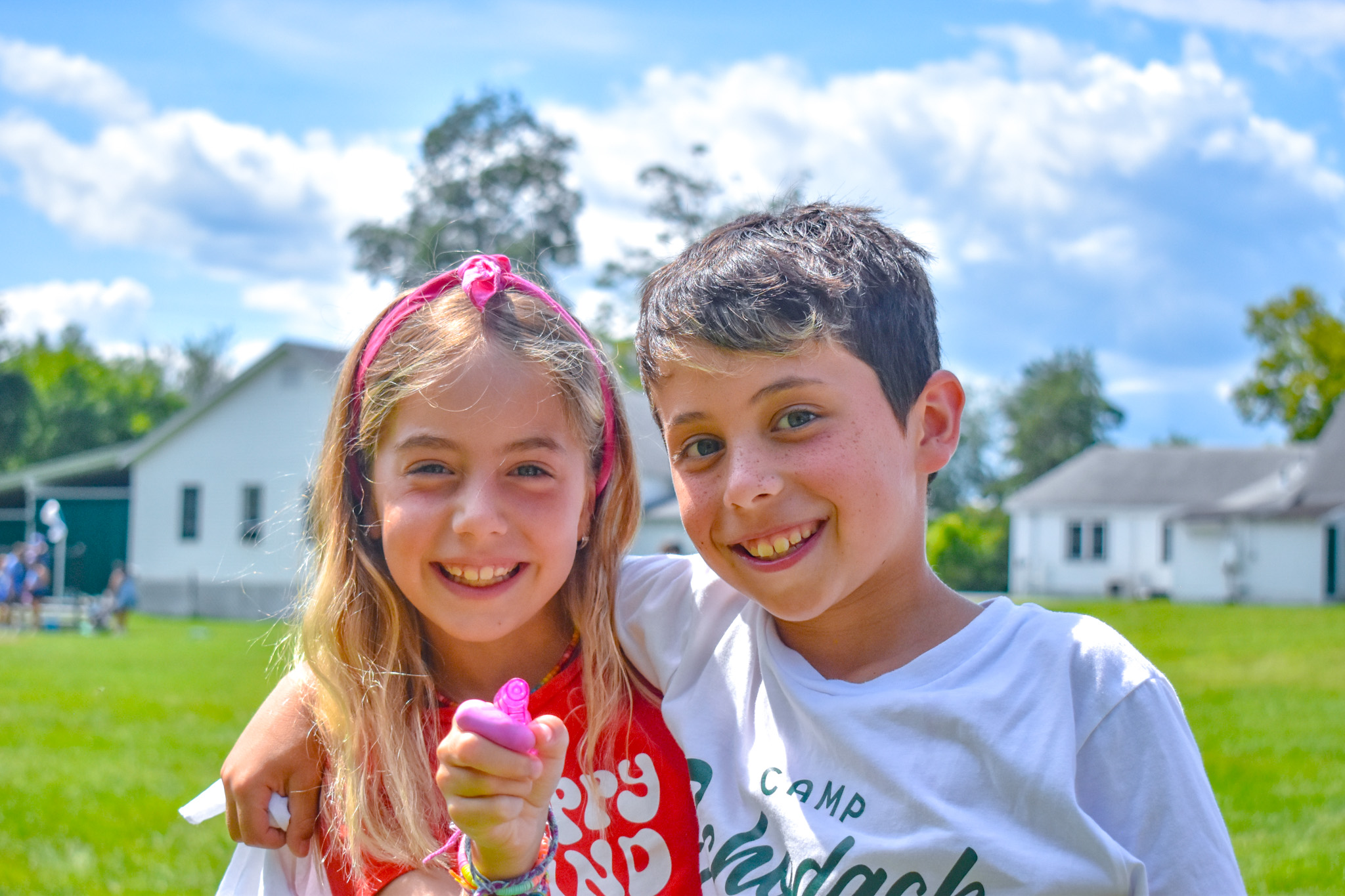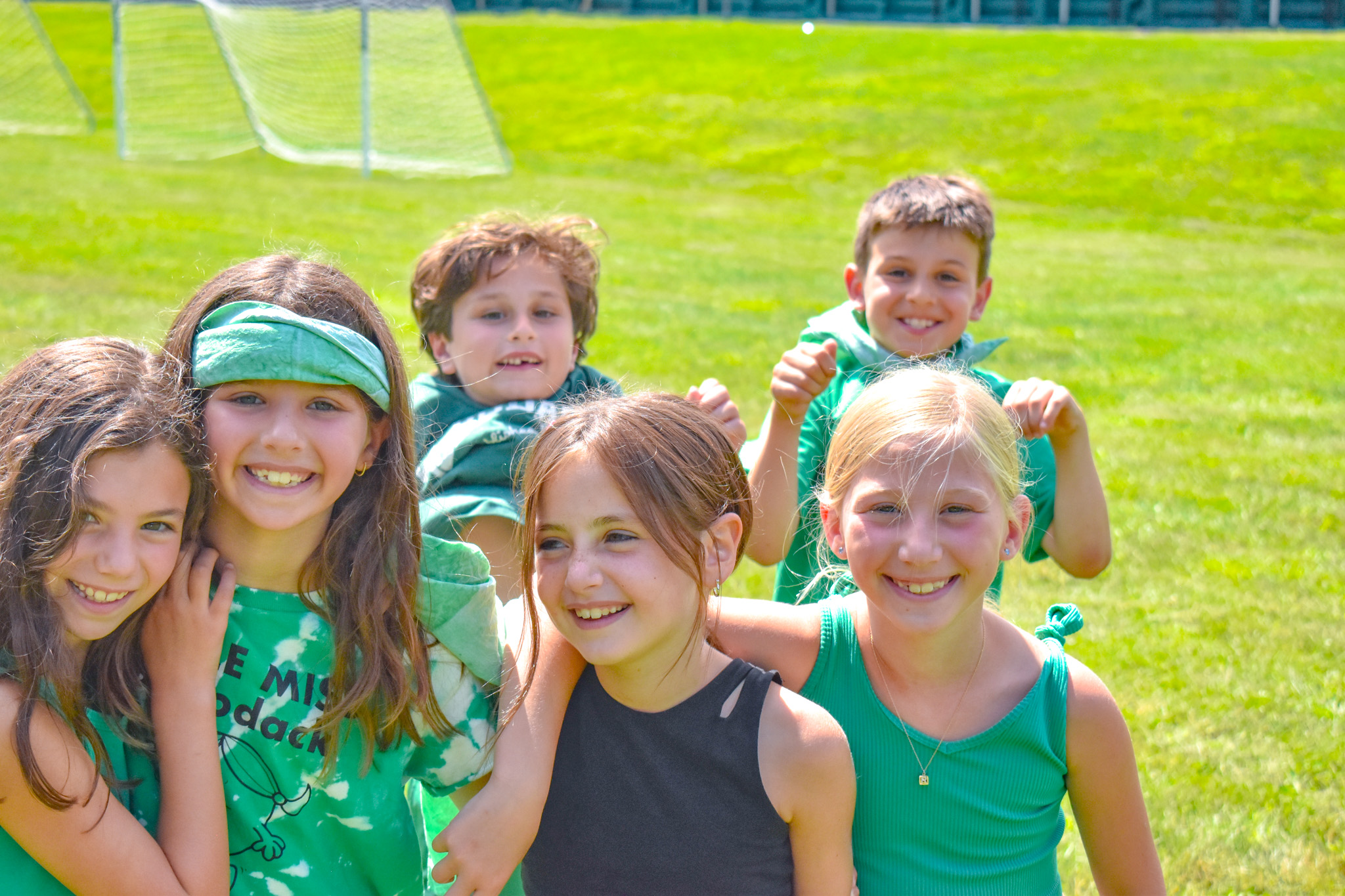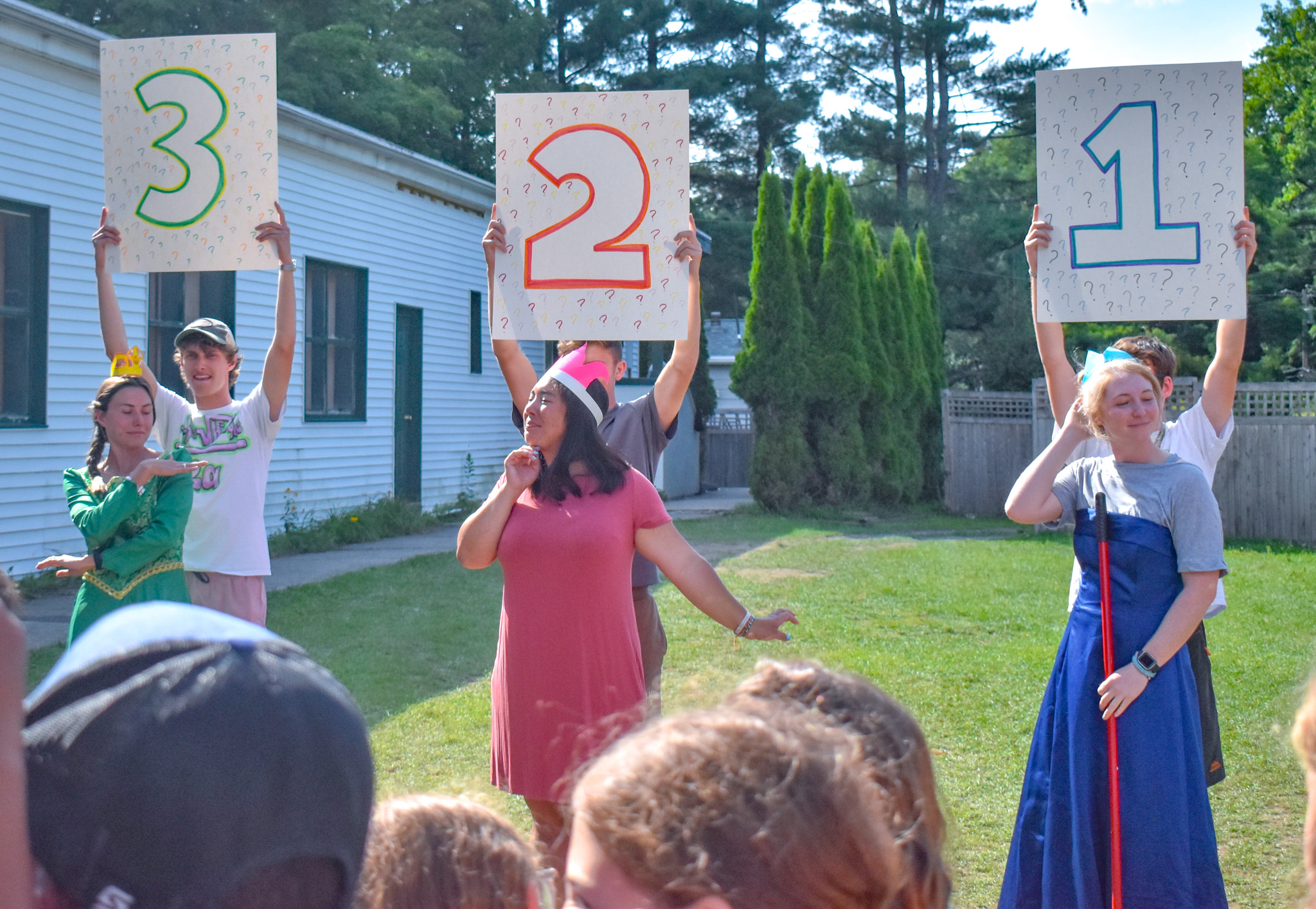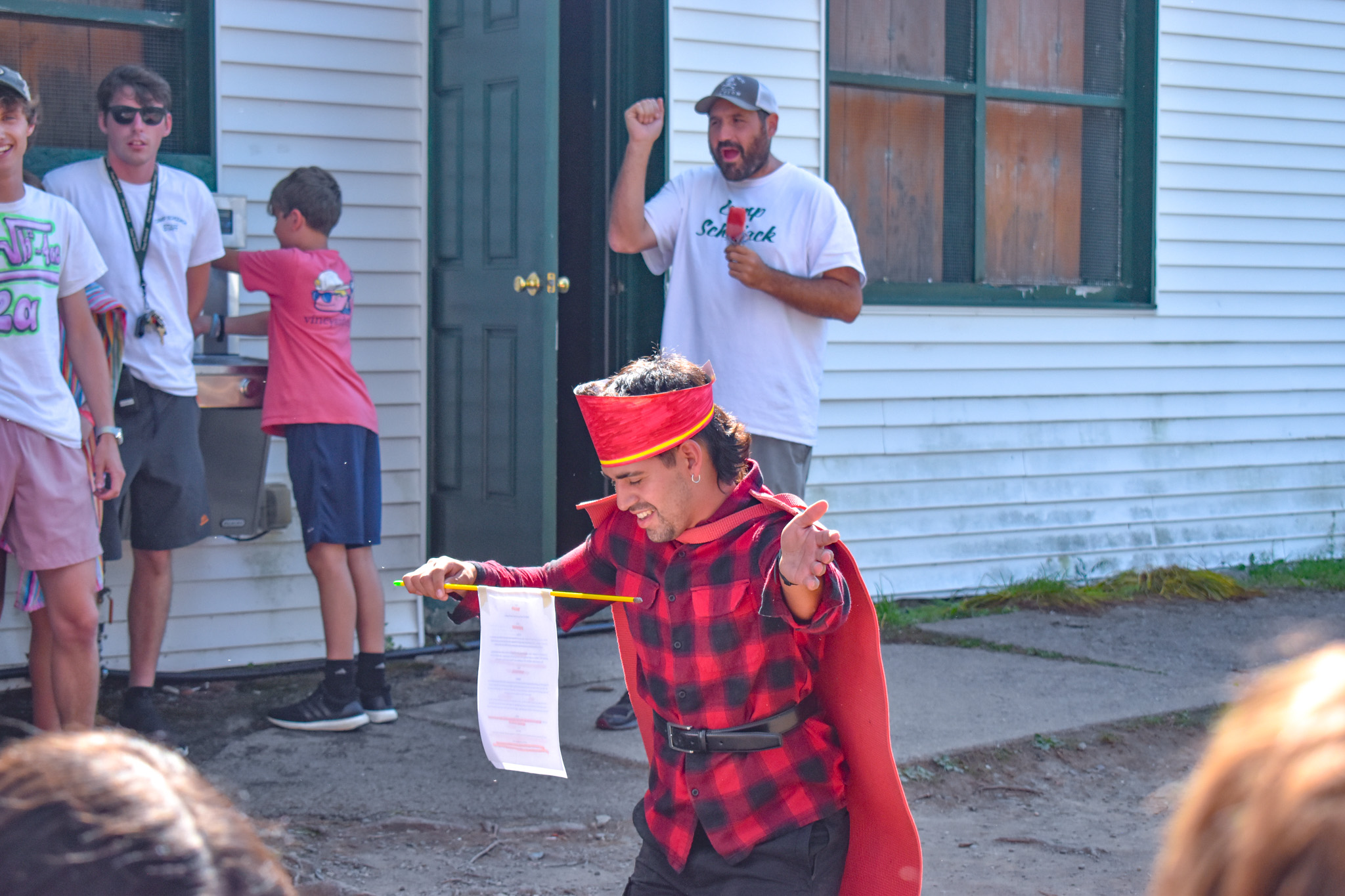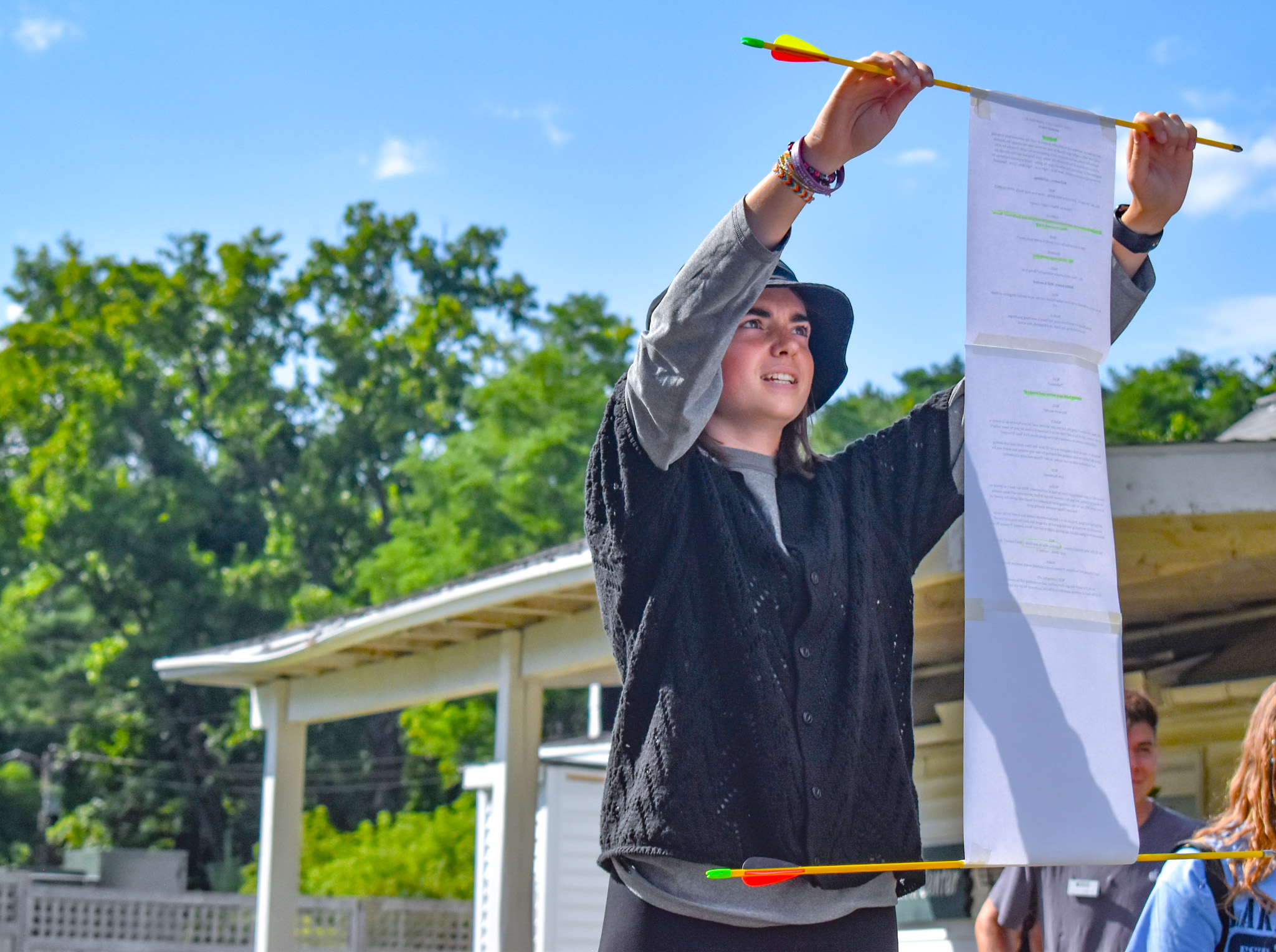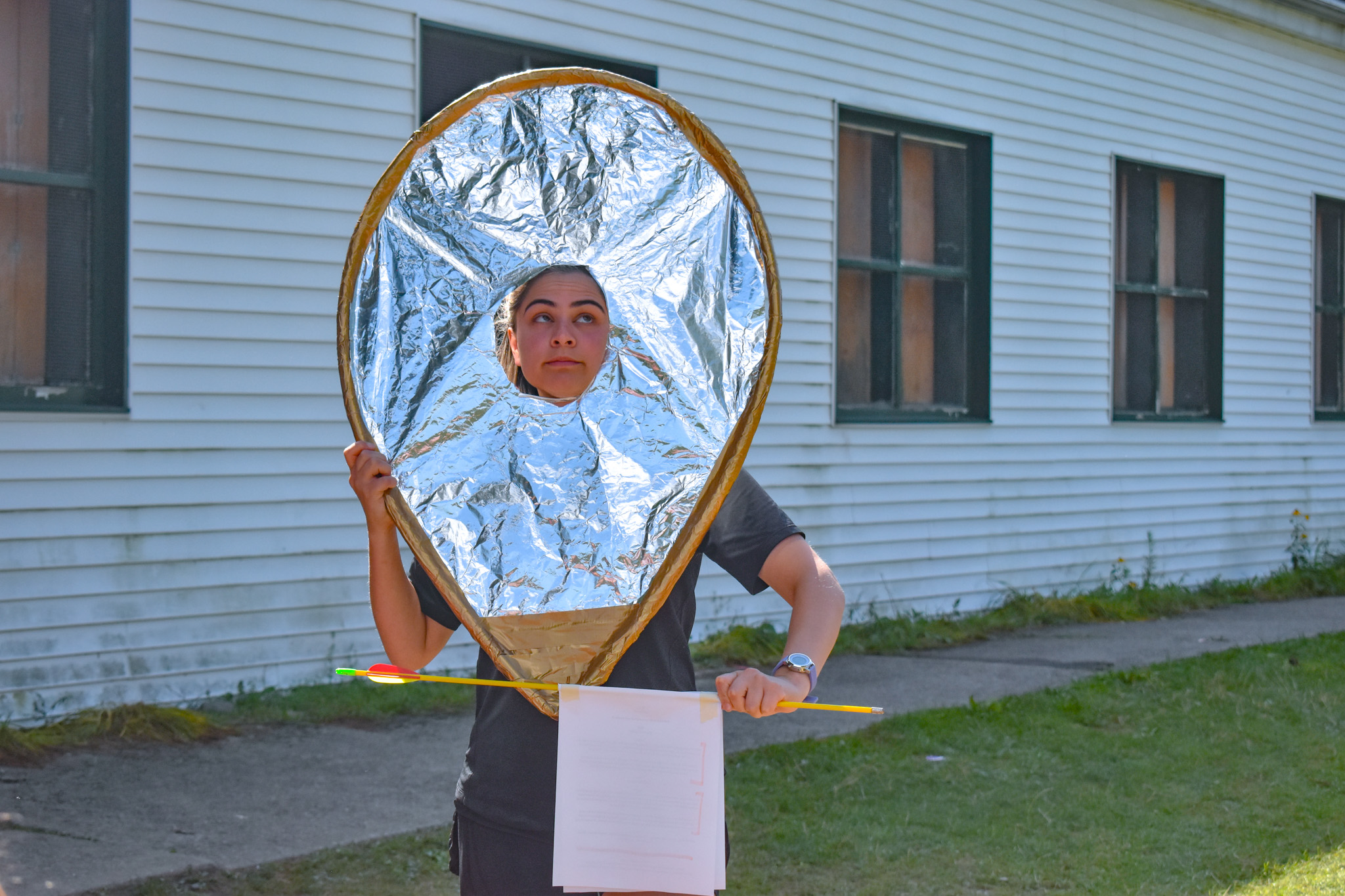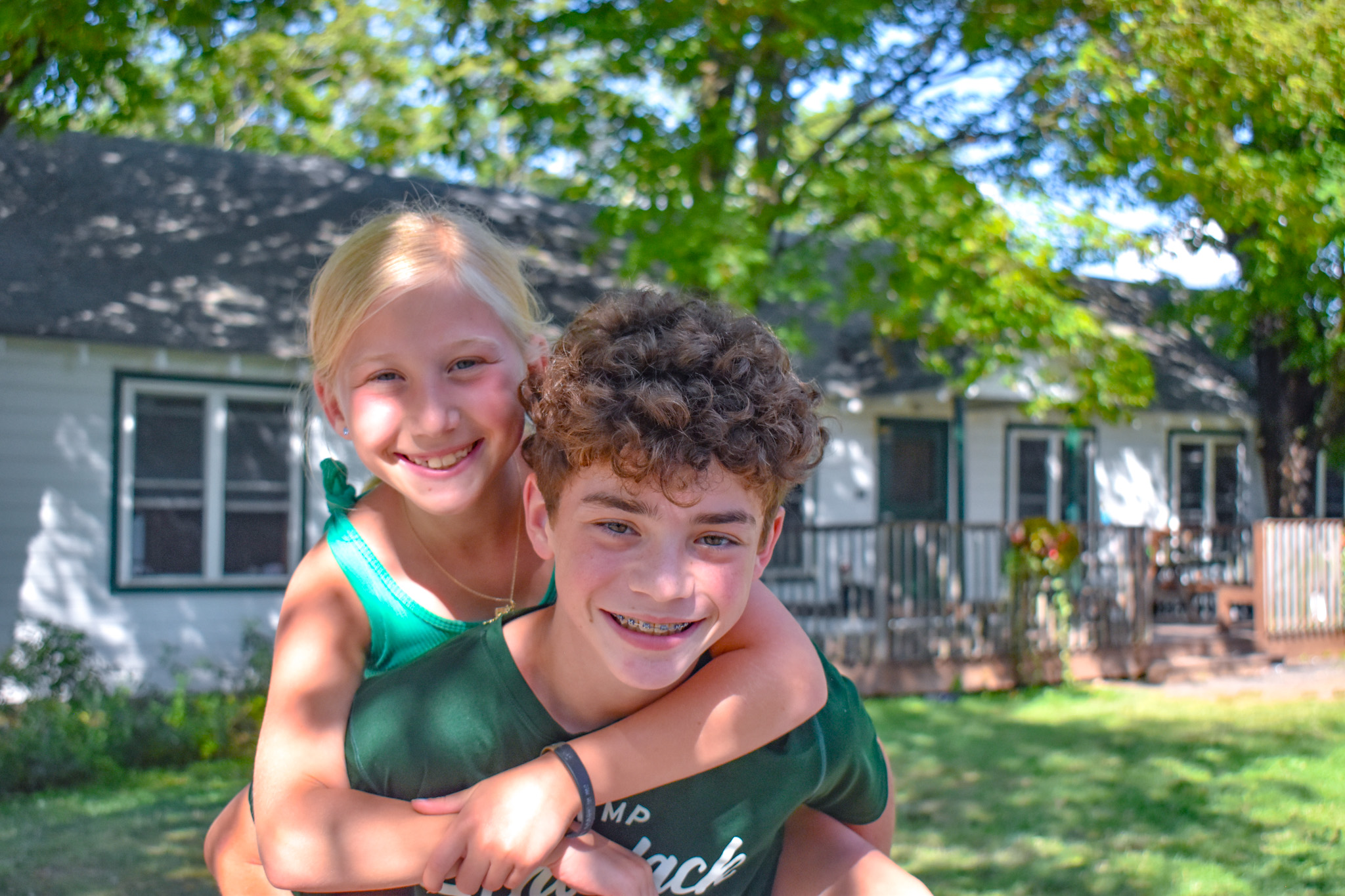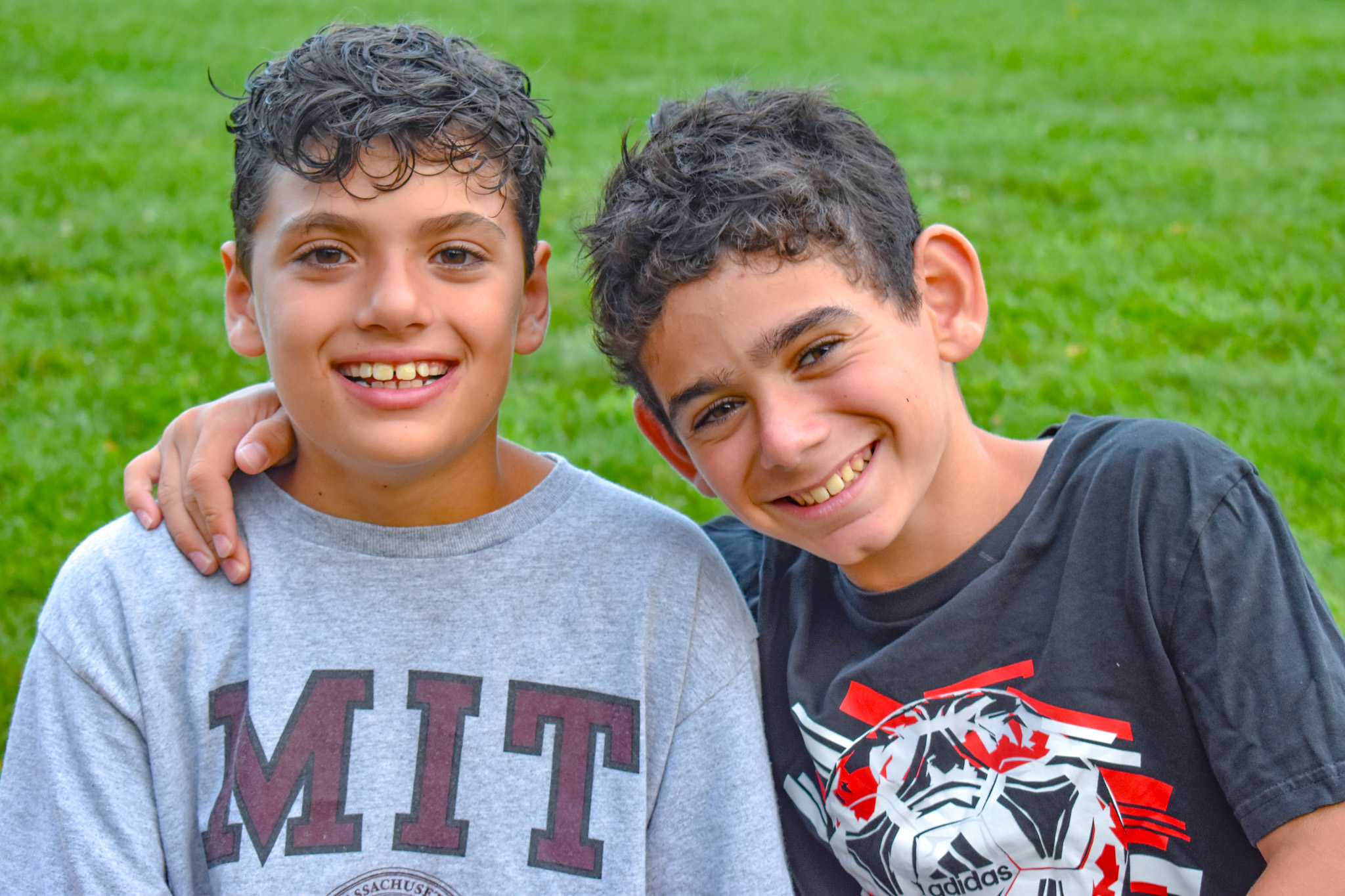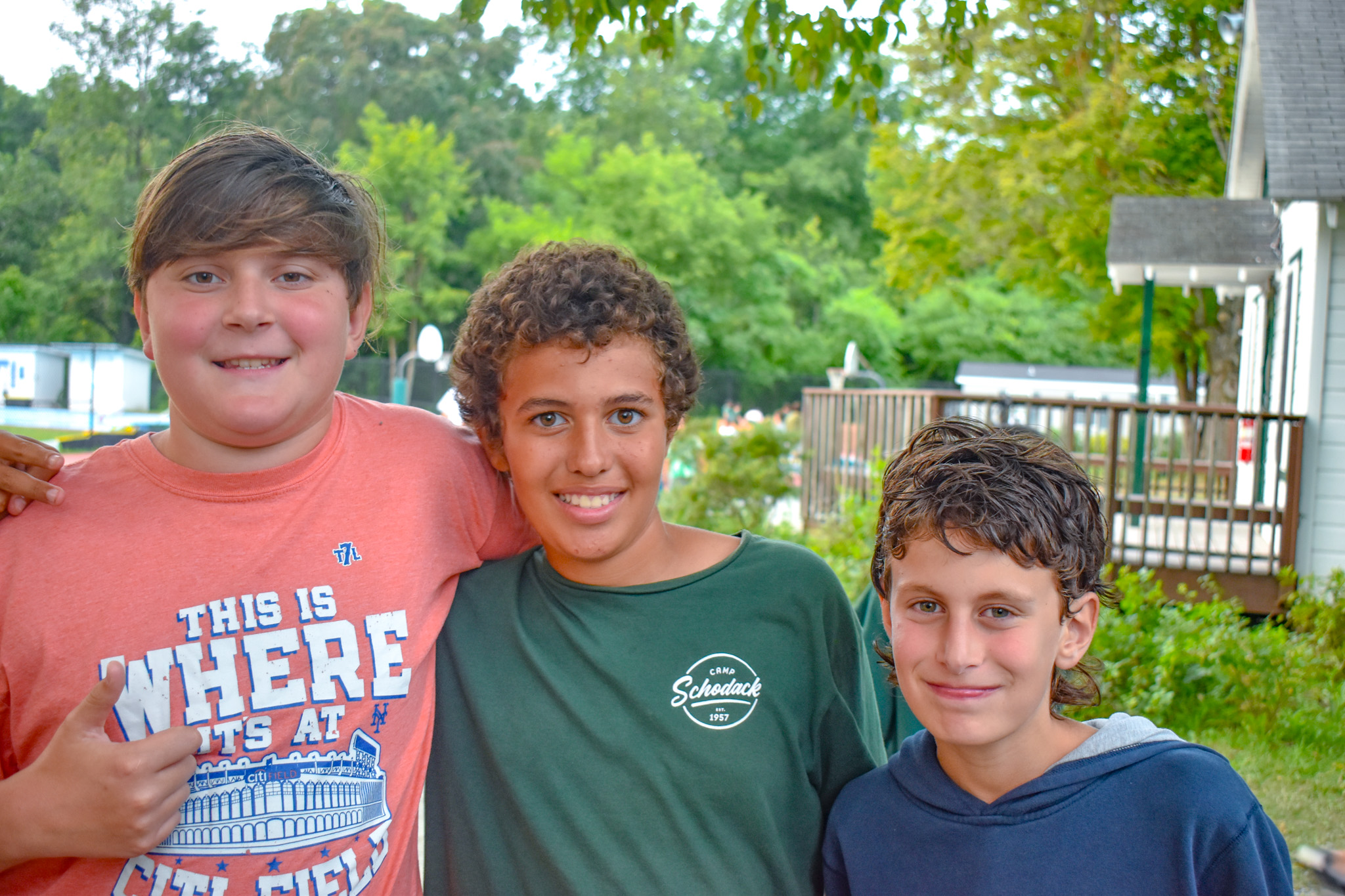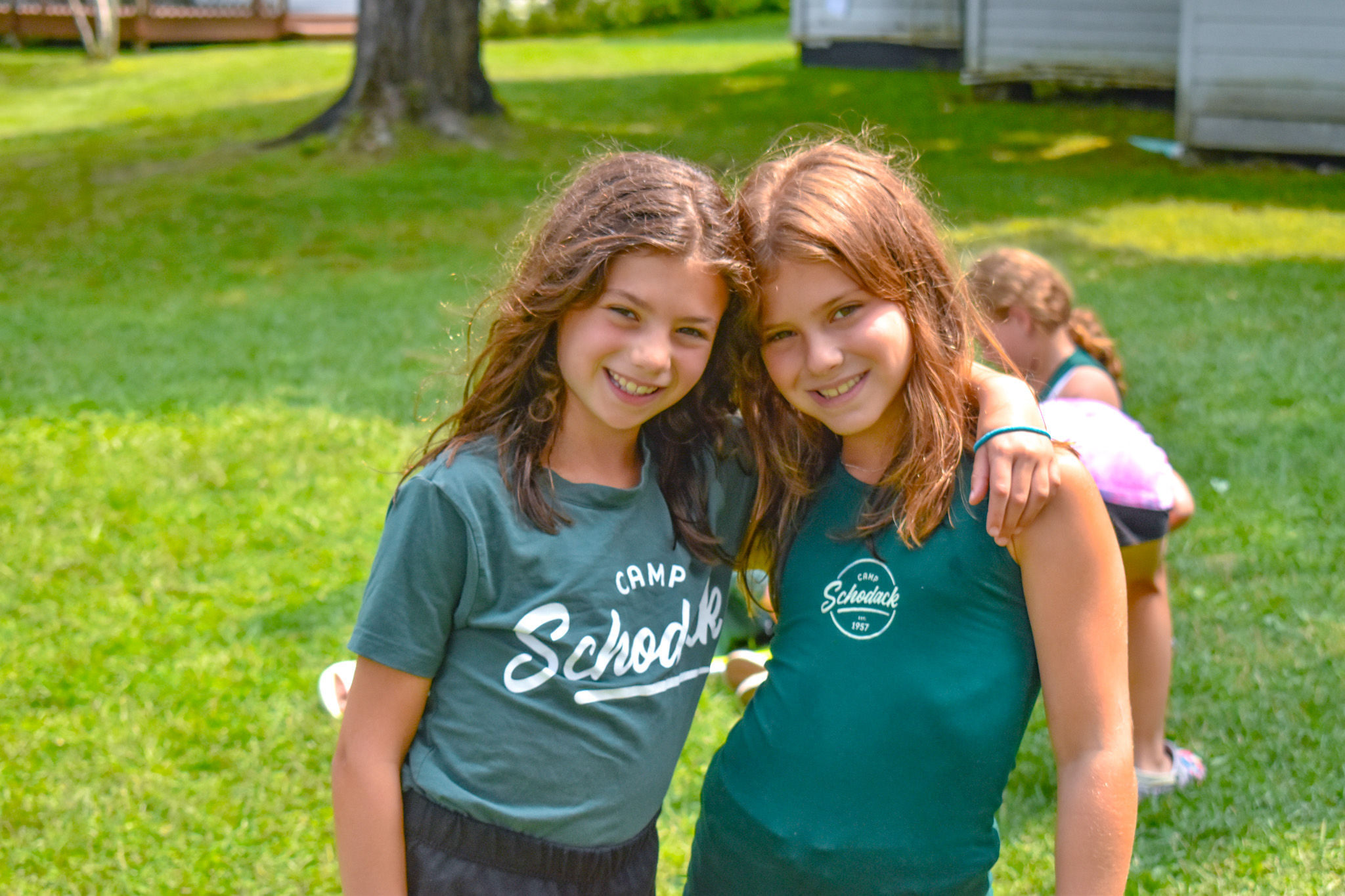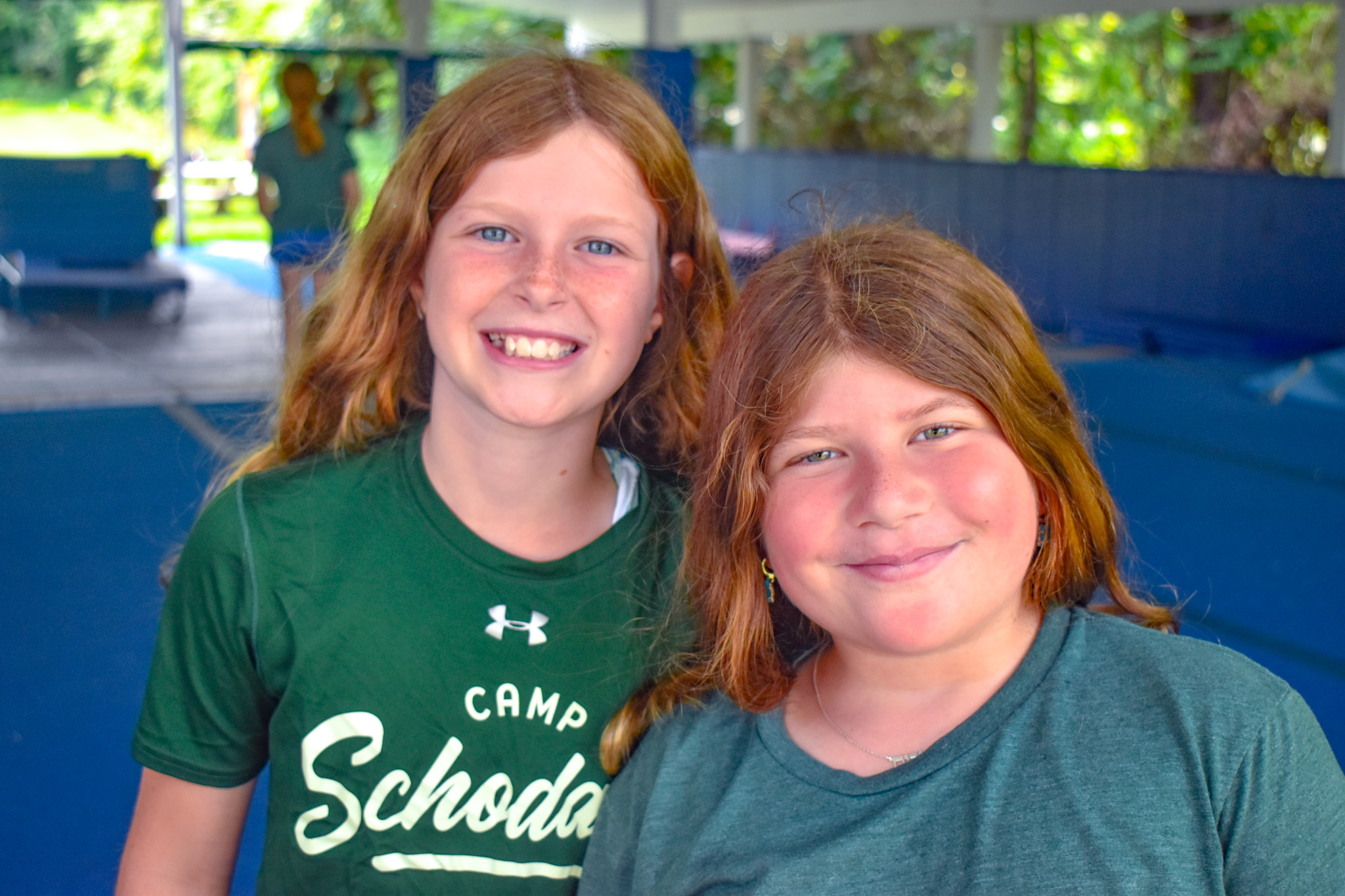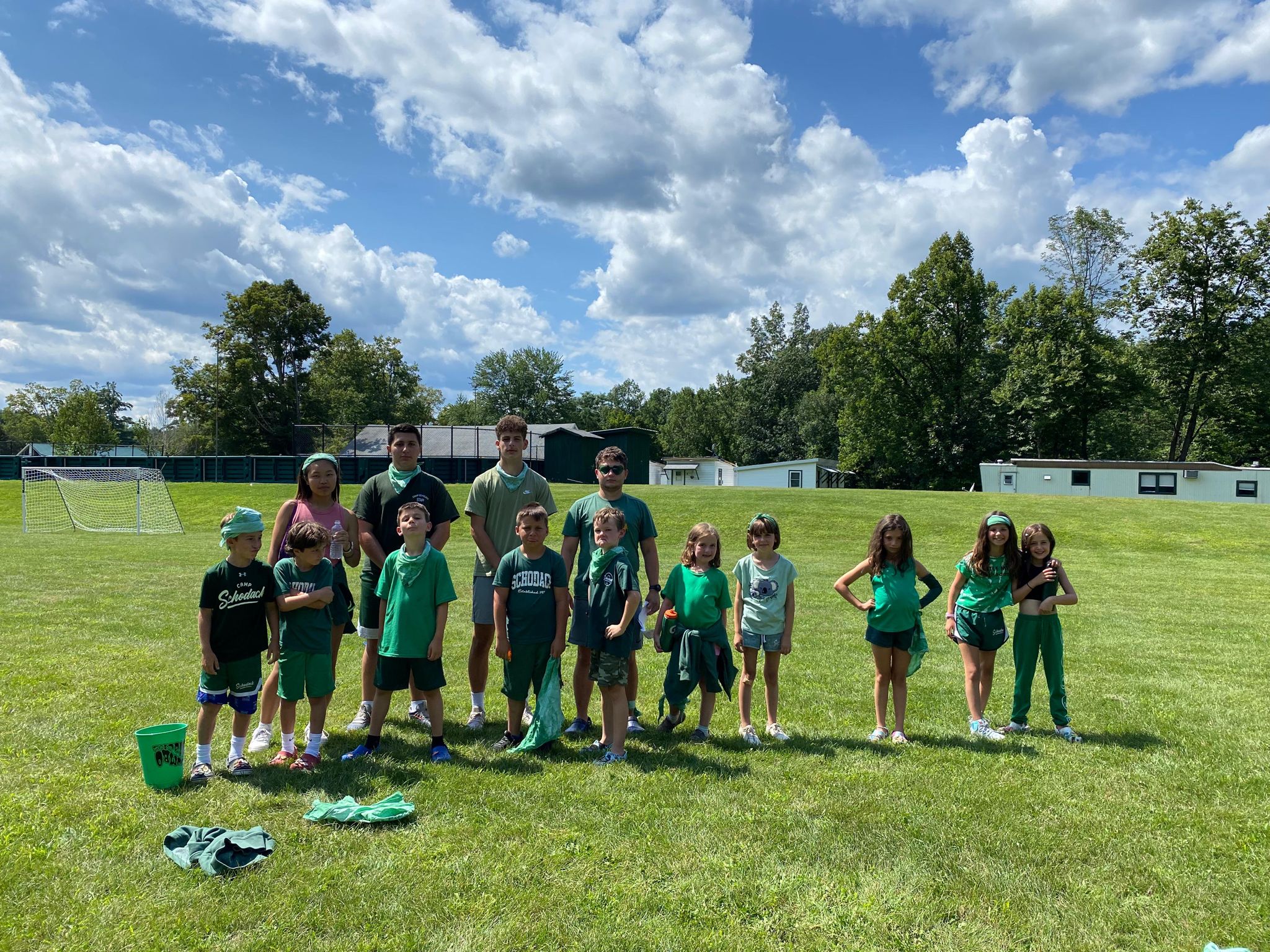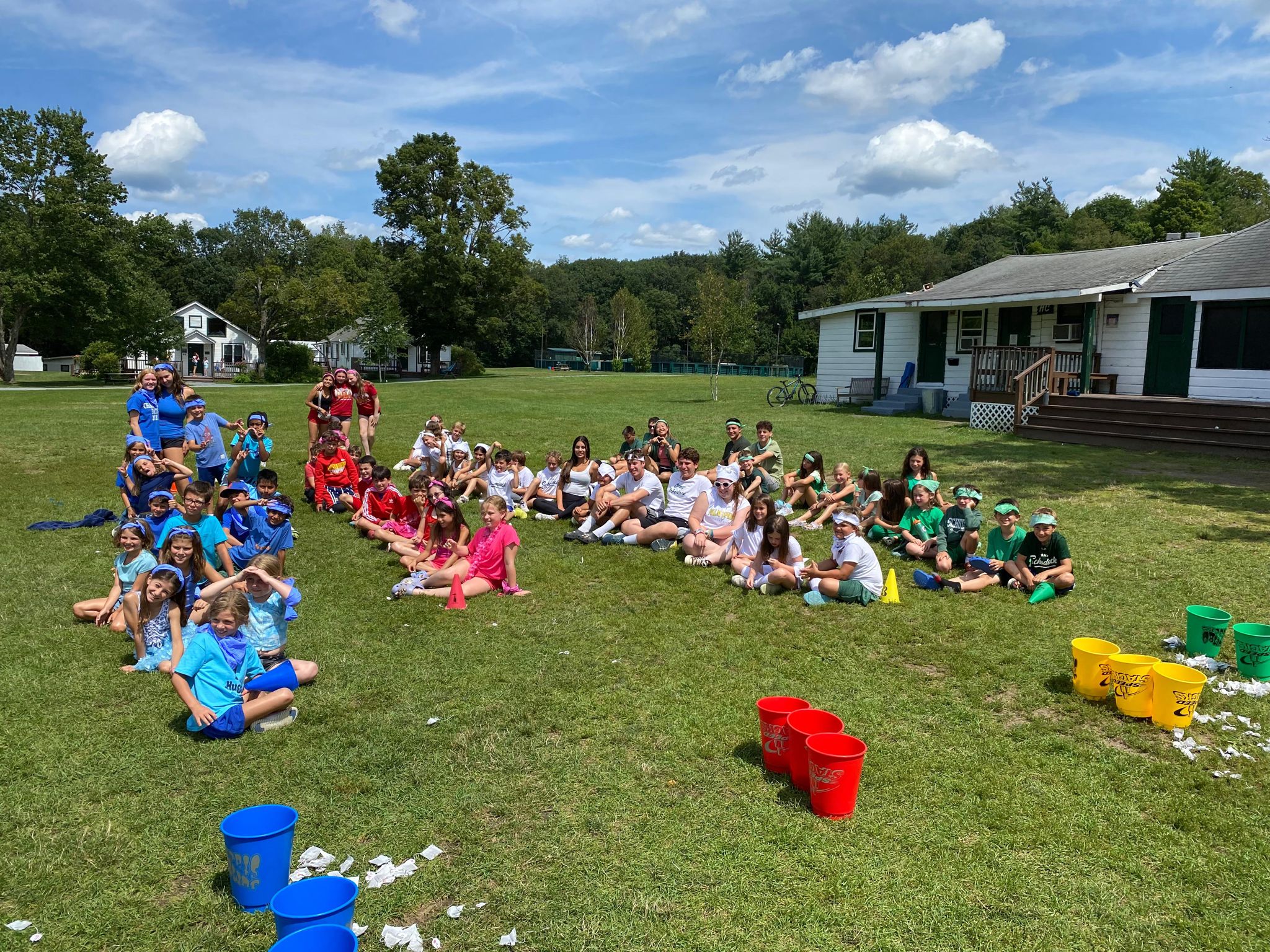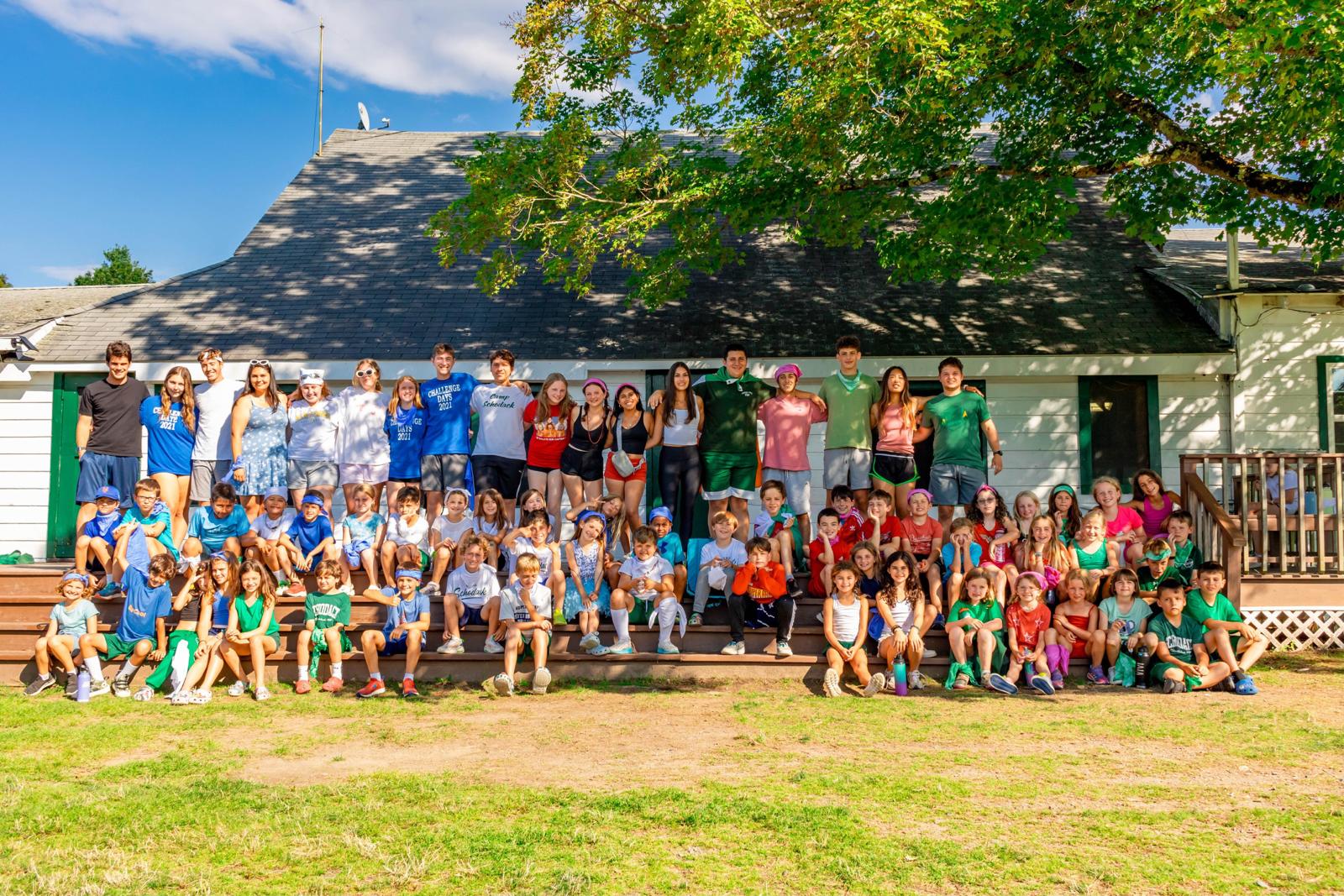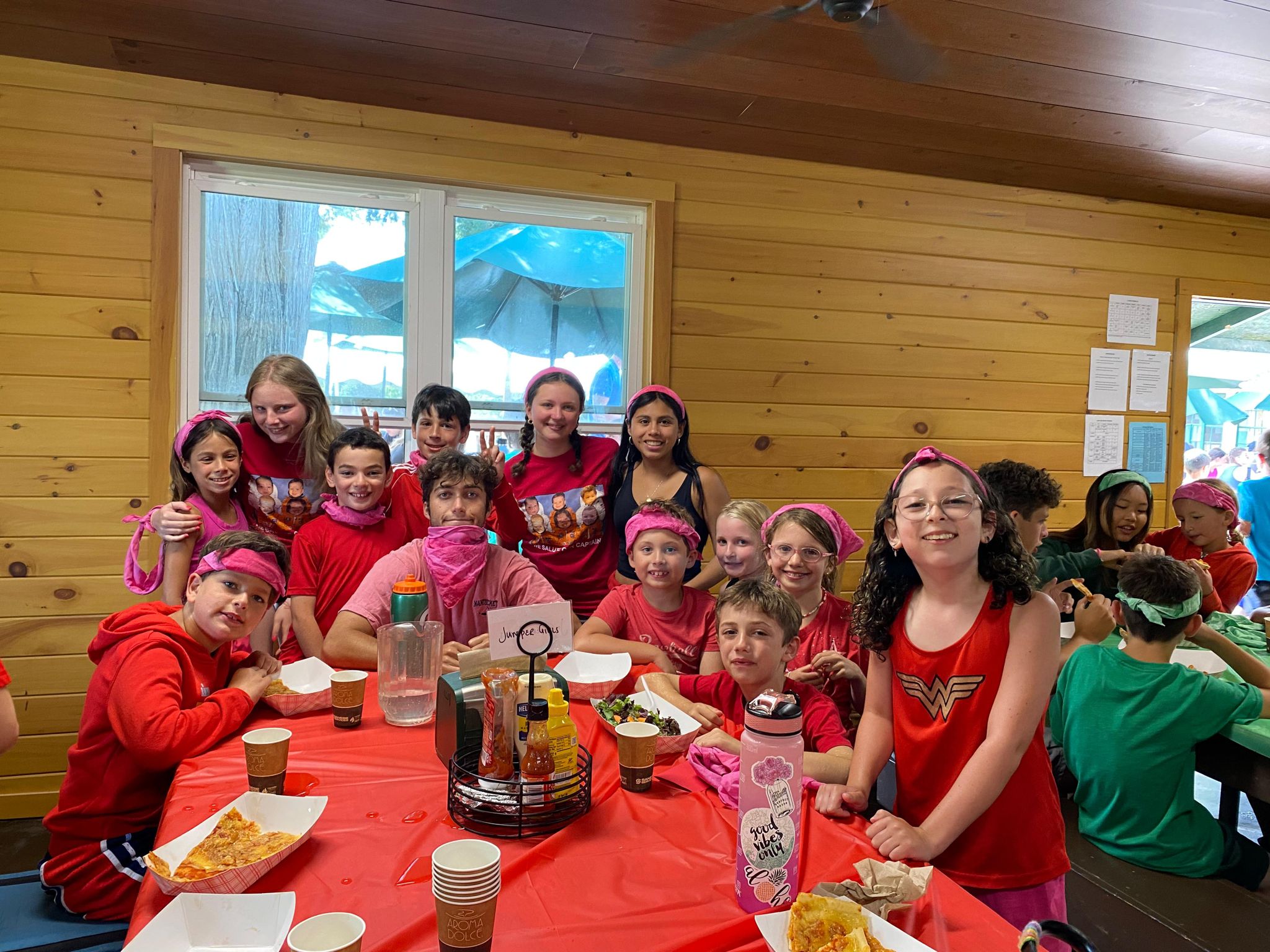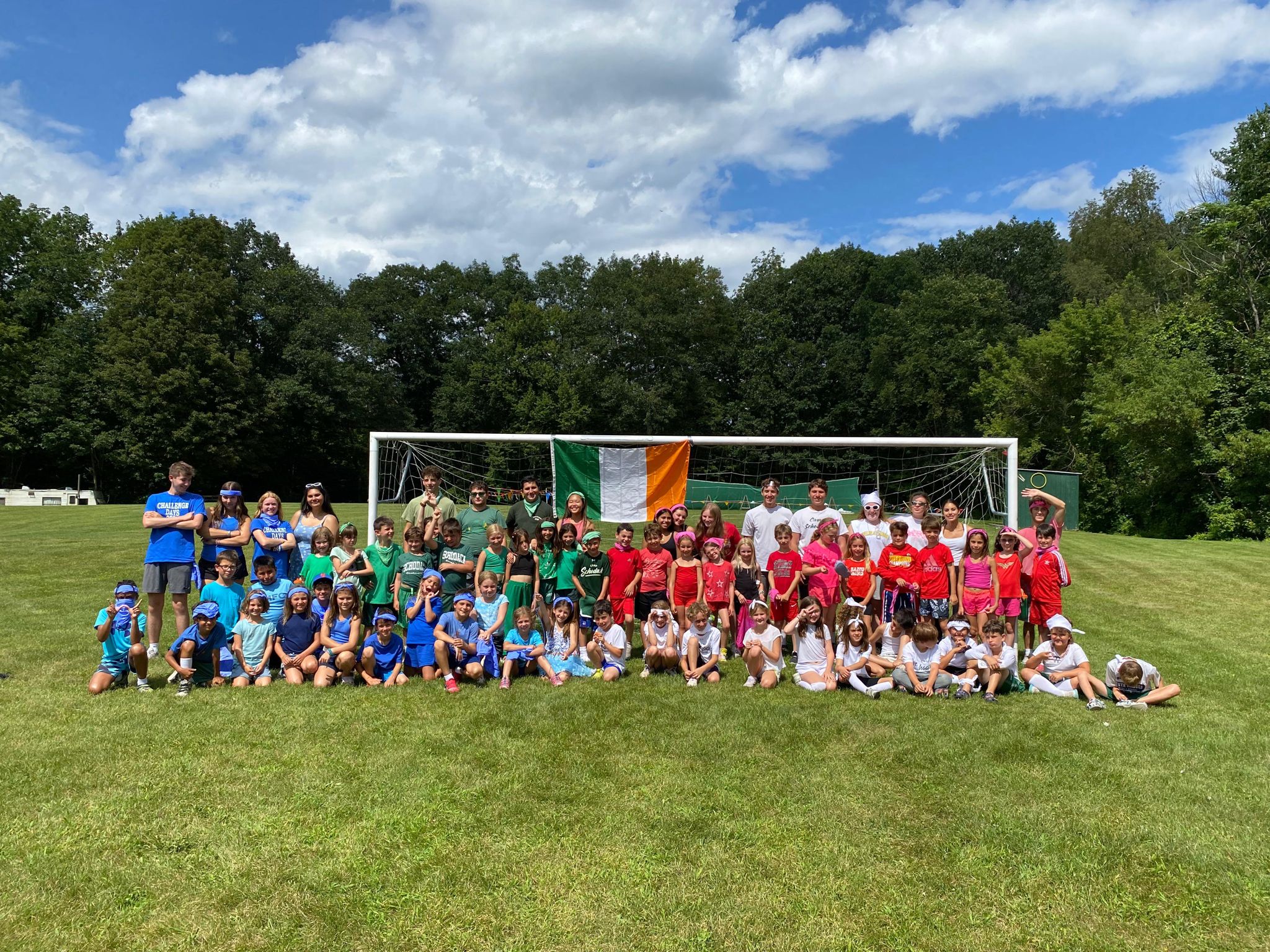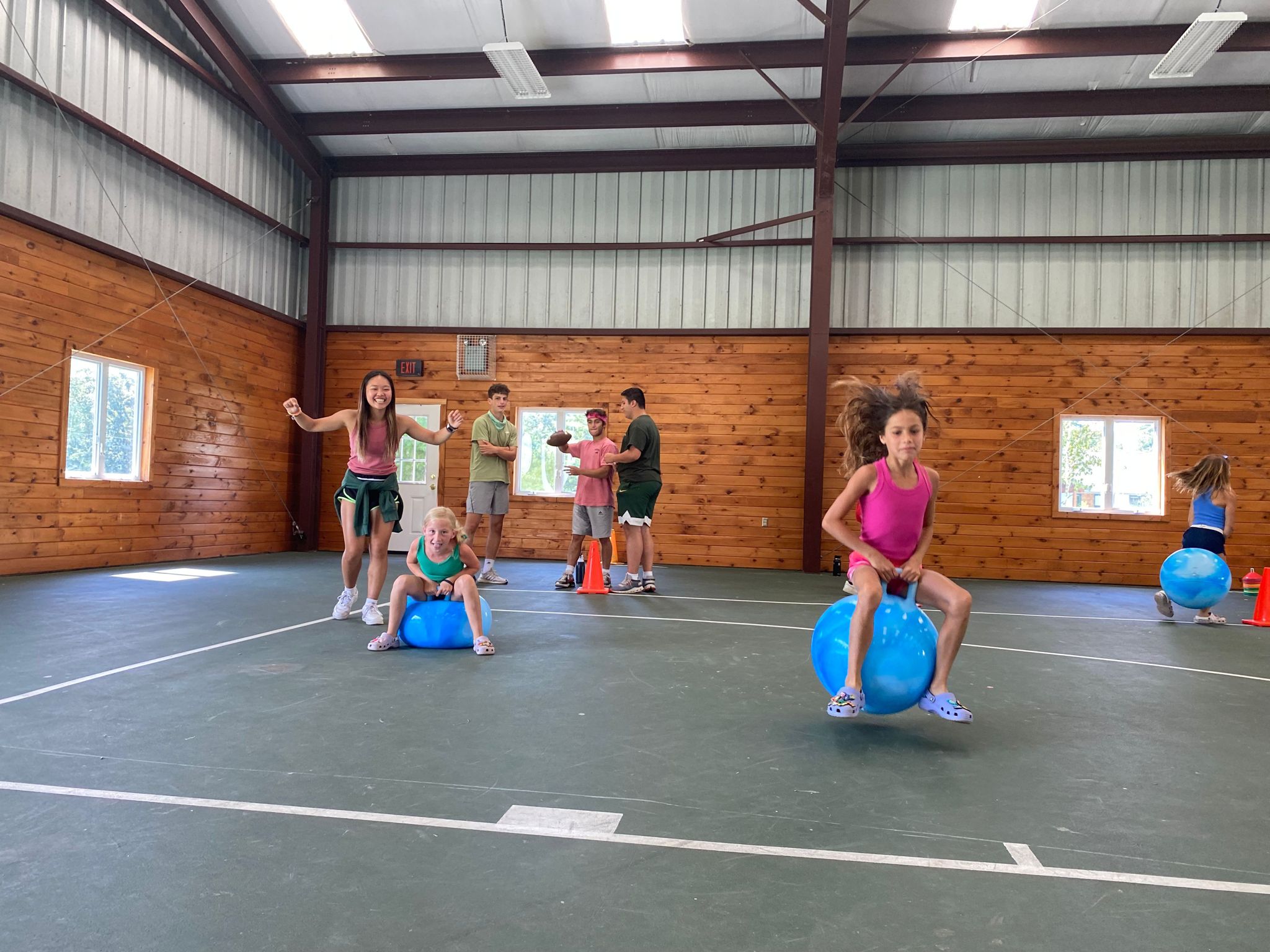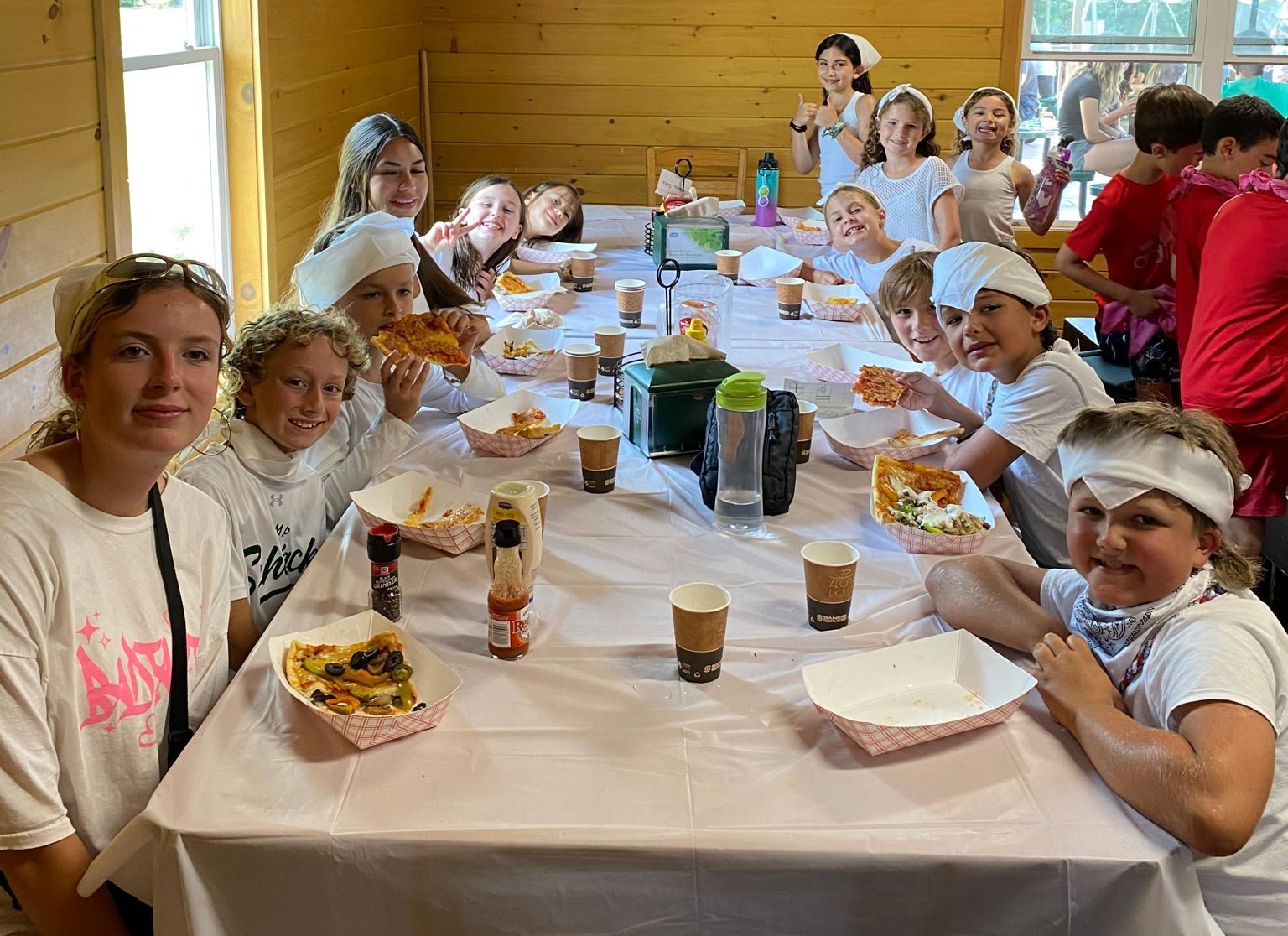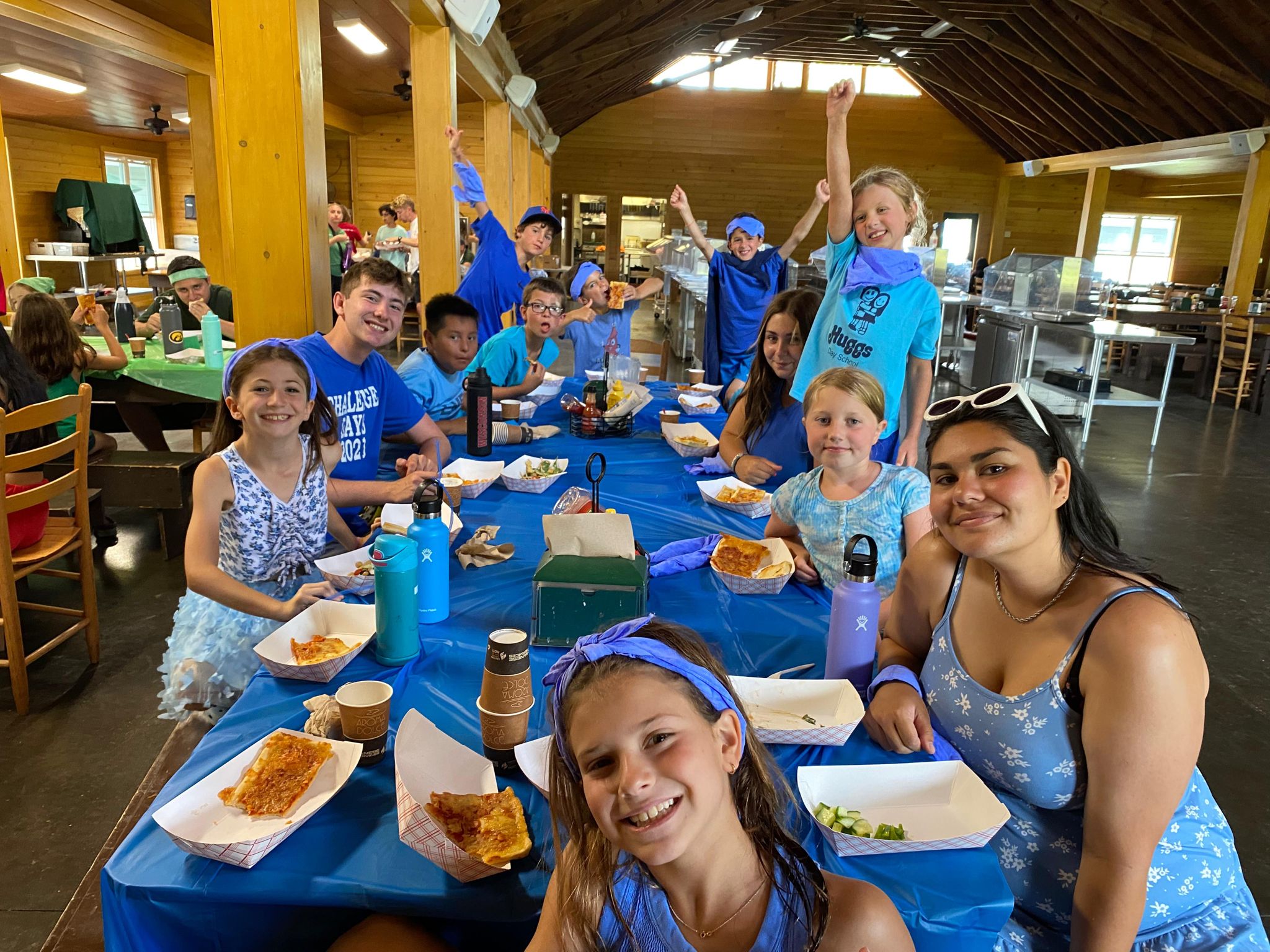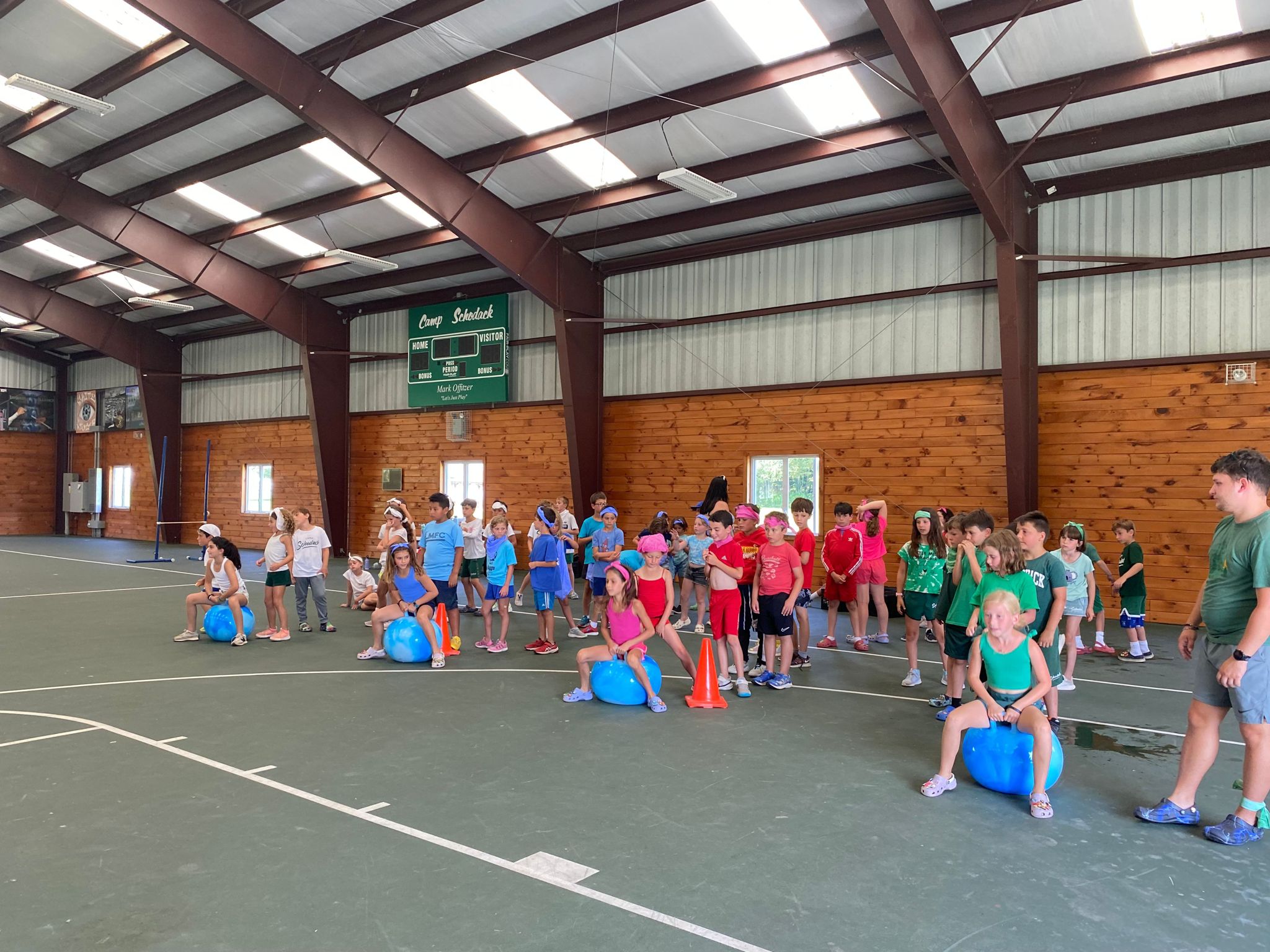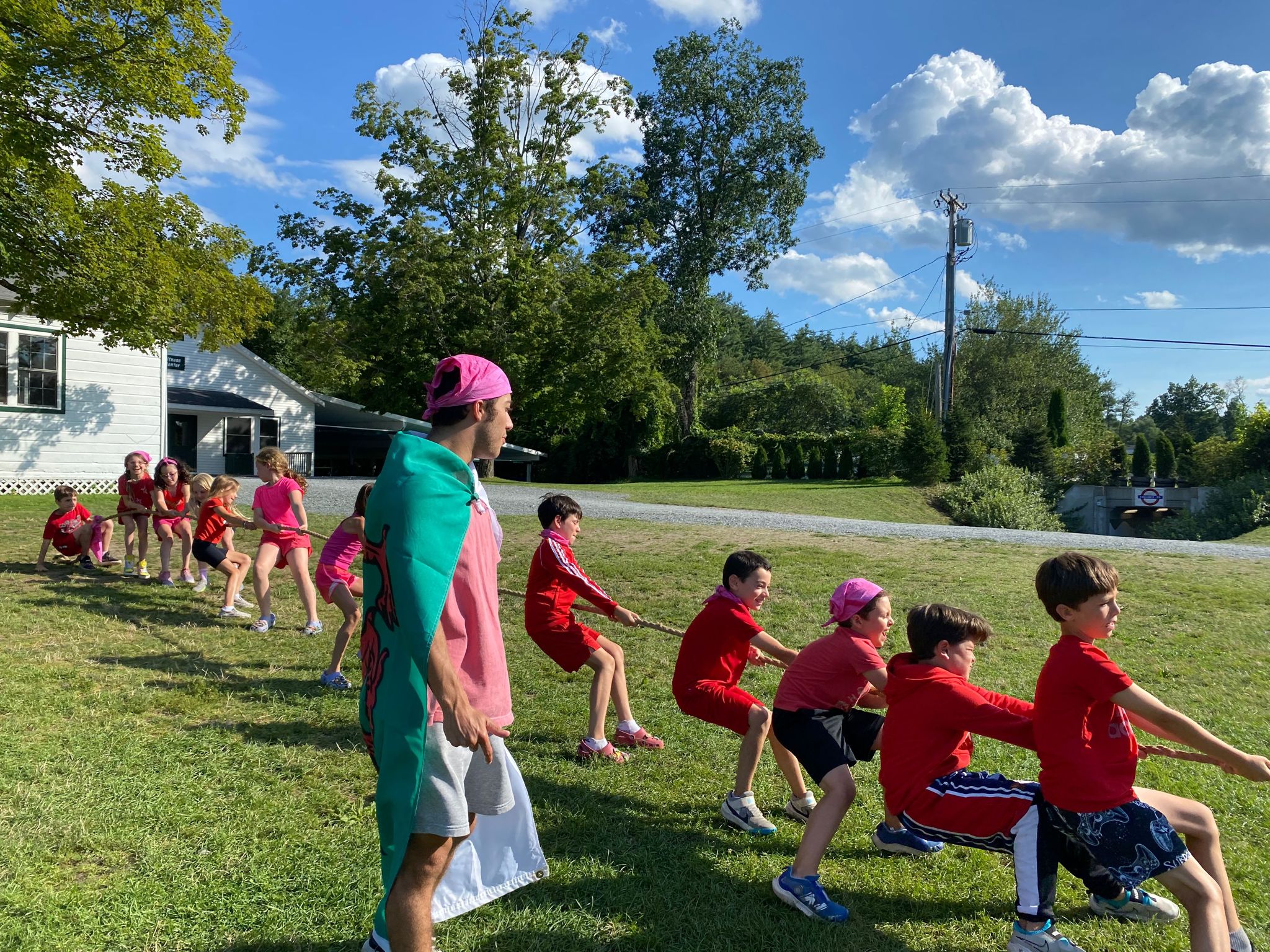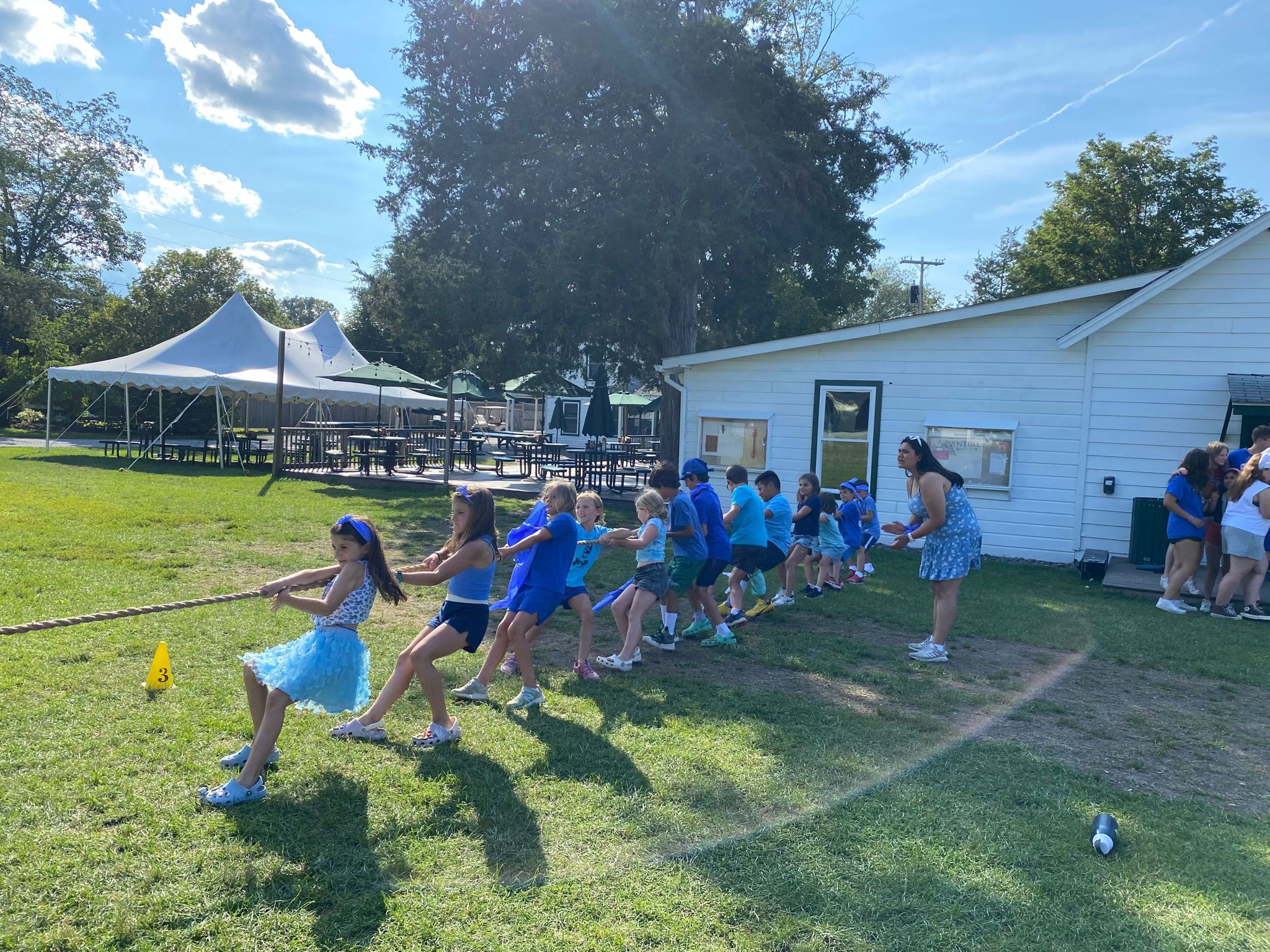 Along with music, all of camp also seems to have been bitten by a travel bug. Our LTs have had the best week in Canada, our Adventure team went down to Savoy Mountain State Forest in Savoy, Massachusetts for an overnight trip. We started out Trip Day with a voyage over to the movie theatre where we all enjoyed watching Barbie! After that, we all went skating for an afternoon of good music and disco lights. Our smallest campers in Junior Camp were the ones who went the furthest. On a day full of games, tea, and accents, Junior Campers partook in a tour of Britain (see Scoop of The Week for more information on Britain Day!) There were also two golf trips and a football inter-camp game with our super junior boys.
There've been a number of special activities this week. Path To Rhythm returned to camp for two days of drumming lessons for the whole camp, adding more to the sound of music we haven't been able to get enough of. Kemp the storyteller also came back for an evening of delightful stories that left everyone on the edge of their crazy creeks. Finally, a tournament like no other: Rock, Paper, Snerson was once again upon us. The entire camp gathered in The Garden for a battle of rock, paper, and scissors that featured a guest appearance from the Camp Schodack RPS champ Evan Snerson! The two campers standing were Drew Wallack from the Waiters and Hannah Kadish of the Hemlock Girls. Ultimately, Drew Wallack was the one who took home the win.
The excitement for Tribals has only been growing, and recently we got an idea for what the theme of this year's 5-Day Tribals will be. It all began with the sound of a horn and the arrival of his majesty, Lord Farquad. After the appearance of a talking magic mirror, three princesses, and murmurs of an ogre being spotted around camp, some are theorizing that this year's Tribals theme could be SHREK! We're certain all will be revealed in the coming days.
Scoop Of The Week
Here is one of our most popular issues of The Schodack Scoop from this week!
____________________
And with that, you are all caught up on everything that has happened at Camp Schodack this week! We will be back next week with more exciting special events including BPN and Tournament Week!