Hi there!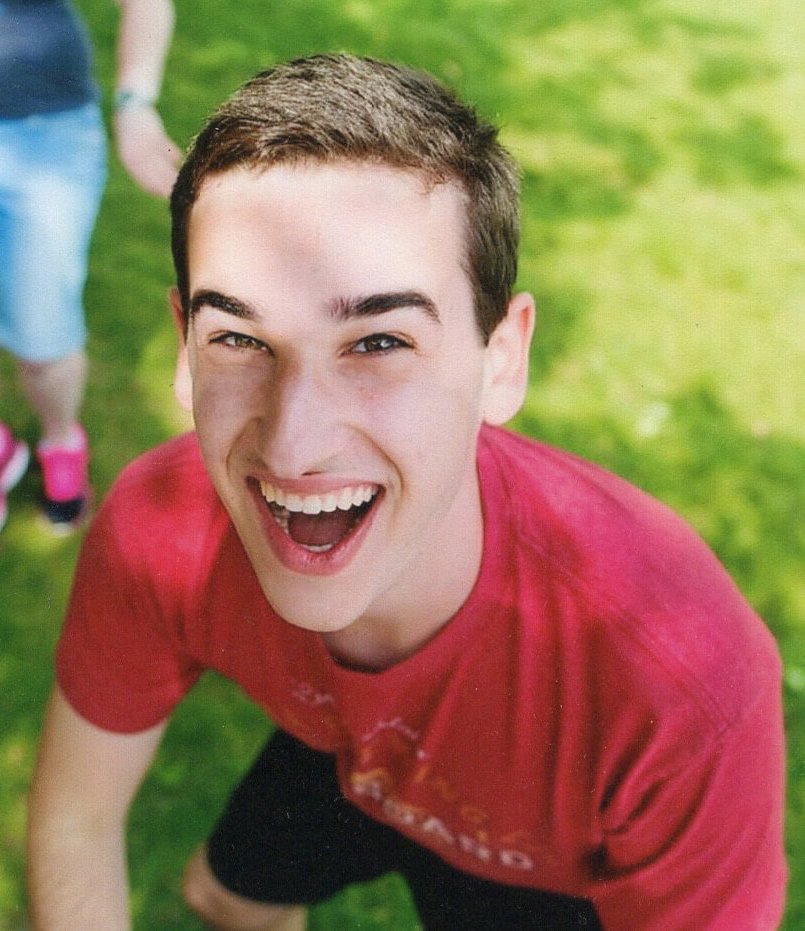 My name is Sam Holland, and with some help from the Leadership Trainees and Errol Photo, I will be bringing you the news from the summer. I'm originally from Manhattan and I've grown up at camp, starting as a Shawnee Boy in 2010. I graduated the LT Program in 2014 and spent the past two summers working as a Bunk Counselor, and I am excited to spend my eighth summer as your eyes for this season!
The LTs write The Schodack Scoop – our daily newspaper at camp – but the budding journalists and writers among them will also be helping out by gathering news and comments from the campers after the big events of the summer! I'll also add a copy of the Scoop from each week here for you to take a look at.
This blog will normally be published on Fridays, but we'll send you a reminder email each week once it has been posted.
Here's what will be coming in the newsletters!
– Details about the exciting happenings at camp – activities, out-of-camp trips, tournaments, and zany goings on that would never happen at home!
– A look ahead about upcoming attractions – events to discuss with your child during phone time, perhaps.
– Thoughts from Matt and the Leadership Team on a range of topics as they occur to them throughout the summer.
– Quotes from campers and photos of the events!
So what's happened since you were last here?
Many first-year campers and their families attended New Camper Day earlier this month, but many of you have not been on camp since last year! Here's what's been going on:
Camp has finished its renovation of the remaining camper bunks, so every bunk on camp has now been refitted and remodeled in the last four years. All bunks now have spacious porches as well, and they look tremendous!
The hockey rink underwent the second part of its transformation, with brand new custom-built boards around the outside to complement the new floor mats from last summer.
The Playhouse has taken on a whole new look. Gone are the small fans which may have affected the temperature by a degree or possibly two – in are two enormous fans which have made sitting and watching The Counselor Show positively idyllic.
We have also planted over 30 new trees all over camp – the Lorax will be pleased!
We have had an amazing first few days.
Planes, buses and cars came from all directions on June 28th as Camp Schodack began its 61st season in the beautiful foothills of the foothills of the Berkshires. The screams of delight as old friends reunited after months apart melded with high fives and excited hellos as new campers, bunkmates and counselors all met for the first time.
Walking round the dining hall 87 minutes later, it was clear that campers had little difficulty feeling right at home!! But here's the thing – I gotta admit to being a little jealous here – the LTs served the whole of camp the traditional Grilled Cheese and Tomato Soup fewer than 90 minutes after getting off the buses themselves – and I always thought my years as an LT were so good, but our efforts couldn't be repeated! Food was devoured, decorum was (sort of!) kept and decibel levels were off the charts!
The afternoon was as smooth as ever – swim tests were swum, lice checks given, bunk photos taken (they'll accompany your child home!) and campers got to sit down, by group, with Matt and Paul for a welcome meeting. In between, introductory name games were played, camp was toured, bunk expectations gone over and bunk nicknames and cheers were discussed and created!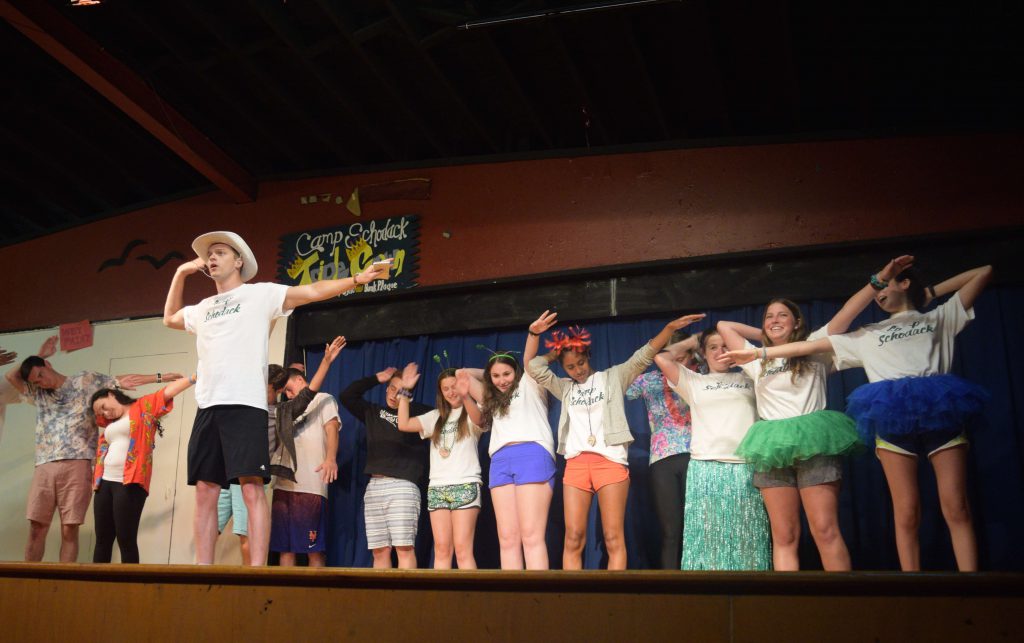 The Counselor Show has opened proceedings here for as long as I've been here – I fondly remember Adam Berg, our Junior Boys DH and my counselor of two summers, throwing on a dress and choreographing a silly dance to "Fergalicious" (or "Bergalicious", as he would call it).
I am sure many campers here for the first time will have vivid memories of seeing their counselors perform, something they themselves will be doing in The Triple Crown in the weeks to come…but more of that later.
We thought we'd ask some campers what their impressions were of
The Counselor Show:
– "I thought it was fun!! I liked Malcolm's dancing!!" – Ellie, Biloxi Girls
– "The dancing was cool. Seth and Lewis were funny! I liked when Ben Lake sang!!" – Allie and Abby, Huron Girls
– "It was awesome!" — Rachel, Kashaya Girls
– "My favorite was the special kinds of dabs!" – Jake, Huron Boys [see above photo!]
Finally, yesterday morning, not even 24 hours after arriving on camp, the campers were away playing activities! Each group has a pre-set schedule so that they get to visit every activity on camp over the course of each week – I'm sure you'll want to ask what their favorites are. And those are the places they will probably have returned to during Camper Choice!
That's all for now. I'll be back next week with all the goings on from Week One!
Here's a copy of today's Schodack Scoop, along with an incredible
Schodack Sunset: