Hey guys! Welcome back to camp for an exciting update on Week Two's events here at Schodack! I can't believe how fast these past 2 weeks have flown by. We're halfway through first session and so much is happening every day that it feels like camp's been in session for months. We had such an active and exhilarating week.
For starters, we had a very memorable and special "Fire Circle" this week. After the Lumbee Girls spoke of the theme of Positivity, it was time for Paul's story and we couldn't wait to see what he had in store for us this week. As soon as he picked up a large rock off the ground, loud cheers immediately followed as campers and staff alike knew the story "Uncle Lou Hated Rocks" would be told. A personal and camp fan favorite, this story is one of the few stories Paul repeats due to its remarkable history.
Rolling into the weekend, we had not only 1 but 2 very special event activities. On Saturday, the whole camp took a trip to the Wild West and had a blast at this year's LT Carnival. This year's Western-themed Carnival had a special twist to it, in which campers had to go to the Gold Mine and search for gold coins in order to play some of the games and go to the booths. Campers enjoyed frolicking to and from the Garden and the Playhouse to find the best activities such as the Three-Box Challenge, the Dance-Off, sock wrestling, the massive Pumpkin Bouncy House, and a blowup Water Slide.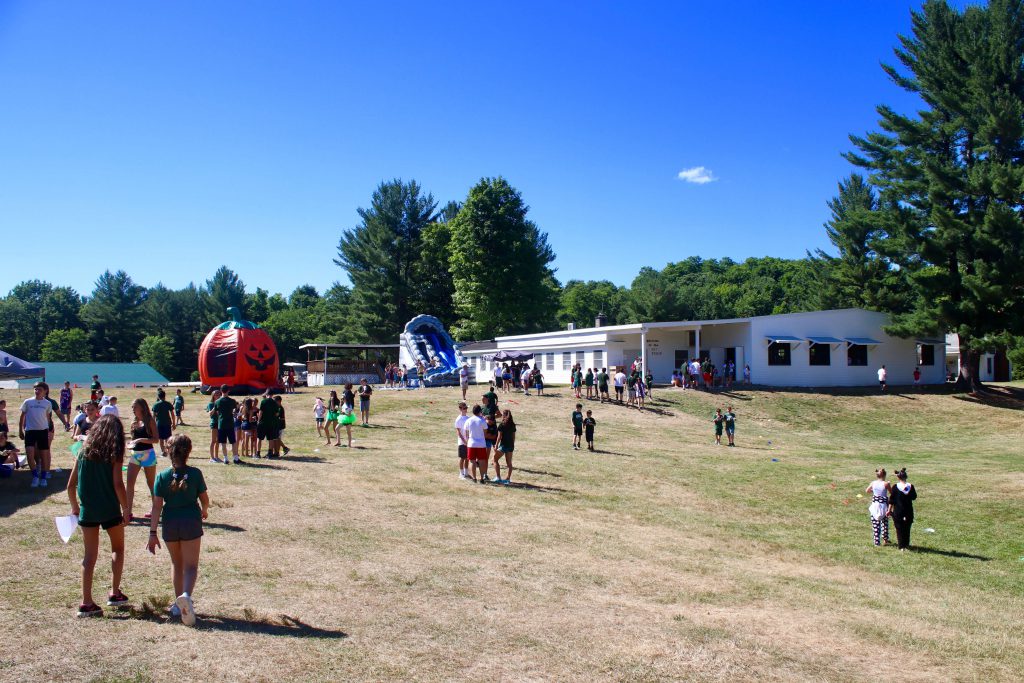 Campers had so much fun at Carnival. Here's what some of them have to say about this spectacular event:
"My favorite part about Carnival was searching for all the gold coins and then using them to play the games." – Jordan, Algonquin Boys
"I never ran out of activities to do because there was just so much going on. I had a lot of fun that day."   – Sophia, Senior 4 Girls
"I was at every booth that involved food. Anything you could eat, I was there. It was so yummy."   – Samara, Naskopi Girls
"My first Carnival was such a fun experience!" – Connor, Mic Mac Boys
The rush from Carnival never left the campers as they were eagerly awaiting Sunday's arrival of the first leg of Triple Crown! All 24 bunks, including the CITs and Waiters, got the opportunity to perform on stage with their bunkmates in skits and dances that they will remember for many years from now. For Junior Camp, the Algonquin Girls placed 1st with their explosive and high energy dance performance of Michael Jackson's Thriller. The Menominee Boys won for the Middle Camp division with Anchorman, in which they broadcasted live all the hot news going around camp from the Schodack Stage. And for Upper Camp, the vie for 1st place was so intense that the Waiters and the CITs both ended up coming out victorious with their stellar performances. The CITs put together the greatest show at Schodack with The Greatest Showman, which was straight out of a circus act. The Waiters gathered their humor with a hilarious skit called Undercover Waiter. Every bunk made an everlasting impression on the stage that night, and we can't wait to see what is in store for Lip Sync, which is in a week from today.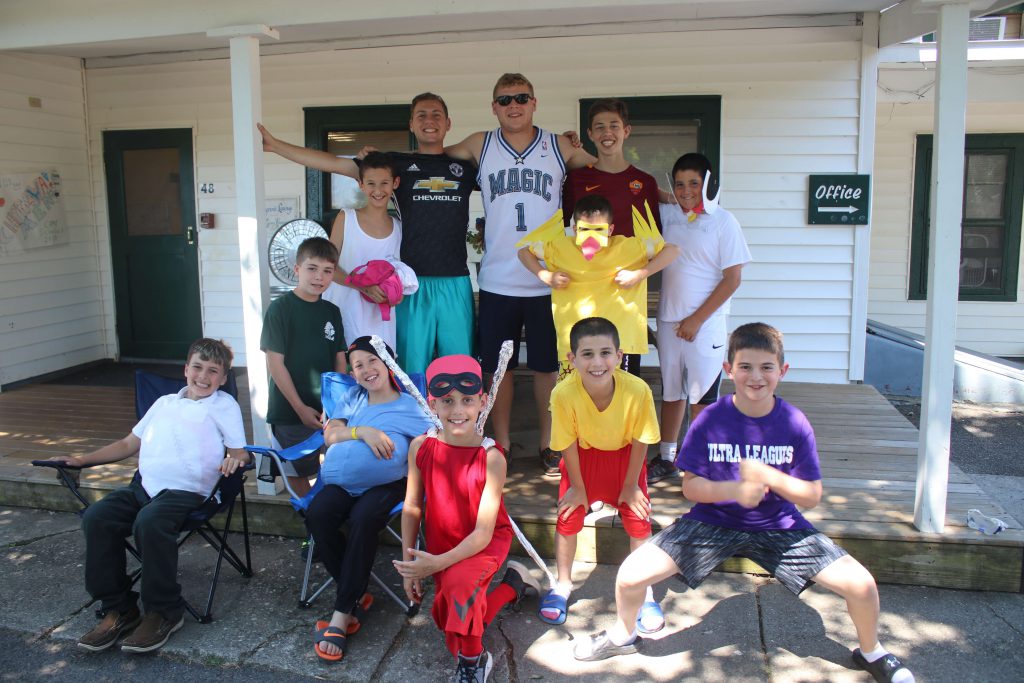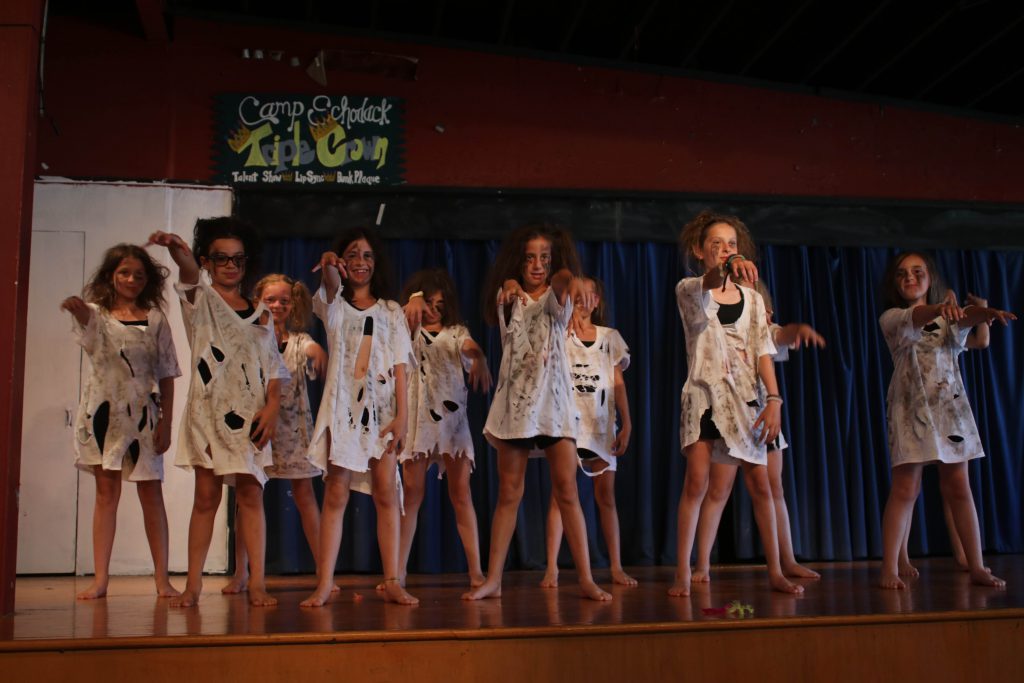 What else is new and upcoming here at Schodack:
About 50 campers to the Massachusetts Museum of Contemporary Art (MASS MoCA), one of the largest modern art museums in the United States. The exhibits were just exquisite, and campers even had the opportunity to make their own masterpieces at the museum.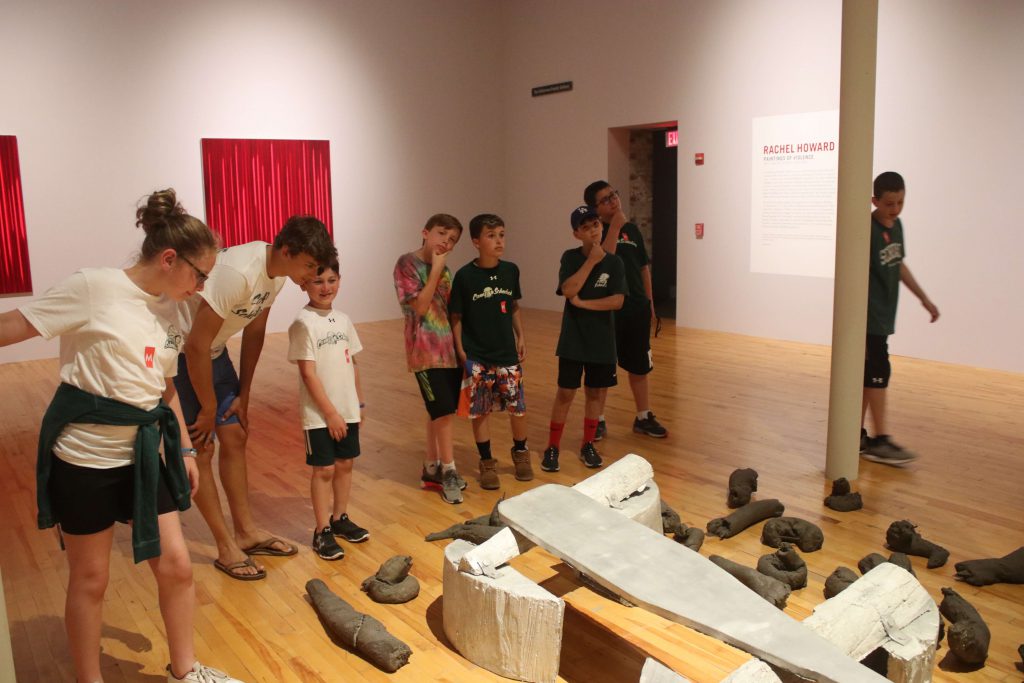 Tribals are definitely in the air. Everyone is busy searching for clues as to when it is going to break! Tribals break "fakes" have been occurring all around camp this week, and campers can't wait for this color war to begin.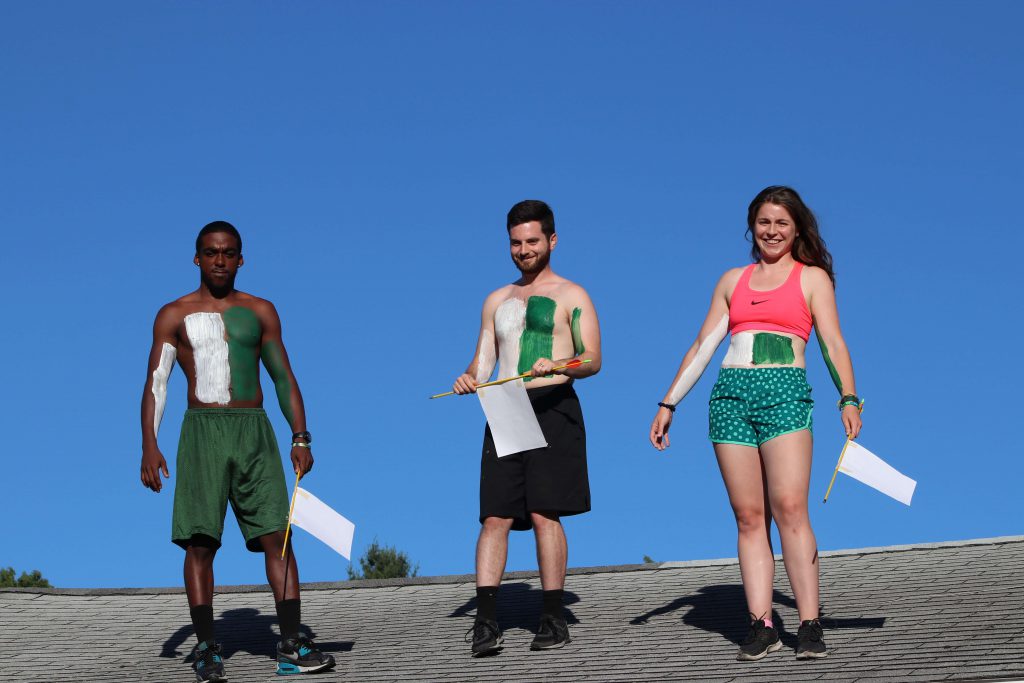 Junior and Middle Camp spent this week's Trip Day on a beautiful 2-mile hike through Schodack Island State Park and then cooled down with a visit to the movies. Juniors saw Incredibles 2 and Middle Camp had the option of seeing Incredibles 2,  Jurassic World: Fallen Kingdom or Ocean's 8. Upper Camp went ice skating and then enjoyed an afternoon at the bowling alley.
This week the Greg Maddux Pitching Contest is taking place at Baseball. Campers have the opportunity to test their pitching skills by throwing the baseball into certain boundaries established on the field. If you throw the ball within the boundaries of the grid set up on the field, points will be awarded. The winner of this contest will earn their spot in the Schodack Book of Records.
The Adventure team took a group of campers to Crab Apple for the first Whitewater Rafting trip of the summer. This trip is easily one of the most popular and anticipated adventure trips of the summer. Another group of campers will be heading out to rafting next week!
Kemp the Storyteller is back for another summer. Campers in all divisions gathered in the Playhouse to listen to Kemp share some magnificent stories that involve some catchy toons. Every camper was jamming out with Kemp especially with a notable favorite, "The Cat Came Back."
We had a very busy week of intercamp games. The 6th grade boys travelled to Camp Winadu to play basketball, and then the 7th grade boys played them in soccer a few days later. The 8th grade girls took a trip to Camp Pontiac  for a soccer game on Wednesday and today they returned to play them in tennis. We played with great athleticism and spirit. Great job to everyone who participated!
On Monday night we took a trip back to the Middle Ages for Medieval Night. With no fans, utensils, or lights, we enjoyed a festive meal of bread bowls with soup, corn on the cob, and chicken wings.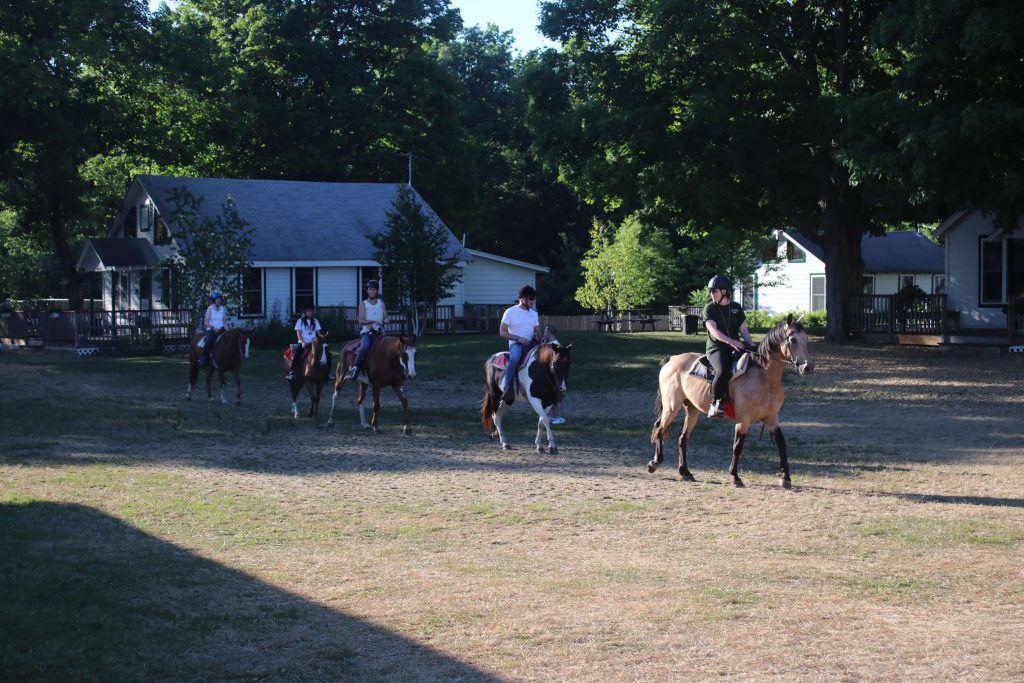 The Mixed Doubles Tennis Tournament took place this morning. Congrats to Gabe Fine from the Senior 3 Boys and Sophia Spiegel from the Senior 4 Girls for winning the tournament. An honorable mention to Ben Rhodes-Kropf from the Senior 2 Boys and Lilly Shiavo from the Senior 1 Girls for being the runners-up in the tournament. 
This week's division spotlights:
Mic Macs:  We have had a week of amazing scheduled activities with exciting special events in between.  Both bunks enjoyed the LT Carnival, walking around all the booths in the Playhouse and Garden and visiting with our favorite CITs and Waiters at all the booths. A favorite night activity this week was cookie decorating.  We used cookie cutters to shape the cookies and then decorated them with icing after they cooked.  So yummy!  Then we had talent show on Sunday.  Both bunks put on a great skit and the Mic Mac Girls got 3rd place!  We finished off the week with our first bonfire.  We hope we have s'more soon.  Can't wait for Week 3! – Allison

Junior Boys: Another exciting week has happened here at Camp Schodack with big events such as triple crown, trip day, and tribals fakes! For triple crown each of the bunks got up and did their own performance making the camp laugh and enjoy a wonderful night of entertainment. The Algonquin boys took home second place in the division with Schodack movies, making a twist on classic movies such as Forrest Gump and Titanic. This past week also marked the start of tribals fakes! The boys have seen their Division head Adam Berg on the rooftops of camp and they are trying to solve the mystery of who has stolen the hatchet so that they can start 2 Day tribals. The boys have some theories that Adam is the thief wanting to break tribals himself this year. Stay tuned to find out who it really was! The boys have also enjoyed another trip day of hiking at Schodack Park on a clear and beautiful Tuesday, and were able to watch the incredible movie Incredibles 2! They have also had another wonderful week of activities and swim lessons with them getting stronger and stronger each week in the pool!
Junior Girls: If you were an emoji what would you be!?…The Junior Girls got in character as we kicked off emoji day bright and early! I chose to dress as the cat love-heart eyed emoji with help from my red lipstick for the heart eyes and eye liner for the nose and whiskers! Among the crowd we had the rockstar, happy face, puppy, pregnant lady and my all time favorite the poop emoji! Everyone looked amazing! We had a fun afternoon as a division where we had an emoji debate, emoji story board and create your own emoji. I loved the creation of the gangster unicorn! We topped off the day with a night time activity of a beautiful bonfire with s'mores. During the day I split the division into groups of 5 and they each acted out an emoji skit! Each group did an awesome job and were great to watch in the Amphitheater! The junior girls counselors at the end improv'd their own skit which brought a lot of laughs! Thanks for a great week Junior Girls!! – Maria
Middle Boys: The Middle Boys have had a wonderful week here in the 12123! It started out with Triple crown with each of the three bunks putting on a skit for the rest of camp in which the Menominee boys were able to take first place in the division with their own rendition of Schodack Anchorman! The Naskopi boys had their own version of the "talent show that went wrong" and Lumbee boys did Saturday Night Lumbee tipping their hats to SNL. Both the Naskopi and Lumbee boys had the playhouse in stitches. We also had a great trip day walking around the Schodack park for a beautiful hike on a wonderful summer day, with not a cloud in the sky! And after a nice hike the boys were off to see Incredibles 2 at the movies for a nice relaxing end to trip day! The boys had canteen drop this week where they were able to compete for extra canteens for their bunks. The Menominee and Lumbee boys in their final round bet it all to try and gain eternal canteen glory but came up just short on their answers, while the Naskopi boys ended up with four extra canteens for their bunk! And finally we have heard the start of firecrackers leading up to 2 Day Tribals. We aren't sure when it will break because someone has stolen the hatchet and we must find out who took it so we can break tribals! Stay tuned for next week! – Kaish
Middle Girls: Hello from the Middle Girls division! Schodack has had another whirlwind of a week with a lot of exciting events which was kicked off by the first leg of triple crown, talent show. The middle girls did an amazing job with their talent shows placing third and second this year! The Naskopi girls placed second this year with their own rendition of camp vines which had the playhouse bent over laughing, while the Menominee girls placed third with a version of the bachelor using different camp counselors as their characters to have hilarious questions and responses. And the Lumbee girls showed off their spectacular dance moves with different fortnite dances! On trip day the middle division hiked around Schodack Park and saw some incredible views,  followed by a trip to the movies to see the Incredibles 2. The middle girls will be starting hush buddies this week, giving each other small hand-made gifts and leaving clues as to who is leaving these small gifts for them. Finally the hatchet has been stolen so tribals can't be broken until it is found! There are many clues being left behind and the camp is in a rush to look for who it is! Stay tuned to find out who the culprit is! – Halle
Upper Boys: It's that time of the week! Another seven Schodack days have past, filled with fun and excitement.  Shoutout to the LT program for running a great carnival, the boys told me they absolutely loved it. Following all those festivities the boys performed their first leg of the Triple Crown,Talent Show, on Sunday. The Senior 1 Boys put on a great show planting ideas in our minds with their interpretation of Inception. The Senior 2 Boys showed all the youngbloods how to really ball in Uncle Drew. Last but definitely not least, The Senior 3 Boys had us all cracking up when they revealed what really happens in the Schodack office. Trip Day this week was an enjoyable pairing of ice skating and bowling. The boys were energetic and enthusiastic the whole time.  A few weeks in and this summer has been far from mundane and routine, and we're loving every second of it. Until next time… – Uncle Ro
Upper Girls: Hard to believe two weeks have already flown! The Senior Girls have had a blast this week at activities, and we've gotten into full swing with bonding and fun! Saturday we had cookies on the basketball court after Fire Circle, and the girls had to find one uncommon thing in common among themselves within their small groups. On Monday night, we belted through Senior Girls YouTube Karaoke – the girls split into mixed-up groups, picked songs, and then sang to the rest of the Division (featuring broom handles and ping pong paddles as microphones). Some highlights were "Love is An Open Door" from Frozen and "Fabulous" from High School Musical! We ended Wednesday with another Senior Girls Bonfire out at Archery, where the girls shared their punniest jokes to lots of groans and laughter. Here's to another jam-packed week of exciting events, new friendships, and smiles abound! – Shira
Here is a copy of today's Schodack Scoop and other photos from the week: