Welcome back for another weekly update here in the 12123. With Tribals breaking and the end of the first session festivities, we are really busy up here at Schodack. And with Visiting Day right around the corner, we've put together a "How-to" guide for tips on enjoying this fun day at camp! 
What an incredible 2-Day Tribals we just had. After we found the hatchet that was "stolen" by former SPECS (Special Events Coordinators) Carter and Doug, we were finally able to begin this 2-Day competition. With the hatchet finally in hand our SPEC Josh Baker proudly ignited the spirit of Tribals on the Rec Hall steps by breaking the arrow. A full-on rush of energy followed the break as the whole camp ran to the amphitheater for the reading of the Generals. Max Walker (Menominee Boys Group Leader) and Rachel Wolk (Lumbee Girls Group Leader) lead Mohican Mindset and Ben Weiner (Chippewa Boys Group Leader) and Ella Browne (Mic Mac Girls Group Leader) were the chosen leaders of Seneca Success. The LTs joined the crew becoming team Captains with Matt Goldman and Brooke Klurman on Mohican and Betsey Clarke and Matt Zieman on Seneca. Finally, we have our Head Lieutenants who were Lauren Snerson, Kira Epstein, Josh Miller, and Hanson Yuan. What an elite squad.
The first day of Tribals events began with 3 activity periods filled with basketball, water volleyball, steal the bacon, tennis, gaga, and so much more. Campers showed their team spirit with loud cheers and accessorizing their outfits with necklaces, face paint, tutus, and more. At the end of Day 1 Generals, Captains, and Head Lieutenants battled in the pit to find the hatchet at Hatchet Hunt. After minutes of digging, General Rachel Wolk found the hatchet; it was a thrilling victory for Mohican Mindset.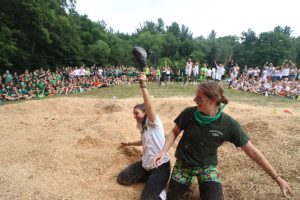 The second day of Tribals began with more activity periods, then in the afternoon the whole camp gathered for the Camper Dashes, which is a race across the soccer field separated by division and gender. Then we had the Individual Medleys which is a swim meet separated by division as well. 2-Day Tribals came to a close Sunday night with rope burning, where campers worked together to gather and feed the best wood to their team's Head Lieutenants, Captains, and Generals, so they could build a fire. The goal of this camp tradition is to ultimately build a large fire to burn through your team's rope. Although Mohican won rope burning with completing the task just under 8 minutes, the best part of the activity was when the whole camp cheered on Seneca to the finish line. At the end of the day Mohican was victorious, but the whole camp came back together as one to finish off a great 2-Day Tribals with the singing of "Friends."
We still had a lot of fun after all the excitement of 2-Day Tribals. Here is what else happened this week:
We had two AMAZING  "Fire Circles" this week, one in the middle of 2-Day Tribals and one on Thursday night. The Chippewa Boys spoke of the theme of "Teamwork," which appropriately speaks to and honors the spirit of Tribals. Then the Senior 3 Girls chose the theme of "Family" and the whole camp jammed out to "We're All in This Together" from the classic Disney movie, High School Musical. 
We celebrated the ancient Olympic Games during theme dinner this week by feasting on Greek cuisine including Souvlaki Chicken, Hummus, Falafel Skewers, Pita, Spanakopita and more. An Opening Olympic Ceremony at line-up lead by some of the LTs and LT Staff captured the essence of the games to introduce this delightful meal.
To close out our last Trip Day of the First Session, Junior and Middle Campers visited Howe Caverns, a cave that is nearly 6 million years old. Campers received an in-depth tour of the cave with a boat ride. Upper Camp relaxed at the cinema where they had the option of seeing Incredibles 2, Ocean's 8, or Jurassic World: Fallen Kingdom and then had a short walk-about where they got to visit local eateries for an afternoon snack.
Huge shoutout to the Senior 4 Girls for winning this week's Cleanliness Cup. Keep up the good work, Ladies!
The cast and crew of the summer's first-session production, Mulan, put on a fantastic and heart-filled performance Wednesday night. Snipped front the show will be performed by the cast on Visiting Day morning.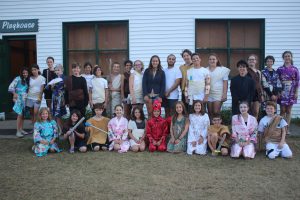 The 3-year shirts and 5-year blankets were handed out by Matt and Paul in a very special ceremony at lineup this week to honor those campers and staff members who are currently spending their 3rd or 5th summer at camp this year.
Celebrate good times come on! On Thursday we held our fabulous "Celebration" where the whole camp gathered in the Playhouse for the ultimate dance party. The festivities didn't stop in the Playhouse because after "Celebration" was over everyone moved to the Dining Hall for a post Celebration snack. Cookies, ice cream, chips, and more sweet treats were deliciously devoured.
We had a very exciting Cultural trip this week. Some of the campers went to the Jacob's Pillow Dance Festival to see the Cie Art Move Concept, where performers did a series of hip-hop dances.
We also had a plethora of adventure and intercamp trips this week. The golf team took several campers to Evergreen Country Club to get an opportunity to play on a full 18-hole course. We had our first Mountain Biking Trip at the Albany Pine Bush Reserve Park where campers biked through official Mountain Biking Trails. We took two trips to Crab Apple Whitewater this week to go Funyaking and Whitewater rafting, where campers had an incredible time soaring through the rapids. Finally, we once again participated in many intercamps this week in basketball, soccer, and baseball at various camps such as Scatico, Mah-Kee-Nac, and Pontiac. We additionally had an intense co-ed chess intercamp at Scatico, which was very exciting.
Due to popular demand, the Foodie Focus Group is back for another summer. Each summer Matt hosts regular 'Foodie Focus Groups' where campers have the opportunity to sit down with him to talk about everything to do with meals here at camp. Participants included campers from every division – Junior Camp all the way up to our Leadership Trainees, and the meeting involved a lively culinary discussion about what our campers want to see on the menu in the future. No need to worry, Chicken McSchodack still remains a firm favorite amongst campers and staff.
Tonight is the second leg of Triple Crown, Lip Sync. We can't wait to see what each bunk has prepared for this special event.
Division Spotlights of the Week:
Mic Macs: The Mic Macs have had such an exciting 3rd week of camp. Monday was Pirates and Princess day for our division.  During gymnastics and archery periods, all the campers collected dozens of treasure chests.  All the treasure was then brought to the pool for an all Mic Mac special pool period.  In small groups of Mic Mac Boys and Girls, we made rafts out of cardboard, noodles, and tape.  Then each camper had to float on the raft with some treasure across the "ocean" to get the treasure to the Princess on her island.  Once all the treasure was successfully transported on the rafts, the Princess thanked the Mic Macs with an ICE CREAM PARTY.  We can't wait to see all our parents tomorrow! – Allison
Junior Boys: Time sure flies. It seems like just yesterday the buses were pulling in and we were meeting our new juniors boyz and reuniting with our returners. What an incredible first half we've had! Horseback riding, scho-karting, mountain biking, zip lining, ultra-leagues, the Golden Bow, hot days spent dancing in sprinklers and sliding down the waterslide, a movie night at camp with cookies and a trip day at the cinema with popcorn, Howe Caverns and Schodack Park, waterskiing, swimming, and fishing at our lake, three Fire Circles, 2-Day Tribals, a Carnival and a Talent Show… and just this week we had an amazing Pirate Day where the entire division dressed up and played at the lake as pirates! The Junior Boyz have had such an incredible time and I couldn't be prouder of their amiability, energy, and spirit. In only three weeks they have made bonds with friends to last a lifetime and benefited from extraordinary experiences you can find nowhere else. We're going to miss our friends who are leaving Saturday, so so so so so much! Luckily, we still have another session with far more on the agenda—Summer 2018 ain't over yet – Berg
Junior Girls: 
My favorite part of this week has been…
"Gymnastics because I learned how to do a back bend kick over!"
"Spending it with Lauren GL and Maria DH."
"Seeing the slideshow and awards." 
"I loved Trip Day it was fun. It was cold in the cave and I love the cold!"
"I loved the lunch ride at horseback because we went through the woods and it was pretty."
"The play, water slide and cook out!"
"Lake was so much fun!"
"Practicing lip sync."
"The horseback lunch ride was fun! The counselors and horses are nice."
"Making up the show dance for the basketball game."
"I loved meeting new camp people at the intercamp."
"I loved horseback, I got to trot!"
This week has been amazing with Junior Girls! Thank you all for being the sunshine to our days – Maria
Middle Boys: It was another fantastic week for the Middle Boys here at Schodack. It began with 2-Day Tribals finally breaking Friday night and the reveal of the new Camp logos! After the hatchet was put into the wood, we all went to the amphitheater where Max Walker, one of the GLs for our very own Menominee Boys, was named General! The next two days brought awesome amounts of energy, friendly competition, and Tribals spirit. After Rope Burning, the final event of 2-Day Tribals, the Middle Boys slowed it down with cookies and some stories on the Old Basketball Court. On Tuesday we took a trip underground at Howe Caverns, and Wednesday we played a division-wide game of capture the flag across half of Camp! With Celebration Thursday night, Lip Sync on Friday, and Visiting Day on Saturday, there's still a lot left to look forward to here in the 12123! – Kaish
Middle Girls: What an amazing week it has been for the Middle Girls! Whether weaving baskets at the art shack, getting in some extra time down at the lake, or killing it at cross fit, the girls have been taking advantage of everything that camp has to offer to wrap up first session. A highlight of the past week was, of course, two day tribals- it was such a joy to watch all of the girls cheering on their teammates and giving their all at their favorite tribals events. The Lumbee Girls were especially thrilled when their GL Rachel Wolk was chosen to lead the white team as general, and even found the hatchet during hatchet hunt! The two days truly encompassed everything that camp is all about.It is hard to believe that first session is already coming to an end. It has been so amazing getting to know all of these kind, mature, hilarious girls, and watching them thrive at their favorite place. I can't wait to see what second session has in store. – Halle
Senior Boys: Heeeeeyyyy, looks like it's time for another check in Schodack Family. Can't believe the First Session is winding down, time really does fly. This week has for sure felt like a blur with everything that went down. Friday afternoon in Senior Camp we held the First Annual Senior Camp Splurge, an event that consisted of a division-wide 2.5 hour game of assassin paired with various activities and a few catches. Once again, congratulations to Jack Cohen and Quinn Sclafani, our winners. Friday's excitement didn't stop there as 2-day Tribals broke that night. The boys competed hard on Saturday and Sunday and helped to spread Tribals spirit all over camp. Now it can be tempting to think about how close we are to the end of July Session and get sad but there's still so much to look forward to. Lip Sync is right on the horizon and the Seniors have been doing some serious prep. It's sure to be an awesome night and I can't wait. Until next time… – Uncle Ro
Senior Girls: It's just wild that the first session has nearly finished, but the Senior Girls are enjoying every minute to its fullest! Last Friday, all of Senior Camp took the afternoon off to participate in The Splurge, a massive game of tag crossed with team sports. To celebrate a great game, we had chicken fingers and French Fries from My Place Tuesday night! Saturday and Sunday we played hard during 2-Day Tribals, with the girls participating in their first game of the iconic activity Water Basketball. Monday night, the Senior Girls played Ask Me Another, quiz games based on real-world and camp trivia. After dozens of rounds of intense competition, the Senior 1 Girls came out on top and won an IOU from me! Tomorrow night we'll finish out the session with Lip Sync, and Senior Girls are bringing their A-game. I'm psyched to see the girls take on the CITs and Waiters and give the performance their all! Looking forward to seeing so many smiling faces on Visiting Day! – Shira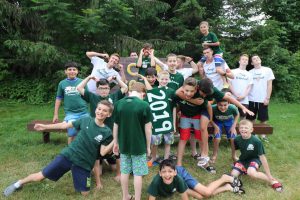 We can't wait to see all of you tomorrow on Visiting Day. Here is your go-to guide on how to make the most of this special day (see schedule at arrival for times):
Upon Arrival:
Be ready to join us for the Annual Countdown, when parents and campers line up on opposite side of the flagpole and "count down" the last ten seconds to 10 am when Visiting Day begins! It's a sight to behold. Counselors will all be on hand to make sure all families and campers find each other at the end of the countdown!
Activities and things to do and check out around camp:
– Meet your camper's counselors! The staff members cannot wait to meet all you and show you around the bunk.
– Join us for a parent-camper "2- Ball Tournament" on the Main Basketball court.
– Try some delicious snacks and desserts at the Cooking Demonstration brought to you by the Outdoor Cooking Counselors. See (and taste!) what your campers make at Outdoor Cooking during various Camper Choice periods.
– Participate in Parent/Child pick-up games at soccer, basketball, hockey, and softball throughout the day.
– It's going to be hot, so don't forget your bathing suit and take a dip in the pool with your camper(s).
– Other activities for you and your family to participate in include the Zip Line, Climbing Tower, Arts and Crafts, Archery, Water Slide, and Tennis.
– We serve a delicious buffet lunch for everyone in our Dining Hall – please join us!
What you should expect throughout the day:
– Happy campers for starters. The campers have been eagerly anticipating your arrival and are super excited to show you guys their second home. Campers will definitely be filled with high energy, so be ready to follow them around as they show you their favorite activities, places, and people around camp.
– An abundance of activities awaits you. Schedules will be available when you arrive.
Things to ask your camper(s):
– Ask your child to take you on a tour of camp. They are the experts of this magnificent place and we want all of you guys to see every aspect of it.
– Talk to them about bunk life and their counselors. Meet your camper's bunkmates because these kids will likely be your child's friends for life.
– Ask them about their favorite activities and if they have tried anything new. At Schodack, we strive to have campers try new activities so go around to the activities open during Visiting Day, so your child can show you their new skills.
– Find out about the trips your child has been on including weekly Trip Days and the optional Adventure and Cultural trips.  Every week we have multiple out-of-camp trips options,  ranging from biking to whitewater rafting to hip hop dance performances, and we encourage campers to expand their horizons and try new things.
We also have a very special treat in store for everyone tomorrow. To accompany our delicious buffet, we are bringing back the ORIGINAL Chipwich. Yes, this is very exciting news:
Matt's brother-in-law, David, has been in the food industry for years and just took on the exciting project of reviving the Original Chipwich brand. Ice-cream cookie sandwiches have always been one of the most popular desserts served at Schodack, so David decided to come hand out free Chipwiches to everyone on Visiting Day! That's right…Chipwich's for everyone!!!!! Keep an eye out for his table near the office!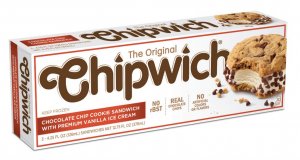 And finally here is a copy of today's Schodack Scoop. Enjoy!