Welcome everyone to the start of Session 2. For all you Full Session families we hope you had a fabulous Visiting Day! We enjoyed seeing all your smiling faces as you reunited with your campers. We would also like to welcome our Second Session families – my name is Izzy Tabs and I will be bringing you these weekly newsletters, updating you about everything that occurs here at Schodack each week.
For starters, we had an incredible Opening Day for our Second Session campers who arrived around 11 in the morning. Straight from the buses, the new campers were brought to their bunks and immediately got into the flow of things by going to activities. After a full day of activities, the whole camp gathered in the Playhouse for the Counselor Show Part 2. We had a wide variety of acts ranging from hilarious skits, dance performances and singing performances, including one from our very own Krouner family who sang "You've Got a Friend in Me." Linda got a whole lotta love from her outstanding performance on the piano. What an incredible way to start off the session!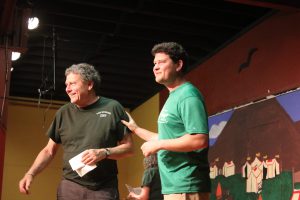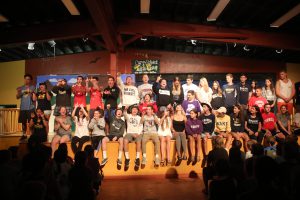 Here are some other noteworthy events to kick off the Second Session:
The LTs had their 3rd Challenge Day of the summer on Monday and it was very, very "cool." Upon wake up, the LTs were welcomed with treats from Dunkin' Donuts to warm up for an exciting day of activities to celebrate the festivities of….Winter Day! After they warmed up, we had a sleigh ride race down the corral hill where each team had to grab a snowball and hit a target. The LTs then made Christmas floats accompanied by members of their respective teams as elves, reindeers, and Santa. The Christmas and winter cheer was spread to the campers when the LTs delivered presents to every bunk in a relay-style package-run extravaganza straight from Santa's workshop. To end off a busy holiday season, the LTs watched Elf with milk and cookies.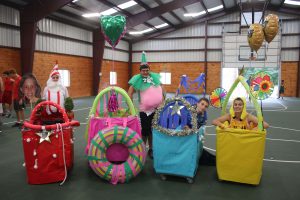 ¡It's a fiesta! On Monday night for our themed meal we enjoyed Tex-Mex cuisine featuring a fusion of American and Mexican foods such as Chicken Enchiladas, Pico de Gallo, Guacamole, Tortilla Chips, and Mexican Rice. To top off this savory and spicy meal, we devoured churros for dessert.   
We had another very fun and exciting Trip Day on Tuesday. Junior/ Middle Camp packed up for a mini beach getaway to Grafton State Park where they spent a day making sand castles, playing beach volleyball and cricket, and swimming in the lake. Doug and his grilling sidekicks even prepared a very special lunch for the campers with hamburgers and hotdogs instead of the classic Trip Day sandwiches. Upper Camp went to Lake George where they visited the local shops and ate some delicious food. Some campers even took on the Holy Grail of Ice Cream Sundaes by eating the Vermonster at Ben and Jerry's. Overall, Trip Day was a fun one, as always.
Abracadabra! Wednesday night we had a special visit from The Extreme Magic of Eric Wilzig who certainly left all of our campers amazed with his unbelievable tricks. From the stage of "America's Got Talent" to our very own Playhouse, Eric read our minds, made people disappear, and shocked us with his very own unique card tricks. It was a night to remember for everyone.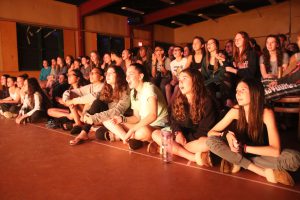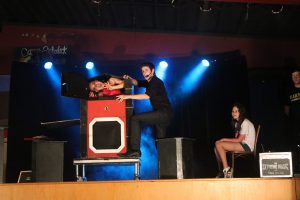 Throughout this whole week we are holding the Soccer Penalty Shootout Contest for every division. The winner will earn their eternal spot in the Book of Records.
The Adventure Team hit the rapids again this week for two special trips to Crab Apple. On Wednesday we went whitewater kayaking and on Friday we went white water rafting. They also took a group of campers to an overnight to Lake Shaftsbury, VT to enjoy the company of nature while making delicious s'mores.
For the second time this summer, a group of campers went to MASS MoCA, The Massachusetts Museum of Contemporary Art, to explore some of the most lively and evocative art in the United States.
The time is finally here for campers to challenge their counselors in the ultimate tennis battle of the summer. Today we have our Canadian Doubles Tennis Tournament where 2 campers will play against 1 counselor to see who will come out on top.
Huge shoutout to our 5th grade boys who played an awesome game of hockey at Camp Pontiac this week. Today we are wishing our 7th grade boys good luck as they head back to Pontiac for a basketball tournament.
We have a very exciting weekend ahead of us. We can't wait to see some of you alumni families tomorrow for Alumni Day! Additionally, we are holding our second Rookie Day of the summer followed by the LT Carnival.
Here are the Division Spotlights of the week:
Mic Mac: First week of the second session and the Mic Macs are enjoying every second of it.  The craziness of the first day was amazing. We did tons of name games with our new friends and showed them all around camp.  During Camper Choice we did the second game of Camper's Choice Bingo. Some groups were able to complete the whole board which was so exciting!  On Monday night we had our very first bonfire as a whole division. Storytime and s'mores; nothing better than that. Tuesday was our trip day to Grafton State Park.  Hanging out there was a blast. The BBQ for lunch was perfect. Can't wait for another fun week of activities! – Allison
Junior Boys:  On Sunday our second session campers arrived to beautiful weather and a cheering crowd. After name games, welcoming them into the Junior Boyz Squad, we went to the Junior Camp Playground for a basketball game and taught gaga to our new arrivals who didn't know how to play. Campers Choice Bingo was a big hit, with plenty of junior boys running around camp to try and fill up their boards with all the different activities. Monday morning we had lake, our choice of fishing, knee-boarding, waterskiing, or wakeboarding. On Tuesday we went to Grafton Lake State Park, which has a sandy beach for activities and a picnic area where we barbecued hamburgers and hotdogs. An incredible magician performed on Wednesday night—Jake Ackerman of the Chippewa Boys went on stage as a volunteer for one of the tricks; a twenty-dollar bill vanished and appeared inside a lemon. What a stunning performance! Our new arrivals have added an extra dose of spirit to an already amazing summer. – Berg
Junior Girls: We had a beautiful day at the beach on Tuesday!! We played in the sun, had a cook out and dipped our feet in the water. Junior girls are in great spirits having had a big kiss from the sun! We played a big game of Aye aye captain where all the Juniors pretended to be Pirates! The week has been great so far and the counselors have had a blast with all their Junior girls, can't wait for more fun in the sun! – Maria
Middle Boys: It's hard to believe it, but the second session is already well underway! While we're sad to see all of our first session friends go last Saturday on Visiting Day, we were so excited when the buses rolled up on Sunday with our new friends to begin the second half of the summer! Everyone jumped right into it on Monday at activities, with awesome displays of enthusiasm and spirit in everything from volleyball to the pool. On Tuesday we took a beach day with a trip to Grafton Lake! We spent the afternoon relaxing and playing beach games, and we also enjoyed a BBQ made by our very own Doug Herbst and Drew Gumins. Despite the rain over the past couple days, the middle boys' spirits cannot be dampened, and we can't wait for what the rest of the summer will bring!  – Kaish
Middle Girls: It is hard to believe that we are already into second session, and what an amazing week it has been! The tone was immediately set as the campers gathered to welcome the second session campers off the bus; it was truly incredible to see the girls greeting their new bunkmates with hugs and smiles as they ran onto camp! From there, the seamless transition into second session continued with brand new bunk rules, lots of fun bonding games, and the first days of normal activities! The girls also began Middle Girls Hush Buddies, with each of the girls giving and receiving anonymous gifts and clues. Second session has already been a blast, and I can't wait for what the rest of the summer has in store. – Halle
Senior Boys: Schodack Family! I hope everyone's doing well. The start of the Second Session has brought of wave of excitement and joy all over camp. Everyone from myself, to the staff, to the campers have been revitalized after being reunited and or meeting all the 2nd Session campers. The session started off with a bang with our second counselor show that night. The boys let me know how much they enjoyed seeing me up on the stage yelling "Let's Go Orange!" during Staff Classmates. The following day was bit rainy but that turned into some great bonding time in the bunks and out on the quad. During that time the boys were great about integrating the new arrivals into the fold. The following day we had a great trip out to Lake George. We had some great food, saw some beautiful views and the brave amongst conquered the legendary Ben and Jerry's Vermonster. All in all it's been a good week but I expect things to get even better and we really start to settle into this session. Until next time…- Uncle Ro
Senior Girls: Welcoming all of our second session campers brightened up a pretty stormy week weather-wise, and we're back in full swing with activities! Tuesday, the Senior Girls traveled to Lake George for Trip Day, braving the rain to snack on food and shop along the lakeside. Wednesday we were treated to a magnificent magic show and cookies in the evening, and Thursday evening we enjoyed smores out at our Senior Girls Bonfire Pit, featuring music, games, and a sing-a-long! Coming up this week are a few special activities: Senior Girls movie night with popcorn, a debate night and ice cream party, and a special Senior Girls afternoon (featuring some classic camp activities)! We're warding off the rain with our positive mental attitude and endless excitement for all things camp! – Shira
Here is a copy of today's Schodack Scoop and some pictures from this week: