Weekly Video Round-Up: 
__________
It's been another amazing week here at Schodack. So sit back and relax as we update you on everything that has taken place over the past 7 days, including Tribals breaking and the end of the first session festivities; as well as a "How-to" guide with tips for enjoying Visiting Day at camp!
We had our weekly Theme Dinner where the Dining Hall was transformed into the Mediterranean.  We featured a fantastic menu cooked up by the Camp chefs that featured spanakopita, rice pilaf and chicken skewers with a delicious greek yogurt for dessert. These meals are always a highlight and only get better as the summer goes on!
On Friday after last weeks newsletter was sent out, we had our 4th Fire Circle of 2019. The bunk chosen to lead the proceedings was the Wichita Girls. They spoke to the whole Camp about this weeks' theme, Optimism. The girls shared their thoughts on optimism before everyone sang  'Keep Your Head Up' by Andy Grammer. Following a great rendition of the song, Paul told one of the most famous of all his stories, the origins of the Playhouse (and the Pen Factory that it used to be).  The classics truly are the best!

__________

Tribals
Later on Friday evening the familiar sound of firecrackers exploded in the air and everyone knew that Tribals was coming…in an incredibly intricate and entertaining series of fakes and misadventures, our Head Staff each took on the persona of Schokémon (ala Pokémon) characters and acted out elaborate skits to delight the camp. Without making your head swirl with too many details….The (bad) Team Rocket tried to take Tribals away by capturing all the Schokémon. Fortunately, Josh Baker as the Head Trainer was able to get all the Schokémon and Tribals back for the camp. Ask your child about the cards they had to collect and the special night snack during the break…it was lots of fun.
Here are some of the great pictures that Milton Photo took from 2-Day Tribals including our newly designed Rope Burning!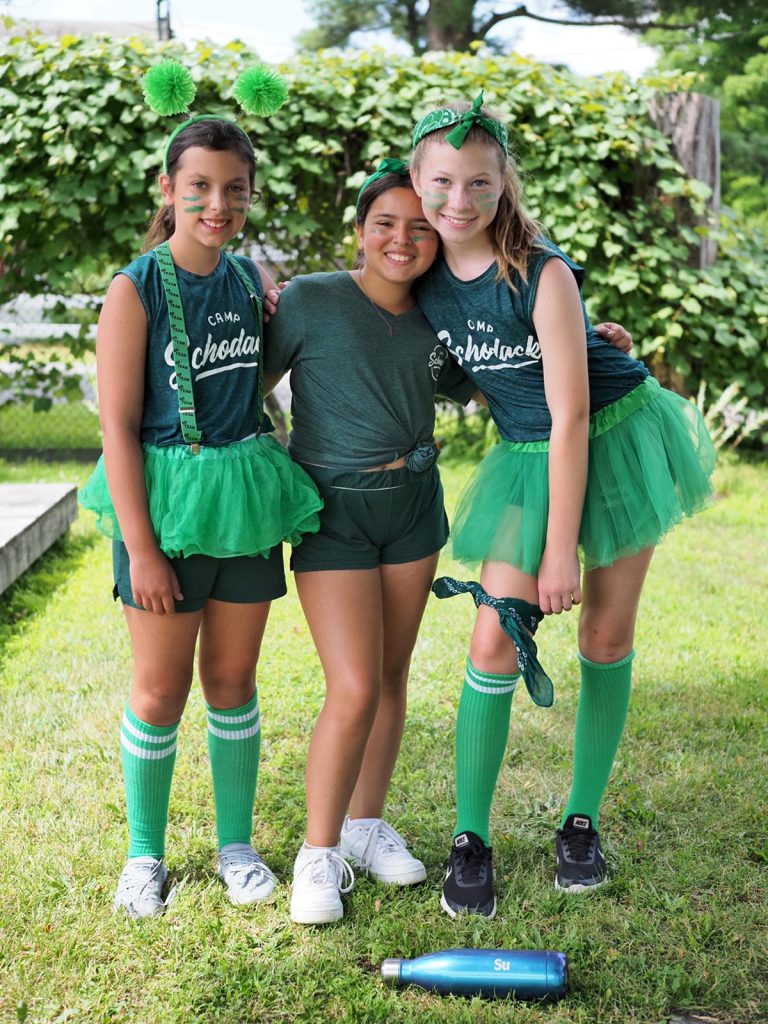 __________
Tuesday was Trip Day! This week campers took turns going bowling and heading to the movie theater to watch 'Secret Life of Pets 2', 'Toy Story 4' or 'Spiderman – Far From Home'.
This week we held our first musical production of the summer, Aladdin, and the cast and crew put on a fantastic and heart-filled performance Wednesday night. Check out the whole cast posing for a photo before the show and also some photos of the performance.



On Thursday we held our fabulous "Celebration" where the whole camp gathered in the Playhouse and Dining Hall for the ultimate dance party. And as you are reading this, the entire camp is gathering for the second leg of the 2019 Triple Crown, also known as Lip Sync!
__________
Sport and Activity Highlights of the Week
In addition to the normal bunk schedules, we had a lot of off-camp trips, inter-camps and other amazing activities.
This week included:
A Dance Recital with our very own Abi Dance
An amazing trip to Albany Pine Reserve where campers went Mountain Biking. 
Golf Trip to Mill Road Acre Golf Club
Not one, but two incredible white water trips on the Deerfield Riverfeaturing rafting and kayaking
The Junior Camp Boys held an overnight campout in our very own private woods
The 7th Grade Boys had a Basketball Intercamp at Camp Winadu
Yoga sessions hosted in the Rec Hall where campers got to meditate
Many more Ultra Leagues matches took place this past week with the playoffs getting ever closer
And last but by no means least, our fantastic Horseback Riding team took out Lunch Rides, where campers and staff got to pack a picnic and ride off into the trails that criss-cross the 60 acres of woodlands around Camp
__________
Division Highlights
Junior Boys
The Junior Boys have had the best week yet! This week, we started off with an amazing bowling and movie trip day! Half of us saw Toy Story 4, and the other half say Secret Life of Pets 2. With our stomachs full of popcorn and sweets, we headed back to camp for no camp-shirt day on Wednesday! Simone came down to lake with us on Wednesday too, and watched both the Aztec and Abenaki boys all fish together.
Later this week, we also made the coolest tie-dye shirts and we cannot wait to show you them on Visiting Day! And after a fun-packed week, the Abenaki Boys led fire circle, and their theme was resilience. They did an amazing job! We can't wait to see you all on Visiting Day this weekend and tell you about all of the fun we have been having! Simone
Junior Girls
Another week in paradise here at camp! Friday started off as a normal day and ended with the break of 2019 2-Day Tribals!! The Abenaki's own Elicia GL was chosen as one of the four Generals to lead the camp through 2-Day Tribals! The Aztenaki's cheered their way through 5 activity periods – favorites included Newcomb, Steal the Bacon and Gaga and we loved the thrilling rope burning and hatchet hunt!
The following afternoon, the Junior and Super Junior Girls participated in the inaugural "Great Schodack Bakeoff". We baked and decorated cakes, attempted instant ice cream and decorated aprons in a fun-filled afternoon!
Tuesday's trip to a movie (Secret Life of Pets or Toy Story 4) saw us stocking up on popcorn and candy and enjoying a nice couple of hours in the cool movie theatre! Followed by bowling which was tons of fun!
The girls in Aladdin were busy preparing and rehearsing and did a fantastic job performing for the whole camp! We are busy filling our last days of the first session with Lip Sync practice, activities and bunk time and can't wait for Visiting Day!!! Ella
__________
Super Junior Boys
Another awesome week was had by the greatest division of all time! The Super Junior Boys have been on a fun streak lately, preparing for Lip-Sync tonight, activities, and more!
The Fox Boys had quite the week, with tribals being a major high! The bunk participated with spirit and energy for all their activities, with a little extra motivation as their group leader Luke Berry was named general for 2-day tribals! The boys participated in classic camp events such as the dashes, the medleys, and bucket brigade, where they fill up a trash can with water as fast as they can and then douse the generals!
The Erie Boys had a great period of soccer this week, playing a game called "Empty the net", courtesy of Nyack Boys CAIL Joe Pygall! The game Joe created starts with one ball in play and three balls in each net, and each goal you score you get to take out a ball of your net, with the goal being to empty out your net, so there are tons of soccer balls in play! The Erie Boys have also been hard at work for their Lip-Sync coming up, hoping to place in the top 3!
The Mohawk Boys had an awesome time on trip day, going bowling and seeing the latest version of Toy Story! The boys were killing it on the alley and were in awe of the magic of Disney Pixar! The Mohawks have also been mesmerized by Kaish's (their GL) famous stories before bed as part of their nighttime routine and are gearing up for a creative Lip Sync where they are doing a mash-up of songs.
The Nyack Boys had a great time at Monday's theme dinner, Mediterranean night!  They loved the meal and their favorite part was when they broke theme on the music for a dining hall favorite song, Stacey's Mom.  Another highlight was leading the walk to Fire Circle with Matt and Paul on Thursday night.
The boys laughed, played and made friendships for the summer that will last a lifetime.
Roll SJB – Weiner
__________
Super Junior Girls
We started our final week of the first session with a bang! This weekend we finally saw 2-day Tribals break! We began our night activity with a family fortune style game, which was interrupted by firecrackers. That could only mean one thing, it was time for the break. We ran around camp; each new destination was as fun as the last. Finally, we got to the well for the final Pokémon battle and for the break to finally happen.
All three bunks were split into Green and White, with more spirit than you could ever imagine. The Fox Girls played a thrilling game of Lightning Ball, while we had Mohawk Girls at Steal the Bacon and the Erie girls stunned with some spectacular Gaga. The cheering could be heard all across camp, and all joined in with the fun. All the girls had a blast and were sad when the two days finally ended.
Monday quickly came around which saw the Super Junior and Junior girls team up for a fun afternoon of baking. All the girls were split into eight groups ready to bake the best cakes Schodack had ever seen. The fun didn't stop there, each team came up with their own name and decorated their aprons; finishing off with a spectacular catwalk! We finished the afternoon off with decorating our cakes, we had frosting and sprinkles all in different designs. So much fun was had by campers and counselors alike.
As if Monday wasn't enjoyable enough, our night activity was the first session dance recital. The Super Junior Girl turnout was high. We saw, Abby, Lexi, Sydney, Pretzel, Juliette, Julia, Allison, and the Mohawk Girls take to the stage for wonderfully choreographed dances. The talent within our division was clear to see, and they all performed fabulously.
To end our week, we all watched the amazing play Aladdin. We had another strong showing for the Super Junior Girls, with lots of dancing, costumes, and brilliant facial expressions. Everyone involved did such a good job, we all had so much fun watching. All the girls left the playhouse knowing they'd be back in a few days for the second leg of triple crown…. Lip Sync! All three bunks have been putting so much work into their lip syncs and perfecting them before Friday.
We had another fabulous week here at camp and are really sad that the first session is coming to an end! Jess
__________
Super Seniors
The Super Seniors are astonished that we only have one day until Visiting Day! The first half of the summer flew by in a flash! In the last week, 2-Day Tribals broke, and one of our very own GLs, Nathan Austin, was honored as the Male General of the Seneca Green team! After two glorious days of competition, we returned to our regularly scheduled programming Monday afternoon. 
Tuesday, we had our Super Senior Stay at Camp Trip Day, a special Super Senior tradition that treats us all to experiencing camp by ourselves. With the help of our wonderful LTs, we delivered breakfast in bed to our campers, who were well-rested after a late sleep. In the morning, we played a gigantic game of Scavenger Flag, a cross between 1) scavenger hunt for clues to find 2) the flag for Capture the Flag. The clues were hard, but everyone learned a little bit about camp history in the process. After serious searching, the flag was found in the Amphitheater and raced back to home bases! 
In the afternoon, we enjoyed the water slide and water wars before dinner, which was a special My Place meal of chicken tenders and fries, featuring the famed pepper ranch sauce. After that, we shuffled off to the movies for showings of Spiderman: Far From Home or Toy Story 4!
Thursday afternoon, we prepped for Celebration with our Under the Sea theme before rehearsing for Lip Sync – the SS Boys are going to law school in their rendition of Legally Blonde and the SS Girls are twisting the world upside down with Beetlejuice! The show goes on Friday night, so the results will be fresh on everyone's minds for Visiting Day.
Every day at camp is magical, and we cannot wait to greet everyone on Saturday. See you all then! Aaaaaaaand scene – Shira
__________
Division Spotlight – Middle Camp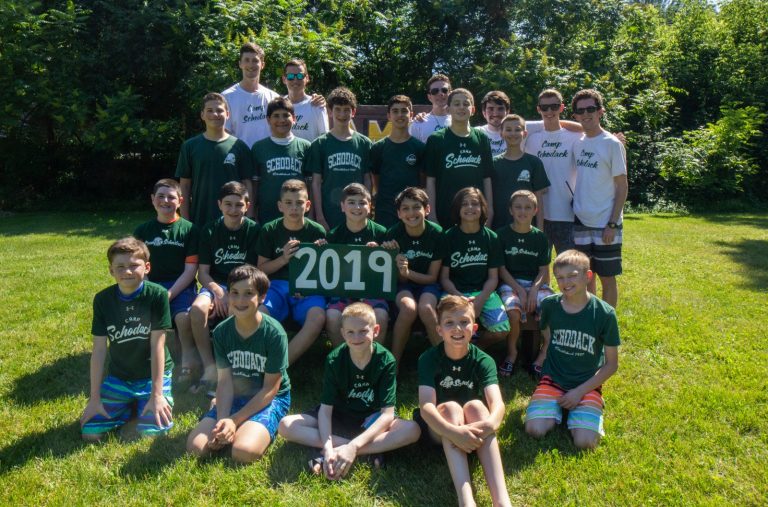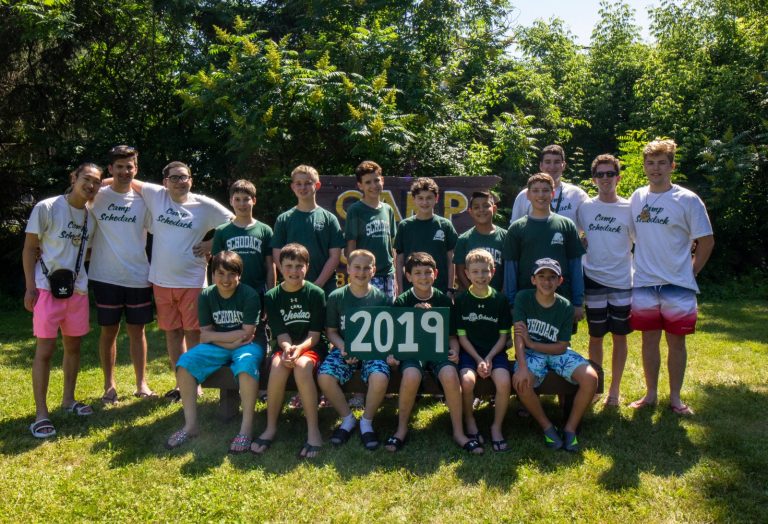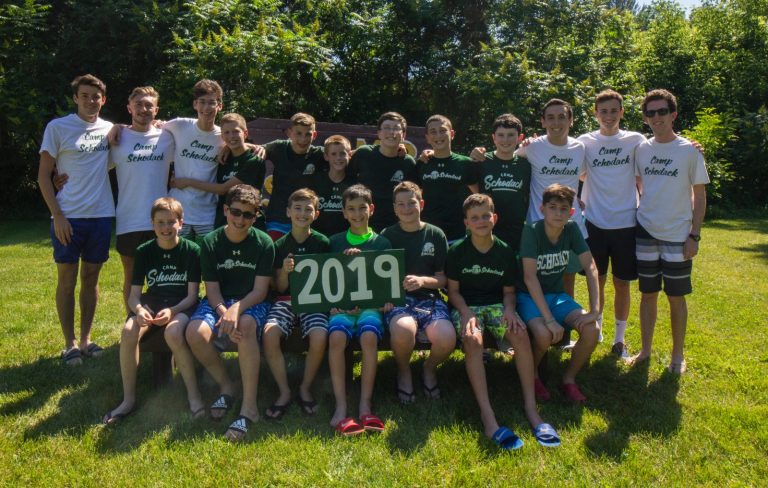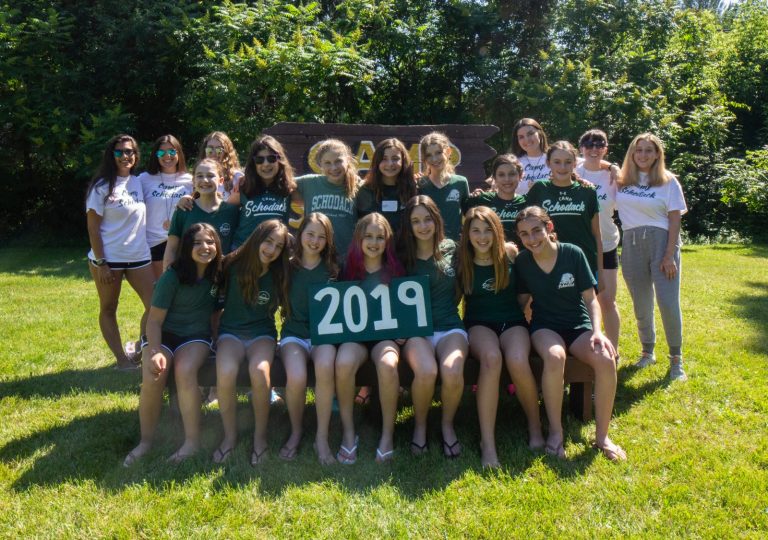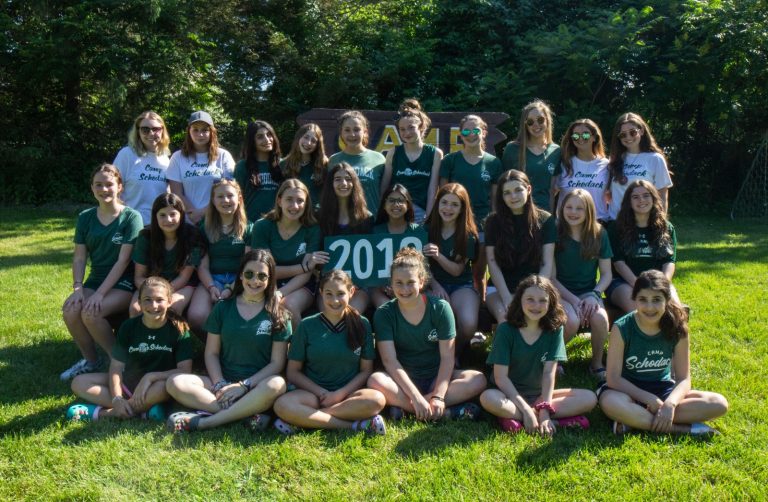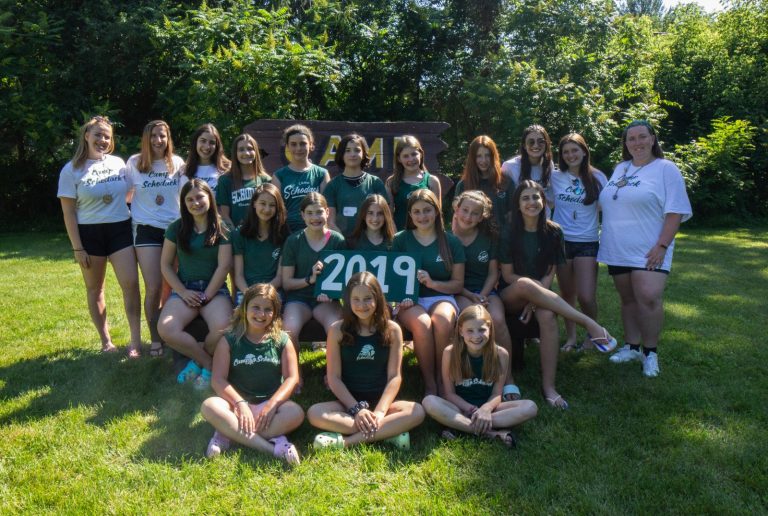 Greetings from Kaish and Grace!
The Middle Division had a thrilling and action-packed week of activities, special events, and surprises! The campers spent the days leading up to the break of Two Day Tribals collecting Schodack Pokemon cards, and some even found the elusive Golden Tugs card. After evolving themselves with the help of a special Pokemon-themed cookie, the campers saw Tribals break with an epic Pokémon battle in The Well on Friday night. Tribals was a lively two days for the Middle Division. Between games of Lightning Ball, Newton's Game (a new addition!) and other activities, the Middle Division showed their team spirit and team sportsmanship.
After finishing our two days of Tribals fun, we surprised the Middle Division with our first Division Day of Summer 2019.
Middle Camp Color Day: A colorful memory
On a sunny summer day at Camp Schodack, the Middle Camp Boys and Girls made their way down to the soccer field in The Well behind old basketball and the pool. They were all wondering why their presence was requested in The Well after an action-packed morning on that beautiful Monday afternoon. They were also curious as to why they were asked to wear only white camp shirts. They soon found out it was in preparation for the first Middle Camp Division Day: Color Day – hosted by the Middle Camp Division Heads. Once the event was announced, the confused looks and scattered whispers turned in to huge smiles and loud laughter and cheers.
After a quick before shot, taken sitting on the wooden bleachers in The Well, the campers were prepped for their rotations at the five different colorful stations and sorted into their groups. The events included a paint slip-n-slide on the side of the Well behind the pool fence. The slide was covered in diluted red, blue, and yellow tempera paint and bubble bath. The campers enjoyed running up the hill, only to fly down the tarp-slide seconds later, their white shirts now wet with suds and colors. The second event was the pool noodle jousting. Pool Noodles were dipped in paint and held in hand to keep the opponent at bay. The event started off in a gladiator-style of one versus one combat, but then turned into a tag team pool noodle war of fun, laughter, and paint! No one was safe.
The third event was a classic water balloon toss – with a colorful twist. Campers lined up with their partner to see who could toss and successfully catch the water balloon the furthest. However, there was a painted twist when the balloon was missed. SPLASH! A paint water balloon splashed the feet of the losing pairs. Once the competition was done, it turned into a full-fledged water balloon fight filled with cheers and laughter. The fourth event was an obstacle course with some color sprayed in! Campers took turns running over and around obstacles to get to the final task of kicking a soccer ball to score a goal. All while being splashed with colored water by counselors!
The final event and probably one of the campers' favorites was the splatter paint your counselor. The campers let loose their inner Jackson Pollocks using paintbrushes and colored sponges to color their counselors in front of a white background. Even the most beloved counselors didn't stay color free for long!
The whole Color Day was full of fun under the sun. There were many painted high fives given and many wet hugs received. Sneak attack paint hugs were also popular. The air was filled with music, soap bubbles from the slip-n-slide, and laughter. Faces were plastered with smiles and smeared with paint and there was a cheerful, and extremely colorful, after picture taken before the campers returned to their bunks to wash up. During night snack and highs of the day, Middle Camp Color Day was a hot topic. All in all, Color day was a fun way to cool down, get messy, be creative and have fun with friends. It was an event enjoyed by all campers and counselors.
Following Color Day, the Middle Campers enjoyed a different change of pace on Trip Day. The campers ventured to the local bowling alley where they bowled a few games and played some of the arcade games present at the bowling alley. Later in the day, they traveled to the local Movie Theater where they had their choice of movies: Toy Story 4, Spiderman Far From Home, and Yesterday. Toy Story 4 was a fan-favorite among the girls while the boys were fans of Spiderman! The Middle Boys and Girls enjoyed tasty popcorn and sweet treats while having an all-around good day!
The Middle Girls had their share of exciting Night Activities of this week. Saturday night we had a surprise Canteen and Star Gazing party on the hockey courts. The girls mingled with other girls from the Middle Division and made new friends under the stars. Monday night half of the girls went to the Dance Recital to support their friends in the younger divisions or perform themselves. The other half elected to do DIY face masks in the rec hall. The facemasks were rejuvenating, and the cucumbers were delicious!
The Ottowa Girls had a silly and fun dance party at 9-square this week as they listened to Footloose and the Jonas Brothers. They also began working on their magical Lip Sync. More to come on this next week!
The Pawnee Girls had a groovy session down at the pool where they created and performed synchronized swimming routines. A few of the girls channeled their inner art critics and took a trip to Mass Moca with their GL!
The Wichita girls also had a fun time in the pool this week doing Synchro Lessons with their CAIL! During Tribals, they had an intense game of knock out as well!
__________
As if Tribals and Special Event afternoon were not enough, the Middle Boys have also been busy traveling off camp on trips and intercamps. On Monday, a number of boys from the division traveled out to Mass MOCA, and then on Wednesday, we had a basketball intercamp and a whitewater kayaking trip.
In addition to all of our special events and trips this week, the Middle Boys have also been busy out at activities around camp. At baseball, the Pawnee Boys honed their throwing skills with several rousing games of pitching knock out, and at lacrosse, the Wichita Boys practiced their cradling and shooting. Meanwhile, down at the lake, the Ottowa Boys perfected their water skiing, wakeboarding, and kneeboarding, as well as relaxed out on the water in small boats (a personal favorite of mine). Also, on Monday night, all of the Middle Boys gathered on the hockey court for the Camp classic, Bombardment.
__________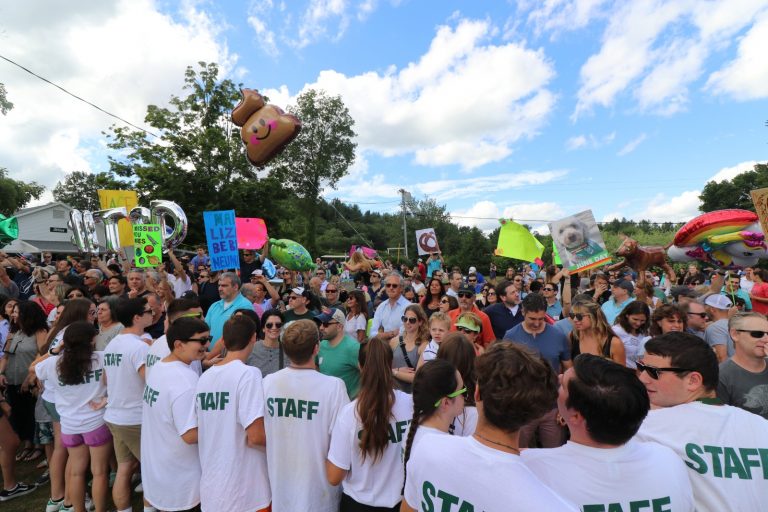 Here is Your 'How-To Guide' for Visiting Day
We can't wait to see all of you tomorrow on Visiting Day. Here is your go-to guide on how to make the most of this special day (see schedule at arrival for times):
Upon Arrival:
Be ready to join us for the Annual Countdown, when parents and campers line up on the opposite side of the flagpole and "count down" the last ten seconds to 10 am when Visiting Day begins! It's a sight to behold. Counselors will all be on hand to make sure all families and campers find each other at the end of the countdown!
Activities and things to do and check out around camp:
Meet your camper's counselors! The staff members cannot wait to meet all you and show you around the bunk. Join us for a parent-camper "2- Ball Tournament" on the Main Basketball court.
Try some delicious snacks and desserts at the Cooking Demonstration brought to you by the Outdoor Cooking Counselors. See (and taste!) what your campers make at Outdoor Cooking during various Camper Choice periods.
Participate in Parent/Child pick-up games at soccer, basketball, hockey, and softball throughout the day, while also being mindful of the heat.
It's going to be hot, so don't forget your bathing suit and take a dip in the pool with your camper(s).
Other activities for you and your family to participate in include the Zip Line, Climbing Tower, Arts and Crafts, Archery, Water Slide, and Tennis.
We serve a delicious buffet lunch for everyone in our Dining Hall – please join us!
What you should expect throughout the day:
Happy campers for starters. The campers have been eagerly anticipating your arrival and are super excited to show you guys their second home. Campers will definitely be filled with high energy, so be ready to follow them around as they show you their favorite activities, places, and people around camp.
An abundance of activities awaits you. Schedules will be available when you arrive.
Things to ask your camper(s):
Ask your child to take you on a tour of camp. They are the experts of this magnificent place and we want all of you guys to see every aspect of it.
Talk to them about bunk life and their counselors. Meet your camper's bunkmates because these kids will likely be your child's friends for life.
Ask them about their favorite activities and if they have tried anything new. At Schodack, we strive to have campers try new activities so go around to the activities open during Visiting Day, so your child can show you their new skills.
 Find out about the trips your child has been on including weekly Trip Days and the optional Adventure and Cultural trips.  Every week we have multiple out-of-camp trips options,  ranging from biking to whitewater rafting to hip hop dance performances, and we encourage campers to expand their horizons and try new things.
__________
Hope you have all enjoyed reading about all the incredible things that took place here over the past 7 days.
We can't wait to see you all at Camp tomorrow!