The Second Session Has Begun!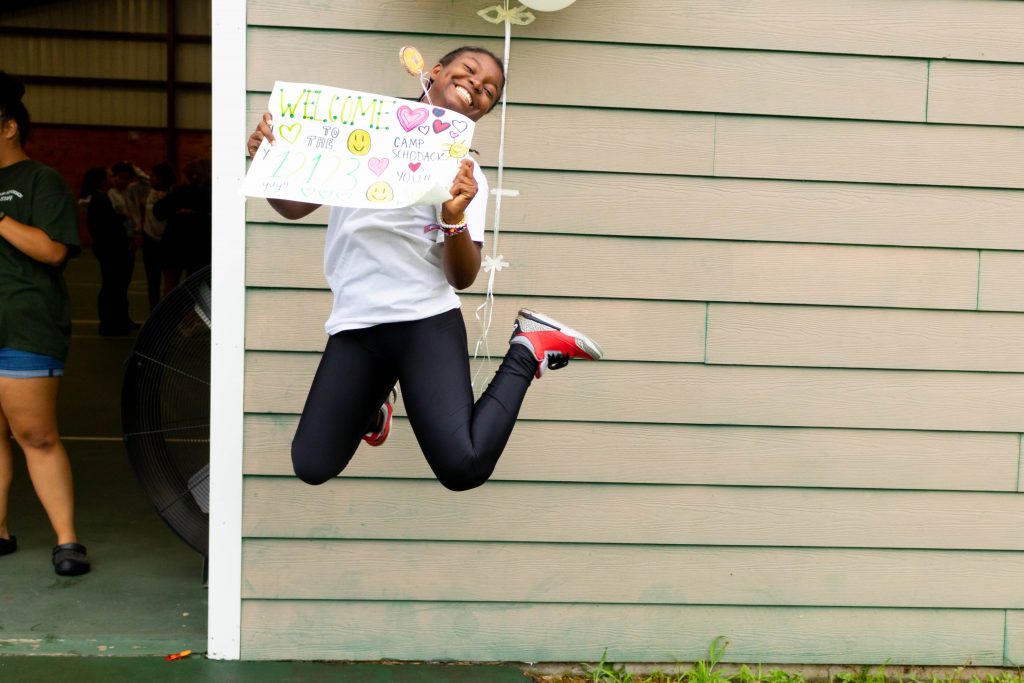 Sooooooo much has happened here in the past week..we welcomed our 2nd Session friends, had unreal special events, massive inflatable slip 'n slides, lots of activities, our Counselor Show, a massive camper/counselor tennis tournament, and lots more!
For all of our new families reading this, welcome to our Weekly Summer Newsletter. Here is where we give you a glimpse into all the amazing things our campers and staff are doing all week here at Schodack. We will post photos and updates from events and activities and share write-ups from our amazing Division Heads on everything your child's division has been up to. In addition, we will do a special 'Spotlight' feature on a different age group every week with extra pictures of all the bunks in that Division.
Finally, we will feature a video round-up of the week that captures the experience here at Schodack, or 'The 12123' as it's known to those of us that call this magical place our summer home.
So sit back and enjoy our latest glimpse at some of the things we have been doing since last Friday!
Special Events
New Campers arrived!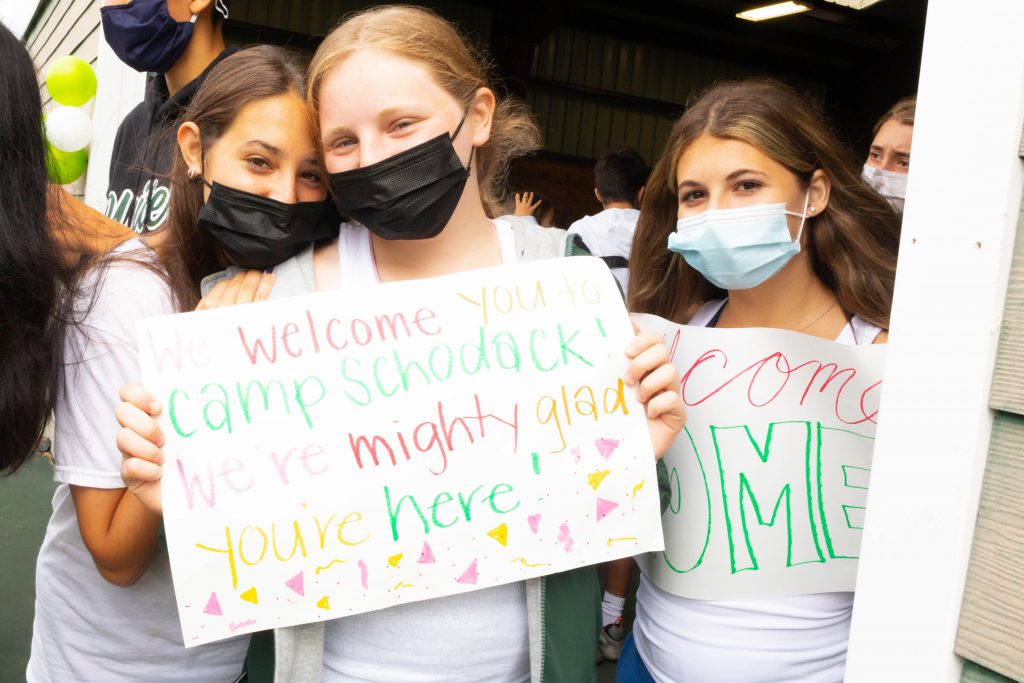 Easily the most exciting event of the week was the arrival of the new campers! Staff and LTs gathered in 'The Garden' to welcome new campers and get them settled in. There were signs, music, and games to be played as the new arrivals met their staff and their bunkmates before heading off to find their bunks and settle in for an afternoon of activities.
Say "Hello!" to some of our Second Session campers! Keep scrolling down to see our special Division Spotlight featuring Junior Camp as well.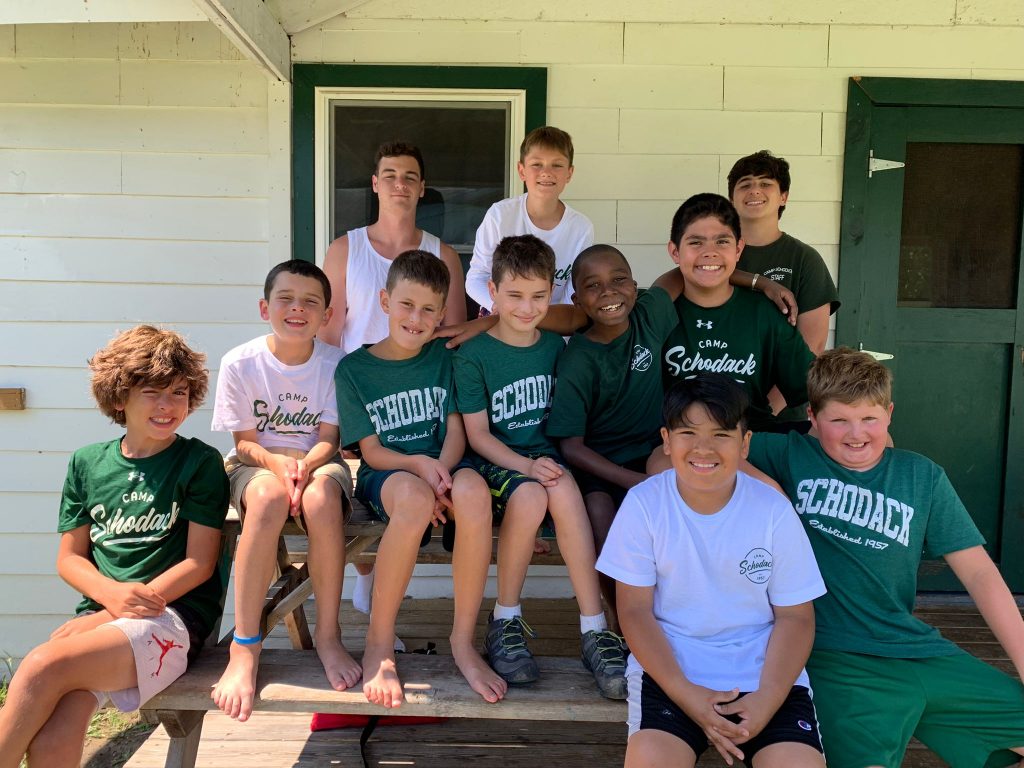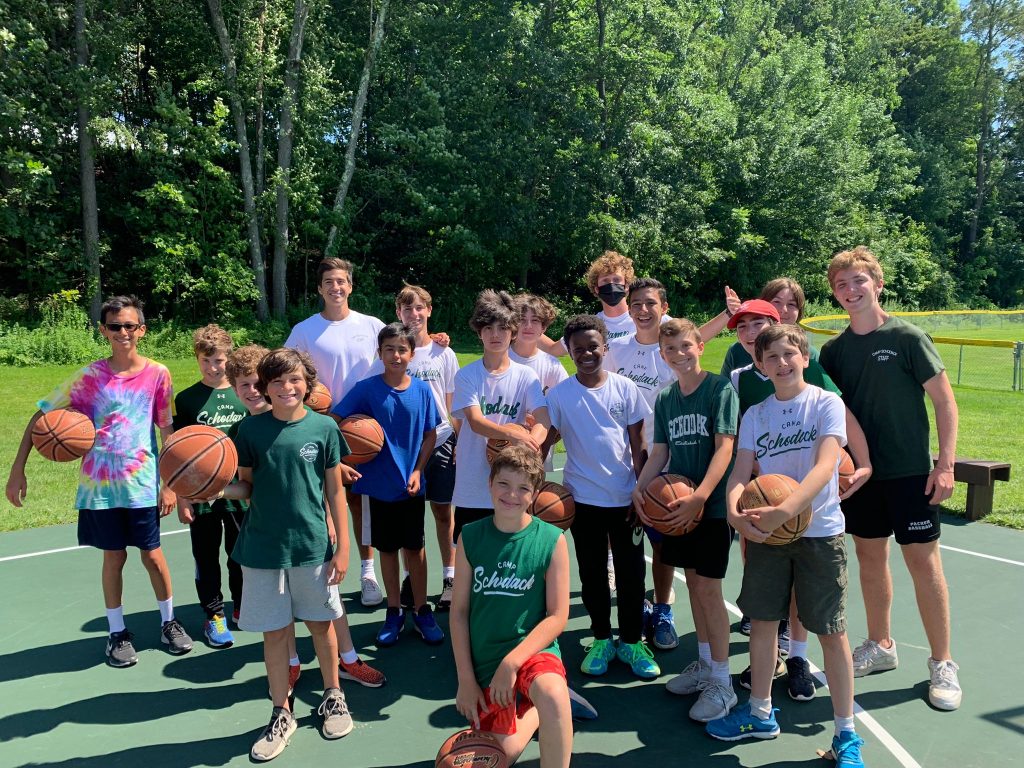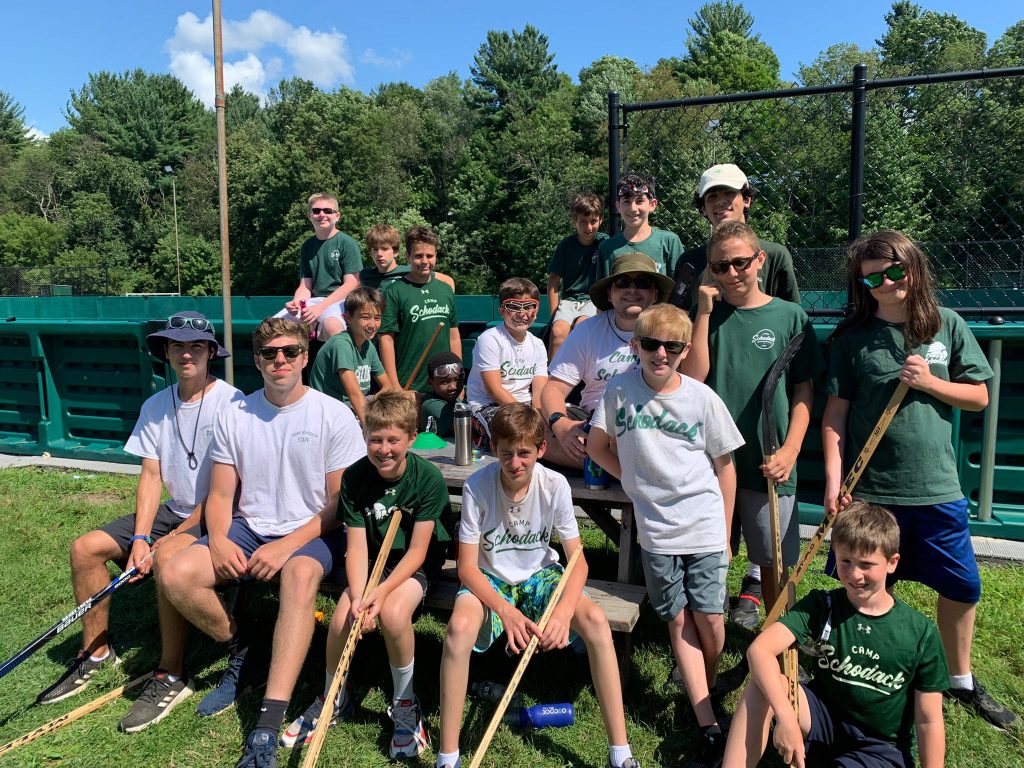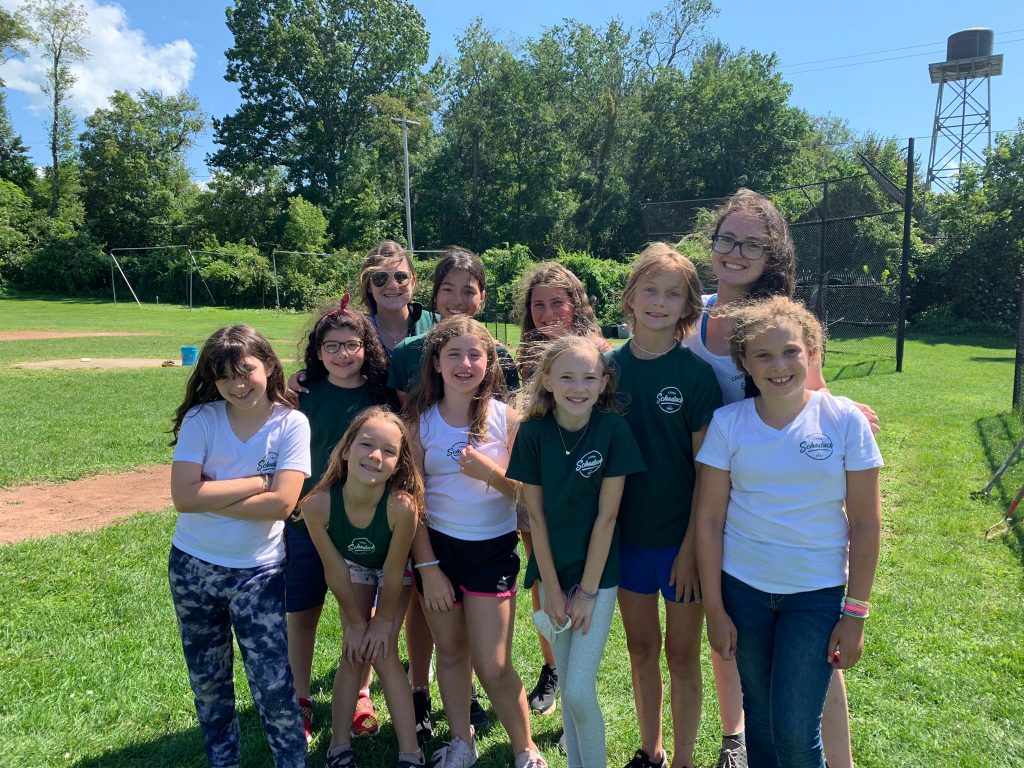 Counselor Show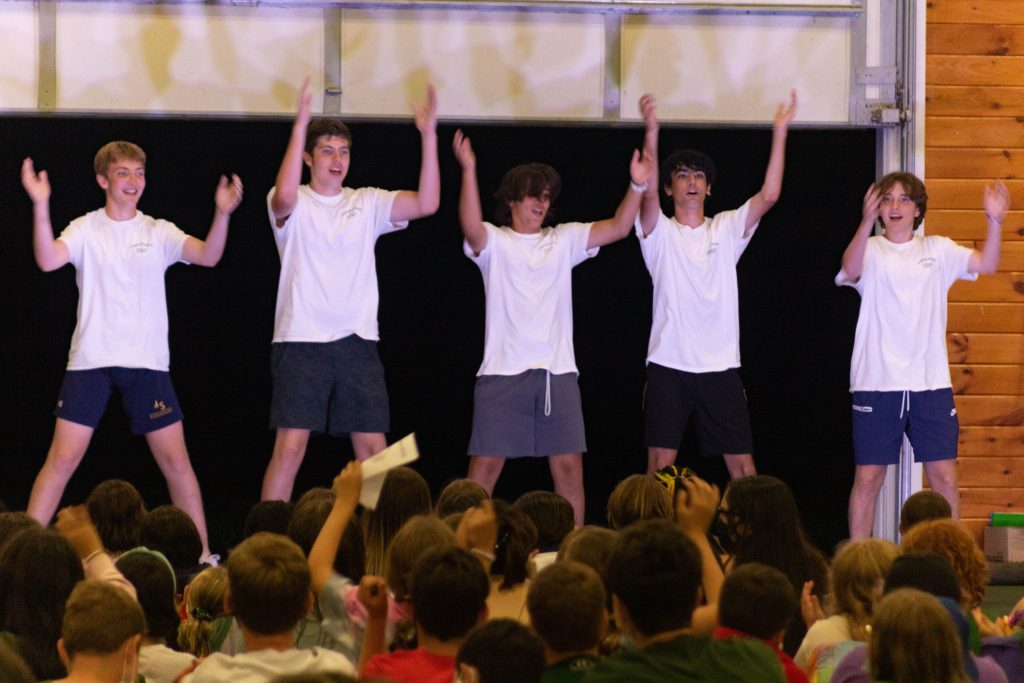 The first night of the second session was crowned with our traditional 'Counselor Show' where staff put on special skits, songs, and dances to entertain the whole camp. A Schodack-themed parody to Olivia Rodrigo's  "Driver's License", My SchoKarts License,  and the classic "Bean Skit" were but two highlights.
Wettest Day Ever!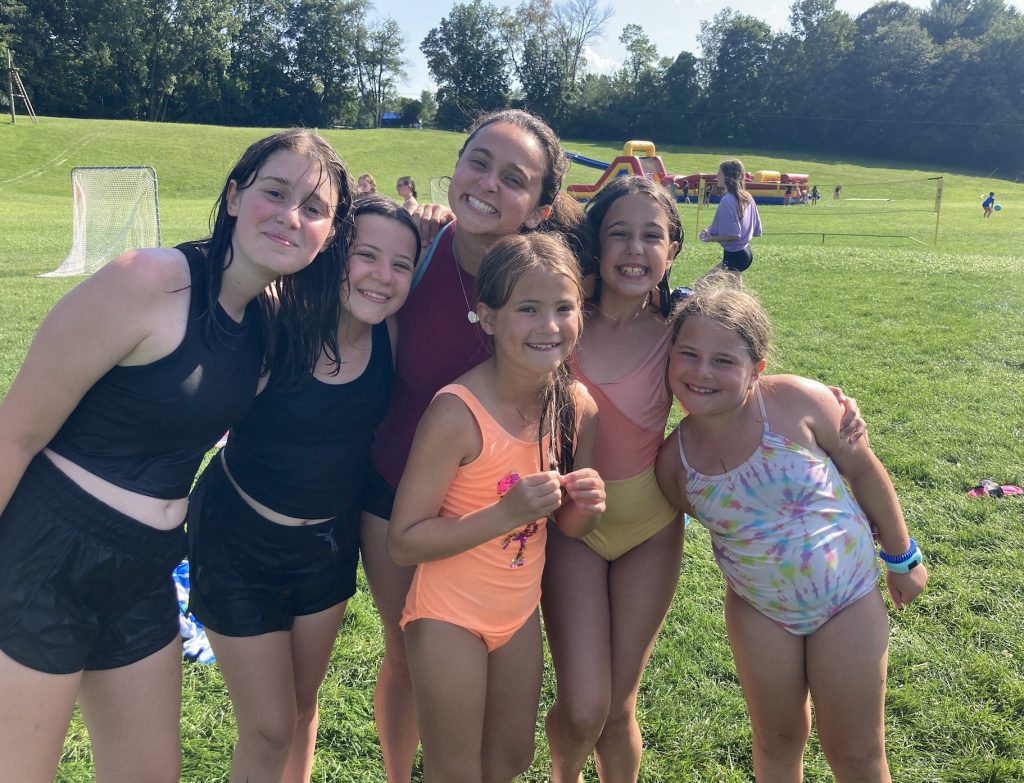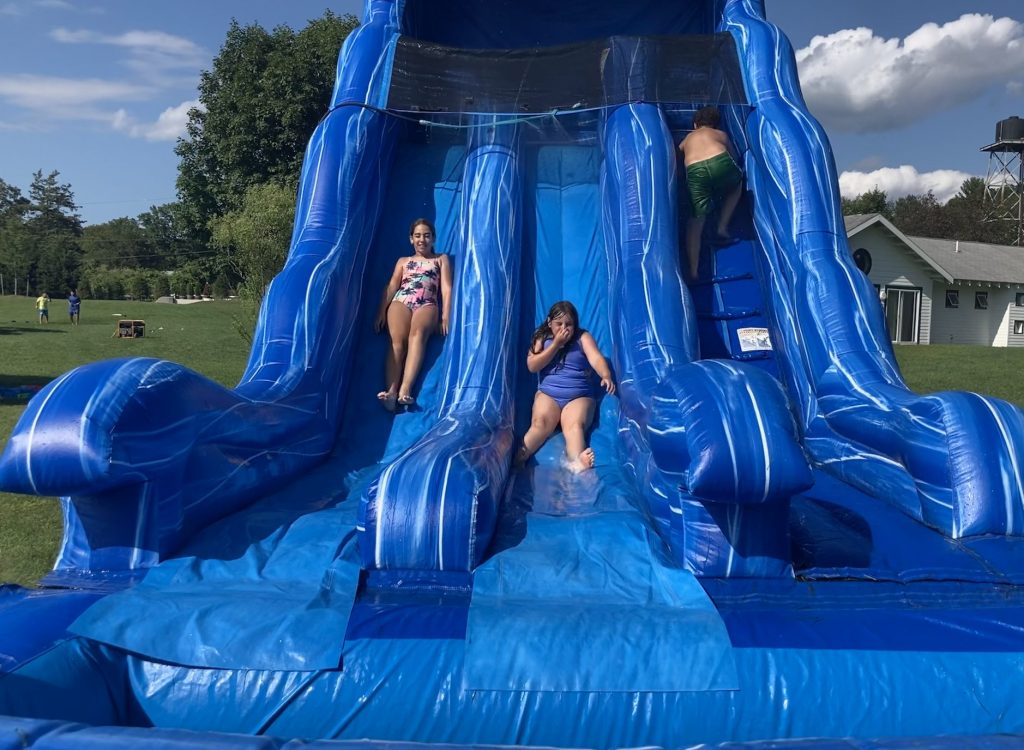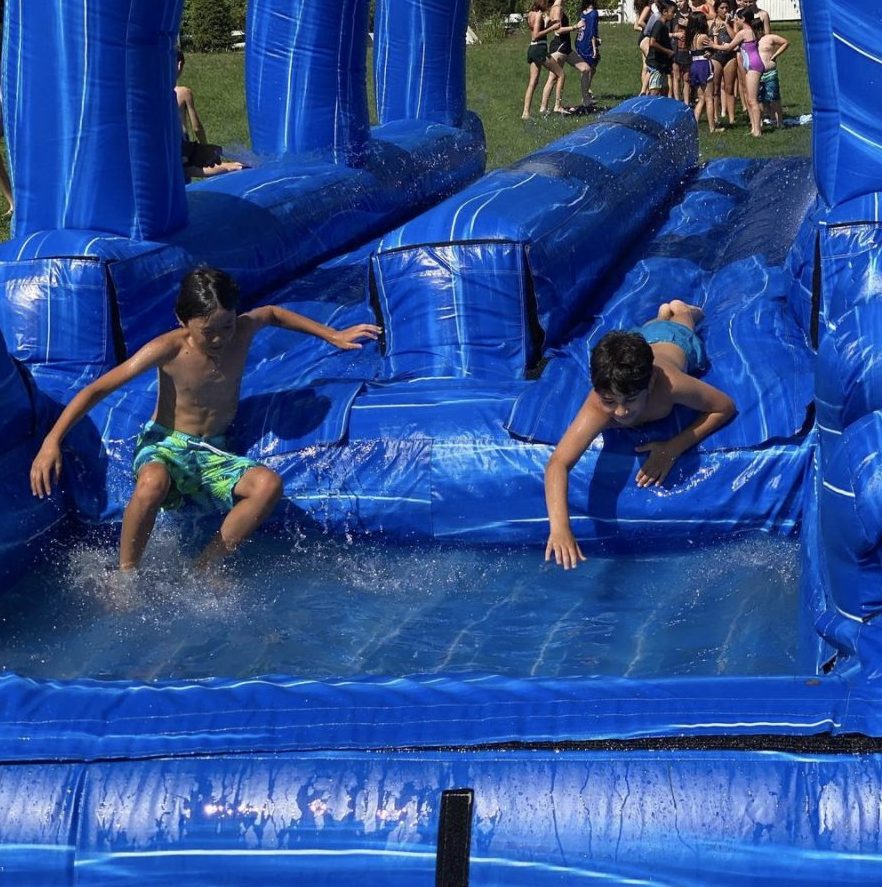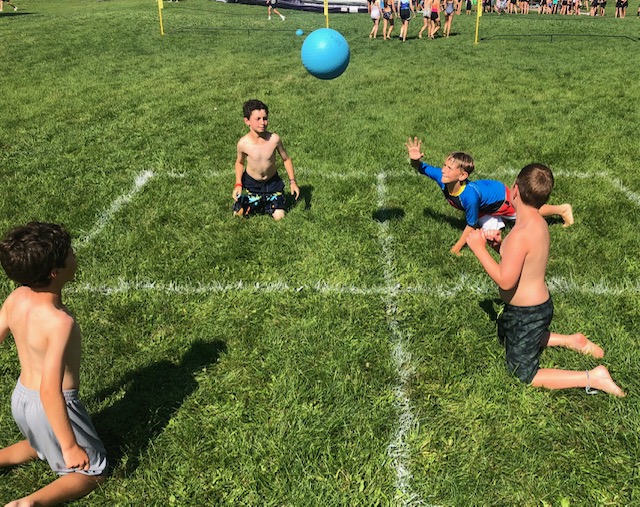 Every week here at Schodack, our highly creative special events team gets to work on hosting incredible events for the whole camp to take part in and this week was the best of the summer yet. There was not one, not two, not even 3…but 4 massive inflatables for the campers to play on as we kicked off 'Wettest Day Ever' on Wednesday.
With a slip'n'slide, two water slides, an inflatable obstacle course, and our own 300-foot water slide, everyone was soon playing in the hot afternoon sun. After all that running around a much-needed sugar fix…a local food truck came in to offer up a spin on a camp favorite by serving deep-fried s'mores and apple pie eggrolls!
Camper/Counselor Tennis Tournament

Thursday saw the annual running of the 'Camper/Counselor Tennis Tournament' where campers and staff were paired together in the hopes to be crowned champions!
Division Spotlight – Juniors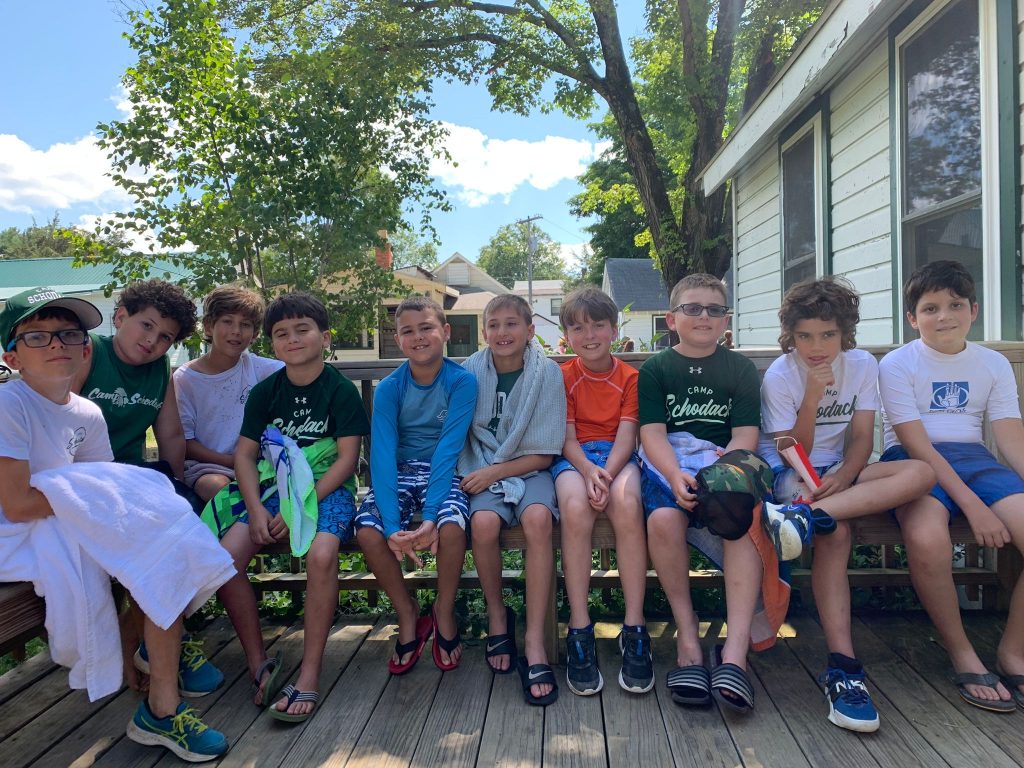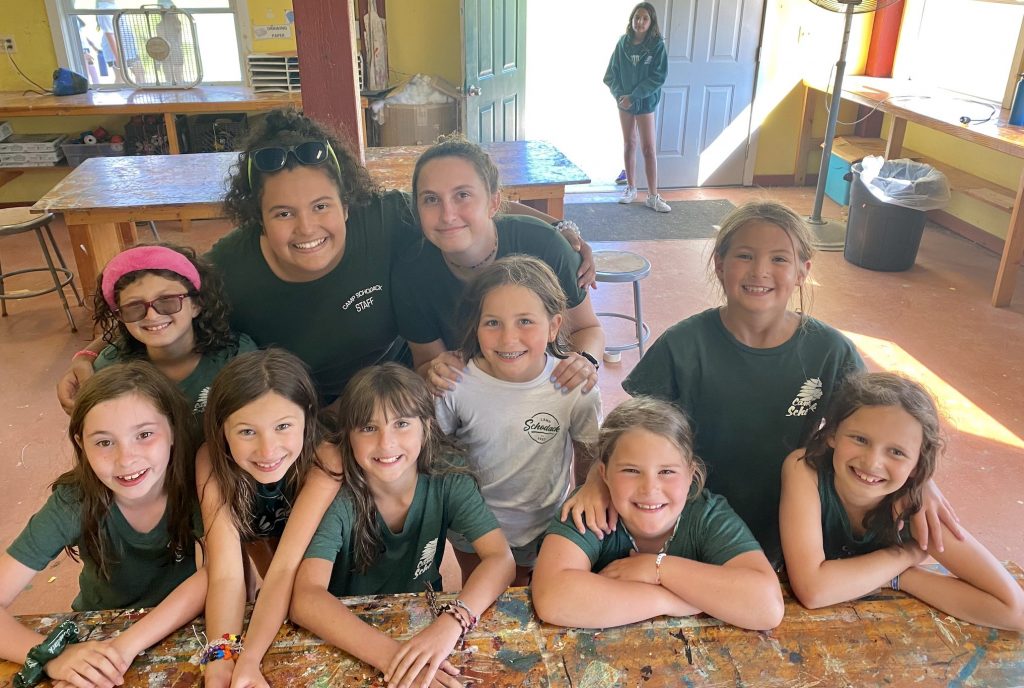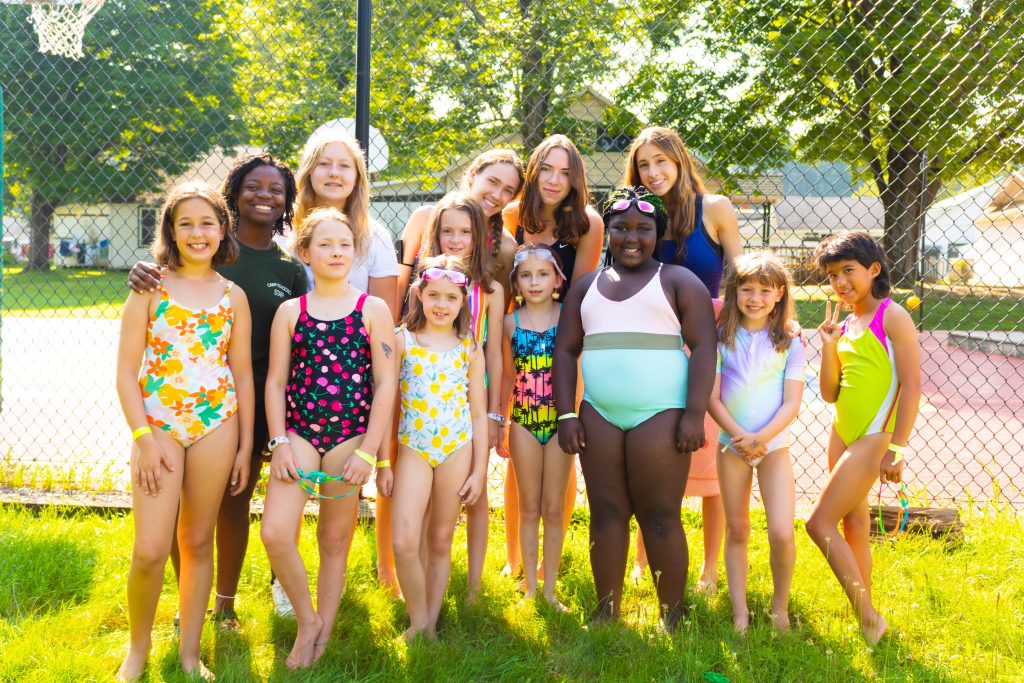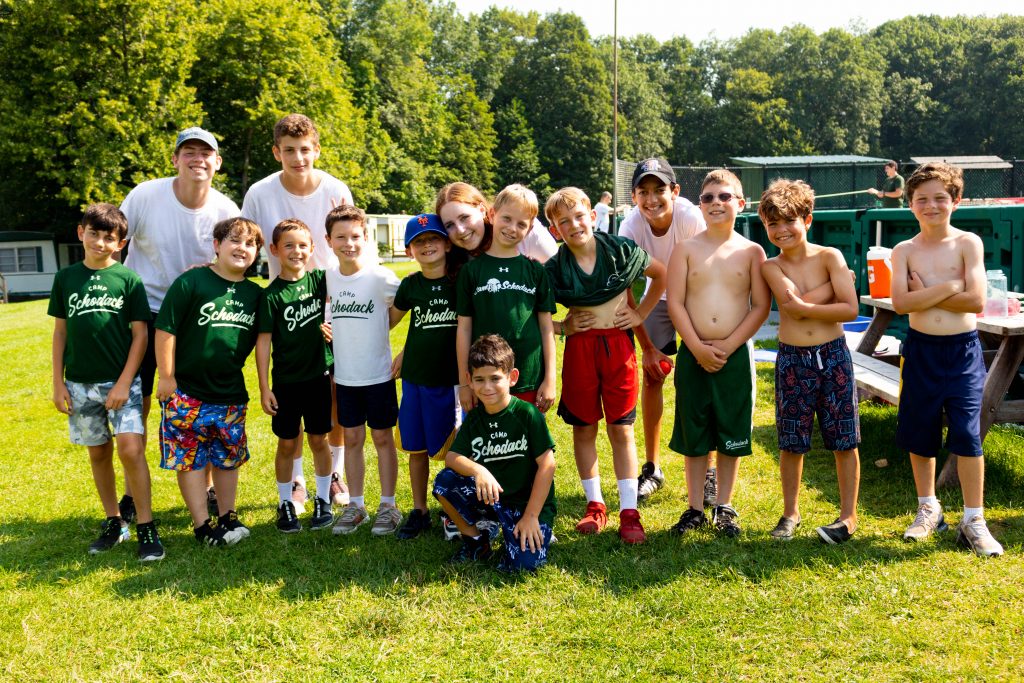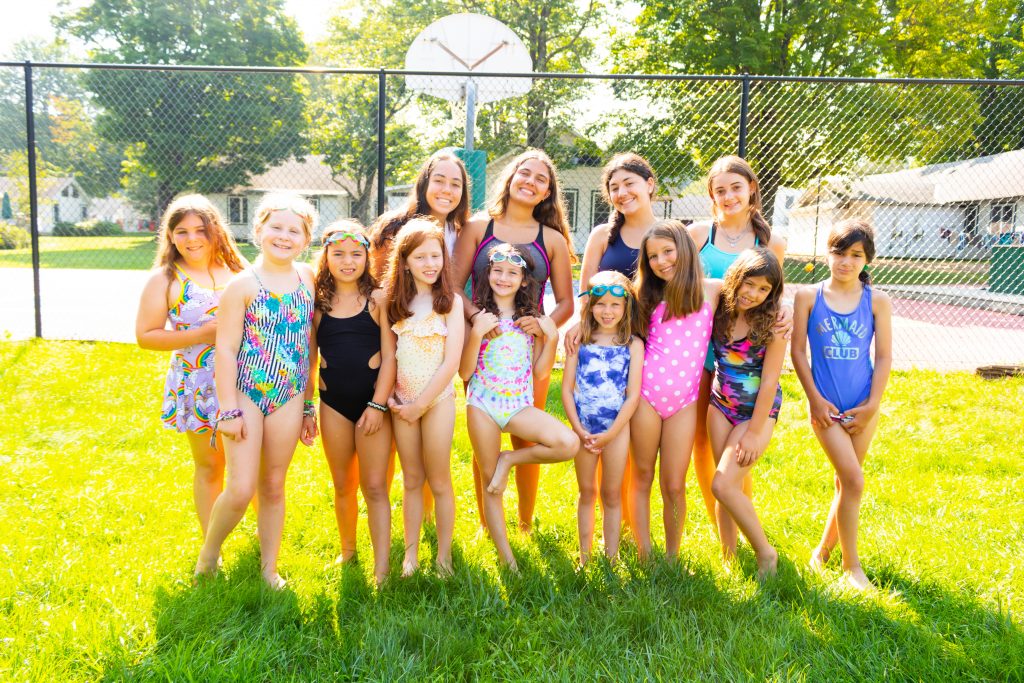 Hi Schodack families! Second session has gotten off to a great start. Junior camp has been enjoying every moment of sunshine that we get! We've loved going water skiing and small boating at Burden Lake, having fun activity periods at the pool, and spending an afternoon on the inflatable water slides that came to camp! Our special event, "Wettest Day Ever", wouldn't have been complete without stopping by the S'mores & Apple Pie egg roll truck. They were so delicious! 
Second session campers got to spend cookout lunch on Wednesday with their Big Brothers & Sisters. Everyone loved getting to spend time with familiar faces they knew before arriving at camp! 
The Aspen Girls have had a great first few days at camp! They are on their way to being contenders for the Cleanliness Cup (our weekly competition for the highest cleanup score) with some super high scores every day. They've spent a number of camper's choice periods making their way up the horse corral hill and practicing their skills at gymnastics! Rest Hours have been filled with intense games of Uno and jewelry making. 
The Cedar Boys made the most of "Wettest Day Ever" by competing their way through the obstacle courses! Some standout activities so far have been archery, baseball, and tennis! They've also loved getting to spend time with their CAIL (an activity counselor that spends meals and evenings with the bunk) at horseback. 
The Aspen Boys had the best time at their Schodack Night Live night activity. Their skit was a huge hit! They've loved spending time playing gaga and tetherball on the Junior Camp Playground. Activity periods at hockey with their CAIL, Adam have also been a favorite! 
The Chestnut Girls have done such a fantastic job during cleanup this past week that they're the latest winners of the Cleanliness Cup! They got to do a lap around the Rec Hall with the cup and have been enjoying their special prize of Oreos over the past few days. They had the best time at night activity on Tuesday which was an intense game of Flashlight Sing. Everyone said it's now one of their favorite games! 
The Cedar Girls have LOVED their lake periods which have been filled with the banana boat, water skiing, small boating, and stand-up paddleboarding! The sunshine has made lake time even better. They were also the winners of their most recent night activity, Heads Up! Everyone had the best time working together as a team. 
Junior camp is looking forward to an amazing next few weeks of the second session here at camp!
Division Write-Ups
Super Junior Boys
What another fun week at Schodack! This has been another great week and an amazing first week for our second-session campers.
This week our special activity was the "Wettest Day Ever" With a morning full of swim and pool time and then an afternoon of inflatable water slides and obstacles! All Super Junior boys had a blast on them!
In cooking, the Super Junior Boys have had a fun time making pizza all with their favorite toppings.
The Elm boys are enjoying their first week! They all tried horseback riding and had such a fun time riding the horses in the corral. Another favorite activity of all Elm boys is Schokarts along with Archery!
The Maple boys have all had a wonderful week. They have really enjoyed playing catch in the quad lawn. During rest hour, a lot of the boys have started pokemon battles too!
The Hawthorn boys won first place in a trivia night activity! A lot of the boys have taken part in spike ball tournaments in the quad as well.
The Super Junior boys are having such a great time here at Schodack! We are having so much fun and the days are going by so quickly!
-Reagan
Super Junior Girls
The Super Junior Girls had another amazing week here in the 12123! From the arrival of the new campers to the special event day including a giant water slide, the time has been flying by. We had a trivia night the other night with the Super Junior Boys which included lots of dancing and laughs!
The Maple Girls in G4a made very yummy pizza during their cooking period earlier this week, it was all hands-on deck as they assisted Chef. They also had an amazing lake period filled with lots of banana boating and knee boarding!
The Elm Girls in G3 have created bunk couch called the CCC (Camper Counselor Couch) and all have donated a variety of fun pillows to decorate it. Along with that, they have also been having so much fun creating dances and skits for the upcoming variety show.
The second session Oak Girls have jumped right into the swing of the Schodack lifestyle! They have already begun planning a 'wedding' for two of their cute stuffed animals that is occurring during 3rd camper's choice!
Last but not least, we have a special shoutout for the Hawthorn Girls in G3a who ended up in 1st place for lip sync!!! They performed the finale song from The Prom; all of their hard work certainly paid off! They also have been obsessed with playing the card game spit and are planning a tournament for the near future!
The second session is well underway, and we are all having so much fun! We are so excited to continue sharing laughs and smiles!!
Xo, Morgan
Middle Boys
Another week of wild activity for the Middle Boys! In the real world, Mondays are nothing to look forward to, but here at camp this week Monday saw boys that wanted a bit of time on the water going down to the lake for kneeboarding, wakeboarding, banana boating, and more. 2nd session boys arrived on Sunday, and were soon making waves at the archery range and on the basketball court. Dubbed the 'M&M' boys after their two stellar GLs, they have slotted in perfectly at camp – all the boys are so excited to get to know the new campers! Elsewhere, there were some huge hits at baseball with the Pine Boys, the Sycamore Boys triumphed at 'Captain's Calling' and enjoyed a surprise late-night dance party, the Spruce Boys remained champions of D&D and Exploding Kittens, and the Walnut Boys skidded round the Go-Kart track… and had the muddy clothes to show for it!
The Camper/Counsellor tennis tournament is always a highlight of the summer, as doubles pairs made up of one camper and counselor duke it out to be crowned king of the court. This year saw several Middle Boys reach the quarter- and semi-finals, punching well above their weight as they took on Upper campers – well done all! This week's special event day was a wonderfully damp treat, as all the boys enjoyed the 'Wettest Day Ever', which saw a massive inflatable slip'n'slide setup and hosed down. The weather was perfect for the boys to rocket down the slide time and time again – even the staff could be seen sliding around and racing the boys down the incredibly slippery course. After all the wetness and energy expended, it seemed only right that the boys put a few calories back in the tank, and what better way to do that than by a pit stop at the eggroll food truck that rolled into camp for the day. The s'mores egg rolls were a particularly delicious highlight!!
Next week there are rumors of a very special event, just for the Middle Boys… stay tuned for the surprise of the summer!
Middle Girls
Middle camp girls have had another glorious week in the Schodack sun.
Monday and Tuesday found the girls enjoying a full day of activities. The Spruce and Sycamore girls got to head back out to Schokarts after the rain, and absolutely loved it. The Pine girls made some tasty Pizza in cooking, and enjoyed every bite.
Special activity day soon came around and the Middle girls had such a fun time during the wettest day ever! Starting off with time in the pool and chilling with friends, the girls really enjoyed themselves. The afternoon was so fun for all involved. The girls all had a go on the water obstacle courses, slip and slides and the water slide. The event lived up to its name and really was wet, the girls really enjoyed the time with their friends.
After a busy day in the sun, the girls enjoyed Minute to Win It as a night activity with the Middle boys. All of middle camp moved round rotations as they played different games. We ended the week with our favorite canteens and time with friends.
Join us again next week to see what the Middle girls get up to.
Super Seniors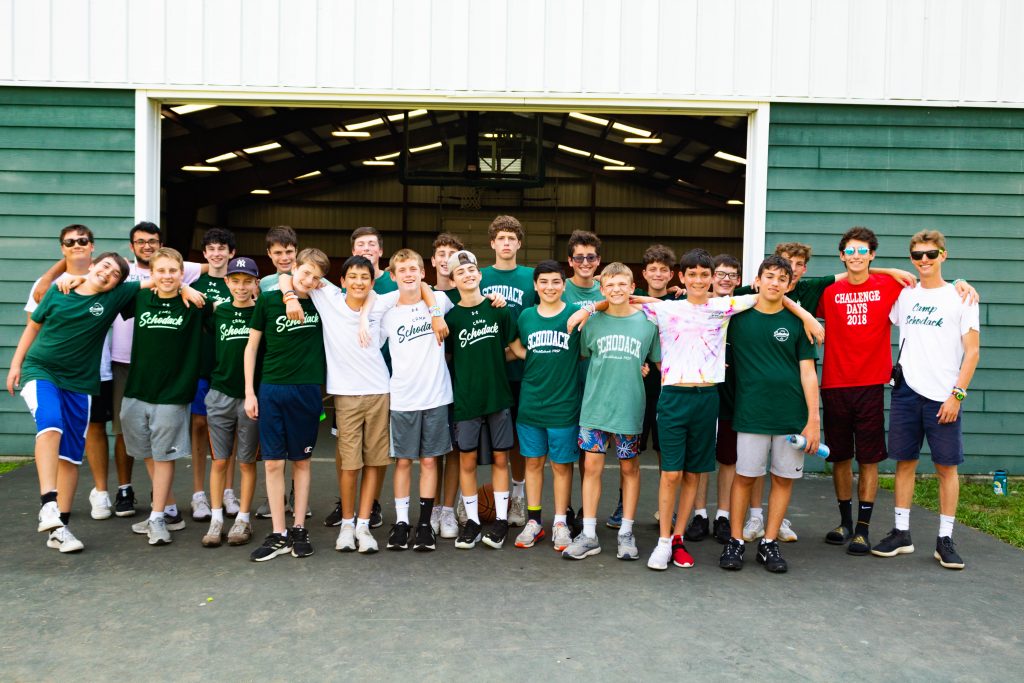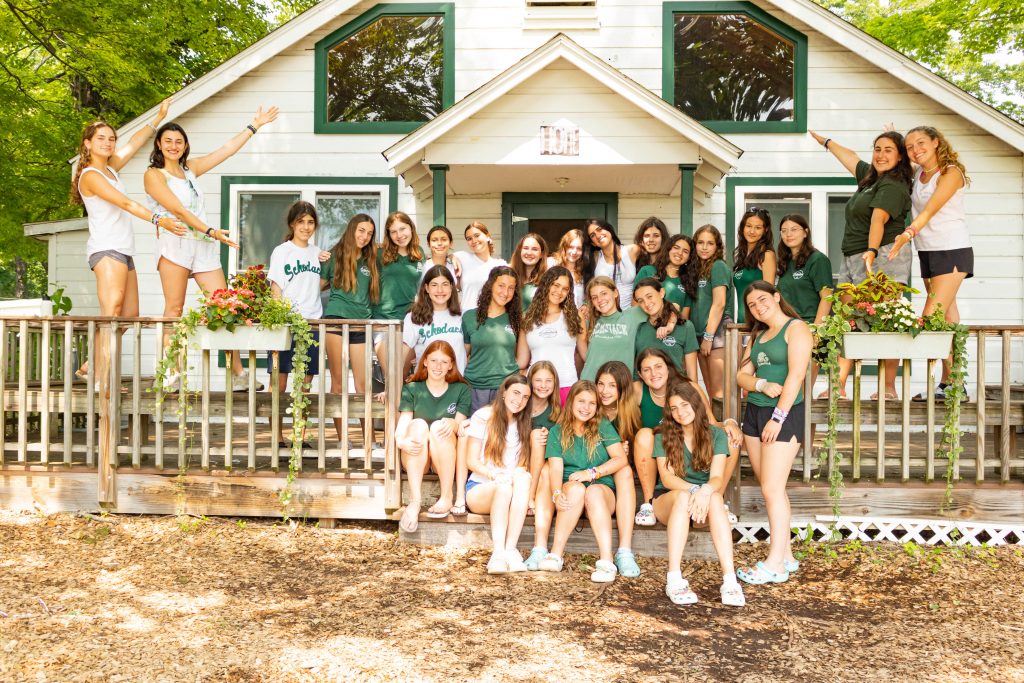 In an attempt to outdo themselves for "Best First Week of a Session," the Super Seniors knew how to start the second half of the summer right, jumping into activities and camp events with spirit, spunk, and a new batch of tie-dye shirts! Will these last three weeks solidify 2021 as the best summer ever? We'll have to wait and see!
– The Super Seniors enjoyed another night of Super Senior Survivor this week, competing for a party of music, laughs, and off-camp treats. Each of the teams had to carry buckets of water through an obstacle course and fill the other teams' buckets in an attempt to knock theirs over and be the last group standing. It was a challenge of strategy, speed, and balance, and the Green Dragons brought home the victory.
– The Super Senior Girls played a great game of Softball early in the morning this past week, proving that teenagers can be active before 10am. Right out of breakfast, the bunk grabbed their mitts and scrimmaged for an hour with Jack Baseball. Maybe we'll have a Super Senior Softball League pop up in the near future!
– Both bunks are hard at work on Bunk Plaque Night, the final leg of Triple Crown. The Super Seniors Boys and Girls are working on hand motions, singing in unison, and vocal projection as each competes for first place in this last event. From what we've seen so far in their performances at the other two events, we are looking forward to an amazing night of song.
– At Lip Sync last weekend, the Super Senior boys filled the stage with color and energy as they performed their version of "Phineas and Ferb." The production was spectacular, using camp items such as art shack materials and benches to build a roller coaster on stage and innovative choreography to mirror the wacky lyrics of the music.
– The Super Seniors met with their second-half littles this week, introducing these new campers to traditions and activities on camp. After walking around with these campers, the bigs and littles ate a tasty cookout lunch together and continued to connect throughout the day. The Super Seniors have been amazing mentors and leaders throughout the Second Session!
The Super Senior Division has been stepping up their game each week, making camp awesome for themselves and for everyone around them. Looking ahead, the bunks will get to travel off camp for a night out, try their hands at serving, and compete in more Survivor activities. Stay tuned for another incredible week! – Eli
LTs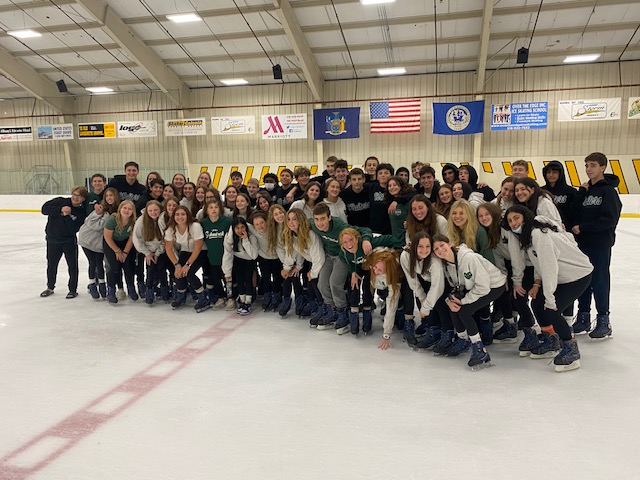 All continues to go very well in the LT Program. The week began with a bang as both Waiters and CITs performed brilliantly at Lip Sync. Not only was the Waiter's rendition of Moana excellent, but these guys reacted so well when it was announced that the CITs had won. That kind of character and class will stand them in very good stead going forward. For their part, the CITs performed Mamma Mia and it was certainly one of the finest performances of all time. The hard work and perseverance really paid off.
The 'permanent' LTs are settling into their roles with their assigned bunks and are making a huge difference in the lives of the campers. The first years continue to get experience in all aspects of bunks and activities.
This past weekend the LTs undertook the departure of the first session campers on Saturday as well as the arrival of the second sessioners on Sunday – both days went seamlessly and the LTs are learning that when you all pull together for the same cause, great things can be achieved. This week we will be combining our talents to present The Carnival on Sunday – a highlight that the entire camp looks forward to each year!
Activities Write-Up
The second session has started with sunshine and smiles all across camp (barring one big downpour!) and of course, lots of activities!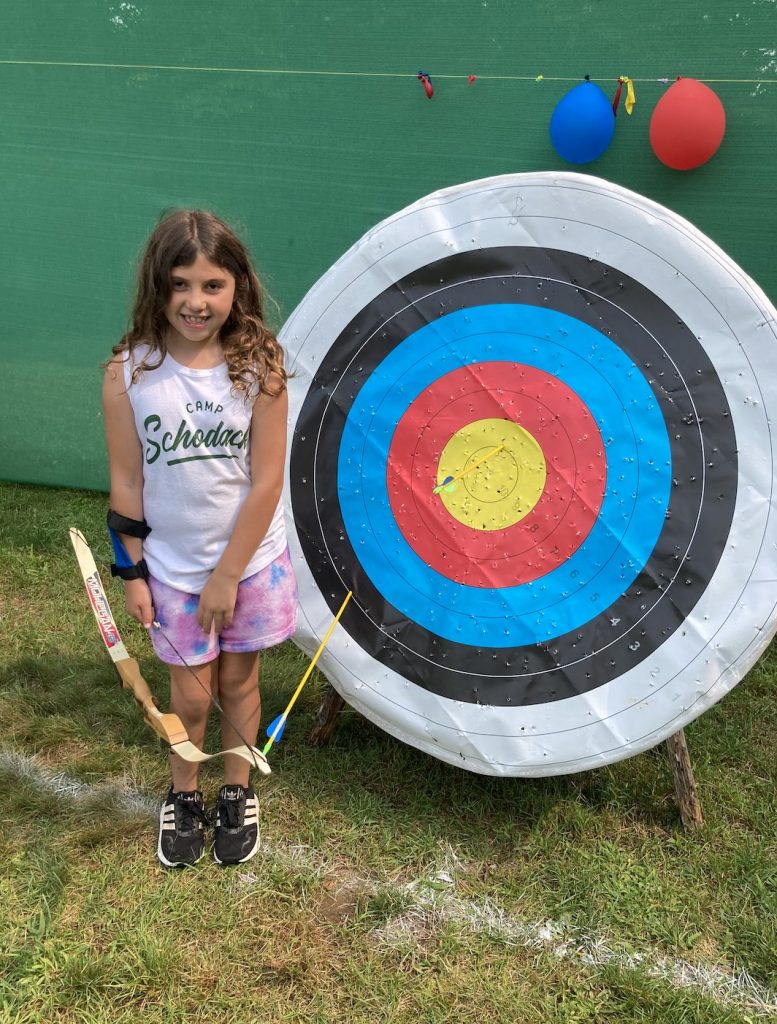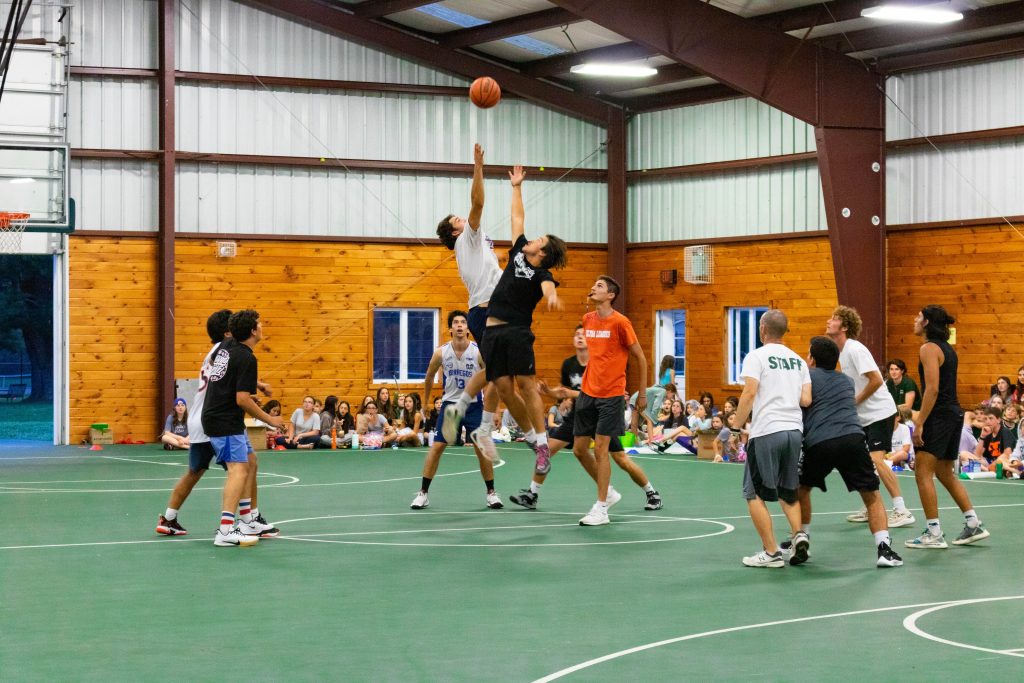 The night before the new campers arrive is marked with the staff basketball game where 'Krouner's Conquerers' take on 'Herbst Heroes' for the title of best ballers on camp. The whole camp gathers around to watch this fun event and cheer on the staff.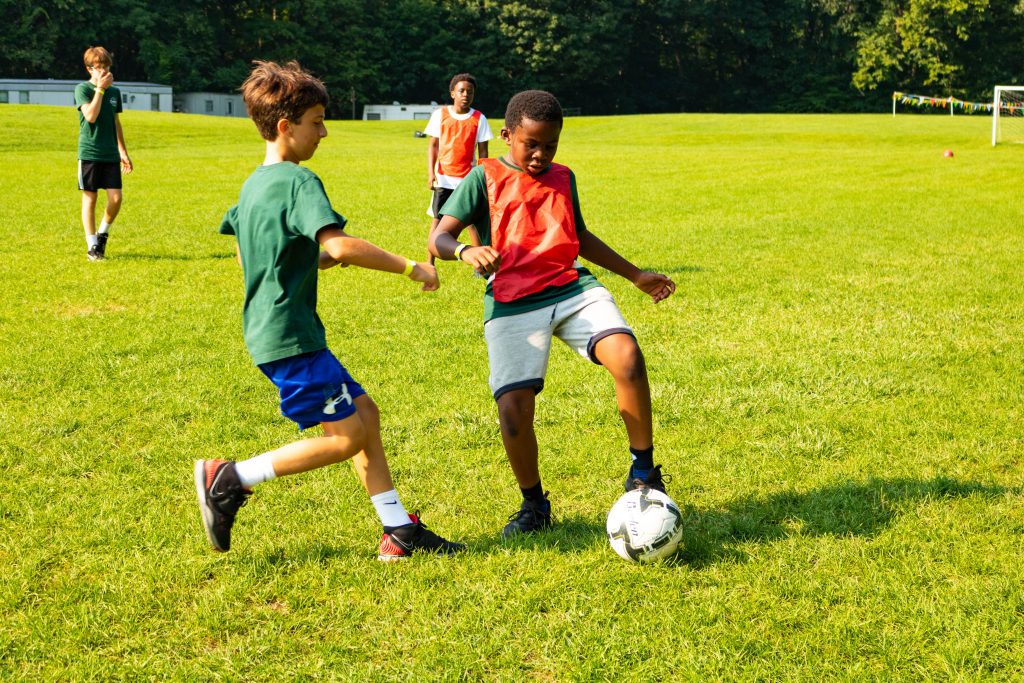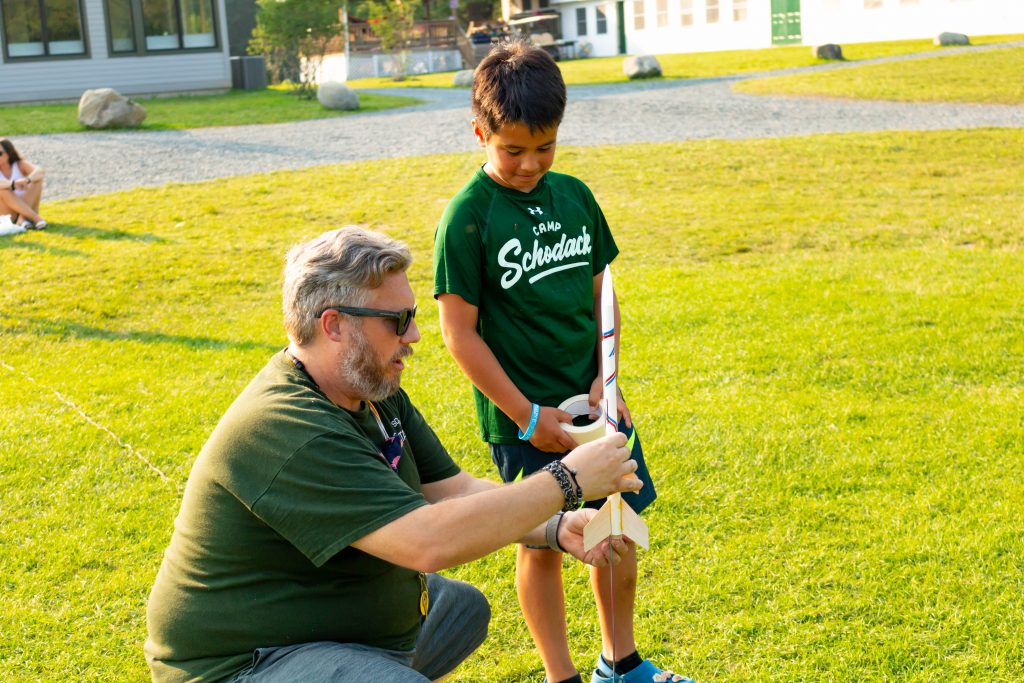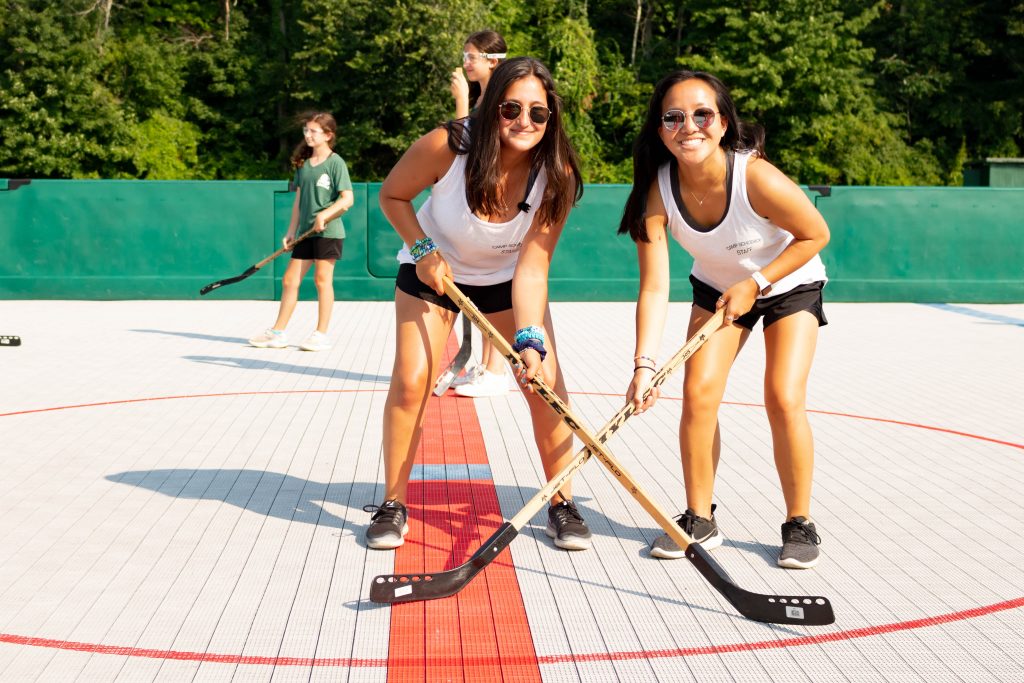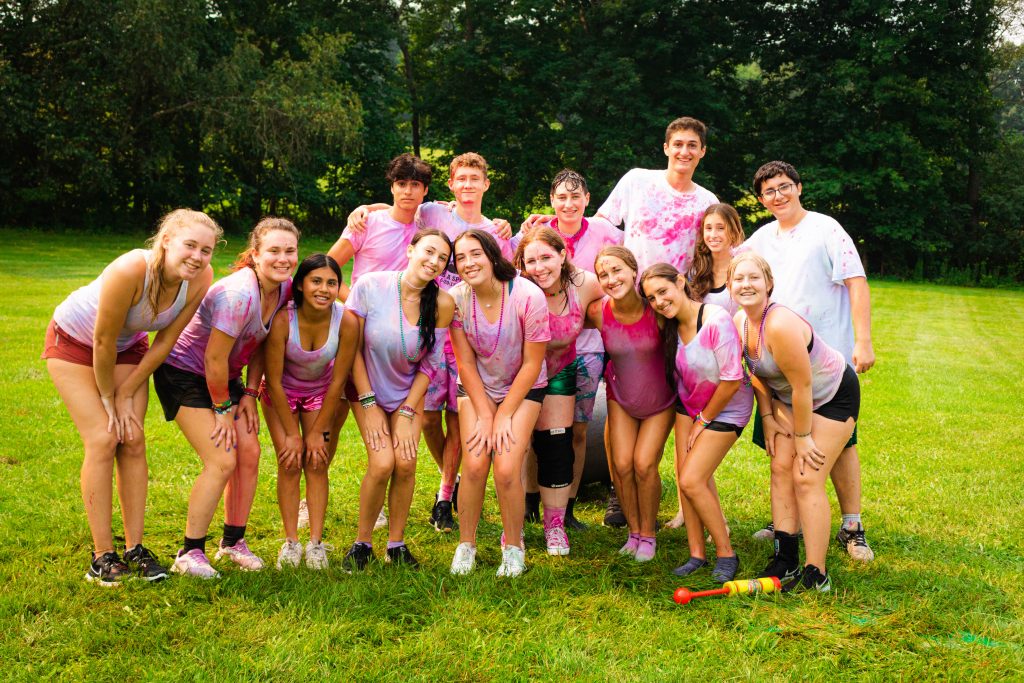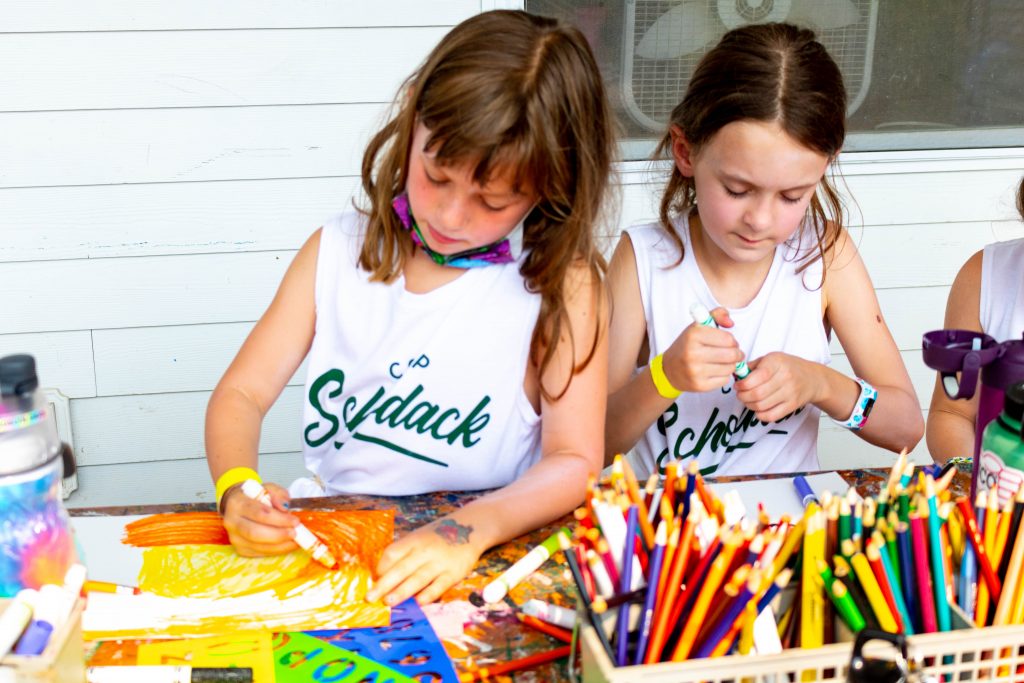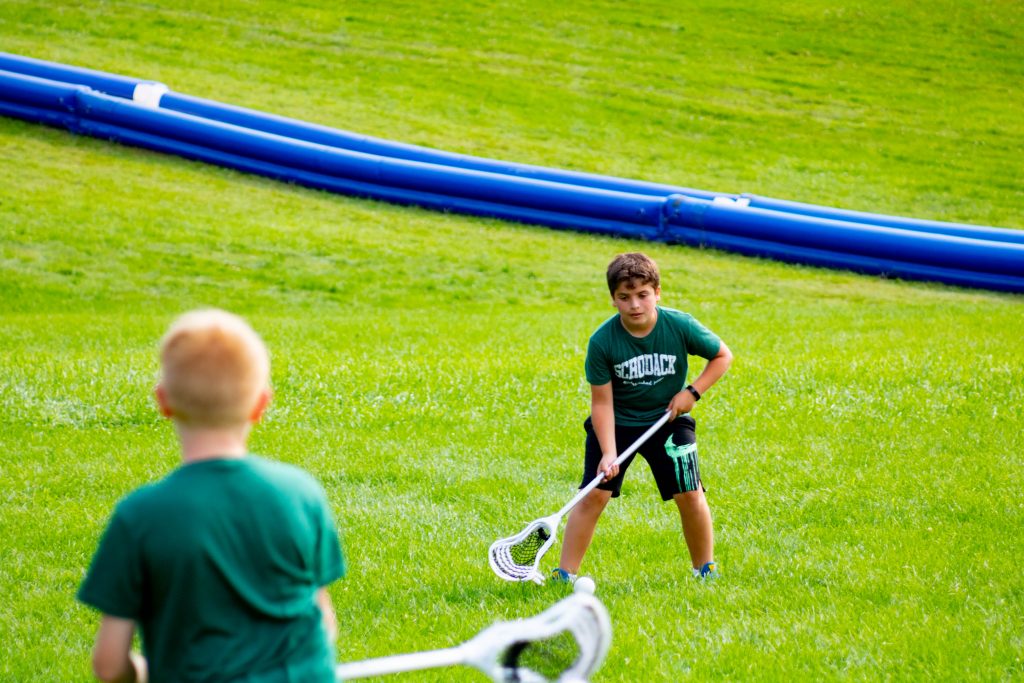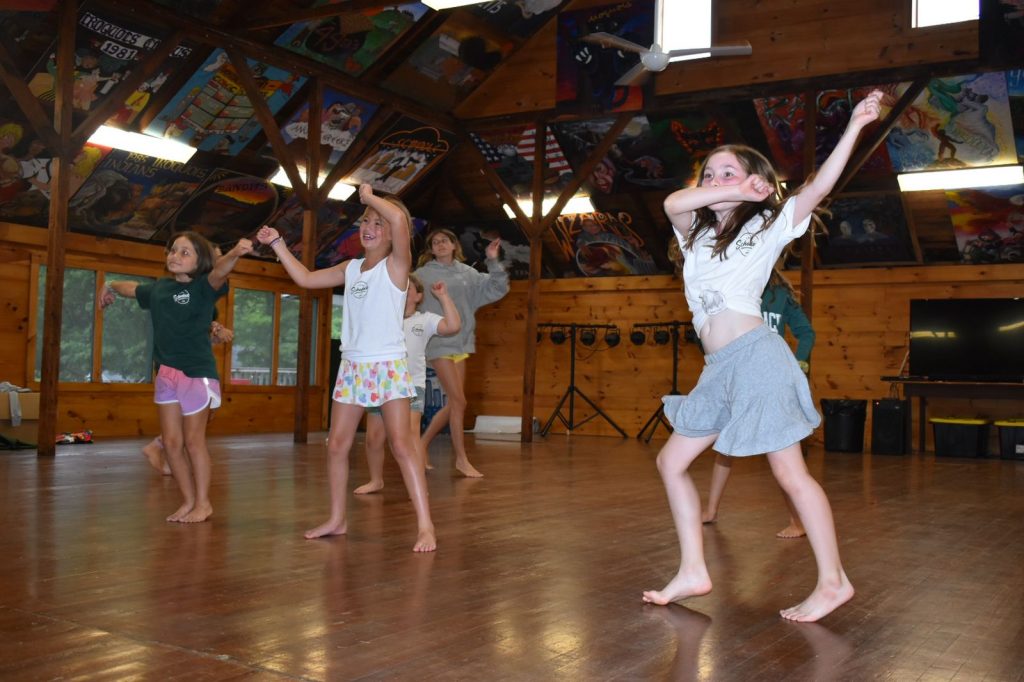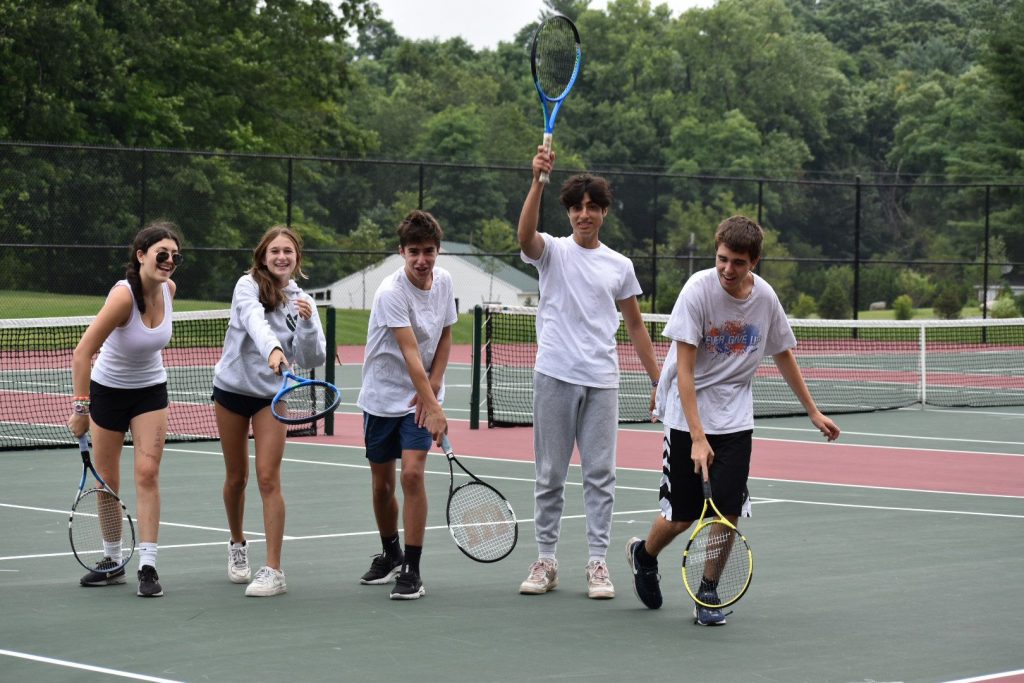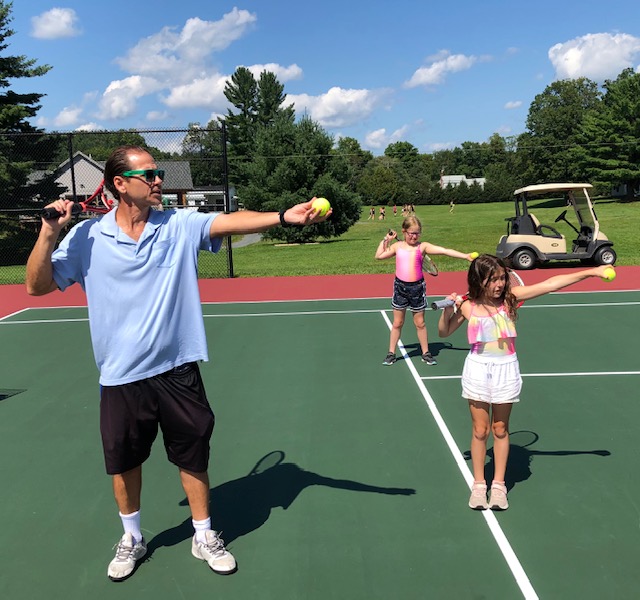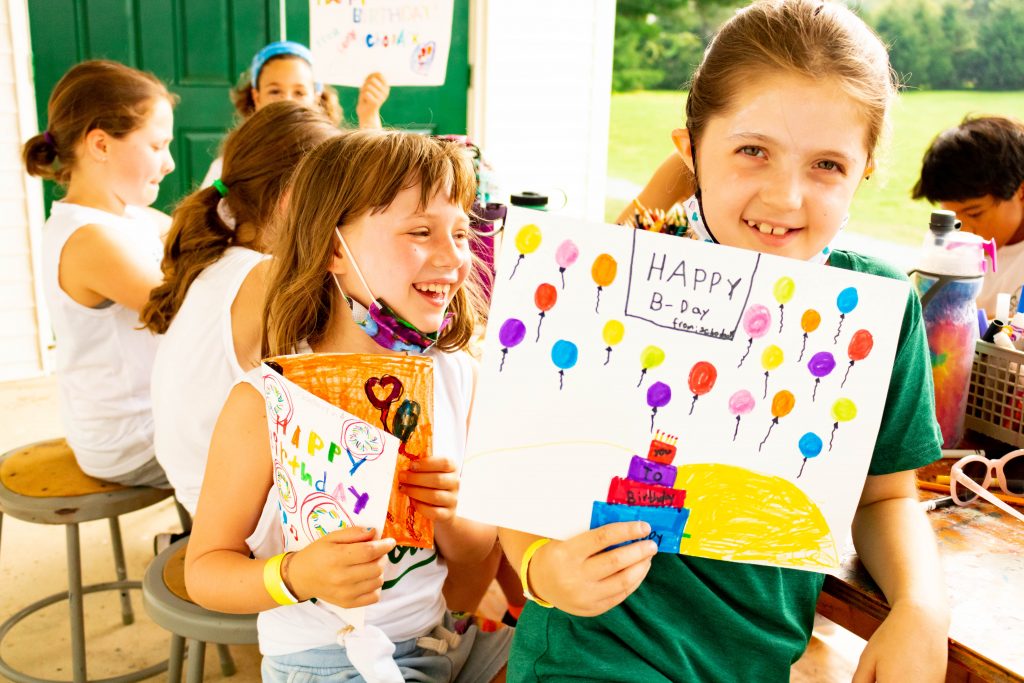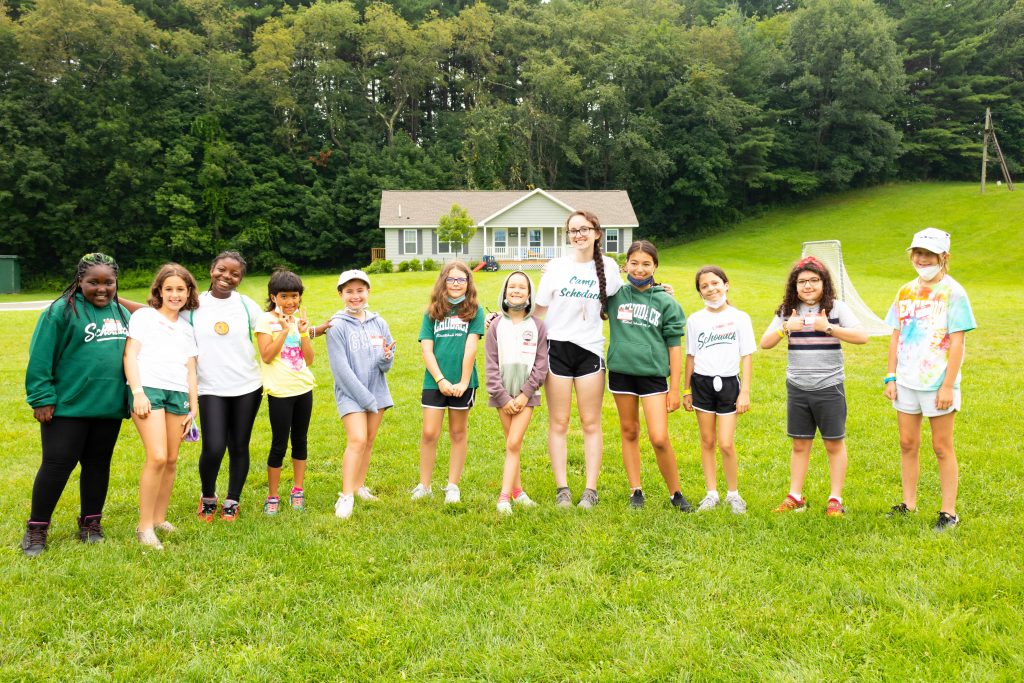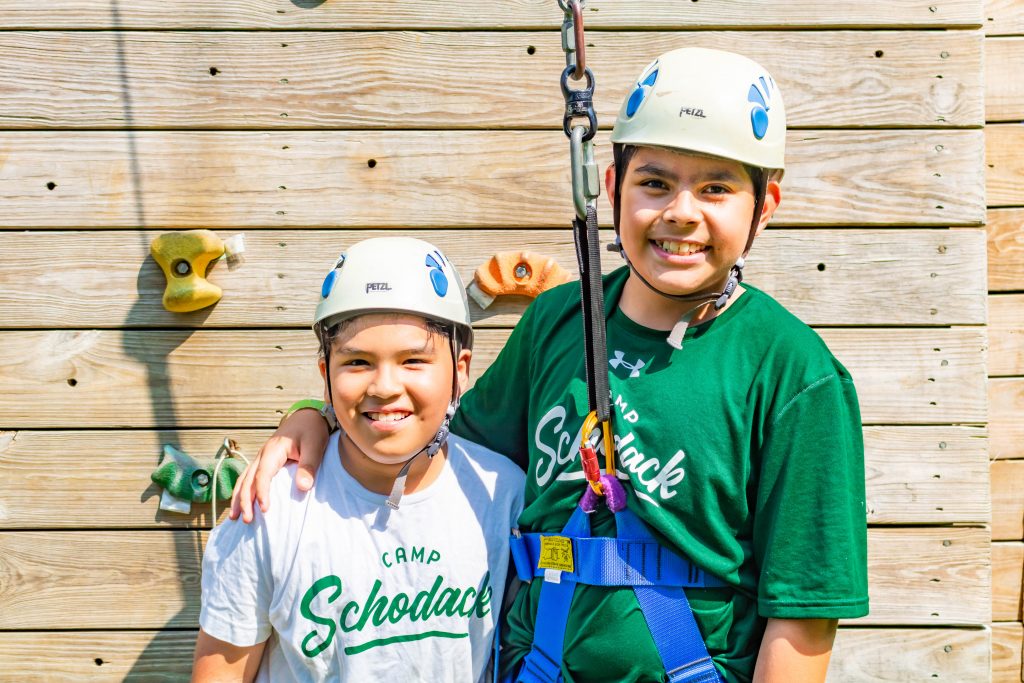 __________
And there is another week all wrapped up! Tonight the whole camp will gather as one in the Amphitheater to enjoy our weekly Fire Circle. This is a very special night as it is the first Fire Circle of the Second Session. Many of you will have experienced Fire Circle virtually over the past 12 months, but there is nothing like the feeling of a beautiful, summer night, walking across the camp as we all come together and settle in for stories, songs, positive messages, and the chance for campers and staff to make dedications to those members of the camp community that have had a positive impact on their lives this week.
We will be back next week with more news about the wonderful world of Schodack. Have a great week!